Best Freshwater Baitcaster Combo

---

Best Game Fishing Baitcaster Combo

---

Best Baitcaster Combo For The Money

---
To successfully catch fish that you want, you should have with you the right rod and reel. If you want to enjoy trophy fish and large catches such as pike and bass, the best baitcaster combo is what you need. A baitcaster combo features a rod and reel that are pre-assembled together for you so you can focus on the fishing task. 
A good quality baitcaster combo is designed to handle heavy fishing lines which facilitate more line control and allow you to cast your rod from afar with more accuracy. The superior line control allows you to slow down the lure so it lightly falls into the water without scaring off nearby fish. 
Additionally, its baitcaster reel offers superior power to allow you to pull in aggressive fish without much of a fight. So below, we've outlined the list of the 10 best baitcaster combos this year to help you find the ideal set for your next freshwater and saltwater fishing adventure.
How To Choose A Baitcaster Combo – Buying Guide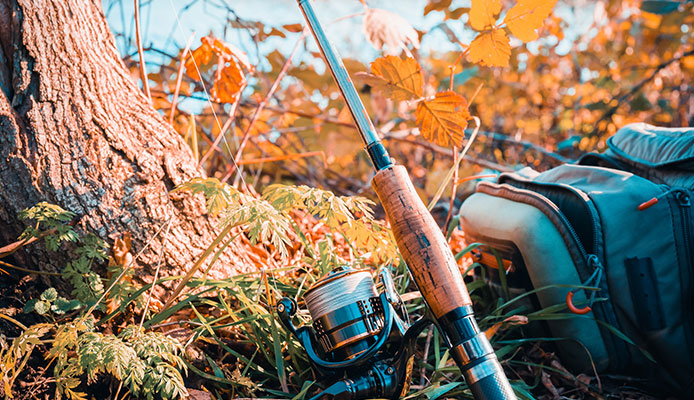 Gear Ratio
The gear ratio determines how many times the spool turns in a single revolution of the handle when using a baitcaster reel and rod combo. The best baitcaster combo is built with a higher gear ratio as more line is retrieved per turn of the handle. Commonly, you will find a gear ratio that ranges from 5.2:1 to 8.1:1. 
A gear ratio of 6.4:1 is a perfect balance as it allows you to use a wider selection of bait and different bait fishing techniques such as jigging and shallow cranking. Lower gear ratios of around 5.2:1 allow you to reel bait slower thus, they are ideal for baits such as big diving crankbaits and heavy spinnerbaits that pull hard. Higher gear ratios are faster and ideal for techniques where you use topwater frogs and baits.
Spool Size
The spool size tells you how much drag power your reel can support. Typically, baitcasting combos boast a drag power of least 10 to 20 lbs. Small spool size is ideal for short line applications such as flipping whilst a larger spool size is designed for small line coils that are easy to manage.
You might also like: Perfect Trolling Rods
Handle Size
A shorter reel handle is ideal for fishing techniques that use worms or jigs, however, they are not ideal for handling larger and heavy bait such as crankbaits and swimbaits. A larger and longer reel handle is ideal for a heavy and tough fighting catch.
Brakes & Tension 
The brake system is designed to control the line towards the end of casting whilst the tension knob controls the line as you begin to cast. The best baitcasting combos are designed with a braking system that helps to control spooling, especially during windy conditions. Additionally, a good quality braking system and tension facilitate long casts with a range of lure weights without any hiccups or backlashes.
Bearings 
Ball bearings are designed to make reeling smooth. Having fewer bearings is in fact better as it increases the reeling speed without losing control. Furthermore, when you are choosing the best baitcasting combo, opt for ones with ball bearing shields as they help to keep dirt and grime out of the bearings. 
Commonly, you will find ceramic or stainless steel ball bearings. Both offer incredible weather resistance, however, ceramic bearings are lighter, more robust, but more expensive.
Material
The best baitcasting combo is made with an aluminum, magnesium, graphite, or fiberglass rod. For saltwater fishing, you want to go for graphite rods as the graphite material protects them from corrosion. 
Additionally, for both saltwater and freshwater fishing, graphite rods are more common thanks to their cheaper prices and superior strength to weight ratio. However, aluminum rods are more rigid and rugged whilst fiberglass ones are lighter, more sensitive, and more expensive.
FAQs
Q: What Should I Look For When Buying A Baitcaster?
A:
When choosing a baitcaster to invest in the key features to look for are the gear ratios, the spool size, handle size, and bearing number. Depending on the fishing environment, the material and rod length are also important features to consider.
Q: Why Is Baitcaster Better Than Spinning?
A:
A baitcaster is designed to handle heavy lines and allow for longer casting compared to a spinner of the same size range. Typically, a spinner is built with a smaller and narrow spool, thus, making it difficult to fit a line with a large diameter.
Q: Can A Baitcaster Go On Any Rod?
A:
You can fit a baitcaster on a spinning rod, however, for successful fishing, this is not recommended. Unlike baitcasting rods, spinning rods are built with larger guides thus, if you put your baitcaster on a spinning rod, the lines will not be as balanced and stable as they would on a baitcasting rod.
Globo Surf Overview
The baitcaster combo reviews share excellent rod and reel options to use with heavy lines and for longer casts. Unlike spinners, baitcasters are excellent for those quick, large, and aggressive catches during both freshwater and saltwater fishing. So pick your favorite set from the 10 best baitcaster combos above so you can enjoy fishing without struggling with your catch.
More  Fishing Rods Reviews: