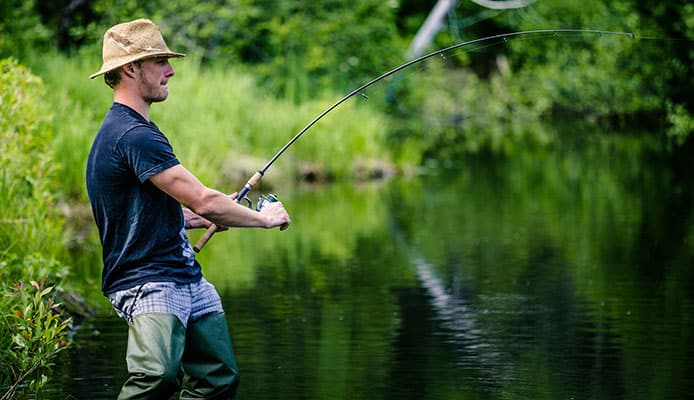 OUR TOP PICK

---

EDITORS CHOICE

---

BEST VALUE

---
There are a lot of different species of fish and one of the most popular to catch and eat are salmon. Salmon are anadromous, which means that they are born and mate in freshwater but live most of their adult lives in saltwater. For fishermen, the best chance to catch a few tasty meals is to use gear specific for the species. Salmon fishing poles will be designed with specific features that target the salmon species and increase your chances of successfully reeling in a fish.
But if you are overwhelmed by all the different salmon pole models on the market, it can easily become a frustrating situation. We want to help you find the best fishing rod for salmon without getting caught up in and endless search. Our list of the six best salmon fishing rods and detailed buying guide will provide you with all the information you need to find a quality salmon pole so that you can spend more time in the outdoors and make perfect casts.
How To Choose A Salmon Fishing Rod – Buying Guide
Length
The best salmon fishing rod will be anywhere from 7-10 feet or a little more, in length. The longer length of salmon fishing poles will give you the reach you need to cast further into the river, without you risking wading into strong currents. Overall, the longer your salmon pole, the further you'll be able to cast.
But fishermen should keep in mind, that a salmon steelhead fishing rod for beginners should be closer to 7-8 feet in length because it will be easier to manage and learn how to properly cast your spinning rod.
Weight
The weight of a rod for salmon fishing will also affect the balance, which we will discuss below. But you want your top rated fishing rod for salmon to be lighter because it will be easier to maneuver and carry. A lighter fishing pole for salmon will also reduce your fatigue and allow you to fish for longer.
You might also like: Top Bamboo Fly Rods
Balance
But whether you choose or can find a lightweight rod for salmon fishing isn't as important as the rod's balance. The best fishing rod for salmon will be well balanced, which means that it shouldn't be too heavy in the handle or too light in the tip. Instead you want an even balance, so you can make perfect casts.
Material
A top rated fishing rod for salmon may be made of a few different materials, but graphite and fiberglass are by far the most used on the market. The best salmon rod for the money would actually combine the two materials into one rod, so that it was a composite of graphite and fiberglass.
The combination of the materials allows you to have the best features of both – strength and being lightweight. With graphite you can save on weight, which makes it easier to travel with your salmon steelhead fishing rod, but the fiberglass gives you the strength to fight big fish.
The best salmon fishing rod will always be made with high quality that ensure it is not easily damaged or broken. You can check salmon fishing rod reviews for honest words about the materials used in a specific salmon pole design.
Composition
The composition of the best fishing rod for salmon should always be strong, lightweight, and balanced. You want an overall harmonious composition that allows you to easily use the rod and successfully catch salmon. You should look for salmon fishing poles that are durable and functional to ensure you have a good composition that will help you catch fish. Salmon fishing rod reviews can also be a good resource to determine whether you've found the best salmon rod for the money with a reliable composition.
FAQs
Q: What Is A Good Salmon Fishing Rod?
A:
All of the products on our list are good salmon fishing rods or we wouldn't include them. But a good salmon fishing rod will always be strong, lightweight, functional, and reliable to ensure that you get the best for every fishing trip.
But good can also change depending on your experience and skill level with fishing, so it's important to check the lengths of your salmon fishing poles to ensure you're getting one that suits your needs.
Q: What's The Best Salmon Spinning Rod?
A:
The Tica HLHB Salmon Fishing Rod is a top-notch spinning rod that has made our list for being easy to use, which is ideal for beginner fishermen. While many fishermen will choose to use spinning rods, Tica's design is exception because of the strong construction and extra sensitivity.
Q: How Long Should A Salmon Rod Be?
A:
Most salmon fishing poles will be between 7-10 feet, but you may find some designs that are just over 10 feet too. You want a longer length for your rod for salmon fishing because it will give your casts a greater reach and you'll have the best control to accurately aim your bait to target salmon.
Q: What Is The Best Weight Fly Rod For Salmon?
A:
The weight that you choose will actually depend on the species of salmon that you are targeting. You want to ensure that you have a fishing pole for salmon that can handle the weight of the fish and manufacturers will often offer products with different weight categories.
The smallest salmon species weighs as little as 3.5 pounds, while the largest is the Chinook salmon. These salmon are also called King Salmon and can weight up to 126 pounds. However, the average fishermen will be targeting salmon that won't weigh more than 20 pounds. But it is important to know the weight of the salmon species in the area that you fish because setting your hook on a salmon that is too large for your salmon pole can break or damage your equipment.
Q: What Are Steelhead Rods?
A:
Steelhead will refer to salmon or trout fish species, which are all known for putting up a good fight. These fish will often fight your line, which means that you have to have the patience to wait for them to tire before you can reel them into shore. Steelhead rods can be used for salmon fishing and are different from regular rods because they are extra sensitive.
The increased sensitivity will allow you to feel for objects in the water and for whenever a fish strikes, nibbles, or bites your bait so that you can quickly set the hook. You want salmon fishing poles to be extra sensitive because this will increase your chances of making a successful catch.
Globo Surf Overview
When it comes to fishing, there are a lot of different types of fish that you can try to catch. If you are trying to go after salmon, using the best salmon fishing rod can increase your number of catches and ensure that you have a great time on your trip. Our guide is designed to help you find the best salmon rod for the money and ensure that you become a successful fisherman. With a quality fishing pole for salmon, you will be smiling more than frowning once you've reeled in all your prize-winning catches.
More  Fishing Rods Reviews:
More Rod Reviews: