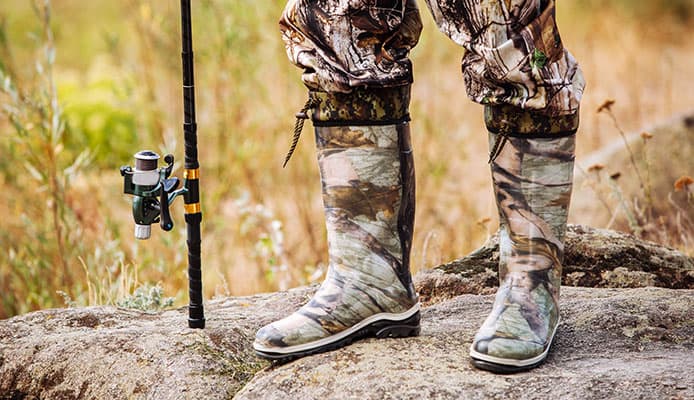 OUR TOP PICK

---

EDITORS CHOICE

---

BEST VALUE

---
Fishing involves walking, wading, and standing on wet and slippery surfaces. The water shoes you wear for fishing should give you a sure footing and allow water to drain easily. To make it easy to find the perfect pair of shoes for fishing, we have reviewed the 10 best fishing shoes on the market right now.
When making our picks, we paid attention to the traction, drainage, support, comfort, and durability. The pairs we feature in our reviews offer excellent traction and grip on water, mud, sand, gravel, rocks, and wet decks. Further down this page, we also have some tips on how to pick the best fishing sandals or boots for your fishing style.
How To Choose Fishing Shoes – Buying Guide
Durability
Fishing shoes should hold up well to being worn for prolonged durations in water and exposed to harsh outdoor elements. Soles that are stitched last longer than those that are glued. The shoe tongue should be well attached to the side of the shoe to ensure that sand particles and other debris don't get inside and wear out the shoe.
The best fishing shoes and boots have quality stitching that doesn't disintegrate quickly. The toe area is a stress point and should be made tough and rugged to resist impacts. Rugged marine shoes made to withstand harsh marine environments make durable saltwater fishing boat shoes.
Traction and Grip
Whether you will be fishing from the shore, wading in the water, or fishing from a boat, canoe, kayak, or float tube, you will be stepping on wet, slippery, and other unstable surfaces. The best fishing shoes should offer great traction and a stable, non-slip grip.
The best fishing boots feature a rubber sole, as it is grippy on most surfaces. A sturdy rubber sole is also great for trekking and hiking to get to your fishing spot. The exterior sole should be textured and patterned to maximize grip. Superior traction on slippery surfaces is also provided by cleated or studded soles.
Comfort and Ankle Support 
Good fishing shoes should keep your feet comfortable, allowing you to enjoy your fishing excursions and fish for as long as you want. For warm weather or summer fishing, a well-ventilated pair of shoes for fishing is essential for comfort. If you're fishing in cold water, you need waterproof and insulated fishing boots to keep your feet dry, warm, and comfortable.
Lightweight wins when it comes to fishing shoes. The lighter the shoe, the less tired your feet are going to get. You can fish for as long as you want without being dragged down by fatigue. When drenched, lightweight footwear won't get too heavy.
A fishing shoe should also offer adequate ankle support. This is very important for balance and stability, as fishing terrain can be very unstable. Ankle support is especially important when wading in the water and walking on muddy and slippery surfaces. Shoes for angling should have sufficient padding to provide support and cushioning. Shoes with arch support provide comfort for higher arches.
Design and Purpose
Fishing shoes come in all kinds of styles. There are water shoes, shoes for the boat, boots, sandals, slip-on, and athletic sneaker styles. Go for a style that suits how you fish and offers the comfort, protection, and performance you need. It also doesn't hurt to have a stylish, good looking pair of fishing shoes.
Fly Fishing calls for wading boots. Surf fishing requires a lightweight and breathable pair of fishing shoes. Fishing shoes for boat, kayak, canoe and float tube fishing are lightweight, drain easily, offer good grip on wet and slippery deck surfaces, and have non-marking soles that won't scuff deck surfaces. Insulated ice fishing shoes are a must-have to keep your feet dry, and prevent frostbite.
Related Review: Non Slip Shoes
Material
The type of material fishing shoes are made of is very important. Most shoes for a boat are made of leather, which is treated to repel water and stay dry. Mesh is great for wading, warm weather, boat, and kayak fishing as it lets water drain easily, dries quickly and is lightweight and breathable. Canvas is rugged, dries quickly, and protects your feet from the sun and other outdoor elements.
Neoprene is waterproof and insulated and makes for the best fishing boots for keeping feet dry and warm when you have to stand immobile in cold water for a prolonged duration. Rubber is the best outsole material for fishing shoes because it provides a good grip on most of the unstable surfaces an angler steps on when fishing.
You might also be interested in:
Water Draining System
When angling, getting wet is unavoidable and water will flow inside your shoes. The best shoes for fishing should let the water drain easily do they dry quickly. To ensure that you don't end up with shoes that get soggy and drag you down, check that the pair you buy has a breathable mesh upper and venting in the soles so the water that gets in can flow out just as easily.
Related Review: Kayak Shoes
Maintenance
Finally, be sure to check the maintenance requirements for the pair of fishing shoes you're considering. Maintenance is essential to keep the shoes in good condition, prevent offensive odors from developing, and get long service from the shoes.  
For most pairs, a basic maintenance routine is sufficient. You only need to shake the shoes to get rid of any sand, debris or loose dirt inside then, clean the shoes using warm water, a gentle liquid soap and a brush to scrub away stubborn dirt. Rinse using fresh water and hang to dry. Most shoes for fishing are also machine washable on gentle cycle.
FAQs
Q: Are Crocs Good For Fishing?
A:
Yes, crocs are great water shoes and have the qualities the best shoes for fishing should have. They are lightweight, comfortable to wear, and water drains easily through the port holes. Make sure the pair of crocs you choose to wear while fishing has good traction on the kind of surfaces you will be stepping on.
Q: What Shoes Should I Wear For Offshore Fishing?
A:
You should wear non-marking marine shoes with a stable grip on deck surfaces. The shoes should also have a cushioned midsole to provide comfort and support especially when conditions are rough. The best shoes for boating offshore should also be well-ventilated to allow your feet to breathe.  
Related Reviews: Water Shoes & Water Shoes For Kids
Q: What Shoes Should You Wear On A Boat?
A:
When on a boat, you should wear shoes with non-marking outsoles. Shoes for boats should also have a good grip on both dry and wet deck surfaces. You can wear deck boots, sneakers, sandals, bass pro boat shoes, or crocs, as long as they're non-slip and won't scuff or scratch the deck.
Q: Do You Wear Socks With Fishing Shoes?
A:
This depends on what type of fishing shoes you're wearing. Most fishing shoes for warm weather conditions aren't designed to be worn with socks. However, you can wear warm socks underneath your neoprene fishing boots when fishing in cold conditions.
Q: What Kind Of Shoes Do You Wear Fishing?
A:
Depending on the kind of conditions you will be fishing in, you can wear sandals, sneakers, boat shoes, crocs, flip-flops, or wading boots for fly fishing. As long as the shoes have a grippy rubber sole, drain water well, have a snug fit and feel comfortable to wear for prolonged durations, you should be great.  
Globo Surf Overview
Safe, comfortable, and enjoyable fishing are impossible without a good pair of fishing shoes. The best fishing shoes offer good traction and ankle support, great comfort, breathability, and are quick drying. The best fishing boots for cold weather fishing also offer waterproof and thermal protection.
With a good pair of top-rated fishing boots, shoes, or sandals depending on your fishing conditions, you will have safe and comfortable experiences out on the water. There will be no aches, pains, slips, or soggy feet. This is why it is totally worth it to invest in a pair of fishing shoes!
More Fishing Apparel Reviews:
More Shoes Reviews
What is your favorite pair of fishing shoes? Have you used any of the pairs in our list above for fishing? What was your experience? Let us know in the comment box below