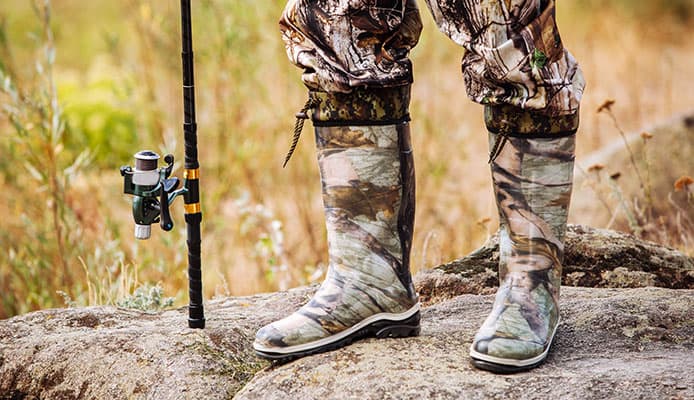 See Customer Owner Feedback >>
When out on the water fishing, it is important to have a solid pair of fishing shoes on to stay comfortable, have secure footing and enjoy a safe, productive, and enjoyable experience with no aches, pains, slips, or soggy feet. The best fishing shoes offer adequate traction on water, rocky, sandy, and slippery surfaces, drain easily and dry quickly, fit well, and are well-ventilated. The best fishing boots for angling in cold conditions also offer waterproof protection from the cold water and are insulated to keep feet warm.
Appropriate fishing footwear is a must-have for all anglers whether fishing from a boat, kayak, surf fishing, or wading in the water. That's why we're making it easy to find the perfect pair. We evaluated different water shoes, sandals, and boots and picked ones that stand out in terms of quality, water friendly features, and reliable performance out on the water. We've reviewed the top 10 picks below and followed that with a guide on what to look for to identify and pick the right pair of fishing shoes.
Ready to get started? Let's go.
How To Choose The Best Fishing Shoes – Buying Guide

There are plenty of brands, models, and styles of fishing shoes on the market and this can make the choosing process overwhelming. There are also features that footwear for angling should have in order to serve their purpose well. These features separate the best fishing shoes from the mediocre or poor quality ones.
Pay attention to the following features when selecting a pair of fishing shoes so that you can make a smart choice that will give you the best experience depending on how you fish and the kind of conditions you fish in and also give you the best value for your money.
Durability
Being specialty footwear, fishing shoes don't come cheap. You want to make sure you're spending your money on quality shoes that will offer you years of service and give you your money's worth. You don't want to get a pair of fishing shoes that will last a few weeks or months and start falling apart forcing you to spend even more money on a replacement.
Being worn for prolonged durations in water and exposed to harsh outdoor elements means that even the highest quality fishing shoes crafted using the most durable materials won't last forever. Still, the best fishing shoes and boots are well made to handle the conditions, hold up well, and stand the test of time.
To ensure you get a durable pair, inspect the quality of construction. Soles that are stitched last longer than those that are glued. The shoe tongue should be well attached to the side of the shoe to ensure that sand particles and other debris don't get inside and wear out the shoe.
The quality of stitching should be top-notch so it doesn't start disintegrating soon after purchase. The toe area is a stress point and should be made tough and rugged to resist impacts. Some rugged marine shoes are made to withstand harsh marine environments and these make durable saltwater fishing boats shoes.
It is also important to do some research to determine the reputation of the brand behind the product and read customer reviews to get an idea how the pair you're considering holds up after several fishing excursions.
Once you find a high quality pair that promises to hold up well and serve you for years to come, keep it in good condition and enhance its lifespan with proper care and maintenance.
Traction
Traction is a must-have safety feature in fishing shoes. You will be walking on slippery, sandy, rocky, and wet deck surfaces or wading in muddy water and slippery rocks and this means that you need a pair of shoes with adequate traction for stability and strong grip to prevent slips and falls.
When choosing a pair, ensure that the outsole that comes into contact with the ground is designed to offer great traction and a stable, non-slip grip on the kinds of surfaces you will be stepping on when angling.
The best fishing boots feature a rubber outsole, as it is grippy on most surfaces. A sturdy rubber sole is great for trekking and hiking to get to your fishing spot. For even more traction, the exterior sole isn't made smooth but is textured and patterned to maximize grip.
Superior traction on slippery surfaces is also provided by cleated or studded soles. These have metal spikes built into the sole to provide excellent grip and prevent injuries resulting from slipping and falling.
Weight
Lightweight wins when it comes to fishing shoes. A good shoe for angling has the other important features such as durability, good material construction, comfort, traction and protection from the elements and is also light in weight.
The lighter the shoe, the less tired your feet are going to get while wearing and walking in them. You can fish for as long as you want without being dragged down by fatigue and discomfort. When drenched in water, lightweight footwear won't get too heavy and make it difficult to walk out of the water.
Comfort
Comfortable shoes are essential if you're going to enjoy your fishing excursions and fish for as long as you want. Good fishing shoes should keep your feet dry and comfortable on the water.
Get the right size for a comfortable fit. With fishing boots for cold conditions, you can go a half size larger if you plan on wearing your shoes with insulating socks. Choose a lightweight shoe for maximum comfort.
The level of cushioning built inside the shoe or the presence of an in-sole also affects comfort. Shoes for angling should have sufficient padding to provide support and cushioning for comfort.
A shoe that offers a comfortable fit for your feet is important. If you have wide feet, fishing shoes with a roomy design and roomy toe area will be comfortable. Shoes with arch support provide comfort for higher arches.
For warm weather or summer fishing, a well-ventilated pair is essential for comfort. If you're fishing in cold water, you need waterproof and insulated fishing boots to keep your feet dry, warm, and comfortable.
Purpose
There are different types of fishing shoes to suit specific purposes. If you enjoy a specific type of fishing, choose shoes that will serve you best in it. Fly Fishing calls for wading boots or chest high waders. Surf fishing requires lightweight and breathable shoes.
The best fishing shoes for boat, kayak, canoe and float tube fishing are lightweight, drain easily, offer good grip on wet and slippery deck surfaces and have non-marking soles that won't scuff deck surfaces. Insulated ice fishing shoes are a must have to keep cold water out, keep your feet dry, warm, comfortable, and prevent frostbite.
Design
Fishing shoes come in all kinds of styles. There are boots, sandals, slip on, and athletic sneaker styles. Go for a style suits how you fish and offers the comfort, protection, and performance you need. It also doesn't hurt to have a stylish, good looking pair of shoes on when angling as long as it is also comfortable and protective.
Ankle Support
In addition to good traction on slippery surfaces, fishing shoes should also offer adequate ankle support. This is very important for balance and stability, as fishing terrain can be very unstable and even a slight twist can lead to a broken ankle. Ankle support is especially important when wading in water and walking on muddy and slippery surfaces.
Material
The type of material fishing shoes are made of is very important. Fishing shoes are outdoor gear exposed to wet and harsh conditions and worn in slippery and unstable terrain. Not all footwear materials will do. The most common materials used in the making of footwear for fishing are mesh, canvas, leather, rubber, and neoprene. The best material for you will depend on the kind of conditions present in your fishing environment.
Most boating shoes are made from leather which has been treated to repel water and stay dry. Mesh is great for wading, warm weather, boat and kayak fishing as it lets water drain easily, dries quickly and is lightweight and breathable for comfort. Canvas is rugged, dries quickly and protects your feet from the sun and other outdoor elements.
Neoprene is waterproof and insulated and makes for the best fishing boots for keeping feet dry and warm when fishing in cold water conditions. Rubber outsoles offer great traction and secure grip on most fishing surfaces. Nylon and polypropylene are great materials for shoelaces, as they are strong, resistant to water, and handle a lot of pressure.
Water Draining System
When angling, getting wet is unavoidable and water will flow inside your shoes. A great pair of fishing shoes should be able to let the water drain easily so the shoe can dry quickly. To ensure that you don't end up with shoes that get soggy and drag you down, check that the pair you buy has a mesh upper construction and venting in the soles so the water that gets in can flow out just as easily.
Grip
Whether you will be fishing from the shoe, wading in the water, or fishing from a boat, canoe, kayak, or float tube, you will be stepping on wet, slippery and other unstable surfaces. You need a pair of shoes that fits securely and has a grippy sole. Most fishing shoes have rubber outsoles that are patterned to offer a non-slip grip on water, mud, sand, rocks, and wet decks.
Maintenance
Finally, check the maintenance requirements for a pair of fishing shoes. Maintenance is essential to keep your pair in good condition, prevent offensive odors from developing, and get long service. A fishing shoe with complicated maintenance requirements won't be as appealing as one that is easy to care for.
For most pairs, a basic maintenance routine is sufficient. You only need to shake the shoes to get rid of any sand, debris or loose dirt inside then clean the shoes in warm water using a gentle liquid soap or liquid detergent to loosen the dirt and a brush to scrub away the stubborn dirt.
This is followed by a thorough rinse using fresh water and hanging to dry. Removing the insole and drying them separately leads to quicker drying. You can also throw them in a washing machine on gentle cycle.
Things to avoid because they will ruin the fishing shoe material and shorten the lifespan of your valuable pair include extremely hot water, strong detergents, and heat drying.
FAQs

Q: What Are Fishing Shoes?
A:
Fishing shoes are specialized water shoes designed to be worn when fishing. They offer better traction and grip on slippery surfaces than regular footwear. They are also well-ventilated for easier drainage of water and speed of drying. There are even specialized fishing shoes made for specific types of fishing such as wading boots for fly fishing.
Q: Do I Need Fishing Shoes?
A:
The right footwear is crucial for any activity as it provides essential protection and promotes peak performance. Fishing shoes are a must have if you're an avid angler and spend prolonged times on the water. They are also highly recommended if you're just starting out or angle occasionally. While you may feel like it is not worth it spending money on a pair of shoes for fishing when you can wear versatile outdoor or athletic shoes, such shoes won't provide you with the kind of comfort and protection fishing shoes would.
Fishing means being active for long periods of time and walking, wading, or trekking on unstable and slippery surfaces. Not just any shoes will do and regular shoes can be uncomfortable and even risky to wear when angling.
Fishing shoes are equipped with rugged outsoles for a stable grip on slippery surfaces, are able to handle water well and are designed to be lightweight and comfortable even when worn for hours of fishing. Fishing boots for wading in cold water are also equipped to keep cold water away from your feet and offer thermal protection especially when you have to stand immobile in water for a prolonged duration.
In conclusion, every angler needs fishing shoes. A solid pair of fishing shoes provides a safe fishing experience preventing accidents from slipping and falling, helps you fish longer, catch more fish, and enjoy your fishing adventures. It is totally worth investing in.
Q: What Is The Best Material For Fishing Shoes?
A:
Rubber is the best outsole material for fishing shoes because it provides a good grip on most of the unstable surfaces an angler steps on when fishing. For warm weather fishing or fishing from a boat or kayak, mesh is the best material as it is lightweight, breathable, allows water to drain quickly, and dries fast. For fishing in cold water, neoprene offers excellent waterproof and thermal protection keeping feet dry, warm, and comfortable.
Globo Surf Overview
Fishing shoes are an essential accessory for all anglers. Safe, comfortable, and enjoyable fishing is impossible without a suitable pair of shoes on whether you are an avid angler, just starting out, or catch fish once in a while. The best fishing shoes offer good traction and ankle support, great comfort, breathability, are quick drying, and suit the fishing environment. The best fishing boots for cold weather fishing also offer waterproof and thermal protection.
Now that you know what to look for, you will find that buying the right pair of fishing shoes that will serve you best is easier. You can start by checking out the top rated fishing boots and shoes reviewed above to pick a pair that suits your requirements. All of them are good quality, have the most important features, and their performance when fishing is top rated.
With a good pair of fishing shoes, sandals, or boots depending on your fishing conditions, you will have successful and fun experiences out on the water. There will be no aches, pains, slips, or soggy feet. This is why it is totally worth it to spend extra bucks to get the best fishing shoes!
More Fishing Reviews:
More Shoe Reviews
What is your favorite pair of fishing shoes? Have you used any of the pairs in our list above for fishing? What was your experience? Let us know in the comment box below
Globo Surf Fishing Shoes Reviews
; ; ;
★★★★★
"
My absolute favorite are Merrell Men's All Out Blaze Sieve Water Shoe. I strongly recommend this product!
"