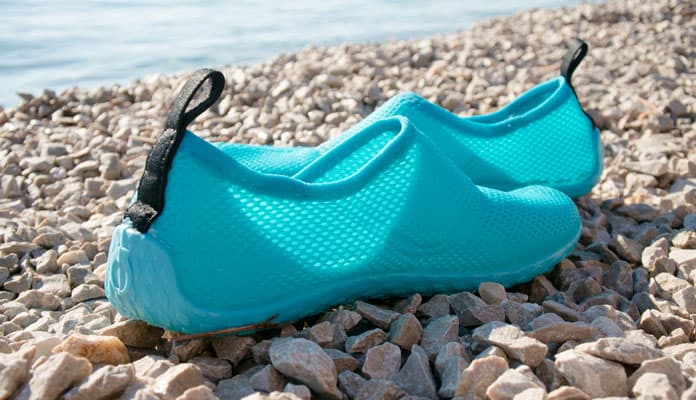 OUR TOP PICK

---

EDITORS CHOICE

---

BEST VALUE

---
If you are an outdoor enthusiast who loves the rush of adrenalin that kayaking, paddle boarding, or snorkeling gives you, nothing beats the comfort and the protection of having water shoes on your feet.
Having come a long way since first introduced, water shoes have a different range of features such as underfoot traction, thermal protection, water drainage, and of course sleek design that supports people who need water shoes for different purposes.
Whether you are working at a car wash or someone who uses water shoes for daily activities, it is important to get a high-quality pair that will last you.
It is no denying that with several options on the market, your quest for water shoes can create confusion. Luckily, we have already done the research and compiled a list of the Best Water Shoes in 2023.
From kayaking to hiking, these water shoes are topped our list with remarkable qualities. If you haven't already, check out our list of the best men's and women's water shoes for this year.
How To Choose The Best Water Shoes – Buying Guide
When deciding on the right shoes for you, there are lots of elements to consider. The market for aquatic foot protection is quite saturated which means that you will likely be able to be picky when choosing the topwater shoes. 
While you may be tempted to choose a pair based on style and colors there are four more important features to consider.
Related Post: Water Shoes Buying Guide
Use
Most importantly you must determine your intended use. A shoe intended for hiking will be vastly different than one that is intended for lounging poolside. When using your shoes for a more adventurous water activity you may require more support. 
When opting for a watersport, you will likely require more flexibility and reduced bulk in your ideal water shoe.
Lacing
Your shoes are no good for you if they don't stay on your feet. The shoes you choose should have a lacing system that not only secures them to your feet but also ensure they are comfortable.
Traction
This is the outer sole of your shoe. As these are designed for aquatic use you can bet that the surfaces you stand on will be slippery. Decide on how much traction you require and then check that the amount on your shoe matches your needs. Heavy-duty thread is ideal for navigating slippery rocks. A thin sole that offers more flexibility is better for pools and watersports.
Comfort & Fit
Once you have determined your ideal aquatic shoe type, you will want to try it on to make sure it fits you right. It is important that these are comfortable and fit your foot properly. 
As these shoes are intended for use in wet conditions, the chances of chafing and blistering are greatly increased. Trying the shoe on and walking in it for a bit will determine whether it is the right shoe for you.
Material
Since you will be using your shoes in wet conditions, it is important that the material dries quickly. Many synthetic fabrics will ensure your feet dry quickly and do not retain water. 
It is recommended to steer clear of materials such as cotton that will absorb water. These will weigh you down and keep your feet wet.
Drainage/Breathability
Being able to allow the water to escape from your shoe is a critical feature. If the shoe doesn't allow water out your feet will get heavy and could even be pulled off your foot. 
Companies combat this by adding drain holes to the design. Some will have a sole that has holes in it to allow water to pass while others have actually cut holes into the material. 
Some companies also use a material that is porous and actually wicks water out automatically.
Slip-on
Companies will add features that allow you to put shoes on and off in almost no time. Some have an easy to use zipper while others utilize a pull tab at the heel. 
Being able to quickly put your shoes on will get you to the water quicker and without a struggle. This is also an excellent feature for young children.
Cushion / Shock Absorption
These shoes have padding built into the shoe that will not come loose and make you feel comfortable. Your shoe should fit comfortably and your foot should not move around. If you are going to be using them for rocky shores, ensure you have enough padding so that you will not feel the sharp edges of the rocks.
How To Pick Your Shoes
Now that you know the features to look for, it is important to consider how you are going to be using your shoes before determining what the perfect pair for you is.
Environmental Factors
Whether you are in the tropical water of the Caribbean or in the cooler water off the coast of Washington, it will greatly influence what type of water shoe is right for you. 
If you are using your shoes in colder water conditions you may not want a shoe with full mesh. Having some added protection and even insulation between your feet and the colder waters will prove invaluable. 
Shoes with thicker materials, such as neoprene, are recommended for these kinds of conditions. Neoprene is a material that wetsuits are made of and will allow you to stay in colder water longer. 
When lucky enough to be in warm tropical water you will not need the added security and protection of a cold water shoe. A simple mesh shoe that focuses on breathability is key for you. This will allow the warmer water to freely flow against your skin but protect you from the rough slippery rocks and warm sand. 
The thinner mesh material comes with a lightweight design that is focused on breathability and fast-drying technology. We suggest looking for a shoe with air holes that allow water to pass through with ease. This will keep your feet cool and dry making your day more enjoyable.
Type Of Water Activity
Another important factor to consider the best shoe for water is the type of activity you are doing. Some people use water shoes for work in positions that have you around water a lot of the time. These shoes will need to offer enough padding and support to provide comfort for an eight hour day. 
Others use their shoes for snorkeling or scuba diving. If this is the case, getting a shoe with a low profile design that will easily fit is important. Kayaking, SUP, canoeing, and swimming in the water all require the same comfortable design that secures the shoes tightly to your foot while staying comfortable enough to bend and flex. 
Lots of water shoe users want a well-rounded boot that will transfer between swimming, beach yoga, and volleyball to a grocery store or restaurant. Lots of shoe companies know the importance of this and have created water shoes with a fashionable design that mirrors your average sneaker giving you an even wider range of use.
Related Review: Kayak Shoes

Types of Water Shoes
For those outdoor enthusiasts that love the water, you may want to consider a pair of aqua socks. These fast-drying shoes come in a number of different styles depending on your intended use. 
With four main types of shoes to choose from, you will be able to find the perfect shoes for your next day in the water.
Related Post: What Are Water Shoes
Sandal Type Water Shoes
You don't always need to have closed shoes in and around the water. Sandal shoes are great for getting you to and from the beach. What makes these much better than regular flip flops is their thick sole. Some will also have some sort of mechanism which keeps these on your feet. This can be done through a mesh material that hugs the contours of your foot.
Even though these add great protection for short walks on relatively level ground, they don't offer enough when it comes to hiking. But with that being said, these are light enough that you can throw them in your bag to air your feet out when you find a beach.
Closed Toe Water Shoes
This type of water shoe is the best for all-around use. Halfway between sandals and running shoes, these are great go-to shoes that fit a more "one type fits all" mentality. Close-toed shoes have all the benefits of a sandal design but with a proper lacing system, a mesh lining, and a padded collar. 
The strap sandal design crosses over your foot enclosing your heel to provide a secure fit to your foot. These shoes still provide all the benefits of sandals including exceptional ventilation and drainage. 
Reviewers are quite pleased with the comfort of this type of shoe. Unlike sandals, they offer more support and protection from both the sun, sand, and sharp rocks.
Active Water Shoes
If you are the type of person who can't sit still, you will want active shoes. You will be able to do all the activities you want including running, hiking, and backpacking. What makes these so great is that they are just as comfortable as traditional running shoes.
They have been made out of materials that are specially designed to be lightweight while allowing water to drain through them. Most of these shoes will actually float in water which doesn't sound like a feature you need until you're put in a situation where it makes sense.
Barefoot Water Shoes
If you need water shoes that are lightweight while being comfortable, barefoot shoes are what you're looking for. These have transitioned from a trend to a staple in the shoe market. Instead of encasing your toes inside a shoe, barefoot shoes have a spot for each individual toe.
Some companies offer this type of shoe, but if you are looking to use them in wet conditions you should ensure they fall in the water shoe category. This means they will be able to be immersed in water and be able to drain the water properly. 
Shoes in this category typically use rubber which makes them flexible, lightweight, and durable. These shoes can even be used for surfers who need the most control over their board.
Aqua Socks
Despite their name, this type of water foot protection is not technically socks. Aqua socks offer more protection than their typical cotton counterpart. 
Water socks have many benefits with the most important being their comfort and versatility. These socks vary from having some mild traction on the sole while others utilize thick rubber for additional support. 
Aqua socks are quite cushioned and are great for protecting your feet from hot sand and other potential hazards. These are ideal for the pool, the beach, and calm aquatic conditions. 
Many snorkelers and scuba divers use this type of foot protection as it is useful in combating blisters when using fins.
FAQs
Q: When to Use Water Shoes?
A:
You can use water shoes in almost any situation. They are perfect for using in the water, but they can also be used on dry land too. They are great for wearing when you are participating in water sports such as kayaking. 
A good water shoe will provide protection to your feet while resisting the water. They are also great for activities such as fishing. 
They provide you with the traction you need on slippery surfaces. They are also great for hiking, especially in wetter conditions. Should you find a lake on your hike, you can also take a quick dip in the water to refresh yourself.
Related Review:
Fishing Shoes
Q: What Are The Benefits of Water Shoes?
A:
There are two main benefits to water shoes over regular shoes. Firstly they have thick soles to prevent anything jagged from penetrating to the sole. This is great when you are navigating rocks at the beach. 
They are also waterproof. They let the water in, but they also drain the water away. Another benefit of being waterproof is that they do not harbor nasty bacteria that can grow and smell.
Q: How To Clean Water Shoes?
A:
If the shoes are particularly dirty, then you can soak them in some warm soapy water and then rinse them off with warm freshwater to get rid of dirt and salt. 
After you rinse the shoes off, make sure to let them dry before you wear them again. To speed up the drying process, you can use a hairdryer.
Q: What Are The Differences Between Regular And Water Shoes?
A:
Water shoes are made from waterproof materials while regular shoes are not. As the shoes are made from waterproof materials, they do not harbor the same bacteria which regular shoes would harbor if they got wet. 
Aqua shoes are also designed to be put on and taken off quickly. They usually are designed to slip on your shoes instead of having to tie laces. 
Water shoes also have a thicker sole to protect your feet from any jagged surfaces. 
Shoes also have better traction on the soles. They are designed to be used in wet conditions. With regular shoes, you will get some traction, but not as much as you will with water shoes. This can be critical if you are navigating over wet rocks.
Q: Can I Use The Same Water Shoes For River, Sea, and Pool?
A:
Yes, you can. Water shoes are made from waterproof materials that can withstand fresh and saltwater. They also provide excellent traction, so they are great for walking through rivers, wading into the sea, or walking around a wet poolside. 
The only thing we recommend is that you wash your shoes between each use, especially if you are using your shoes in saltwater.
Globo Surf Overview
The top rated water shoes will be a combination of features that work best for you. Before you decide on a set of boots, consider what kind of terrain you will be using them in most. 
Rockier beaches will require more padding and grip while sand will only require a little traction. Don't forget that these are going to be used in wet environments and should have a quick-drying material that ensures your feet don't stay wet after you leave the water. 
These shoes are meant to make your day on the water be more comfortable and allow you to explore places you never thought possible. Having shoes that seamlessly transfer between all water activities will allow you to get the most out of your summer. 
If you like what we've covered on our list, you can also check out our Duffel Bags, and a lot more.
More Water Gear Reviews:
Umbrella
Polarized Sunglasses
Patio Heaters
Rain Boots
More Shoes Reviews:
Boat Shoes For Women
Boat Sailing Shoes
Do you have a favorite water shoe that made it on our list? Let us know how you like it in the comment section below.