In the summertime, if you're anything like us, you spend as much time as possible in or near the water. Going out boating, climbing to find the best spot for cliff jumping, jumping across rocks along a river or simply lazing on the beach with your family the summer months offer something for everyone. Just as you protect your feet from all the harsh weather in all the other months, it is important to protect them in the summer as well. Sharp rocks, burning hot sand and pavement, summer has its fair share of hazards as well.  That is why it is so important to get adequate foot protection.
We worked hard to find the best water shoes for men on the market to have you enjoying your summer months to the fullest. Take a look at what we found below.
Aleader Men's Quick Drying Aqua Water Shoes
See Customer Owner Feedback >>
What Makes These Mens Water Shoes Stand Out

Arch support

Superior grip

Fast drying
Weight: 11 oz
Material: Mesh fabric with rubber sole
Dreamcity Men's Athletic Sport Water Shoes
See Customer Owner Feedback >>
What Makes These Mens Water Shoes Stand Out

Solyte midsole

ComforDry sock liner

Laces allow a snug fit
Weight: 5 oz
Material: Fabric with rubber sole
Zhuanglin Men's Quick Drying Aqua Water Shoes
See Customer Owner Feedback >>
What Makes These Mens Water Shoes Stand Out

Lots of drain holes

High end build quality

Comfortable
Weight: 1 lb
Material: Mesh upper, rubber sole
Crocs Men's Swiftwater Mesh Sandal Water Shoes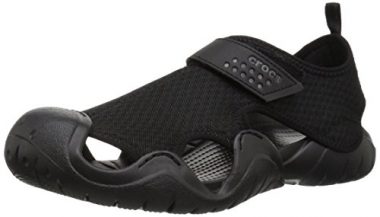 See Customer Owner Feedback >>
What Makes These Mens Water Shoes Stand Out

Top of the line brand

Massage pods

Great traction
Weight: 0.75 lbs
Material: Mesh upper
Aleader Men's Mesh Slip On Water Shoes
See Customer Owner Feedback >>
What Makes These Mens Water Shoes Stand Out

Breathable mesh topping

Flexible rubber sole

Tough grip
Weight: 4 oz
Material: Fabric with rubber sole
Speedo Men's Surfwalker 3.0 Water Shoes
See Customer Owner Feedback >>
What Makes These Mens Water Shoes Stand Out

S-track tread

Removable sole

Fast drying
Weight: 7 oz
Material: Mesh textile with synthetic sole
L-RUN Men's Barefoot Skin Water Shoes
See Customer Owner Feedback >>
What Makes These Mens Water Shoes Stand Out

Non slip design

Roll up for unrestricted range of motion

Ultra lightweight
Weight: 50-100 grams (1.7-3.5 oz)
Material: Nylon with rubber sole
Merrell Men's All Out Blaze Sieve Water Shoes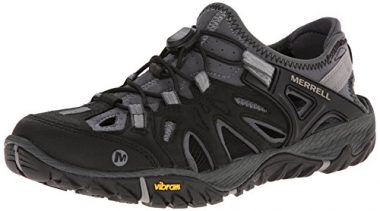 See Customer Owner Feedback >>
What Makes These Mens Water Shoes Stand Out

Aggressive tread set up

Waterproof leather

High end manufacturer
Weight: 1 lbs 5 oz
Material: Waxed leather upper
The Wave Men's Waterproof Water Shoes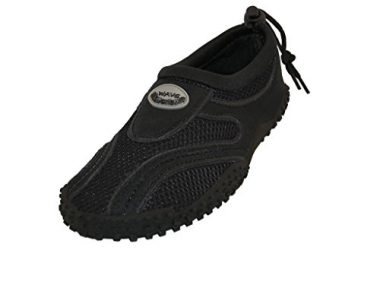 See Customer Owner Feedback >>
What Makes These Mens Water Shoes Stand Out

Removable insoles

Excellent construction

Great value
View More By The Wave Water Shoes »
Weight: 1 lbs
Material: Neoprene with rubber sole
Teva Men's M FOREBAY Sandal Water Shoes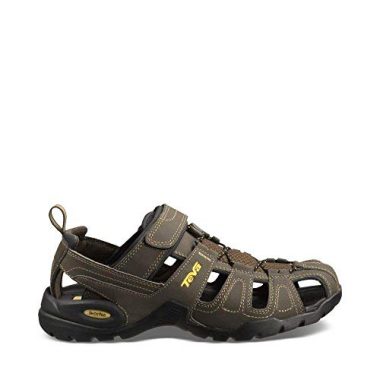 See Customer Owner Feedback >>
What Makes These Mens Water Shoes Stand Out

Shock absorbing heel

Toe protection

Durable design
Weight: 1.1 lbs
Material: EVA, Rubber, Synthetic, Mesh
How To Choose The Best Water Shoes For Men – Buying Guide

When shopping for your next pair of men's water shoes it is important to get a top quality pair. These are typically much more affordable than your everyday shoes so it is important to get the best on the market.
Fast Drying
The most important factor for mens water shoes is for them to be quick drying. This feature is as much for comfort as it is for hygiene. Men's water shoes are typically seen having mesh tops to give your feet breathability and allow them to dry quickly. This is also an important feature for hygiene reasons as it will drastically reduce the chances of mildew growing in your shoes from prolonged dampness. Being able to remove the sock is an important feature that will drastically reduce the shoes drying time. Having shoes that can air dry will allow for more summertime use.
Lightweight
It is important to not be weighed down by the shoes on your feet as typically they will increase in weight even more once wet. A lightweight shoe will allow you to have a barefoot feel while providing your feet with added protection. This is often accomplished by designing a shoe with a lot of mesh. This works as both an effective lightweight layer that is comfortable for prolonged wear. This is also achieved by having a slip on design that doesn't require laces or any other bulk. This will prove immensely valuable when traveling with your mens shoes.
Seamless
When wearing wet clothes, it tends to chafe and rub a lot more than when dry. The same is true for mens shoes. This is why it especially important that your pair of water shoes have as little irritants as possible. For this reason many water shoe designs do not have tongues and laces as this can cause pressure points in the shoe. While it isn't likely they carry a seamless design, it is important that there are less seams and the the seams run flat against the skin. This will allow you added comfort when the shoes are wet.
Tread
As it is for many other activity shoes it is incredibly important for water shoes to have a reliable tread. As you will be using these shoes primarily in slippery conditions it is important that they carry an anti slip design on the soles. This is common and most all water shoes will have a tread that will help your shoe hug slimy rocks and slippery surfboards. This will help to ensure that you stay safe and comfortable.
Versatility
When on the hunt for your next pair of men's water shoes we recommend looking for a pair that can seamlessly go from swimming in the ocean to camping in the mountains. This means shoes that offer a fair amount of cushioning and support. You will also want to look for a pair that is comfortable enough to wear for extended periods of time as well as those that have a thick enough sole to be worn out of water. This will prove incredibly valuable in the summer months when trips to the beach often start at the grocery store.
Drainage capability
Being able to properly drain the water that you enter is one of the most important aspects of a water shoe. One of the primary benefits of a water shoe is its ability to properly drain. The drainage ability in a shoe will directly be related to both the material used as well as the shoes design. Obviously, some shoes will have better draining abilities than others. Sandals, for example, will typically have the highest draining capabilities. Many people think that a shoe that is highly breathable or has exceptional water wicking ability will be enough which simply isn't the case.
This is a very important feature to consider for a number of reasons. The most obvious of which is that it will greatly affect your comfort level.  With the pooling of water, you will find yourself slipping around in your shoes much more which could be dangerous. The wetness experienced may even cause unwanted rubbing and lead to blisters forming.
Having water shoes with proper draining will also work to make you more mobile. Shoes that are full of water will be quite a bit heavier which will make them much harder to walk around in. Not only that, the lack of drainage can cause water to pool making them much more susceptible to mold and mildew growth.
This is specifically important for those looking to wear their shoes for water sports. You water shoes should not simply be some that you can wear in the water, but also be something that you can comfortably and efficiently wear out of the water. The best water shoes are those that effectively drain releasing all the moisture from your shoe once you leave the water.
When measuring the effectiveness of your shoes, there are two factors that determine the quality of your shoe.
Effectiveness
This refers to your water shoes ability to drain as much water as possible. This is generally determined by the location of the perforations on your shoe. Shoes that have only drainage from the upper part of your shoes, where the mesh is, will still risk having some puddles remaining. Shoes that feature drainage channels in the lower area, such as on the underside, will more effectively drain moisture eliminating any pools.
Speed
As you may have guessed, this area refers to how quickly water is able to escape your shoes. This will be determined by the material used in the shoe as well as the size of the drainage holes. Shoes that allow for quick drainage will mean less time that you sit uncomfortably and also can make it so that your shoes drain, and dry, much faster.
Fit
The fit that you get for your water shoes will depend on your use. In general, you will want your shoes to fit snug while not be constricting. Ensuring that your shoes are an optimal size for your toes to move a bit is important. Shoes that are too tight will risk rubbing and blisters, or even give the feeling of falling off altogether. On the other hand, shoes that are too tight can be incredibly uncomfortable and also risk blisters. If you plan to do activity in your shoes, such as various water sports, then you will want to opt for water shoes that fit a bit tighter. This will allow you proper mobility without risking your shoe from falling off.
Protection
You're going to be using these shoes in places that can seriously hurt bare feet. Especially in salt water conditions, rocks can have barnacles and sharp points that can cut up your feet. You'll need water shoes that have the highest amount of protection you can get.
The soles should have grip so you can get in and out of the water without slipping around. This will allow you to also have confidence in your shoes. Being able to know that you don't have to choose your footing perfectly will allow you to take in your surroundings while you move around.
Water shoes should also have straps that secure them to your feet. Your foot shouldn't slide out of your shoe even when you're climbing huge rocks. A mesh material is great for securing your foot as it is flexible and can conform to the shape of your foot. Straps that secure your ankle are also excellent options for water shoes.
Some companies also include to caps to reduce the effects of stubbing your toes. These are essentially pieces of rubber that encase your toes. Other companies use a thick sole that creates more of a barrier between the bottom of your feet and the ground. This also makes the shoes more comfortable for longer hikes.
Use
The shoe that you choose should be based entirely on the way you plan to use your shoe. It is wise to decide whether or not you plan to use your shoes while swimming in the water, as an anti-slip shoe for pool decks or as a multi purpose shoe that has the ability to go in the water. The way you plan to use your shoe will directly affect the type of shoe that you should choose.
Grip
The grip your shoe carries is an incredibly important part of your water shoe. The grip of your shoe can be represented by the protection that the sole of your shoe provides. This is an area that should not be compromised on as it affects your safety. This, while important in all shoes, is especially important in water shoes. This material used on the outsole of your shoe plays a big role in the grip of your shoe. It is important for the tread to be designed so that water can escape out from underneath it. This is especially important because of the use in wet environments.
Type
The lines of the different available types of water shoes have been a bit blurred as more and more manufacturers have come out with options. The types available depend on who you are talking to making it easy to get quite confused. In general, the types center around the activity they are used for. Hiking shoes, boat shoes, swimming and watersports shoes, and beach shoes are the most general terms for hiking shoes. There are then many shoes that are built to be able to transition between many different uses. The types of water shoes we are focusing on are based on the specific trait that the shoe excels in.
Related Reviews: Kayak Shoes & Fishing Shoes
Aqua Shoes
This type of shoe is our most broad category of shoe but still has some defining abilities. For most aqua shoes or water shoes, refer to multi purpose shoes. These are designed for performance and long term wear for activities such as walking or hiking. These shoes have adequate drainage allowing for you to trek through streams and rivers. They are unique in that they perform well in and out of the water. They also feature a fair sized sole allowing you ample foot protection. Typically most users do not wear these shoes with socks but this is more of a preference than a rule.
Wet Shoes
This shoe type is designed specifically for use in the water. The material in these shoes is typically the same neoprene material used in wetsuits. This makes them not as ideal for use on land, especially for long periods.
Water Sandals
Don't let the name confuse you as this type of foot protection is more shoe than sandal. Think of it as a water shoe but with all the benefits of a sandal. Very similar in style to the aqua shoe, these have no toe protection and larger openings making for better drainage and a more spacious feel.
Boat Shoes
This shoe should be on every boaters wish list. This type of shoe is not meant for performance in the water but rather for use on top of it. This is the style of shoe that most boaters and sailors will turn to as they are built to be able to walk on wet surfaces. These shoes, also referred to as deck shoes, have a non slip sole that provides superior protection. Built specifically to walk on hard and wet surfaces, it is no wonder these are ideal for boats. While these shoes are ideal for use on a boat, they are not built for use in the water.
Related Reviews: Boat Shoes For Women & Boat Sailing Shoes
Fivefinger Shoes
This type of water shoe is relatively new to the game but has hit the market with a bang. These shoes, as the name suggests, are unique in that they have pockets for each of your toes to slip into. Forming a shell that is formed to the shape of your foot, these shoes are more like a sock that has a hard bottom. These shoes are incredibly versatile. They are a great option for the beach, a pool, out on the boat and many more places. There are a few brands in the game, the biggest of which is Vibram.
Beach Shoes
Beach shoes are another broad sort of umbrella style type of shoe that encompasses many different styles of shoes. This term is not really used to describe a single style but rather a destination. From slippers to sandals, there are many different shoes that could fit into this type. Typically, we would count these as lightweight shoes that can go into the water as well as be suitable for dry land, much like aqua shoes.
FAQs

Q: Why Use Water Shoes Instead Of Walking Barefoot Or Using Regular Shoes?
A:
Water shoes hold two main advantages over being barefoot. They provide a barrier between your feet and the uneven ground you are walking on. This is specifically useful when considering sharp rocks and barnacles that could be at the beach. The second reason they are a better option is that they provide a good amount of grip. As you will be near the water you will be at an increased risk of slipping. Water shoes are designed to have some grip which will help you to keep your feet in place.
Water shoes have many benefits over your regular shoes as well. The first being that they are typically much lighter in weight. This is partly due to their superior draining ability when wet. They are also generally much more comfortable when wet than your regular shoes will be. A shoe that is built for water will have much less to worry about in terms of mold and maintenance.
Q: How Many Types Of Water Shoes are There?
A:
While there are many different names out there for water shoes, strictly speaking, there are four main types. Boat shoes, water sandals, wet shoes and aqua shoes are the most understood types of water shoes out there all with their own distinguishable features.

Related Reviews: Water Shoes For Kids & Non Slip Shoes
Q: Will Water Ruin My Regular Shoes?
A:
Yes! This becomes even more truer when you are considering use in salt water. Water shoes contain specific technology that gives them the ability to withstand water that regular walking shoes simply don't have. Your regular walking shoes do not contain these advances in technology which can cause them to breakdown when exposed to water. This will cause permanent damage to your shoes and is best to be avoided.
Globo Surf Overview
Many people spend a great deal of time either in or around the water year round, but especially in the summer months. This is a time where many foot injuries occur from hot sand, hot pavement, rolled ankles or stepping on sharp rocks. This is all preventable with a lightweight and high quality water shoe. The shoes on our list vary in weight and size as well as functionality to allow you to get exactly what you are looking for. Getting a pair of cool water shoes for men will allow you to take your shoes with you from dry land to water sports in the water such as paddleboarding and snorkeling. These shoes will have a snug feel as you will want to ensure they stay on even when in the water. Possibly your best summertime purchase, men's water shoes should be at the top of your list for this summers must haves.
More Water Gear Reviews:
More Shoes Reviews:
Did your favorite water shoes make it our list? Let us know how you like them in the comment section below.