In the summertime, if you're anything like us, you spend as much time as possible in or near the water. Going out boating, climbing to find the best spot for cliff jumping, jumping across rocks along a river or simply lazing on the beach with your family the summer months offer something for everyone. Just as you protect your feet from all the harsh weather in all the other months, it is important to protect them in the summer as well. Sharp rocks, burning hot sand and pavement, summer has its fair share of hazards as well.  That is why it is so important to get adequate foot protection.
We worked hard to find the best water shoes for men on the market to have you enjoying your summer months to the fullest. Take a look at what we found below.
QUICK ANSWER: THE BEST WATER SHOES FOR MEN
Best Water Shoes for Men
Water Shoes for Men Reviews
1. Aleader Men's Mesh Slip On Water Shoes
  Check Price Now
What Makes This Mens Water Shoes Stand Out:
Breathable mesh topping
Flexible rubber sole
Tough grip
Model & Accessory Specs:
Weight: 4 oz
Material: Fabric with rubber sole
You will quickly fall in love with these slip on water shoes coming in at an unbeatable price. Unparalleled quality make up these mens shoes with their incredibly flexible design that perfectly form fits to the shape of your foot. A durable rubber sole protects your feet from sharp rocks and provides a needed layer in between your foot and hot sand. With an impressive water grip, these soles are designed to keep your feet stable even when maneuvering across wet and slippery rocks. The top of the foot is made from a mesh like material allowing your feet lots of opportunity to breathe. This is great for those hot summer months. This water shoe is lined with a ComforDry sock lining that further protects your foot combing the cushioning your feet desire with unbeatable performance. This helps to prevent mildew from growing in the shoe after prolonged wetness by giving it a breathable layer that is fast drying. Not having a tongue or laces on this shoe means that you will not risk skin irritation in these areas once the shoe is wet. This allows it to sit even more comfortably against your skin. It is easy to see why these shoes top our list for one of the best water shoes for men on the market.
2. Aleader Men's Quick Drying Aqua Water Shoes
What Makes This Mens Water Shoes Stand Out:
Arch support
Superior grip
Fast drying
Model & Accessory Specs:
Weight: 11 oz
Material: Mesh fabric with rubber sole
Another fantastic shoe by Aleader, this water shoe mimics a tennis shoe with the impressive talent of being water compatible. With a tongue and laces, these mens shoes can easily be slipped on and off. A completely mesh upper sole allows the water to easily drain from these shoes when wet. The large pockets are great for easy breathability and allow a fast dry keeping your shoes fresher longer. The soles of these mens shoes are incredibly durable flexing with your foot to provide superior comfort. They have a superior tread that grips to the surface even when wet. This shoe has a minimal amount of flat lying seams to help ensure that your foot stays comfortable even when wet. The interior of this shoe is made just as well as the exterior with a ComforDry sock lining and additional arch support. This allows you to comfortably wear these shoes for long periods. As these shoes have more support in them, they transfer nicely from mens water shoes to hiking, gym and everyday shoes as well.
3. Speedo Men's Surfwalker 3.0 Water Shoe
What Makes This Mens Water Shoes Stand Out:
S-track tread
Removable sole
Fast drying
Model & Accessory Specs:
Weight: 7 oz
Material: Mesh textile with synthetic sole
It is no wonder this came in as a top rated men's water shoes, this shoe my Speedo takes you from your car, into the water and right back out again. This shoes versatility is why so many people are buying it being a great shoe for in water sports as well as beachwear. The superior comfort is what makes people so loyal to this shoe. A stretchy slip on style design has a mesh top which allows it to form fit to your foot perfectly. The lightweight mesh design also allows this shoe to dry incredibly fast making it the best shoe for transitioning between in water and on land use. While these shoes may look minimal they have a thick S-track outer sole that leads way to an impressive amount of tread. Perfect for rocky shores, these shoes grab onto the surface holding you more secure. A removable inner sole makes sure that this shoe gives you the most comfortable fit.
4. Dreamcity Men's Water Shoes Athletic Sport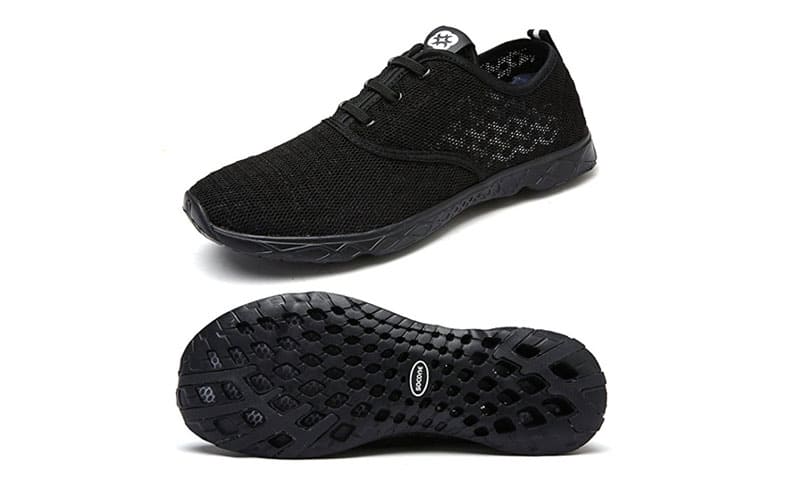 What Makes This Mens Water Shoes Stand Out:
Solyte midsole
ComforDry sock liner
Laces allow a snug fit
Model & Accessory Specs:
Weight: 5 oz
Material: Fabric with rubber sole
This shoe is similar to the Aleader Men's Quick Drying shoe as it too holds a tennis shoe design. With laces and a tongue this shoe can seamlessly transition between the water and the grocery store. The laces allow you to adjust the fit of these shoes giving you more control to get the fit that works best for you. A Solyte midsole is designed to be lightweight while still offering a superior bounce back motion giving you an added spring in your step. This pair comes with a lightweight ComforDry sock liner that adds cushioning to your foot giving you a more protected stride. This liner is removable increasing the hygiene of the shoe making it less likely for mildew to grow. The large squared mesh design on the top of the shoe allows it to fast dry allowing for more use. This also provides superior breathability making this one of the best summer mens shoes on the market.
5. L-RUN Unisex Water Shoes Barefoot Skin Shoes for Run Dive Surf Swim Beach Yoga
What Makes This Mens Water Shoes Stand Out:
Non slip design
Roll up for unrestricted range of motion
Ultra lightweight
Model & Accessory Specs:
Weight: 50-100 grams (1.7-3.5 oz)
Material: Nylon with rubber sole
This water shoe comes in over 10 different colors allowing you to show your personality and buy a pair for the whole family. Use these water socks for men or women with their unisex design. A low riding design makes these look like socks while still having an impressive amount of tread. A great option for those who travel often as these shoes are incredibly lightweight and can roll up to tightly fit into your luggage with ease. The flexibility of this shoe is unique to this design allowing your foot a full undisturbed range of motion. The nylon design hugs your foot with a slight stretch fitting perfectly every time. Despite the socks lightweight design it actually holds quite a substantial outer sole with a non slip design helping make it so you do not slip when treading on slippery rocks. This thick sole also offers much needed protection from hot summer pavement and sand. The true beauty of these mens water shoes is that they often feel like an extension of your foot making them an appropriate choice for a wider range of activities. From beach volleyball and yoga, to a comfortable shoe while camping and even a great option for your water sports such as snorkeling or surfing.
What To Look For In A Water Shoes for Men
When shopping for your next pair of men's water shoes it is important to get a top quality pair. These are typically much more affordable than your everyday shoes so it is important to get the best on the market.
Fast Drying
The most important factor for mens water shoes is for them to be quick drying. This feature is as much for comfort as it is for hygiene. Men's water shoes are typically seen having mesh tops to give your feet breathability and allow them to dry quickly. This is also an important feature for hygiene reasons as it will drastically reduce the chances of mildew growing in your shoes from prolonged dampness. Being able to remove the sock is an important feature that will drastically reduce the shoes drying time. Having shoes that can air dry will allow for more summertime use.
Lightweight
It is important to not be weighed down by the shoes on your feet as typically they will increase in weight even more once wet. A lightweight shoe will allow you to have a barefoot feel while providing your feet with added protection. This is often accomplished by designing a shoe with a lot of mesh. This works as both an effective lightweight layer that is comfortable for prolonged wear. This is also achieved by having a slip on design that doesn't require laces or any other bulk. This will prove immensely valuable when traveling with your mens shoes.
Seamless
When wearing wet clothes, it tends to chafe and rub a lot more than when dry. The same is true for mens shoes. This is why it especially important that your pair of water shoes have as little irritants as possible. For this reason many water shoe designs do not have tongues and laces as this can cause pressure points in the shoe. While it isn't likely they carry a seamless design, it is important that there are less seams and the the seams run flat against the skin. This will allow you added comfort when the shoes are wet.
Tread
As it is for many other activity shoes it is incredibly important for water shoes to have a reliable tread. As you will be using these shoes primarily in slippery conditions it is important that they carry an anti slip design on the soles. This is common and most all water shoes will have a tread that will help your shoe hug slimy rocks and slippery surfboards. This will help to ensure that you stay safe and comfortable.
Versatility
When on the hunt for your next pair of men's water shoes we recommend looking for a pair that can seamlessly go from swimming in the ocean to camping in the mountains. This means shoes that offer a fair amount of cushioning and support. You will also want to look for a pair that is comfortable enough to wear for extended periods of time as well as those that have a thick enough sole to be worn out of water. This will prove incredibly valuable in the summer months when trips to the beach often start at the grocery store.
Globo Surf Overview
Many people spend a great deal of time either in or around the water year round, but especially in the summer months. This is a time where many foot injuries occur from hot sand, hot pavement, rolled ankles or stepping on sharp rocks. This is all preventable with a lightweight and high quality water shoe. The shoes on our list vary in weight and size as well as functionality to allow you to get exactly what you are looking for. Getting a pair of cool water shoes for men will allow you to take your shoes with you from dry land to water sports in the water such as paddleboarding and snorkeling. These shoes will have a snug feel as you will want to ensure they stay on even when in the water. Possibly your best summertime purchase, men's water shoes should be at the top of your list for this summers must haves.
Sources
Mildew, HGTV
Rocky Shores, Oceana
Did your favorite water shoes make it our list? Let us know how you like them in the comment section below.
Globo Surf Mens Water Shoes Review
★★★★★
"
Needed some new water shoes to take in my cool new row boat. I found your selection and was so happy to find your review with the #1 shoe had my favorite color. Yellow Mellow!
"