OUR TOP PICK

---

EDITORS CHOICE

---
Whether you're setting up your tackle or cleaning your catch, fishing is a messy business. The best fishing pants will protect your legs from the mud, blood, and guts that you might encounter on your trip, so you stay dry and comfortable. 
With thicker and enhanced fabric, your pants will provide you with excellent all-around protection, so you can enjoy your time out on the water. However, finding a pair of angler pants can be difficult. We want to help you sort through the competition, so you can make the best catch and find a pair of fishing pants to suit your needs.
How To Choose Fishing Pants – Buying Guide
Comfort
When you're looking for a pair of the best pants for fishing, comfort is important. You will probably be fishing for long hours and you don't want to be wearing a pair of pants that are too tight or restrictive. It is important to look for a pair of top rated pants for fishing that you want to wear. 
Comfortable men's and women's fishing pants should feel soft against your skin, so they don't cause irritation. The waistband shouldn't be too tight, and it should be adjustable, so you can customize the fit of the pants. Lightweight fishing pants are better for extended trips and wading because they won't weigh you down, which makes them more comfortable to wear.
Fishing pants reviews can help you determine the comfort level of a pair of pants. Many reviewers will also include information about how well the pants hold up and their level of protection against the outside elements. 
Material
The best pants for fishing will be made of synthetic materials because of the higher level of resistance and durability of the fabric. The most common synthetic materials are polyester and nylon because they are water-resistant, durable, and lightweight. 
However, you can't use lightweight fishing pants if you're going to fish in cold weather. While polyester shells are popular for ice fishing pants, most brands will line the inside of the pants with a synthetic fleece to keep you warm. Synthetic materials will dry faster than natural fibers, which makes them the top choice for anglers.
You might also like: Perfect Fishing Shorts
Water Resistance
Fishing is a water sport and whether you're wading into the depths, standing on shore, or lounging in a boat, you are bound to get wet. The best fish pants will be water resistant at minimum. Water-resistant is not the same as waterproof and if you plan on heading out in wet weather, you need a pair of insulated waterproof fishing pants.
Waterproof fishing pants are great at keeping you from getting soaking wet, which is ideal for wet weather. While some fishermen do wade in their pants, it is more important to have a quick dry feature than water resistance if you plan on wearing your pants in the water. 
UV Protection
When the sun is shining and you're enjoying your time casting your fishing rod on the water, it is important to be protected against the harmful UV rays of the sun. Most top rated pants for fishing will have a UPF rating, which helps block UVA and UVB rays. For your health and safety, you should always look for pants that are UPF protected. 
Pockets
The best pants for fishing will have multiple pockets to carry your gear. Pockets are a great way to keep your essential gear items close by, so you can easily access them while you fish. The best fishing pants will have a variety of open and closed pockets to help you carry your gear. 
FAQs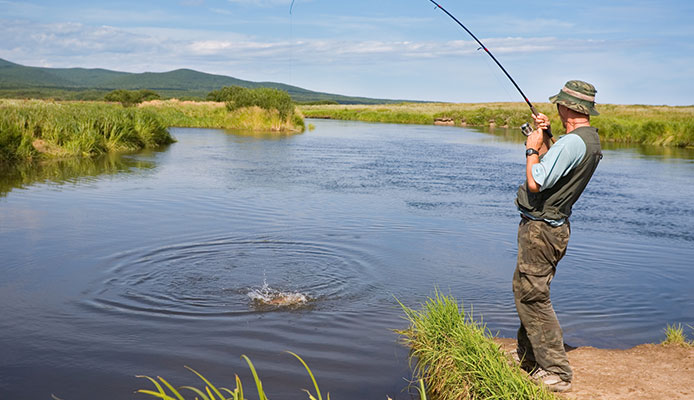 Q: What Are Fly Fishing Pants Called?
A:
Most fly fishing pants are called fly fishing waders. Waders are a fully waterproof pant that goes up to the mid-thigh or chest to keep you warm and dry while you're walking through the water. In warmer water, you may not need to use waders, but many fishermen prefer them because it keeps them dry.
Q: What Are Quick Dry Pants?
A:
Quick dry pants use a type of fabric that easily wicks away water, so it can be evaporated. For fishermen, this helps them stay comfortable and makes it easy to wade in and out of the water. The faster drying time also makes it easy to wade in and out of the water throughout the day as you transition to different fishing locations.
Q: What Do You Wear To Wade Fishing?
A:
If you want to wade in the water and want to stay completely dry, you need a pair of waders or waterproof fishing pants. These designs will keep you warm while you are walking through the water and will either be dry when you leave the water or have a fast-drying time to ensure that you are always comfortable.
Q: What Is The Difference Between Fishing Pants And Fishing Waders?
A:
Similar in design, fishing pants and waders are not the same. If you are not wading into deep water, you can wear fishing pants and stay comfortable. If you are going into deeper water or will be in the water for longer periods of time, you should wear a pair of waders to keep you warm and dry.
Globo Surf Overview
With a pair of the best fishing pants to keep you safe while you fish, you can head out in any season to try and catch your next trophy. The durability, comfort, and features of top rated pants for fishing make them an excellent choice of apparel for all fishermen. With design suited to different seasons, our article will help you find your ideal pair of fishing pants that you'll be eager to wear on every trip.
More Fishing Apparel Reviews: