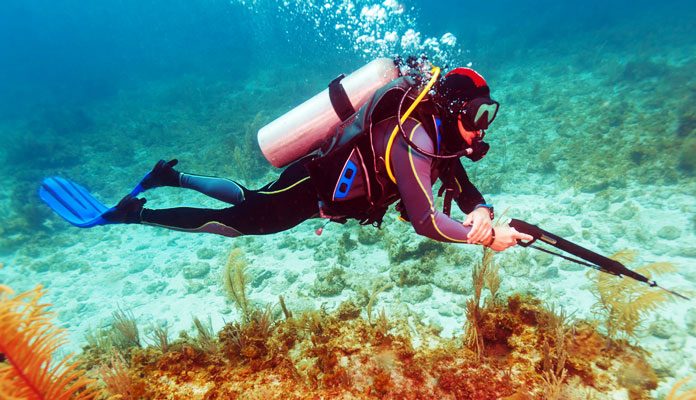 H
unting underwater is much different than on dry land. Just as above water hunting you will require some
additional gear
to take with you when spearfishing. The most important piece of gear you will need is the best spearfishing gun. Spearguns range in price from $100 – $500. This should be seen as an investment as it will provide you with great return on your money. The type of speargun you get should depend on your budget and most importantly the type of fish you plan to hunt. Having the best gun on the market will ensure you are equipped no matter what kind of fish you encounter.
Choosing the best speargun should be fun and easy. We have compiled a list of the top spearguns on the market and how to choose the best one for you.
QUICK ANSWER: THE BEST SPEARGUNS
Best Spearguns
Spearguns Reviews
  Check Price Now
What Makes This Speargun Stand Out:
Two rubber slings
5/16" stainless steel shaft
Durable design
Model & Accessory Specs:
Used for: Small – large game
Length: 24" – 60"
Spear style: Double Barb Rockpoint
The AB Biller speargun will have you covered no matter what you are trying to catch. Coming in seven different sizes ranging from 24" to 60" you will always be able to snag your catch. The wood shaft gives this a beautiful look while the 3 layers of polyurethane ensure it stands up to the salty environment of the ocean. This gun will shoot straight and accurate and a dual sling will ensure it stays on your shoulder while you get in position. A 6 mm tip will allow you to change it out for a different one that suits you best.
What Makes This Speargun Stand Out:
Powerful gun
Fast speed
Adjustable handle
Model & Accessory Specs:
Used for: Game fish
Length: 42 cm and 55 cm
Spear style: Tahitian Style
This mares option is a strong and durable design in a lightweight body. A 1.57" diameter barrel gives you the ability to use many different kinds of spears while achieving maximum velocity. Coming in two different sizes you have the choice of size depending on what you are going to be hunting. Mares uses a pneumatic piston in this gun that propels the spear at a higher speed and gives you ultimate accuracy. A soft handle gives you the grip you need while underwater and can be adjusted according to the size of your hand. The trigger is sensitive so it won't alter your shot when you have the perfect shot lined up. This is an excellent speargun for the money.
What Makes This Speargun Stand Out:
One year warranty
Excellent precision
Model & Accessory Specs:
Used for: Large game fish
Length: 23.6", 29.5", 35.4", 39.4", 43.4"
Spear style: Single Flopper Barb Pointed Tip
This gun has excellent firing precision meaning that you are sure to get your kill every time. An angled hand grip combined with the anatomical muzzle for shaft alignment makes this gun an excellent choice for all skill levels. A gentle shaft release system as well as the easy reload is so easy that even a beginner can do it. With the high quality materials used to construct this gun, it is built to be a perfect option for the most experienced hunters.
4. Hammerhead Proteus Spearguns
What Makes This Speargun Stand Out:
Easy to reload
Full warranty
Model & Accessory Specs:
Used for: Large game fish
Length: 21.6", 29.6"
Spear style: Single Hawaiian Flopper style
This is one of the best speargun for beginners on the market today. This gun will take you from the beginning steps all the way through to when you master the skills. Compatible with a reel, this speargun is powerful enough to catch big fish. Spearfishing gun reviews are raving over the value you get in this beginner gun. This gun is easy to use and even easier to reload.
(Hey! You May Also Like: Best Diving Cameras)
5. Mares Sten Speargun
What Makes This Speargun Stand Out:
Comfortable handle
Easy to load
24 month warranty
Model & Accessory Specs:
Used for: Reef fish, game fish
Length: 16.5" – 39.4"
Spear style: Double barbed
The Mares Sten is one of the top spearfishing guns on the market. A rigid grip gives you the confidence you need to shoot this gun knowing it won't slip out of your hand. The 8 mm shaft allows you to use a large range of spears that will snag you the best catch. A safety mechanism will ensure you only fire this gun when you are ready and the trigger is ultimately reliable. The shock absorbing technology makes this gun perfect for fisherman of any skill level. A high capacity air tank gives you the most shots possible before you need to change it out. The double barbed tip will make sure your prey don't get away before you reach it. Also, the 42 cm gun comes with a leg holster that frees your hands while you're getting ready.
6. JBL D7 (AP-352) New Carbine Speargun

What Makes This Speargun Stand Out:
Low profile design
Great value
Model & Accessory Specs:
Used for: Game fish
Length: 32.5"
Spear style: Twin barn rock point tip
This is one of the best valued spearguns on our list. The JBL D7 is a full featured gun that includes two bands and a high performance spear. Instead of a pneumatic shooter this gun features a double band system that shoots spears at an incredible rate. Featuring a UV protective exterior allows you to use this gun longer. This gun is so solid you are sure to bring home plenty of fish.
7. Beuchat Arka Competition Speargun
What Makes This Speargun Stand Out:
Closed muzzle design
Ultra durable lightweight design
Model & Accessory Specs:
Used for: Reef or shallow water fishing
Length: 19.7", 23.6", 29.5", 35.4"
Spear style: Tahitian Style Shaft Tip w/Single Floppy Barb
A low profile muzzle makes this speargun perfect for lightweight and compact performance. The stainless steel trigger gives it a pleasing traditional look while the automatic line release makes it easier to use than ever before. This gun is great for those just learning to hunt underwaters. Built to last this speargun is reliable and secure and will take you through years to come.
8. Mares Viper Pro Speargun With Reel
What Makes This Speargun Stand Out:
Adjustable trigger
Precise shooting
Two year warranty
Model & Accessory Specs:
Used for: Reef fish, game fish
Length: 29.53" – 47.24"
Spear style: Tahitian Single Barb
This is the best speargun for the money as you will gain excellent precision, power and durability. This easy to use gun is great for large game fish. Its superior rigidity and it being easy to manage make it an excellent choice for both beginners and experienced hunters alike. You can customize your gun by adjusting the distance between the trigger and the handle as well as adjusting the trigger sensitivity. This gives you ultimate control to get a gun that is perfectly comfortable for you. Mares is so sure you will love this gun they have added a two year warranty to it to sweeten the deal.
9. Cressi SL Star Spearfishing Speargun

What Makes This Speargun Stand Out:
Harpoon style
One year warranty
High visibility color
Model & Accessory Specs:
Used for: Large reef fishing
Length: 16", 21.65", 27.5"
Spear style: Cadmium spear harpoon style shaft
Be confident in your purchase knowing that you have a reliable gun that excels in precision and durability. A high grip handle makes this gun easy and comfortable to use. The bright yellow grip makes you visible in the water increasing your safety.
10. JBL Magnum 38 Special Double Sling Spear Gun
What Makes This Speargun Stand Out:
Durable gun
Quiet
One year warranty
Model & Accessory Specs:
Used for: Reef fishing, shallow waters
Length: 42"
Spear style: Twin Spinner Rock Point
Be able to hunt better with this quiet gun. Regular maintenance is a small price to pay for this high quality durable speargun. This gun is designed to handle even strong and powerful fish. Maintaining this solid speargun is easy which will make you want to use it even more.
What To Look For In A Speargun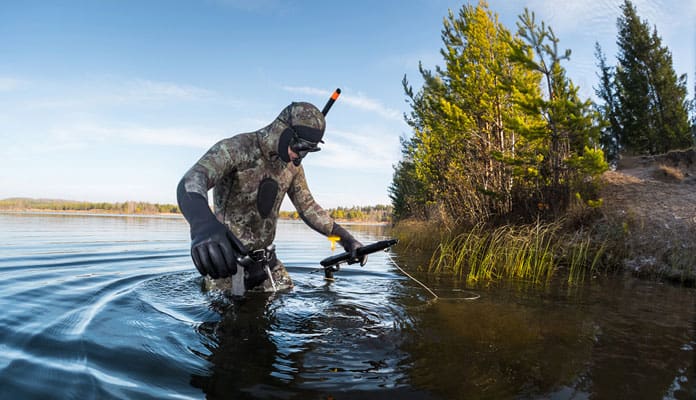 When taking your hunting to the underwater world, you will need some gear to get you started. The most important thing you need is a speargun. When choosing your speargun, consider the following.
Type of spearfishing
For starters you should determine the type of fishing you plan to do. Will you catch your fish with deep scuba dive or stay closer to the surface with a free dive? Guns that have less power and have a smaller range is better for free dives where you are in shallow waters or reef fishing. This is better for beginners as it is much easier and requires less accuracy.  Alternatively, if you plan to hunt larger game fish you require a larger and stronger spear with a longer range. This requires you to scuba dive and is best for those with more experience as much more skill is required. It is important to get a strong and large speargun that will quickly kill your fish as to not prolong suffering and ensure it does not swim away.
Type of Spear
The most obvious consideration, there are two types spear guns on the market, band and pneumatic.
Band Spearguns
This gun is the original, tried and tested over many years and remains the most popular choice. These quiet guns keep you stealth underwater however they do require more maintenance.
Pneumatic spearguns
This type of gun uses compressed air to fire the spear making it much more compact to dive with. This small gun may be easy to carry along for your drive however it is often more difficult to load.
Length
The length of your gun limits the size of fish that you kill. However comfort and skill level should also be an important consideration. Beginners will often go towards a smaller spear as it is easier to control and far easier to learn off of. A shorter spear is also better for swimming in tighter areas such as caves. A longer spear however is more preferred by experienced hunters and those hunting larger gamefish.
Shafts
The shaft refers to the actual spear that is fired from your gun. These vary widely between manufacturers but there are three main types.
Breakaway
This is the heaviest spear shaft and are most used on large fish.
Single Flopper (Tahitian)
This features a single barb and are typically the fastest shaft on the market. These are ideal for reef fish.
Double Flopper
The same as the single flopper but has two barbs on either side of the shaft. This is best suited for larger species of fish.
Price
Speargun reviews agree that this is of the most important considerations to which gun is best for you. Spearguns range in price ranging from $100 – $500. When starting out, it is best to go with a compact basic gun meant for short range. For those who have experience and the ability to accurately use a speargun we recommend opting for a more high powered gun.
Globo Surf Overview
Hunting underwater is very different from land hunting and requires a specific set of skills. With the help of any of the spearguns on our list, you will have no trouble catching your dinner. Your next scuba diving spearfishing gun will be your primary tool to catch many dinners. Buying the best gun on the market is the best way to ensure you have the most success on your next hunting trip.
Sources
gamefish, Sport Fish Magazine
Spearfishing Safety, Instructables
Do you have a speargun on our list? Let us know how you like it in the comment section below.
Globo Surf Speargun Review
★★★★★
"
Great article. Just started out with my speargun training and I found your article on the best ones. I chose the first one that you had on the list. Thanks for reviewing these.
"