OUR TOP PICK

---

EDITORS CHOICE

---

BEST VALUE

---
As the weather gets colder, you can still enjoy fishing, however, you want to ensure that you have on properly insulating clothing. The best ice fishing suits are an excellent investment because they provide optimal warmth and protect you from hypothermia and frostbite when fishing in the cold weather. 
Ice fishing suits are designed with highly insulative and waterproof fabrics that keep the freezing air, snow spray, and water out. Yet, they are breathable enough to effectively wick away sweat and moisture to keep you dry and comfortable so you can fish for longer. 
Whilst they offer adequate insulation, ice fishing suits are designed with increased agility, thus, allowing you to move freely and fully enjoy your fishing sessions. Lined up below are the 6 best ice fishing suits – pick the ideal apparel to keep you warm and safe for your next cold weather fishing adventure.
How To Choose An Ice Fishing Suit – Buying Guide
Material
When choosing a suit for ice fishing, the material is an important factor to pay attention to. The best floating ice fishing suits made from materials such as neoprene, nylon, and polyester are a perfect choice because these fabrics tend to be waterproof thus, effective at protecting you from water, wind, and freezing temperatures. 
Alternatively, other ice fishing suits are designed with added materials such as PVC or polyurethane (PU) to reinforce their durability and enhance their waterproof rating. Typically, these materials are coated on top of the fabric or embedded within the primary material.
In addition to the choice of materials, you can look for designs that complement the fabric. An ice fishing suit constructed with reinforced knees and sealed seams offer added protection from water penetration and increased durability. Furthermore, some ice fishing suits are designed with small zippered portholes which make it difficult for liquid to penetrate.
Insulation & Mobility
Since you will be fishing out in the cold, your fishing apparel has to be well insulated. Thus, the best floating ice fishing suit should be constructed with a thick layer of insulation. This allows your body to retain enough heat to keep you warm throughout your fishing sessions.  Ideally, you want to opt for an ice fishing suit with at least 40 grams of insulating material. 
Yet, to prevent the fishing suit, especially a bib style one, from being too warm, look for one that is designed with interior mesh panels or vent holes to ensure adequate airflow and ventilation. Whilst a thick insulated fishing suit is better as the temperature drops, it may affect mobility. 
This is because extra insulation makes the suit bulky. So when you are choosing the ideal suit, there needs to be a balance. Alternatively, you can opt for a suit that comes with elements such as double zippers and elastic waist to reduce the overheating that a bulky suit will cause.
Some manufacturers have developed smarter designs that eliminate the suit's bulkiness whilst maintaining insulation. Good examples are ice fishing suits designed with polyurethane (PU) coating, similar to that used in diving suits. This material is highly rated for waterproofness, lightness, breathability, and durability. It is then mixed with polyester to increase warmth.
Other examples are suits that are insulated with neoprene or fleece – also excellent sources of insulation. For these types of fishing suits, you will find interior fleece linings or cuffs, necks, chests, and collars that are reinforced with neoprene.
You might also like: Humminbird ICE-35 Three Color Flasher
Size & Fit
To find the right size simply look at the sizing guide of your preferred fishing suit. Simply measure your bust and waist size to get the right size for a fishing suit that consists of pants and a jacket. Measure your height, chest, and waist size for a bib style suit.
Although you can get the same size, no matter the brand, the fit may not be the same. Thus, to gauge the fit of your fishing suit, go through real life customer reviews to get an idea of how it may fit you. After a reading a couple of reviews, you will be able to determine if the suit runs small, big, or just the right size.  Alternatively, purchase your suit from a seller with a flexible return policy so you can easily return or exchange the suit for a proper fitting one, in case you need to do so.
For the best floating ice fishing suit, you want to invest in one that is not tightly squeezing your body, A tight fitting suit will hinder circulation and limit insulation, thus, putting you at risk of freezing and hypothermia. Instead, go for a loose fitting suit and ensure that the fit offers adequate space to fit in a base and/or a mid layer during extremely cold days.
Padding & Reflective Tape
Choose an ice fishing suit that integrates padding into its construction to enhance your safety when you are out fishing. Padded or reinforced knees and seat areas offer shock absorbing protection in case of falls on ice. 
Additionally, a floating ice fishing suit should be built with as many reflective elements as possible. Reflective strips on both your pants and jacket help to increase your visibility in low light conditions so fellow anglers can locate you in case of emergencies.
FAQs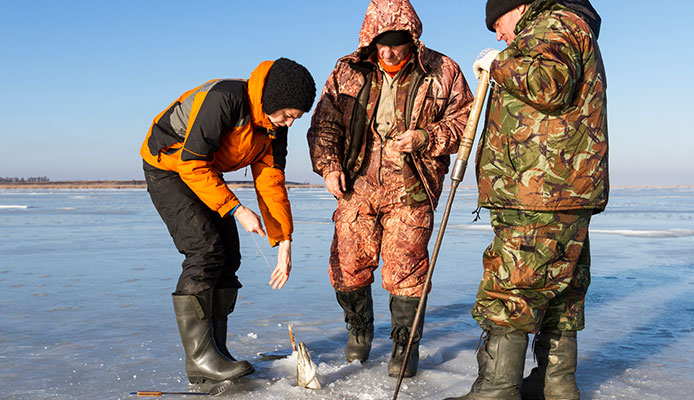 Q: Do I Really Need An Ice Fishing Suit?
A:
If you plan on fishing in the cold, then, an ice fishing suit is important. This is because these suits are designed to offer optimal warmth throughout your body from the head to your legs. In addition to being insulative, you can find the best floating ice fishing suits with buoyancy to help you get out of the water easily in case you fall in.
Q: What Is An Ice Fishing Suit?
A:
An ice fishing suit is designed with insulative and waterproof materials to offer optimal protection from the cold and rain when you are fishing in the cold. These suits normally consist of a pair of regular pants or bib-style pants and a rain jacket which guarantees to offer ample insulation.
Globo Surf Overview
For a successful fishing trip, the ice fishing suit reviews prove just how important cold weather fishing apparel is. The best floating ice fishing suit will not only leave you well insulated and ventilated but they also act as a flotation device to allow you to easily escape in case you fall into the water. So pick your ideal outfit from the 6 best ice fishing suits above to ensure you are safe and comfortable on your next ice fishing adventure.
More Ice Fishing Reviews: