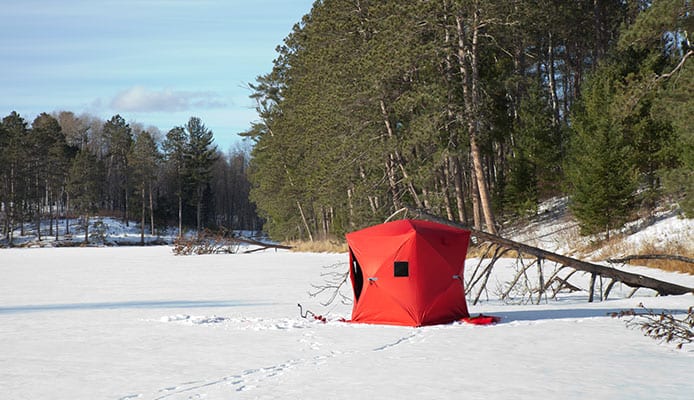 OUR TOP PICK

---

EDITORS CHOICE

---

BEST VALUE

---
Fishing has been one of the leading sports and leisure activities for quite some time now. With people finding new ways to get out on the water with their fishing rod in pole, there is no sign of this sport slowing down. While SUP fishing is a great way to fish in the summer, ice fishing is a great way to carry this sport into the winter months as well.
For those brave enough to take on the more extreme temperatures, you will need a bit more gear to get you through. One major purchase that will be new to you and specific to these temperatures is the best ice fishing shelter. As you will be spending quite a few hours relatively still in very cold conditions, you will need a small portable shelter to help keep you safe and comfortable.
The best portable ice fishing shelter is one that is well insulated. More than just a tent, you will need this shelter to provide protection from wind, rain, snow and the cold. As the best lakes aren't always accessible by a vehicle, having a portable tent is important.
There are many features to consider before deciding on the ideal ice fishing shelter for your next trip out onto the lake. Combine this with the fact that there are an increasing number of products on the market and it is easy to get overwhelmed by picking the right shelter for you.
We find it best to spend the time learning the terminology and understanding the features in order to make the most well informed decision. To help, we have created a list of our top picks available on the market as well as provided you with an in depth look at all you need to know before making your selection.
Ready to get started? Let's go.
How To Choose The Best Ice Fishing Shelter – Buying Guide

Material
Since you'll be using your ice fishing shelter in potentially extreme conditions you'll need a tent that's made out of materials that can actually create a shelter. The perfect combination will include ideal amounts of weight, insulation, and durability. If you opt for more insulation you may end up sacrificing weight as it'll be heavier but keep you warmer. This may be great for people who don't have to transport their tent long distances to your fishing spot.
The outer material can also play a significant role in keeping you warm. If a tent is made from a material that has thermal insulation the UV rays from the sun will warm up the outer material and transfer it to the inside of the shelter. This will make your fishing much more enjoyable.
Size
Being able to stand up and move around is a key feature of your ice tent. You'll need to factor how much gear and people you need to fit in your tent. If it's just you and your gear you'll probably need at least a 2 person tent.
Type
Ice shelters come in 4 main styles including hub style, cabin or hut style, flip style, and windbreakers. You'll find that the flip style will be the most common because of their durable base and that they have everything you need to get on the ice. Windbreakers will have the least amount of insulation making them lightweight and easy to pack around. If you are looking for a large ice shelter the cabin or hut style will be the best one for you. They can fit up to 8 or 10 people and usually come with a sled base. Just keep in mind that this style isn't exactly meant to be disassembled every trip. Finally, hub style ice fishing tents are the most customizable and can be easily set up.
Windows and Vents
An ideal ice fishing tent will have at least 2 windows. This will allow you to have a clear view of your surroundings. Being able to see the weather change will allow you to prepare for an oncoming storm. The light from the windows will also allow you to see what you're doing without a lamp. Windows and vents also allow you to create a cross breeze. For this, you'll need a shelter with at least two windows. Vents will also allow fumes from propane heaters to escape, which can build up and cause health issues.
You might also like: Ice Fishing Reels
Capacity
If you plan on ice fishing with more than just yourself you'll need a tent that can accommodate others. Keep in mind that your shelter should be able to fit you and all of your gear comfortably so plan accordingly so you're not cramped or uncomfortable.
Seating
Being able to fit a chair, or three, in your tent will help to add to your comfort. If you're planning on going for extended weekend trips you'll definitely want a place to rest once you reach your destination.
FAQs

Q: What Is An Ice Fishing Shelter?
A:
An ice fishing shelter is a specially designed tent that will protect you from the elements while you fish. It should be large enough to fit you and your gear comfortably and be made from a material that insulates you from the elements.
Q: Why Do I Need An Ice Fishing Shelter?
A:
Ice fishing takes place on frozen lakes in the middle of winter. These are notoriously frigid places that can have strong wind with weather that changes quickly without much warning. Having an ice fishing shelter will give you a barrier from these harsh conditions and provide you with a safe place to fish.
Q: Can I Stay Overnight In My Ice Fishing Shelter?
A:
Yes you can. But there are few things you should keep in mind. The temperature at night can drop 20 degrees below that of the daytime so bring enough clothes and heaters to keep you warm all night. If you plan on running a heater all night ensure that you have proper ventilation! These rigs can use up the oxygen and release fumes that you won't realize until it's too late. Also, we suggest bringing at least a 
sleeping pad
 to give your body a barrier between the ice and your clothes while you sleep. Lastly, bring a 
sleeping bag
 that is rated for the weather.
Globo Surf Overview
Ice fishing shelter reviews agree that it is wise to have all the facts about what are the prominent features in your tent before making your selection. When shopping around, you will start to notice that these shelters have different features making them unique and increasing the importance of you doing your homework. The good news is, as more and more people take to fishing all year round despite the cold weather, there is a great number of options available to you. This allows you to effortlessly pick out the fishing shelter that is perfectly suited to your needs.
The best igloo fishing shelter will be insulating and waterproof allowing for use in all weather conditions. As you are quite vulnerable to these low temperatures, it becomes incredibly important that you have a high quality tent. This will keep you warm, safe and comfortable. All of the tents on our list feature top quality materials and impressive frost ratings making them ideal for these harsh conditions.
More Ice Fishing Reviews: