A
nyone who has ever gone scuba diving knows that the first time will not be their last. Once you get a glimpse of the impressive underwater world you will want to keep going back for more. There is a lot of equipment that you will need to be able to dive. Buying gear individually may seem like a daunting task so why not opt for the best scuba gear package? This will give you everything you need to jump in the water.
Buying a complete package will give you peace of mind that you have the best scuba equipment for your next trip underwater. These packages are popular so we made a list of our 10 favourite packages.
QUICK ANSWER: THE BEST SCUBA GEAR PACKAGES
The Best 10 Scuba Gear Packages Are…. Let's Review!
[table id=1 /]
Cressi R1 BCD Leonardo Dive Computer AC2 Compact Regulator Set GupG Reg Bag Scuba Diving Package


Check Price Now
Package Details: BCD, Compact Regulator, Computer Console, Octopus with hose, Bag
As far as beginner scuba gear goes this package checks all the boxes. An affordable price with high quality materials and everything you need to get on the water makes this an excellent buy. This package comes with a BCD that has integrated movable weight pockets. This allows you to carry your weights on you instead of in a weight belt. The BCD is made of high quality materials with a rigid back that is sure to last many years to come. With three release valves you will have expert agility maneuvering through the underwater world. The Leonardo dive computer is almost too easy to use with its single button interface.
What makes this package stand out:
Excellent value
Quality BCD
Easy to use computer
Cressi Start Pro BCD Compact Reg Gauge Dive Package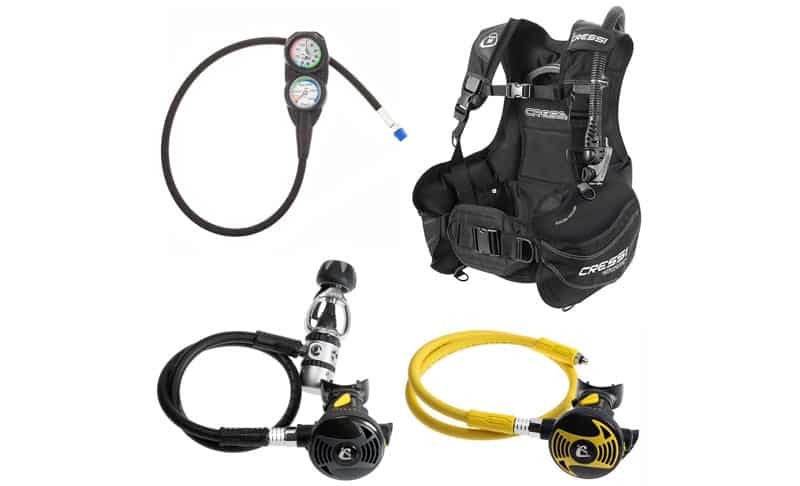 Package Details: BCD, Regulator, Yoke, Octopus, Analog Console
Cressi is a scuba diving gear manufacturer who has a reputation for high quality durable items. This is a lightweight setup that covers everything you need to get in the water. The BCD is made out of a high quality nylon that has been designed to be used for rental units and dive schools. This shows the quality and long lasting nature of this rig. Every piece of this package is high quality and will keep you safe and comfortable in any type of dive.
What makes this package stand out:
Bulletproof design
High quality material
Mares Abyss 42 Regulator Scuba Diving Package with air control and BC
Package Details: BCD, Regulator, Wrist Computer, Torch, Bag
One of our favourite dive gear packages on the market, this package contains high quality materials. A reinforced and incredibly durable BCD is weight integrated with 55 lbs of lift. A quick release waist strap and three overpressure relief valves this BCD is everything you are looking for. Tons of add ons and storage this BCD has 10 stainless steel D-rings.  The computer has a 24 dive log book which allows you to track your progress. Three operating modes and an audible and visual alarm allow ease of use. Three operating buttons allow you to do more with your device. Wear it on your wrist for ultimate comfort and ease. This package is built for cold water dives. An environmentally sealed regulator allows you to get the most out of your use. A pre oriented mouthpiece with an ergonomic shape and a downstream valve is easy to install and easy to use. This package is user friendly and provides scuba gear for beginners and advanced.
What makes this package stand out:
Easy to install alternative air source
24 dive log on computer
Lots of storage on BCD
Cressi Travelight 15 LBS Scuba Diving Package Carry On Reg Dive Computer GupG Reg Bag and or Kraken Dive Torch
Package Details: BCD, Regulator Set, Octopus, Console Computer, Rolling Backpack
This travel style package has been designed to be ultra portable. Everything fits into a compact carrying case and is an astonishing 15 pounds. Not only do you get everything you need to jump into the water but also a durable backpack to carry everything in including a mask and fins. The BCD is a travel style which means it is ultra lightweight and designed for people looking to move around under the water. Even the regulator and octopus have been designed with weight in mind. But this doesn't mean quality has been sacrificed. Coming in 6 color schemes and 8 sizes this Cressi package is guaranteed to fit your style and body.
What makes this package stand out:
Lightweight
Loads of styles and sizes
High quality build
Mares Prime Scuba Gear Package
Package Details: BCD, Console, Regulator Set, Octopus
The mares Prime package is a great combination of gear that will impress every level of diver. Each item has been hand selected to ensure a balanced dive. The BCD has large pockets allowing you to store extra gear like a dive knife or compass and is fully adjustable giving you complete comfort. The 6 sizes will also ensure this setup fits your body style.
What makes this package stand out:
Fully adjustable BCD
High quality regulator and octopus
ScubaPro Equator BC, MK21/S560 Regulator, Galileo Dive Computer, Scuba Gear Package

Package Details: BCD, Luna Dive computer, Scubapro Regulator, Octopus with hose
This buy is sure to give you a complete scuba gear set that will get you out on the water with ease. With a lightweight, compact design you can take this BCD with you just about anywhere. Six stainless steel D rings allow you to clip your gear to your vest. Weigh pocket systems eliminate the bulk of carrying a separate weight belt while two zippered pockets keep your gear secured. A soft neck and rotating shoulder straps allow this BCD to sit comfortably against your body while the back padding gives you a comfortable movement. With three display modes and an extra large screen the included computer is incredibly user friendly. A compact sized regulator adds to the design of this travel inspired dive package while the comfortable and high flow orthodontic mouthpiece makes your dive more comfortable.
What makes this package stand out:
Lightweight and easy to travel with
Comfortable orthodontic mouthpiece
Mares Scuba Diving Computer, Regulator Set, Octo Complete Premium Package w/ BCD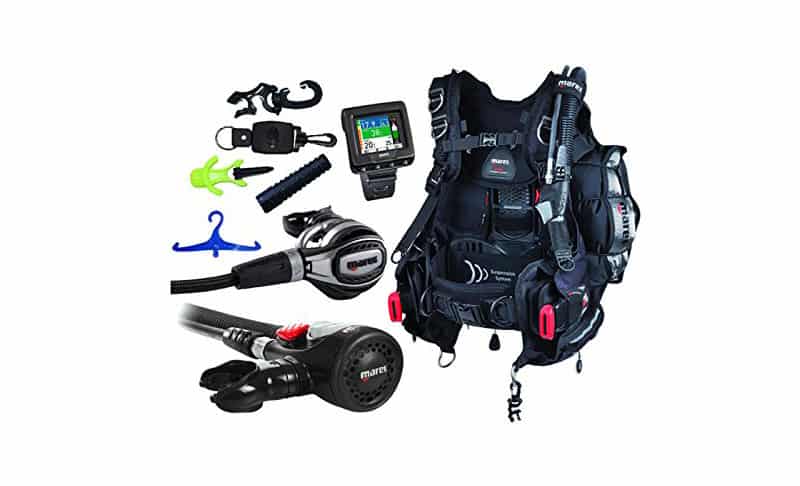 Package Details: Hybrid BCD, Fusion Regulator, Air control Octopus, Icon HD Air Computer
Mares is famous for make top of the line scuba gear and this complete set is no exception. The BCD is made of lightweight nylon that creates a durable frame. A complete set of D-rings and pockets allow you strap and carry all your gear without making you choose between them. Not only does it come with everything you need to get in the water but also items to make transport even easier. A strong hanger will ensure your BCD is able to be hung instead of just thrown on the floor. This makes getting into it and taking if off a breeze. The regulator is easy to use with gloves and the octopus is a perfect size for any shaped mouth. A sophisticated dive computer utilizes a color screen and is visible even in murky water. This is one of the best packages on the market today.
What makes this package stand out:
Lightweight nylon BCD
Excellent value
ScubaPro KnightHawk BC Scuba Regulator Package
Package Details: BCD, Regulator and Bag, Dive Computer, Inflator Regulator
Everything about this scuba package screams quality. The BCD has a comfortable strap system and added padding to create a completely comfortable environment. A durable 1000 denier nylon material is used for the bladder which inflates from the back. The soft neoprene neck pad will keep pressure off your soft spots and add comfort to your pack. Added touches like a regulator bag show the manufacturer's attention to detail. Unlike other packages a sophisticated dive computer puts this setup over the edge. Every piece of this package is top of the line. The regulator is compatible with nitrox and the airflow is completely adjustable.
What makes this package stand out:
Dive computer included
Up to 393 foot depth
Lightweight package
Aqua Lung Pro HD BCD i300 Dive Computer Titan / ABS Regulator Set Reg Bag Scuba Diving Gear Package

Package Details: BCD, Dive Computer, Octopus, Regulator and Bag
This BCD jacket comes equipped with integrated weight pockets so you don't have the bulk of wearing a weight belt. This package is incredibly durable standing tough against saltwater and chlorine to ensure you can use it many years to come. A balanced diaphragm mechanism in the Titan regulator allows you to breath easy. The ABS Octopus has a low profile body style to ensure excellent range of motion during your dive.
What makes this package stand out:
Lightweight design
Great for beginners
Oceanic Travel Scuba Package One Size Fits All JetPack BCD Dive Computer Reg Set Bundle 5-6
Package Details: BCD, Dive Computer, Regulator and Bag
The Oceanic Travel Scuba Package is one of the most compact sets you can get. All of this gear fits into a bag that you can stow in the overhead compartment of an aircraft. The BCD is lightweight and easy to strap on with the completely adjustable waist and shoulder straps. Additional packs on either side of your waist give you the chance to quickly grab items like a knife or a camera.The octopus is comfortable and easy to use while the regulator fits comfortably in your hand even while wearing gloves.
What makes this package stand out:
Compact system
Included bag fits fins and mask
What to look for in a gear package
Most gear packages come equipped with the same equipment to ensure you get the most from your dive.
Buoyancy Control Device
This is where the bulk of the expense is. Having a good BCD will ensure you can move effortlessly in the water weather you are standing on the ocean floor, floating at the surface, or swimming mid ocean. This is called maintaining neutral buoyancy and is crucial for a comfortable and enjoyable dive.
This is also the area which you attach your tank to. The most important feature to look for is to ensure that the fit is proper. You will want a snug fit that doesn't squeeze you too tight when fully inflated.
Octopus
The octopus is the part of your gear that will connect you to the air in your tank. This is done by a mouthpiece that sits along your teeth. It is an important part of your gear that should not be overlooked.
Regulator
A regulator converts the highly pressurized gasses in your tank to breathable oxygen. Even inexpensive options will provide an excellent flow of air. More expensive ones will give more features and advantages. They can increase the depth you are able to achieve and can be compatible with different mixes of gases.
Computer
This can be either a wrist watch or an external device. Not all packages come with this but it should be seen as an important key incentive when looking into packages. It is important to find one that is easily legible and easy to use.
Globo Surf Overview
Scuba diving gear packages are a great way to get everything you need for your dive in one convenient place. It can be daunting to buy all the different components you will need for your dive. Opting for a full scuba gear package will ensure all your gear works well together and will allow you to get the most from your buy.
Did you invest in a scuba gear package? Let us know what features you enjoyed in your package in the comment section below.
You May Also Like
10 Best Spearfishing Wetsuits
10 Best Dive Hoods
10 Best Dive Compass
10 Best Spearguns
Last Update on the 28th of February 2017
New to kayaking or have a kayak on our list? Let us know how you like it in the comment section below.