When the drip-drop of the rain disrupts the serene waters, the nutrients come flushing, and the fish are more interested in pursuing the bait, and that means it's time to catch some fish! The rainy season is the time for some fast and easy fishing – only if you're equipped with the best waterproof fishing clothes. After all, fishing when you are soaked to your skin would make you more susceptible to catch a cold than fish.
Whether you enjoy fishing as a delicious hobby or as a rewarding profession, you ought to own the best rain gear for fishing. And, here we are with a complete guide regarding the top-rated waterproof fishing clothes. Sit back, think about your technique, and let us help you choose in the best rain gear for fishing in 2023!
Tip 1:
It's essential when choosing your rain gear, especially if you're planning to hike or fish a substantial amount in the rain, to ensure you feel comfortable along with not being wet under all weather conditions. The raincoat I have is extremely lightweight and does a phenomenal job at keeping me dry. Due to this, depending on the time of year, you can then either add layers under your raincoat when it's cold or wear fewer layers depending on how cold or warm it is outside.
Tip 2:
Along with rain gear, having a fishing bib that goes over your face, even if it's just a simple gaiter face mask, can help you stay significantly warmer in the rain especially on cooler days. I've found having a mask has allowed me to breathe and as a result, traps the warm air from your breath which then keeps your entire face warm even on nonrainy days when it's cold outside. I highly recommend purchasing a fishing bib so you're then really for all possible conditions that could arise.
Tip 3:
I've had some of my best fishing outings in the rain! When that water gets up and off-color, you want to make sure you're comfortable on the water, as well as not getting soaked and wet wanting to go home; which is why you need to choose the most optimal and lightweight rain gear, along with preparing for all possible conditions (adding layers under rain gear, wearing fewer layers, etc).

Fisherman
How To Choose The Best Rain Gear For Fishing – Buying Guide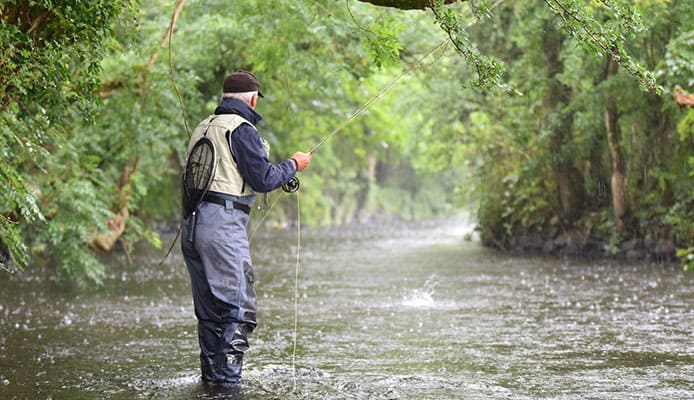 Waterproofing
The whole point of buying rain gear is to keep out that rain, so whether you are buying a jacket or a complete rain suit, it must have reliable waterproofing. The zipper, seams, pockets, and cuffs should be fully sealed. Remember that even a plastic bag is waterproof, but high-quality fishing rain gear would offer you much more than mere waterproofing. Look for fishing bibs that are wind-proof as well as waterproof because when you are out in the open, it is important to be dry and warm. The best rain gear for fishing is designed by keeping all weather conditions in mind.
Breathability
Steer clear of fisherman rain gear that compensates for waterproofing by decreasing the breathability of the material. Some materials, while being good at keeping the water away, can make you feel sweaty and stuffy. A fabric with high breathability would allow the sweat to move out and help you maintain comfy body temperature. Check out vents and mesh lining in your rain jacket for fishing for maximum comfort.
Durability
Nobody wants to invest in a one-time wear rain gear for men. The best rain gear for fishing should be rugged and last long. Most waterproof fishing clothes have a blend of different fabrics attached or a main fabric lined with a waterproof material, in both cases, it is important to check if the seams of the raingear for fishing are perfectly sealed and would stay intact when in use.
You might also like: Gifts For Fishermen
Lightweight
An important design feature of rain gear for fishing is their overall weight. While bulkier rain suits for men offer better waterproofing, their excess weight can cause balance and mobility issues, making fishing harder. Getting lightweight rain jackets for fishing gives you adequate mobility and allows you to enjoy your outing. They also make it much easier to carry when you're not wearing them. Make sure that you look at the fishing gear weight before making your purchase, and remember that the best rain gear for fishing will have the most optimum combination of lightweight and waterproofing.
Ease of Cleaning and Storage
Once you are back to your cozy home and done boasting about what a great catch you had, its time to clean and safely stow away the rain gear. We'll advise investing in a rain suit for fishing which can be sponge-cleaned or is machine-washable. Make sure to buy waterproof clothes that can be folded down to a compact size and easily stored until the next rainy season. Ease of storage also means that you'll be able to carry your rain gear for fishing on hiking and camping trips too.
Design Features
Design preferences are purely subjective. While one person would love to have a zippered jacket, the other person might prefer the zipper covered with a snap-down flap. It is advisable to have an adjustable and removable hood with the jacket. Having spacious pockets in both the jacket and the trousers would be great as you could stow away small, handy items and access them instantly at will.
Moreover, products that come with multiple color options are versatile in terms of style and visibility. The color of the rain gear could be an important consideration from a safety point of view. Getting a bright yellow rain suit, for example, would provide you the highest levels of visibility. If you ever found yourself in danger, a bright-colored rain suit would increase your chances of getting rescued very quickly.
FAQs
Q: What Is Fishing Rain Suit?
A:
A fishing rain suit comprises of a jacket and a pair of trousers that are worn over regular clothes to keep the rainwater out and prevent one from getting wet during an outpour. A fishing rain suit has an exclusive waterproof laminate, a zipper closure, hood. Rain suits for fishing will cover every possible angle to keep you as warm and dry as possible in foul weather conditions.
Q: Are All Fishing Rain Suits and Bibs waterproof?
A:
Not exactly. There's a difference between being waterproof and being water-resistant. While the fishing rain suits covered in this article are all completely waterproof, there is some fishing rain gear in the market that would be simply water-resistant and protect you from a short shower but in prolonged rain, they would fail to keep the water from seeping in water. Hence, if you are planning to go fishing during an outpour, make sure to buy rain suits or bibs that specify having waterproofing.
Q: How Do I Care for My Fishing Clothes?
A:
The problem when it comes to giving advice and fishing clothes is that there are a lot of different materials out there which all have different demands when it comes to being cleaned. Some of these materials in this list would be completely ruined if they were put into a washing machine and/or dryer while others would be completely fine. Therefore, it is vital to always read the label to ensure that you're following the correct washing instructions. If you're going to be out in the saltwater and exposing your clothing to UV-rays then it's important to clean them often. If you don't have the time to give them a thorough wash after every use then it's a good idea to rinse them off to make sure that no salt water or chemicals are sitting on the surface.
Globo Surf Overview
Finding the best rain gear for fishing involves looking at all their features, reading all the reviews (the good, the bad, and the ugly), and then choosing the one that suits your needs. In this guide, we have tried to make things easier for you by reviewing the 10 best rain gear for fishing in 2023, but you can always use the buying guide to check out other great fishing waterproof suits on the market. Once you have made your choice, invest in a waterproof suit for fishing and get ready to cast out your fishing line knowing that if the rain pours in, having rain gear would be worth it!
More Fishing Accessories Reviews:
More Gear Reviews: