OUR TOP PICK

---

EDITORS CHOICE

---

BEST VALUE

---
There's a lot of fishing gear that can help you secure a catch, but once you've got your fishing hook set and you've reeled in your prize, a top rated fish lip gripper can ensure that your scaly friendly doesn't slip between your fingers.
The best fish gripper will be strong, functional, reliable, and easy to use. They are a useful tool that you can take with you on any fishing trip and can even keep you safe from the bite of an aggressive fish. But if you've never used fish grips or you're new to fishing, you may struggle to find a quality fish mouth grabber.
We want to help you in your search, so we've made a list of the eight best fish lip grippers and included a comprehensive buying guide that will provide you with all the information you need to find fish gripper pliers. Plus, our guide cuts down on the time spent shopping, so you can get back to catching those monster fish faster.
How To Choose A Fish Lip Gripper – Buying Guide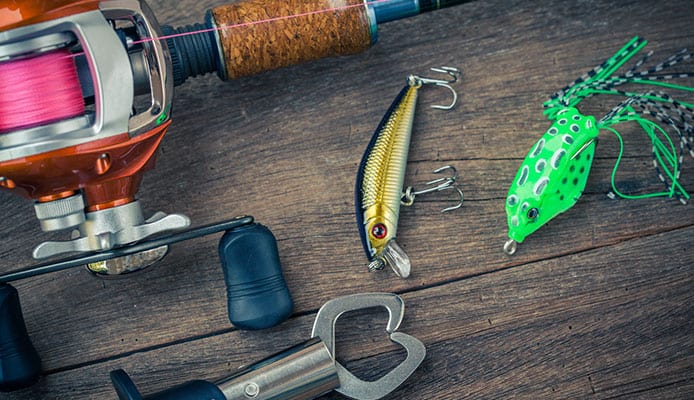 Build
The best fish gripper will have a durable and strong build, which means that it can tackle large fish. Fish can be surprisingly strong and even more so when they are thrashing around, so a strong construction and build should give you the power and control you need to stop the fish from escaping or hurting itself.
The build should be consistent throughout the design of the fish mouth grabber. This means that the handle and hooks should all be strong enough to hold a fish without bending or breaking, which ensures that the fish won't be able to break your grasp and get away.
Durability
While a top-rated fish lip gripper should be durable in its build, it also needs to be durable in terms of how and where you will use the tool. Obviously, fish can get quite heavy and as we reviewed above, the more durable the fish grabber tool, the more weight it can hold.
But the best fish lip gripper should also be able to resist damage and signs of wear. Water can be a damaging element because of rust, while the movement of fish and your hand may mean that the fish grabber tool gets bumped or scraped against other objects. Accidental and minimal damage like this should not make fish grabbers malfunction.
Fish gripper reviews can be a great resource to determine the durability of a design. Many reviewers will be honest in their comments and state how well the fish grabber tool has held up under frequent use.
You might also like: Fishing Line Spoolers
Material
When it comes to the material used in the construction of your fish gripper pliers, you want it to be high-quality, durable, lightweight, and affordable. Top-rated fish grippers will be made from either plastic, metal, or a combination of both.
Plastic is a good material because it is lightweight but durable. The plastic is often heavy-duty, which means that it can also withstand the weight and pulling pressure of a bigger fish. For fishermen who are constantly on the move, plastic can also be a better choice because it is lighter, which means that you won't be overwhelmed when you have other gear to carry too. Another feature that makes plastic attractive is that it can float, which makes for easy retrieval if your fish grabber tool falls into the water.
Metal is another material that fish grabbers are made of because it is extra-durable and can handle fish up to 50 pounds in weight. However, it is important that a top-rated fish lip gripper is made out of an anti-corrosive metal like stainless-steel or aluminum. Both types of metals will not break down or rust when exposed to water and should be suitable for use in freshwater and saltwater fishing locations. Plus, a metal type of fish gripper may also have a more comfortable handle that uses EVA or rubber in the handle for a better grip.
Other fish grips will use a combination of metal and plastic. These types of fish grippers are good if you are kayak fishing because they are lightweight, but have durable metal hardware to be longer-lasting. A fish gripper for kayaks will often feature a plastic body and hooks that are strong enough to tackle medium-sized fish, but lightweight enough that you aren't weighing your kayak down. The floating feature is also common in this type of fish gripper, which makes it great for accidental drops in the water because you can easily paddle over and retrieve it from the water's surface.
FAQs
Q: What Are The Different Styles Of Fish Lip Grippers?
A:
There are two different styles of fish lip grippers that are the most common for fishermen to use – traditional and pistol. Traditional fish grips will more closely resemble fish gripper pliers. The handle rests at a comfortable angle from the gripper hooks, which makes the fish grabber tool more comfortable to hold. The handle controls the hooks and will opening and close them around a fish's lip.
Fish grabbers that are pistol style will use a trigger pull to control the hooks. With the simple pull of a trigger that slides along the main body of the tool, you can easily open and close the hooks. Many fish gripper reviews will state that the pistol style is more comfortable to use because of its ergonomic design. This means less hand fatigue and gives you more strength to hold large fish.
Q: What Is A Fish Gripper And What Is It Used For?
A:
A fish grabber tool is used by fishermen to help manage a catch. The fish mouth grabber will feature two hooks that turn in towards each other, so when they come together, they create a strong hold. The hooks fit around the lip of a fish and provide you with a secure hold on your fish.
A fish mouth grabber is used as a convenient way to hold a fish that doesn't require you to have direct contact with the fish. For fishermen who are cold weather fishing, this prevents them from having to stick their hands in freezing water. But fish grips can also help protect fishermen who are going after aggressive fish by giving them a safe way to secure the fish without risking being bit by sharp teeth.
Q: How To Use A Fish Gripper?
A:
The best fish lip gripper should be easy to use, but how you use it will depend on the style. The traditional style of fish gripper pliers are used as you would with any normal pair of pliers. The handle will control the hooks and as you squeeze or release the handle, the hooks should open and close. A pistol type of fish gripper will use a pulling trigger motion to control the opening and closing of the lip hooks. Both of these styles are easy to use but be aware that a pistol style fish may have other features. A pistol fish gripper with scale will have a few extra items that you'll learn to use that will assist you in getting an accurate fish weight.
Globo Surf Overview
When it comes to convenience, it's always nice to have a tool that will do the hard work for you. But when it comes to safety, it's important that you are always cautious around the water. Whether you're going after docile fish and just want an easy way to manage them or need to avoid the bite of a powerful fish, fish grabbers are a useful tool. With the best fish gripper, you'll secure more catches and be more excited to spend a full day on the water.
More Fishing Accessories Reviews: