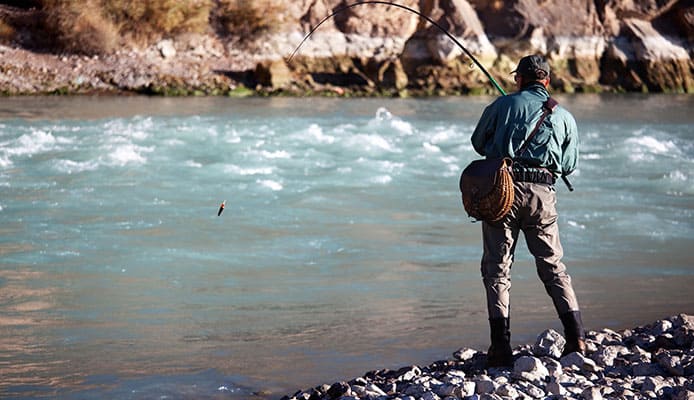 OUR TOP PICK

---

EDITORS CHOICE

---

BEST VALUE

---
As you certainly know, fly fishing often requires you to be waist-deep in the water. Because of this, it's a lot more convenient to bring your fishing accessories with you instead of going back to the shore every time you need something. From this aspect, nothing beats a fly fishing sling pack – it's comfortable to carry, fits a large number of items inside, and allows you to find what you need quickly.
Even though most sling packs use a similar design, there are still differences in size, organization and, most importantly, comfort. To help you choose the right fly fishing waist pack, this article will take a close look at all of the important features. In addition, our fishing sling pack reviews will present the best fishing sling packs on the market so you can easily bring your flies, lures, and lines everywhere you go.
How To Choose The Best Fly Fishing Sling Pack – Buying Guide
Fabric and Denier Rating
Your new sling pack needs to be tear-resistant and provide water protection, which is why fabric quality is very important to consider. Depending on the model, fly fishing sling packs are usually made from either nylon or polyester. Both are good choices, but each has its advantages – nylon is tougher and provides better water protection, while polyester is more comfortable and lighter.
A good way to learn about the strength of a fabric is to look at its denier rating. Thicker and more durable materials have a higher denier rating which makes them a better choice for sling packs. Keep in mind, however, that this also makes the packs a bit heavier.
Water Protection
Due to their construction, most sling packs are water-resistant and not completely waterproof. Unless specifically stated, we would advise against submerging your pack regardless of which one you buy.
This being said, most packs offer decent water protection and keep the gear inside dry. For additional protection, look for a fly fishing hip pack that comes with a DWR coating or PVC backing.
Storage Features
When choosing a sling pack, one of the main aspects you need to consider is its storage capacity. While some can only fit small tackle boxes, others can easily fit a couple of medium-sized boxes and many other items.
Unfortunately, most manufacturers don't list the volume of their fishing hip pack, which is why we listed the dimensions for each one so you can have a rough idea of how much you can fit inside it.
Compartments And Pockets
Even if you buy the sling pack for fly fishing with the highest volume, it won't be of much use if it doesn't have separate compartments and pockets for organizing your gear. Because of this, the best fly fishing sling packs feature several zippered compartments as well as pockets inside that make packing easier.
Additional Attachment Points
Besides the main compartments and pockets, many sling packs offer additional options for securing your gear. For example, almost every pack comes with D-rings for hanging smaller items as well as loops for securing your rod. On top of this, it's very useful if a pack comes with a patch where you can dry off your flies.
Water Bottle Holder
When you're on the water for longer periods, you're bound to get thirsty at some point. For this reason, many of the high-end packs come with water bottle holders that fit standard water bottles. The holder is usually placed on the bottom where you can easily grab the bottle when you need it.
You might also like: Fishing Headlamps
Strap Adjustability
Even though sling packs are generally light, they can still cause discomfort if you wear them all day. Because of this, you should look for a model that comes with a breathable padded strap. In addition, it's very important that the strap can easily be detached and switch sides to either shoulder if it becomes too heavy.
Weight
While the weight of the pack itself isn't the first thing you should consider when buying, it can make a difference if you wear the pack the entire day. Depending on the model, sling packs can weigh from 0.5 pounds to over 2 pounds.
FAQs
Q: What Is A Sling Pack?
A:
A sling pack is a small and compact bag that you can sling on your back around your shoulder. It's very convenient for carrying all the equipment you need while in the water, and it's easy to transfer from your back to your chest when you need to grab something.
Q: How to Wear a Fishing Sling Pack?
A:
You usually wear a fishing sling pack over your shoulder and across your chest and back. This position keeps the pack out of your way while allowing you to keep your gear within hand's reach. On top of this, some fly fishing packs can be modified and worn over your shoulder.
Q: Why Choose a Sling Pack?
A:
You should choose a sling pack because it makes fly fishing a lot more convenient. It saves you from going to the shore each time you need something, and it's much more compact and comfortable compared to backpacks and fly fishing vests. As a bonus, its design allows you to move the pack out of your way (on your back) when you don't need it.
Q: Is A Sling Pack Better Than A Chest Or Waist One?
A:
This isn't an easy question to answer because all fly fishermen their own preference. In terms of functionality, all three options offer more or less the same. However, fly fishing packs are probably the best option when it comes to comfort because the straps are usually padded and you can easily switch the shoulder when you get tired.
Globo Surf Overview
As you've had the chance to see, a good fishing sling pack significantly increases your options when you're in the water. It's comfortable, convenient, and saves you from walking to the coast when you need something. Hopefully, our guide and top rated fishing waist pack reviews have helped you choose a fishing pack that will take your adventures to a higher level.
More Fishing Accessories Reviews: