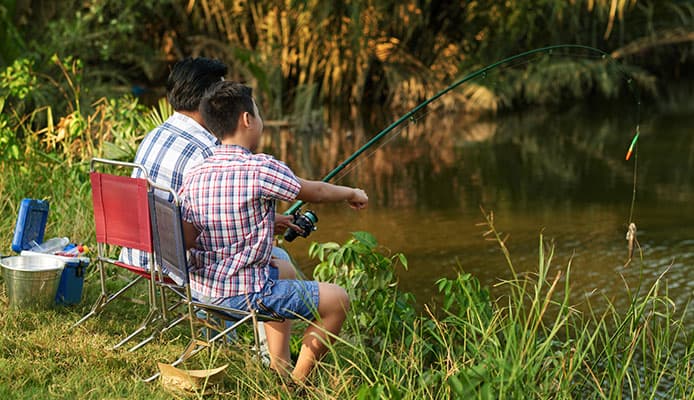 OUR TOP PICK

---

EDITORS CHOICE

---
Patience is a necessary virtue when fishing. You cast your bait or lure and wait patiently for the fish to strike. It's part of what makes fishing such a relaxing outdoor activity. Having a comfortable place to sit as you wait for bites will make your fishing trips even more relaxing and enable you to fish for as long as you want. However, sitting in an uncomfortable chair can leave you with aches and pains. This is why it's extremely important to ensure that you pick the best fishing chair.
A good fishing chair should be lightweight and portable yet sturdy and comfortable. To simplify your search for the perfect fishing chair, we have reviewed the very best fishing chairs currently on the market. To make it easy for you to find the ultimate fishing chair for your needs, we've also created a buying guide outlining the most important features a great fishing chair should have. First, check out the top picks.
How To Choose The Best Fishing Chair – Buying Guide
There are all kinds of fishing chairs and outdoor fold up deck chairs available. There are reclining, lightweight to heavy duty fishing seats as well as some with rod holders, cooler bags, and umbrellas. To pick the best folding deck chair that will meet your needs and enhance your fishing experience, pay attention to the following features:
Comfort
The whole point of getting a fishing chair is to have a comfortable place to sit in as you fish. Due to this, comfort is the most important feature in a fisherman's chair. Features that make for a comfortable fishing chair include a sturdy build, breathable fabric, thick padding, generous seat width, ample back support, and armrests. Some fishing chairs designed to provide maximum comfort even have reclining, rocking, and zero-gravity functionalities. 
Storage
You've also got to consider how you will be storing the chair on the journey to and from your fishing spots and when it's not in use. Consider the storage room you have in your vehicle or boat and choose a chair that can fit. A foldable fishing chair that folds into a compact package that easily fits in a small storage space is the best chair for fishing. 
Quality
To ensure you get a quality fishing chair that will serve you for a long time, it's important to pay attention to the quality of construction. The best fishing chairs are equipped to handle repeated exposure to harsh outdoor elements such as sunlight, saltwater, and rough terrain. Aluminum and steel make for strong legs and frames that can resist rust and rot. The seat and backrest should be made of a ripstop fabric that doesn't tear easily. 
You might also be interested in:
Sturdiness
Make sure the fold up a fishing chair you choose is sturdy enough to handle your weight comfortably. You should feel secure sitting on it not afraid that it is going to collapse. All fishing chairs have a specified weight capacity so be sure to check this specification. Steel frames make for the sturdiest fisherman chairs. Finally, evaluate the feet design so you can choose a stable chair depending on whether you will be setting it up on sandy, rocky, grassy, or muddy grounds. 
Weight
Whether you will be walking to your fishing spots or fishing from a boat, a lightweight fishing chair is ideal. However, the lightweight shouldn't be at the expense of sturdiness and comfort. Portable fishing seat weights range from 2.2 to 15 pounds. If you move a lot from one fishing spot to another, you will need the lightest yet still comfortable fishing folding chair you can get. If you easily get to your fishing spot by boat or car, you can go for a heavier chair to enjoy maximum comfort.
Size
The best folding deck chairs for fishing should be a size that is comfortable to sit on for extended durations. The seat should be wide enough for your frame, while the seat height should be proportional to your height. The ground to seat height should also be such that getting in and out of the chair won't be a struggle. Finally, the ideal size to get will also depend on how you fish. Surf fishing, for example, requires a tall surf fishing chair.
Foldability
Different fold up fishing chairs has different folding mechanisms. Some folding chairs for fishing are designed to fold in half and fit in a car trunk. Some tripod fishing stools collapse into such small packages that they can fit easily in a fishing backpack. Evaluating the foldability will help you choose the right chair. Beyond this, the best folding deck chairs for fishing should still be sturdy and comfortable to sit in.
Type
There are different types of outdoor fishing chairs on the market. There are fixed fishing chairs, folding deck chairs, reclining fishing chairs, adjustable fishing chairs, and tripod stools. Based on features, there are fishing seats with rod holders, cooler bags, storage spaces, and umbrellas. Choose the one that suits your style of fishing and offers the comfort, portability, and functionality you need. The type to go for is also a matter of personal preference.
FAQs
Q: Why Do I Need A Fishing Chair?
A:
Fishing is a waiting game that involves casting baits or lures and waiting for bites. You will need a comfortable place to sit in and relax as you wait so you don't tire fast especially when fishing all day. The best fishing chair will offer you the support and comfort you need as you wait for your lure or bait to work.
Q: What Is The Best Material For A Fishing Chair?
A:
For frames and legs, aluminum and steel are the best materials. These are sturdy and resistant to rust and corrosion. For the seat and back, the best fabrics are ripstop nylon, polyester, or canvas, as they are strong and extremely resistant to wear and tear.
Q: How Much Weight Can A Fishing Chair Carry?
A:
The typical weight capacity for the best fishing chairs is 300 lbs. However, some heavy duty fishing chair can support loads as high as 500lbs. On the other hand, some light-duty tripod fishing stools can only bear 200 pounds. 
Q: Can I Use The Same Fishing Chair On A Boat And Shore?
A:
Whether you can use the same fishing chair on a boat and onshore will depend on the kind of feet the fishing chair has. If the chair is equipped with feet that are stable on both surfaces, you can go ahead and use it on a boat as well as onshore.
Related Review: Boat Deck Chairs
Q: Is It Okay To Place The Chair In Water?
A:
Yes, if you need to, you can place the chair in water without worry. Fishing chairs are designed to hold up well to water exposure. They are made using rust resistant metals or coated for corrosion resistance.
Q: How To Mount Foldable Chair On A Seat Bench?
A:
Below are the steps to follow to mount a foldable chair on a seat bench:
Place a rectangular aluminum tubing in between two seat benches. This will create a sturdy frame where the foldable chair will mount.

Drill holes in the benches to correspond to the holes located on the bottom of your foldable chair.

Lastly, bolt the chair to the benches. Tip: Using wingnuts makes assembly and disassembly easier and faster.
Q: How Does A Lightweight Fishing Chair Work?
A:
It's baffling how a lightweight fishing chair manages to be sturdy enough so it doesn't buckle under the pressure of being seated on for prolonged durations. To achieve this balance, manufacturers use high-strength yet lightweight materials such as aluminum and keep the chair design simple yet stable.
Globo Surf Overview
A good fishing chair is an essential piece of fishing gear. Having the best fishing chair is important as it will determine how long your fishing excursions will last and how relaxing they will be. We hope our fishing chair reviews of the best folding deck chairs and our buying guide will help you find the best fishing chair to bring along on your excursions. 
More Fishing Accessories Reviews:
More Chairs Reviews:
Which fishing chair in our reviews sounds like the best for you? Have you sat on any of the folding deck chairs in our list while fishing? What was your experience? Let us know in the comment box below