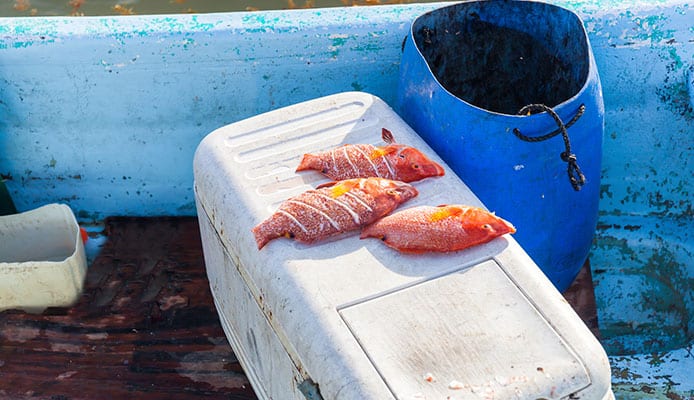 OUR TOP PICK

---

EDITORS CHOICE

---

BEST VALUE

---
Whether you're going for an afternoon of fishing or planning a multi-day fishing expedition, you will need the best fishing cooler that will keep your catch, bait, food, and drinks chilled and fresh for as long as you'll be fishing. Depending on how you fish, you can opt for a traditional ice chest, a portable ice chest, or an insulated fishing bag.
Here, we've reviewed the best fishing coolers that perform and hold up well out on the water. As for choosing the right cooler for your needs, our buying guide further down explains the factors to consider. To begin with, here are the best fishing coolers on the market right now.
How To Choose The Best Fishing Cooler – Buying Guide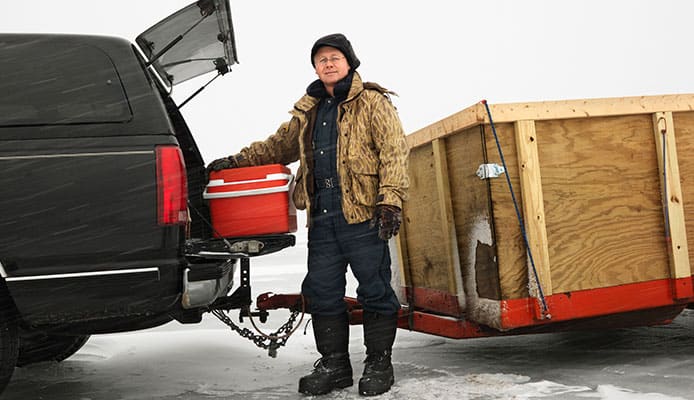 Here are the factors to consider so you can choose the best fishing cooler for how you fish, how you travel to your fishing destination, and how long your fishing excursions last. 
Insulation
The most important factor to consider when choosing the best cooler for fishing is the quality of insulation a cooler is equipped with. This determines how long a cooler can hold ice intact and therefore its ability to keep its content chilled and fresh. A good fishing cooler should be able to hold ice and keep your fish, bait, and refreshments chilled and fresh for as long as your fishing trip lasts. 
Hard-sided fishing coolers usually feature 2 – 3 inches of insulation. Top of the range coolers such as those offered by Yeti and Pelican have thick walls and freezer-quality gaskets that enable them to maintain ice for up to 10 days. These are perfect for extended fishing expeditions. For a day trip, an insulated fishing bag that can hold ice for 24 hours will be sufficient.
Related Review: Yeti Cooler
Construction
The second factor to pay attention to is how the fishing cooler is built. It should be sturdy and built using tough materials so it can handle the heavy load it will be carrying without falling apart and be able to withstand harsh outdoor elements, bumpy terrain, and frequent impacts. 
Hard-sided ice chest fish boxes are usually made from heavy-duty plastics. The best are also roto-molded for extra strength. To resist fast deterioration, marine fishing ice boxes should be corrosion and UV resistant. Some top of the range heavy-duty coolers are certified bear-resistant. Insulated fishing bags are usually made of high-density fabrics such as nylon and canvas so they can withstand abrasion and resist puncturing by sharp fins.
Last but not least, pay attention to the quality of components such as latches, hinges, handles, seams, and straps. These are usually the first areas to fail and render a cooler useless. They should be constructed with heavy-duty materials so they're strong enough to withstand heavy use without breaking.
Size
The exterior dimensions and weight of a fishing cooler are important considerations to make as they affect how easy the cooler is to carry and whether it can fit in the storage space you have. 
A portable fishing cooler should be compact so it can fit in a tight space. Kayak fishing bags are usually long and narrow to fit perfectly in the deck or storage compartment of a kayak. Small fishing coolers and soft sided fish coolers should also be lightweight for ease of carrying.
Related Review: Kayak Cooler
Heavy-duty marine coolers and boat fishing coolers, on the other hand, are heavy and large fishing coolers because they're constructed to hold large loads and feature thick insulation for prolonged ice retention.
You might also be interested in:
Capacity
When buying a fishing cooler, it's important to consider its interior capacity. This is the space you have for ice and the items you want to keep chilled. For a multi-day fishing trip or for holding large fish, you will need big fish coolers with a high storage capacity. A small, portable fishing cooler or fish bag with a 25-quart capacity is sufficient for an afternoon excursion catching small fish. A 45-quart capacity is the best size cooler for fishing for a day-long or weekend trip. Big fishing coolers capable of holding hundreds of cans are what you need for long fishing trips or for preserving large fish.
Manageability
You're going to be handling your fishing cooler a lot. The best fishing cooler should be a size and weight that can be carried easily. You may prefer a lightweight insulated fishing bag if you're going to be trekking a good distance. Even with a heavy duty styrofoam cooler for boating, you're still going to have to handle it when loading it onto and off your boat or truck. Choose one with strong handles and/or roller wheels for ease of handling. 
Draining Convenience
When the ice melts inside your fishing cooler, you want to be able to drain the water easily. The best draining mechanisms feature recessed channels or drain holes at the bottom of the cooler. This makes it easy to drain the cooler without having to lift or tilt it. Furthermore, some angler coolers allow for hoses to be attached. When not in use, the drain plug should seal the draining hole tight so the cooler is leak-proof.
FAQs
Q: Why Do You Need A Fishing Cooler?
A:
The best times to fish are summer and spring days when the sun is shining bright and the weather is warm. Under these conditions, caught fish can go bad very fast. If you plan to keep the fish you catch, a fishing cooler will keep your fish chilled and fresh, especially when you're on a long fishing trip.
A cooler is better at preservation than using UV light or salt as it preserves the freshness without compromising the flavor. You can also use a cooler to keep live or dead bait fresh and life-like. Finally, a cooler is a portable fridge you can use to keep your refreshments cool and fresh.
Q: Should I Choose A Portable Bag or Sturdy Fishing Cooler?
A:
This will depend on how you will be getting to your fishing spot, how you will be fishing, and how long your fishing excursions last. For boat fishing and long fishing expeditions, a sturdy fishing cooler is a typical choice. You may prefer a portable fish bag cooler if you're going to be moving on foot a lot, kayak fishing, or going on a short trip. Here are the pros and cons to weigh when deciding:
The advantages of a portable fish bag are that it is lightweight, compact, and easy to carry on foot. The best soft sided fish cooler can hold ice and keep your catch chilled and fresh all day. It may also have compartments so you can keep your refreshments separate from the fish. When not in use, it is easy to pack and store. The disadvantage is that an insulated fishing bag retains ice for a short duration and isn't as durable as a sturdy ice chest.
The advantages of a sturdy fishing cooler are that it has excellent ice retention and can keep fish cold and fresh for days even in extremely hot conditions. The best fish cooler boxes can hold ice intact for up to 10 days. It also has a rugged build and superior durability. The disadvantage is that fishing ice boxes can be too heavy and cumbersome to carry. It also occupies a lot of storage space.
Q: How To Clean My Fishing Cooler?
A:
The best way to keep your fishing cooler clean and fresh is to drain it, rinse it, and dry it as soon as you get home from a fishing trip. If you notice a sticky stink, here's how to clean your cooler to get rid of the fishy smell:
Rinse your cooler thoroughly then clean it using a mixture of a tablespoon of dish soap and half cup baking soda and a sponge or brush to scrub.

Spray it with a food-safe bleach. Rinse it after a few minutes and leave it open to dry.

Another way to get rid of odors is to spray the inside and outside of the cooler with a mixture of dish soap and chlorine, wait a few minutes then pressure rinse the cooler with a hose and allow it to dry.
Globo Surf Overview
In addition to a tackle storage system or tackle backpack, a fishing cooler is an essential storage system for every angler. The best portable ice chests, boat fishing coolers, and heavy-duty marine coolers reviewed above are all top rated for their quality and cooling performance when angling. You can find your best fishing cooler whether that's an ice chest fish box, a portable fishing cooler, or an insulated fishing bag on the fishing cooler reviews above.
More Fishing Accessories Reviews:
More Coolers Reviews:
What is your go-to fishing cooler? Do you own any of the ice chests and insulated fishing bags reviewed above? How is its performance on the water? Share your experience in the comment box below