There is nothing better than paddling out onto an open lake on a hot day with a cold beverage in hand. Having a compact cooler that is lightweight enough to be packed in your kayak will provide endless opportunities. Not only can you pack a light snack along with you but they are also a popular option for those looking to start fishing. The best kayak coolers will go with you wherever you take them.
Having the best kayak cooler can be all you need to take a good day on the water and make it excellent. Bringing cold drinks along on your trip to the lake and enjoying them while you cast a line with the sun beaming down on you, there are few things better.
Ready to get started? Let's go.
How To Choose The Best Kayak Cooler –  Buying Guide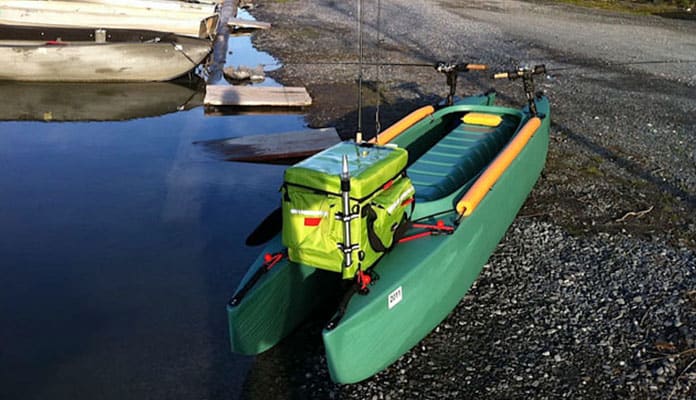 Reviews about coolers for kayaks agree that there are features that your gear should have. You have far more options than you may realize allowing you to be extra choosy in finding the best cooler for you. Mostly this will depend on the space you have with you in your kayak as well as what you plan to use the cooler for. Regardless, you will want to pay attention to the following features.
Capacity
First things first, how much are you looking to bring with you. This should be one of the first questions you ask yourself. Are you looking for a small floating cooler that will hold a few cans and a sandwich or are you looking for something heftier that will hold enough for a couple nights camping? Or, are you an avid fisher who is looking for a way to keep their catch as fresh as possible?
Related Review: Floating Cooler
Companies typically always reference the capacity of their cooler bags in terms of quarts. If not, this will be referred to in terms of cans or liters. The capacity of different coolers will vary quite drastically. You will find that on average a 10 quart cooler fits nicely in most kayaks and will suit your needs quite nicely.
Material
Coolers vary in materials drastically. Most often the biggest variance will be whether your cooler is hard or soft. There are pros and cons to the different styles. Hard coolers are made out of firm plastics or rubber materials. These are ideal for those who are really rough on their gear as they are often more watertight and will protect the stuff you put inside.
Soft coolers are made out of cloth materials that are laminated and insulated. These are ideal as their form is flexible and can, therefore, fit into a variety of different spaces. They are also ideal for their lightweight feel.
Related Review: Soft Cooler
Keeping Temperature
This is one of the most important parts of a cooler. After all, what good is your cooler if it doesn't keep your stuff cold? The cooler you are choosing should be insulated enough to keep the ice and other cold products you put in there cold or frozen. The cooler you choose will likely advertise this quality in terms of hours it is rated to keep cool. The best coolers for kayaking should keep cool for anywhere between 24 to 72 hours. While you likely don't need this long, it is important to realize that when out on a lake you will have direct sunlight hitting it which will decrease this time. Opting for something on the higher end of this spectrum is a good idea.
Waterproof
Typically having a waterproof cooler is likely not something on your radar. When you are looking for one for use on a kayak, it really should be. Most coolers you will come across are waterproof. Higher quality coolers will be leak proof, and air tight as well. This is particularly ideal for those who are kayaking as you will find yourself in wet and unpredictable situations.
Particularly for fisherman, having a drain plug is important but you will want to make sure that this doesn't leak. When purchasing your cooler, as well as when you are caring and maintaining it, you will want to ensure all O rings and gaskets are clean and intact without issues. These parts can almost always be replaced if faulty but can cause quite a mess if not found in time.
FAQs
Q: What size cooler for kayak?
A:
This is not an easy question to answer as it depends on your use, kayak size and personal preference. Consider the length of trips that you intend to be using your cooler for. Overnight camping trips will require a larger cooler than that used for a few hours out on the lake. Regardless of the size you choose, be sure to measure your kayaks storage compartments before purchasing to ensure a good fit.
Q: How to attach a cooler to a kayak?
A:
There are many different ways to attach a cooler to a kayak. A soft cooler will be easier as it can conform to the space it sits in. If the cooler is larger than the space it can bend a little to accommodate the space. Rigid coolers will have to be strapped to the rigging of your kayak.
Q: How to take cooler on sit on kayak?
A:
Sit-on-top kayaks actually have an easier time fitting coolers. They have much more storage that has a flat area which makes it easier to fit it on your rig. Just keep in mind that you have a higher center of gravity on this type of kayak. This means you will have to be cautious about how tall your cooler is as it can cause you to tip in rough waters.
Globo Surf Overview
When it comes to a hot summer's day out on the water, having a quality cooler is sure to make your time more enjoyable. Sit back and enjoy a cold refreshing drink when lazing on a lake or be able to go for longer overnight camping trips with the best cooler keeping your foot cold.
More Kayak Reviews:
More Coolers Reviews:
Do you use one of the kayak coolers on our list for your day on the lake? Let us know how you like it in the comment section below.