OUR TOP PICK

---

EDITORS CHOICE

---
Paddling a kayak on a bright sunny day is one of the best experiences you can have on the water. One of the things you need for a phenomenal experience is access to a refreshingly cold drink whenever you need it. This is where the best kayak cooler comes in. It will keep the food and drinks you bring along chilled and fresh.  
Due to the limited storage space in a kayak, a kayak cooler should be compact yet well-insulated to keep its contents cold even in direct sunlight. To help you find the perfect cooler for your excursions, we've reviewed the best kayak coolers currently on the market. From ice chests to kayak fish cooler bags, there's something for you whether you need a lunch cooler or want to keep your catch fresh.
How To Choose A Kayak Cooler –  Buying Guide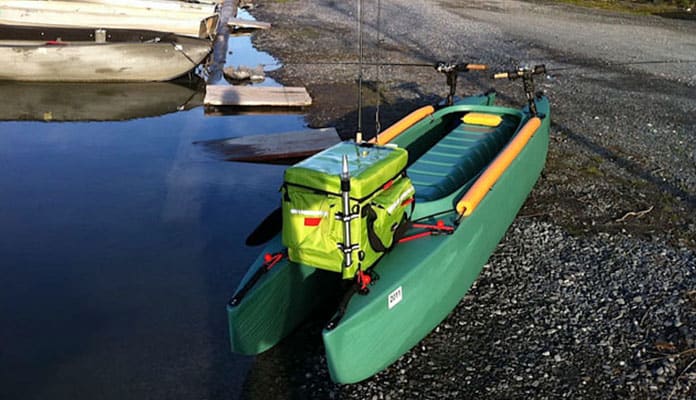 Capacity
How big the cooler should be is the first thing to decide. Kayak coolers range from 10 to 30 quarts in capacity. The ideal capacity to go for comes down to how much you want the cooler to hold and how long your kayaking trips last. If you fish off your kayak and go for big game fish, you will need an equally huge fish cooler bag to accommodate your catch.   
You might also like:
Material
The best kayak ice chests are made of high-density plastic materials. This keeps them lightweight yet tough enough to stand up to drops and bumps without cracking. To strike the perfect balance between flexibility, and insulation, and durability, the best kayak soft cooler bags are made of laminated and insulated fabrics. 
Related Review: Soft Cooler 
Cold Retention
This is one of the most important aspects of a cooler to pay attention to when deciding on what cooler for a kayak to get. After all, what good is a cooler if it doesn't keep your stuff cold for as long as you need it? The best coolers for kayaking should retain cold for anywhere between 24 to 72 hours. With this kind of performance, you can rest assured your cooler will retain ice even in direct sunlight.  
Waterproof
To retain cold well, kayak ice chests and cooler bags should be airtight and waterproof. This ensures that cold air doesn't escape to the outside and that warm air doesn't get inside the cooler. Not only should the material the cooler is made of being waterproof, the lids, seams, and closures also be watertight.
FAQs
Q: What Size Cooler For Kayak?
A:
Most coolers for kayaks range between 10 and 30 quarts in capacity. This keeps them compact enough to fit in a kayak yet spacious enough to hold all essentials for a day or overnight kayaking trips. What size cooler for a kayak to go for will depend on how long your kayak trips last, the storage space you have inside your kayak, and personal preference.
Q: How To Attach A Cooler To A Kayak?
A:
To attach a cooler to your kayak, use D-rings and straps to secure it to the lash down points on your kayak. If you don't have space on your kayak, you can attach a floating cooler holder to your kayak's tail. Alternatively, you can stow it in the front or rear storage compartment or store it behind or under your seat.
Q: How To Take Cooler On Sit On Kayak?
A:
Sit-on-top kayaks accommodate coolers very well. This is because they have a much more flat storage area than sit in kayaks, which makes it easier to fit a cooler on top of your kayak's deck. Just keep in mind that sit on top kayaks gave a high center of gravity. This means you will have to be cautious so the cooler doesn't cause your kayak to tip.
Globo Surf Overview
When it comes to a hot summer day out on the water, having a quality cooler is sure to make your time so much more enjoyable. Sit back and enjoy a cold refreshing drink when lazing on a lake or go for overnight camping trips with the best kayak cooler keeping your food fresh. Hopefully, our kayak cooler reviews have made it easy to find the best kayak ice chest or cooler bag for your kayaking adventures.
More Gear Kayak Reviews:
More Coolers Reviews:
Do you use one of the kayak coolers on our list for your day on the lake? Let us know how you like it in the comment section below.