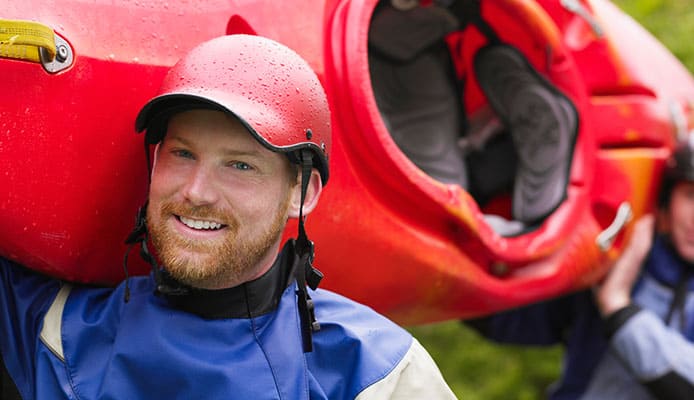 OUR TOP PICK

---

EDITORS CHOICE

---

BEST VALUE

---
When seasons change and both air and water temperatures drop, kayaking can become very uncomfortable without additional equipment to keep you warm and dry. If you wish to be active on the water year-round, getting a drysuit is the best decision that you can make.
As you probably know, drysuits are specialized clothing designed to keep water out. However, not all of them are equally efficient in doing this and providing you with the comfort you need while paddling. So, to help you find the right one, we'll take a close look at the best drysuit for kayaking on the market and discuss all the important features to consider when choosing.
How To Choose The Best Kayak Drysuit – Buying Guide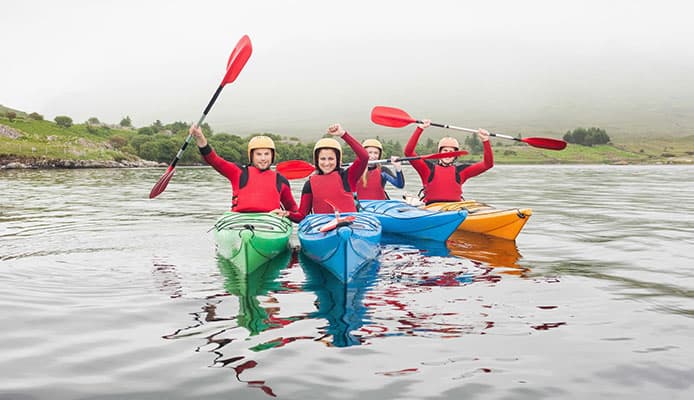 Material
The best drysuits for kayaking are made either using Gore-Tex fabric or special nylon, both of which are highly waterproof. Even though Gore-Tex is more expensive, it is very breathable and allows excess moisture to escape from your body. This, in turn, increases comfort while wearing the drysuit.
Nylon, on the other hand, is also very efficient at keeping water out, but it isn't as breathable. However, it's also a lot cheaper than Gore-Tex which is why many kayakers choose this option.
Fit
Regardless of the model, a paddling drysuit should fit comfortably when you put it on. This is because they are meant to keep you dry and not warm – which means that for the warmth you will have to wear other clothing underneath.
The best drysuits for kayaking come in different sizes for men and women, and we advise that you buy one that is the same size as your regular clothing. However, always check the size charts and compare the measurements.
Entry
Because this is not your typical piece of clothing, the entry points are strategically placed to add to the overall efficiency of the drysuit. Most often, the entry points will be either in the front across the chest or through the back.
If your drysuit has a front entry, you can zip it up by yourself when you put it on. However, if it has a rear entry, you may need another person to help you close it.
Seals and Zippers
In addition to the fabric, seals are the most important thing for the paddling drysuit to function properly. Your suit will have gaskets around your neck, wrists, and sometimes ankles. The best drysuits for kayaking have gaskets made from latex which is very efficient in keeping the water out.
However, some people feel discomfort from latex gaskets around their necks. An alternative is a neoprene gasket which is comfier but not as efficient. Whichever type you buy, you have to take care of them because if they get damaged the suit gets compromised.
Zippers functioning properly is another vital part of keeping the water out. In most cases, they are either made from metal or tough plastic. If you have metal zippers, you'll often need to lubricate them to make sure they don't get stuck.
Relief Zippers
Since taking the drysuit off isn't an easy task, many models include relief zippers. Its main benefit is that it allows you to relieve yourself without taking the whole suit off. Many kayakers agree it is incredibly useful, especially if you plan on long hours in your suit. Relief zippers can be located on the front or installed as a drop seat in the back (more practical for women).
Reflectivity and Color
While this isn't the first thing that comes to mind when shopping, it can be very useful in the water. Bright colored suits can be more visible in every situation, making you safer and easier to locate. As a bonus, reflective straps will make you noticeable in low light and bad weather conditions.
Design and Booties
Most suits come in one piece because this type of design is best for keeping the water out. However, some kayak drysuits come in two pieces. The connection between them is leak-proof, but they can also be used separately when needed.
A very useful design feature is the built-in socks (booties). Usually made from latex or fabric, they allow your feet to stay dry too. If the suit comes with booties, it's recommended to wear some type of kayaking shoes that will protect them from damage.
Additional features
While not completely necessary, extra features can significantly increase the functionality and durability of a drysuit. To give an example, one of the things we particularly like are cuffs over the latex gaskets. Because gaskets can get damaged by sun or cuts, a neoprene cuff over them will greatly increase their durability.
Similarly to cuffs, the zippers on your suit are also exposed and susceptible to damage. So, it's always good if the zipper comes with a cover. Furthermore, some kayak drysuits have tunnels that allow you to tuck the kayak skirt underneath and prevent leaks in the kayak. 
Last but not least, some suits have hoods that will help keep your head dry if there is a lot of splashing. The hoods are permanently attached on some models, while others allow you to take them off when you don't need them.
You might also like:
FAQs
Q: What To Wear Under A Drysuit?
A:
If you wish to stay warm in a drysuit, we advise that you wear clothing that gives you good insulation even when wet (suit might leak or you might get sweaty). Because of this, we would advise against cotton and suggest you wear undergarments made from fleece or similar materials.
Q: What Is The Difference Between A Wetsuit And A Drysuit?
A:
The difference is that a drysuit is designed to keep you dry, while a wetsuit is designed to keep you warm. A drysuit fits loosely except in the gasket area, and the design completely prevents the water from coming in. For warmth, you will have to wear a clothing layer underneath.
Wetsuits, on the other hand, don't prevent the water from getting to your body but instead use a thin layer of water as insulation that keeps you warm.
Q: How Do You Clean A Drysuit?
A:
When talking about washing, it should be performed like it's indicated on the label. Generally speaking, kayak drysuits are usually washed on a gentle cycle with a mild detergent. Afterward, hang your suit to dry – don't put it in a dryer.
Make sure to take special care of the zippers, remove any dirt, and lubricate them if needed. Finally, gaskets can get damaged from salt and sunscreen so be sure to wipe them off after use.
Globo Surf Overview
To sum things up, buying one of the best drysuits for kayaking can greatly improve your experience on the water. With it, you will no longer be limited to warm weather – instead, you'll be able to exercise your favorite activity year-round. 
All the products presented in our kayaking drysuit reviews are thoroughly tested, so we're sure that you can find a model that will feel comfortable and protect you regardless of the conditions.
More Kayak Reviews: