OUR TOP PICK

---

EDITORS CHOICE

---
Every kayaker's worst nightmare is losing their bearing while on the open water. For this reason, an accurate analog compass is one piece of equipment you shouldn't be without when paddling in coastal waters or large lakes. While modern GPS electronics can fail, nothing beats the combination of the best kayak compass and a good map when it comes to reliability.  
To help you find the best compass for kayaks you can count on to provide accurate bearing in any situation you might encounter while on the water, the reviews below take a look at the best compasses for kayaking on the market. Additionally, we have explained the factors to keep in mind when choosing a compass for kayaking. Let's get started with the reviews.
How To Choose The Best Kayak Compass – Buying Guide
Durability
As with any other kayak accessory, a compass should be tough enough to cope with the rigors of kayaking. It should be waterproof, shockproof, and made of high-quality materials. All the kayaking compasses that we have looked at here are of top-notch quality and durable enough to serve you for many years to come.
Ease Of Use And Installation
When it comes to installation, there are two types of kayak compasses to choose between. You can get a mountable kayak deck compass you will screw directly into the kayak or on a mounting bracket, or a pocket compass you can keep in your pocket or secure with a clip and lanyard. While mountable compasses require installation, they are more durable than hand-held compasses and easier to use while kayaking. 
Accuracy
Since you're looking for a reliable analog compass, it goes without saying that the compass you get should be accurate. When kayaking on open water, relying on an inaccurate compass can leave you stranded. Besides choosing a top-rated compass for kayaks from a reputable brand, be sure to perform a compass check to verify that it aligns with your other navigational instruments. 
Size
A kayaking compass should be large enough to read easily even from a distance yet compact enough to mount on the deck or slip in your pocket. Most kayaking compasses are compact and lightweight so they will fit easily on your kayak. At the same time, they have large displays and markings you can easily read from a distance.   
Declination Adjustment
Since the Earth is tilted on a slight axis, the magnetic north and the geographical north are in two different locations, roughly 500 kilometers apart. This difference can be an issue when using a magnetic compass for navigation. While it's easy to account for this difference by adding or subtracting the declination, you can opt for a compass with a declination adjustment functionality.
You might also like:
 FAQs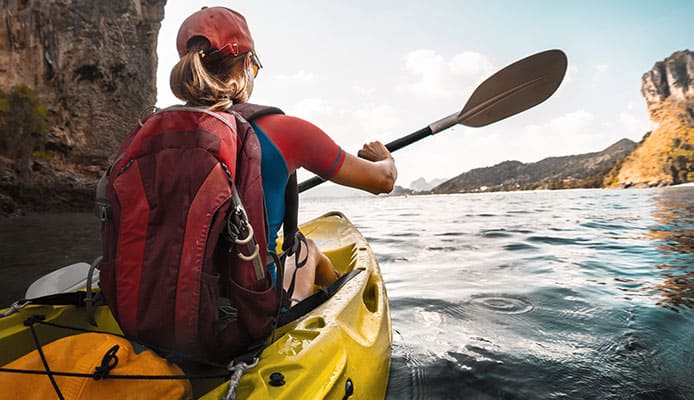 Q: What Is A Compass Designed For Kayaks?
A:
A compass designed for kayaks is a compass designed to be mounted on a kayak dashboard or attached to the deck rigging or deck bag. It features a magnetic needle and a damping fluid that limits the fluctuation of the needle, and a large display and clear markings that make it easy to read while on the go.
Q: Why Do I Need Compass For Kayaks?
A:
While your smartphone, kayak GPS, or GPS fish finder can show you the way, modern electronics and GPS technology can fail in extreme situations leaving you without a way to determine your bearing. This is why it's important to have a reliable analog compass onboard. An old-fashioned compass and map won't fail you even if you find yourself off the grid or run into a foggy situation.
Q: How To Mount A Compass For Kayaks?
A:
You can mount the compass for kayaks on your kayak's deck, tie it down to your deck rigging, or fasten it to your deck bag. How to mount it will depend on the type of compass you have. If you have a mountable kayak deck compass, you can screw it into your kayak directly or via a mounting bracket. If your kayak comes with straps, you can tie it to the deck lines or even on your deck bag.
Globo Surf Overview
The best kayak compass is one of the most important kayak accessories to have when on an ocean kayak or exploring a large lake. An analog marine compass is a simple yet reliable way of finding your bearing. It should be accurate, easy to read, compact, and durable. Hopefully, our reviews and buying guide have made it easy to find the best compass for your paddling adventures. 
More KAyak Gears:
More Compass Reviews: