OUR TOP PICK

---

EDITORS CHOICE

---

BEST VALUE

---
When exploring the underwater world, it is often hard to get your bearings. Without the help of mountains or other known landmarks, it is common for even the most experienced diver to struggle with a sense of direction. The vulnerable conditions mix with the ocean currents making it even more important to invest in the best dive compass. This can reduce a lot of stress during your dive.  After buying your dive boots and buying your snorkeling fins we recommend you opt for a high-quality compass. Having a digital dive compass will allow you to easily maintain your sense of direction while exploring the ocean.
We found the best dive compasses on the market that you should include in your next dive.
How To Choose The Best Dive Compass – Buying Guide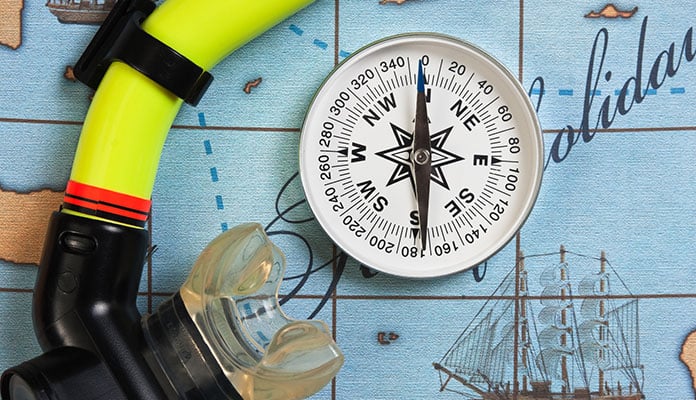 Digital vs. Analog
You will most often find a digital compass as part of a dive computer. They are usually integrated devices, and you will not usually find them sold separately. The downside of this devices is that they need to be calibrated whenever the battery. They are easy to read.
An analog device is more accurate and reliable in the water. They do not need to be calibrated and do not need a battery. They are ready to use as soon as they are out of the box. They come as stand alone units which means that they can be mounted anywhere on your dive equipment.
Tilt Tolerance
When you are on land with a compass, you do not need to worry about the unit tilting as you will be holding it horizontally. When you are in the water, this is not always the case, and it can be hard sometimes to know your exact orientation. The tilt tolerance refers to how much the compass can be tilted before the needle gets stuck. The bigger the tilt tolerance, the more the compass will work, though a larger tilt tolerance will mean a thicker unit.
Size
When you are under the water, you want a compass which you can read easily, so you will want to make sure that you have a compass big enough to read. On the other hand, you do not want to be encumbered by large diving equipment. It is a good idea to opt for a large compass as the visibility under the water can be less clear, but you also do not want a compass so big that it hinders your dive.
You might also like: Perfect Scuba Fins
Mounting Options
There are many places where you can mount your compass. A wrist-mount is the most popular type of underwater compass. Much like you would wear a watch on your wrist, you wear a wrist compass on your wrist. This may hinder you if you are wearing a dive computer too, though you can wear one on each wrist if you like.
You could also install the compass in a console mount. This will allow you to see the direction when you are checking your depth and air supply. You could also attach the compass to a retractable mount on a D-ring.
Intended Use
Where you are diving and how you are diving will determine the type of compass you need. The further down you go, the larger the compass you will need to be able to see the dial clearly. You will also need a compass with a good tilt tolerance. The further you go, the more disoriented you are going to be.
FAQs
Q: Should I Choose A Digital Or An Analog Compass?
A:
The choice is entirely dependent on what you need the compass for. If you need to have a precise reading on your compass, for example, if you are searching for a sunken wreck and you know that it is in a specific direction, then you will want an analog device. An analog compass will remain accurate, no matter how you are using it. An analog compass will keep you going in the correct direction.
If you want something which is more than a compass, then you should go for a digital device. Often, digital devices come as part of something bigger, and even if they don't, they often are shipped with more than just a compass. First, decide where you are going to dive, and how you are going to five, and then choose the compass which fits your needs.
Q: What Is The Depth At Which the Compass Will Stop Working?
A:
With a diving compass, you do not need to worry about going too deep. No matter how deep you dive, you are still relatively close to the surface of the planet so your compass will keep working. The only thing you need to worry about are magnets throwing your compass off.
Q: Why Do I Need A Diving Compass?
A:
You need a diving compass, so you know where you are in the water and in what direction you are traveling in. If you are diving toward a specific point, then a compass helps you to find that point. It also helps you to get back to your boat or starting point. A good compass will keep you orientated under the water. When you are deep under the water, it can be hard to know which direction you are facing, and you can quickly become lost. A diving compass will ensure that you never become lost under the water.
Globo Surf Overview
It is easy to get turned around when underwater. When you dive down deep, and the surroundings begin to get darker, it can become easy to get lost. This is especially true if you are exploring caves or a shipwreck. If you do get lost, then you can lose your way back to safety, and that can become a life or death situation.
With the help of a diving compass, you can easily navigate your way in the underwater world and get to where you need to go. A diving compass is an important diving accessory, all scuba divers should ensure they have a compass with them while exploring the waters. With our buying guide, you will gain all the knowledge you need to make this accessory a part of your scuba kit.
Take the time to make sure that you are safe underwater. A diving compass is a relatively inexpensive piece of equipment and one which could save your life.
More Scuba Reviews:
More Compass Reviews: