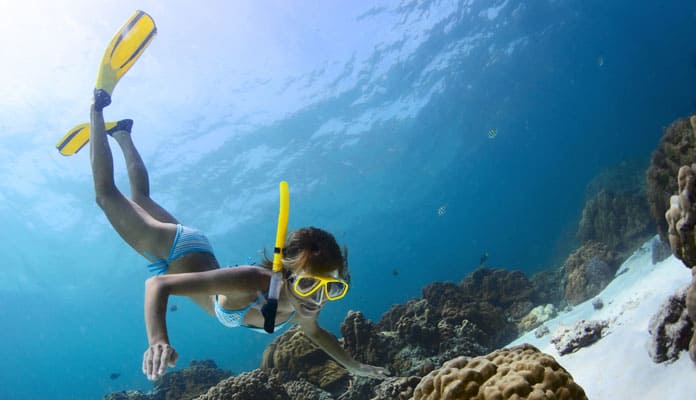 Best Family Snorkel Gear Package

---

Best Kids Snorkel Gear Package

---

Best Value Snorkel Gear Package

---
Snorkeling has become a very popular vacation activity. Tropical waters lead to beautiful fish and colorful coral. To get the most out of this experience, you will need the best snorkel gear to help you see all the beautiful underwater world has to offer. This includes fins to keep you swimming easily, a snorkel that will allow you to breathe with ease, and a high-quality mask that will give you unobstructed views of the water.
We know you will be hooked after your first snorkeling experience, which is why we know it is better to buy your gear than to rent it every time. To help you pick what is right for you, we have compiled a list of the best snorkeling gear on the market.
How To Choose The Best Snorkel Gear Package – Buying Guide
When buying a complete snorkel package you must know what features to look for in every item that is included. This will ensure you get the top-of-the-line snorkel package.
Mask
When looking for a high-quality snorkel mask, it is great to get one with an anti-fog treatment. This will ensure you do not need to constantly be cleaning your mask. A tempered glass lens will ensure you have a durable lens that will be built to last. A silicone skirt that fits your face will ensure that you have a watertight seal while snorkeling.
It is also important to note the range of view you will get from your mask. Typically a single lens design will offer the greatest range of view. Some offer a wide-view design in the shape of multiple windows on the side of your mask as well.
Snorkel
For safety reasons, it is best to go for a snorkel with a dry top valve. This will ensure that your breathing tube stays free from water. This is an important feature for those who are not strong swimmers as well as those who enjoy diving below the surface. A simple splash guard is suitable for those who are swimming in choppy or busy water where splashing is a high possibility.
Fins
When looking for dive fins, it is important to know your shoe size. Dive fins with an open heel and adjustable strap design will give you the most comfortable and form-fitting feel. Opting for short fins, while not as powerful, are great for those who plan to travel with their gear as they will take up less room in your luggage.
FAQs
Q: How Do You Dive With A Snorkel Gear Package?
A:
Snorkeling along the surface of the water is great but when you get to deeper water you may want to dive to see things from a different perspective. After you have all your gear on and you're in the water take a large breath and bend your body into an upside-down "v" shape. Do this by stretching your arms in front of you and bend them down so they form a 90-degree angle. This will push your bum into the air and propel you towards the bottom. Remember to not take in any more air until your snorkel has been purged of water. This is done by breathing out or by pressing the one-way valve most snorkels have.
Related Review: Dive Safety Gear
Q: How Do I Disinfect My Snorkel Gear?
A:
This can be done in many ways. Some dive shops have two drums of water, one with a bleach solution and the other being completely freshwater. You will dunk your gear into the bleach solution and then rinse it off in the freshwater. This will kill all the bacteria and saltwater on your gear. If you're looking to make your solution add 1 part bleach to every 10 parts of water.
Q: How Much Do Snorkel Gear Packages Cost?
A:
This is a difficult question to answer because the price you pay has everything to do with the quality of gear you get. While it is possible to get cheap snorkeling gear, it is likely not to last you for very long. If you are on a budget opting for a snorkel gear package is a much more affordable way to go. These will cost between $60-$120 for everything you need to get into the water. If you are wanting to buy separately you can expect to get a mid-range dry snorkel for around $40-$60. You will also have to buy a snorkel mask and fins separately.
Q: How Do I Choose My Snorkel Set?
A:
When choosing the right gear for your next snorkel trip there are lots of things to consider. First off, it is important to understand the different items you will need for your trip: a snorkel, a mask, and fins. Knowing these items independently will help to ensure that each one you buy is of high quality.
First, it is wise to decide whether you prefer a traditional snorkel style with a separate mask and snorkel, or would rather go with a full face mask. Like anything, there are pros and cons to each. A full-face snorkel mask is not good for travel as it is quite bulky. Due to the amount of air in a full face mask they do not allow you to dive below the water's surface either. They are however very easy to learn off and are great for beginners.
If you decide to go the traditional route, choosing your snorkel is a very easy task. First, you will want to ensure you opt for a dry snorkel. This type of snorkel has a valve at the top that stops water from flowing inside when splashed or free diving. This is a very important safety feature.
When looking for a quality snorkel mask you will want to consider if you are going to be using it for any deeper dives below the surface. If you think you may want to use your mask for scuba diving in the future, it is best to opt for a mask with tempered glass. When choosing your ideal snorkel fins you will want to make sure they are designed specifically for snorkeling. These shorter fins help you propel through the water with ease.
Q: Can I Take My Snorkel Gear Package With Me On Vacation?
A:
This is a common question with an incredibly easy answer: Absolutely! If you are planning a tropical vacation to Hawaii bringing along your own snorkel set is a no-brainer. There are plenty of things to explore while in their warm clear waters. When traveling on a plane with your gear, you will have to take extra precautions. Most importantly you will want to pack your gear safely so as not to break into or ruin anything. Some snorkel packages come with a bag to safely store your gear in. Be sure to always lay your fins flat and protect your mask by wrapping some clothing around it. There are many beautiful snorkeling destinations around the world. Having your gear with you will save you money and can make your holiday much more enjoyable.
Q: How Should I Clean And Care For My Snorkel Gear?
A:
Your snorkel gear package isn't cheap so it is important to take good care of it. Proper care and maintenance will help to increase the lifespan of your snorkel. Preparing your new mask is important. After your first trip out you will still have to maintain it with proper cleaning after every use. Cleaning your mask and snorkel are virtually the same, being sure to rinse your gear after every use. Keeping out of direct sunlight be sure to always allow your gear to dry completely before storing.
Globo Surf Overview
Buying a complete snorkel package rather than buying each item separately can save you a lot of time and energy. With the convenience of an all-in-one package, you will find everything you need to have an amazing vacation in the same place. Snorkel gear reviews agree that buying a packaged set will ensure that you get top-quality compatible gear. Any of the top 10 snorkel sets on our list will help to ensure that your next vacation is unforgettable!
More Snorkel Gear Reviews:
More Gear Reviews: