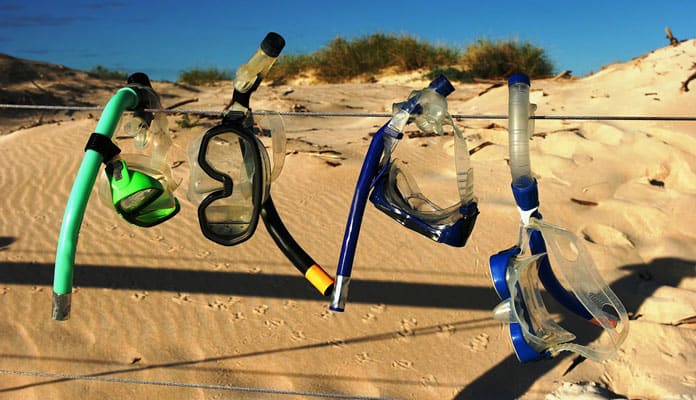 S
norkeling is a beloved sport that most tropical vacationers indulge in while abroad. This is the best way to get a taste of all the beautiful underwater world has to offer. However, this little taste may not be enough and strong swimmers will often be tempted to go a bit deeper. A dry snorkel features a one way valve at the top of the snorkel that allows water to not go into your snorkel. This is great for those who are looking to dive down or accidentally splash water on the end. The best dry snorkel will ensure your diving experience is much more enjoyable.
We know you will fall in love with the ocean and did our part to make your vacation unforgettable by finding you the best snorkels on the market.
QUICK ANSWER: THE BEST DRY SNORKELS
The Best 10 Dry Snorkels Are…. Let's Review!
[table id=1 /]
Cressi SUPERNOVA DRY, Adult Diving Dry Snorkel
  Check Price Now
This snorkel features a highly flexible tube that will move with you ensuring you can turn your head to see all the fish without the dreaded jaw fatigue. This Cressi option is great for travel as it folds into a compact size to fit easily with your luggage. The bottom of the snorkel features an easy to clean one way purge valve which allows you to rest assured you won't have to battle any water. Not only is this an inexpensive option it comes in 19 different colors so you will always stand out in the water. This snorkel will give you the ability to dive to depths you never thought possible.
Materials: Silicone
Weight: 8 oz
What makes this snorkel stand out:

Easy to clean purge valve
Flexible mouthpiece
Loads of colors available
Cressi ALPHA ULTRA DRY, Adult Scuba Diving, Snorkeling Dry Snorkelt
Cressi has been making diving gear since 1946 which has given them an overwhelming amount of experience. This dry snorkel has been a culmination of this experience. High end materials and advanced technology have created this snorkel to not only exceed your expectations but also look stylish. Its lightweight design and flexible material reduces the strain on your jaw and gives you more time underwater. A wide opening doesn't restrict your air and lets you breathe as if you weren't in water.
Materials: 100% silicone
Weight: 6.4 oz
What makes this snorkel stand out:
Lightweight design
Automatic float mechanism
Sealbuddy Maui Frameless Mask/Snorkel
This is not only a top of the line snorkel, but also includes a frameless mask. Instead of using a float like other snorkels the Sealbuddy Maui snorkel uses a ball which reduces buoyancy. Using high quality materials ensure that not only your snorkel, but also the mask, will stand up to the salt water of the ocean and last for years to come. This company is so sure of this that they include a complimentary one year warranty.
Materials: Silicone, polyurethane
Weight: 7.5 oz
What makes this snorkel stand out:
Includes mask, carrying bag and snorkel
1 year warranty and lifetime customer support
Phantom Aquatics Dry Snorkel
This Phantom dry snorkel is a top rated dry snorkel. It has a replaceable mouthpiece with extends its life also making it perfect for a family of divers. This setup is small enough to fit in a day bag so you are always able to jump in the water. The tube is easy to purge and even includes a self draining chamber making sure you have zero water in your snorkel. You can't beat the value for the cost of this snorkel.
Materials: Silicone
Weight: 8 oz
What makes this snorkel stand out:
Self draining chamber
Comfortable mouthpiece
Mares Ergo Dry Scuba Diving and Snorkeling Snorkel
A curved mouthpiece provides superior comfort even during longer trips. Cleaning this snorkel is easy with a one way purge valve. Many dry snorkel reviews are raving about the lightweight design of this snorkel making it easier than ever to travel with. The flexible tube allows it to even fit in your carry on bag. You can show your style with the many different colors this snorkel is available in. An adjustable snorkel keeper allows this snorkel to easily adjust into many comfortable positions.
Materials: Silicone
Weight: 4.8 oz
What makes this snorkel stand out:
Comfortable rubber molded mouthpiece
Lightweight
Available in many different colors
Riffe Stable Scuba Diving and Snorkeling Snorkel

The hinged design of this snorkel allows it to easily connect to your face mask. A low profile design leads way to a comfortable mouthpiece that is molded to fit comfortably in your mouth. A flexible vinyl tube folds easily to fit easily into your luggage when traveling. The dry top is shaped similar to a shark fin allowing it to move easily through the water without catching on any seaweed or other floating debris in the water.
Materials: Vinyl
Weight: 5.6 oz
What makes this snorkel stand out:
Low profile design
Flexible tube
XS Scuba M-Line Snorkel 3D Dry
The XS Scuba M-Line dry snorkel is one of the top snorkel masks. A valve system closes when you descend into the water and an easy to use button will purge any water that manages to get into the tube. You won't have to worry about exhaling to open the flap when you surface as it will open automatically for you. The mouthpiece is completely adjustable and fits comfortably in your mouth. A flexible air tube allows you complete control to contour it to fit comfortably for you.
Materials: Silicone
Weight: 9.6 oz
What makes this snorkel stand out:
Stylish design
Adjustable mouthpiece
Oceanic Ultra Dry Snorkel
A drop away flex mouthpiece sits comfortably in your mouth reducing the chances of jaw fatigue. The lifespan on this dry snorkel will undoubtedly increase as it has a fully removable and replaceable mouthpiece. An ergonomic design allows this snorkel to excel in both comfort and performance. A low profile design ensures unparalleled airflow through this snorkel.
Materials: Silicone
Weight: 9.6 oz
What makes this snorkel stand out:
Full warranty
Replaceable mouthpiece
Tusa Hyperdry Elite II Dry Top Snorkel

Tusa has designed a snorkel that has reduced drag and can even be put in a horizontal position for added speed. You won't have to worry about diving waves as the high tech valve can detect water and instantly closes so you never have to worry about water entering your tube. A large diameter tube will give you full breaths without making you struggle to catch your breath. The mouthpiece has been specifically designed in conjunction with the tube to create the least amount of pressure on you mouth and jaw. This will give you more time in the water than you thought possible.
Materials: Silicone
Weight: 7.2 oz
What makes this snorkel stand out:
7 colors available
Lightweight design
Aqua Lung Impulse Dry Flex Snorkel
Featuring a removable and replaceable mouthpiece ensures that this snorkel will last you many years to come. A contoured top allows for the least amount of drag as you move through the water allowing your swim to feel even less restricted. A comfortable and flexible mouthpiece prevents against jaw fatigue as you will not need to bite down but rather just rest in the mouth. This dual valve system ensures that no water enters the mask and allows you the best air flow.
Materials: Silicone
Weight: 12.8 oz
What makes this snorkel stand out:
Low jaw fatigue
Two year warranty
Globo Surf Overview
Having a dry snorkel will ensure that you don't get any water in your mouth and make swimming below the surface much more enjoyable. These snorkels are excellent for swimming in water with a bit of waves as it ensures a one way movement of air and doesn't allow any water to enter. This type of snorkel is great when traveling to deeper waters as you no longer run the risk of inhaling water into your lungs. Any of the top 10 snorkels on our list will ensure your vacation is unforgettable. Now, all that is left for you to do is grab your bathing suit and jump in the water.
Have a snorkel that made it on our list? Let us know how you like it in the comment section below.
You May Also Like
10 Best Snorkel Vest
10 Best Snorkel Gear Package
10 Best Snorkel Masks
10 Best Snorkeling Fins
Last Update on the 16th of March 2017
New to snorkeling or have a snorkel destination on our list? Let us know how you like it in the comment section below.