A sunscreen that is suitable requires different features than your average sunscreen. When you are floating on the water you get not only the rays of the hot sun beating down on your, but also the reflection. The sun bounces off the water to provide even more sun exposure. This leads to the dangers of you getting burnt double as fast. To combat this you need the best sunscreen for snorkeling.
As you are going into the ocean and swimming close up to many coral reefs and fish, it is important to get a chemical free, biodegradable sunscreen. Many sunscreens contain chemicals that are not only harmful to your skin but can be toxic to sea life. It is important to ensure that you are getting a high quality, safe sunscreen.
There are many features to look for when deciding the best choice for you as well as many options on the market. To help you navigate your way through, we have created a list of the best snorkeling sunscreens on today's market.
Read to get started? Let's go.
QUICK ANSWER: THE BEST KIDS SNORKEL SETS
Best Kids Snorkel Sets
Junior Diving Snorkel Set by Seavenger


Our rating

Single lens mask

Compact fast-drying travel bag
Rocks Kids Mask, Snorkel & Fins Snorkel Set by Cressi


Our rating

Tempered glass mask

Fast drying mesh bag
Sports Kids Snorkel Set by NAGA


Our rating

Scratch and shatter resistant mask

Mesh bag included
Kids Snorkel Sets Reviews
1. Junior Diving Snorkel Set by Seavenger
Check Price Now
Seavenger makes a top quality snorkel set that does not break the bank. This affordable set will have your child enjoying the water like never before. Featuring a single lens mask, your child will have full uninterrupted views of all the life underwater. The snorkel for kids features a dry top which allows your child to breathe freely while ensuring no water enters the tube. This is a terrific safety feature as it reduces the chances of your child choking.
The fins in this snorkel set feature an open heel design that is perfect for your growing child. The fin is short and powerful making it so your child will not get tired while swimming at sea. Lastly, this snorkel set comes with a gear bag the conveniently fits the entire set making it the ideal choice for traveling. The compact design is made of a fast-drying mesh that is perfect for the beach.
What makes this kids snorkel set stand out:
Single lens mask
Dry snorkel
Compact fast-drying travel bag
2. Rocks Kids Mask, Snorkel & Fins Snorkel Set by Cressi
This kids snorkel set combines quality and affordability perfectly. The mask features a tough tempered glass lens that is incredibly durable. With an adjustable buckle, you can ensure that you get the perfect fit. The snorkel included features a splash guard. This works to prevent water from entering the tube so your child can breathe easily and safely.
The fins that are included in this set are short and easy to use. Still delivering power with every kick, they allow your child to work less and focus more on the water. The open heel design has an adjustable strap that will grow with your child. Included in this package is a mesh bag that will hold all their gear together. This is handy for traveling as it works to keep all gear together and safe.
What makes this kids snorkel set stand out:
Fast drying mesh bag
Open heel fins
Tempered glass mask
3. Sports Kids Snorkel Set by NAGA
This could be some of the best snorkeling gear for kids on the market. NAGA is a top quality company that is known for producing excellent gear.
Their mask is fitted with tempered glass making it strong and durable. A built in anti-fog system helps ensure they get a clear view of all the life underwater. It is also scratch and shatter resistant. This means it can stand up to the abuse from your kids. The single lens system gives them uninterrupted views. The adjustable mask ensures the mask sits properly giving your child the perfect fit. A watertight silicone skirt ensures the mask sits snug against their face reducing the chance of water getting inside.
The included snorkel features a soft silicone mouthpiece that is comfortable for your child. Perfectly designed to reduce jaw fatigue this snorkel features a one-way purge valve. This ensures that no water enters the rigid tube keeping your child from choking. The trek fins included in this set have a short vented blade that cuts through the water. This provides a powerful stroke that will allow you to move through the water with ease. The open heel design is comfortable with an adjustable heel strap that grows with your child.
This snorkel set is compact making it a great option for traveling. With the included quick drying mesh bag you can keep all your gear together with ease. The portable size allows you to get more use out of the snorkel set. NAGA is so confident that your child will love this snorkel set they even included a 90-day money back guarantee. To sweeten the deal, they added a 1-year warranty making this a no brainer.
What makes this kids snorkel set stand out:
1-year warranty
Mesh bag included
Scratch and shatter resistant mask
4. Youth Buzz Junior Snorkel Set by U.S. Divers

Unlike other snorkel sets, this U.S. Divers set comes in sizes ranging from small to large. No matter what size you need this company has it. Their package also comes in four fun colors to choose from ensuring that you will always stand out.
The mask has a tempered glass system that is also scratch resistant. The strap is wide and comfortable. The purge valve works as expected every time. The fins have a three way adjustable strap which ensures the perfect fit. They also have an excellent snap which adds to your kicking power. The included bag fits everything easily and protects it from dings and scratches. It has straps that make it easy to sling over your shoulder.
What makes this kids snorkel set stand out:
Easy to carry shoulder bag
High quality fins
Tempered glass mask
5. Pirate Junior Snorkel Set by HEAD by Mares
This snorkel set comes with everything your child will need to jump in the water. It has a mask, snorkel, fins, and even a compact carry bag. It comes in two sizes (large and small) so it is sure to fit their head.
The mask uses a soft silicone seal which makes a secure bond with their face. There are two large tempered glass windows which provide a large field of view. The nose is easy to squeeze which makes it easy to equalize when diving. This mask's buckles are just as easy to use.
The snorkel itself has a one way valve which ensures no water enters the tube. This is great for active divers or swimming where the surf is high. It also has a purge valve at the bottom for those times you don't have enough air to manually purge the tube.
The fins have an open heel design making them perfect for warmer water. They will fit snugly without moving around which can cause blisters or discomfort. There is also a quick release button for getting out of the water quickly and easily.
What makes this kids snorkel set stand out:
Durable carry bag included
High quality mask
One way valve built into snorkel
Features To Look For In A Kids Snorkel Set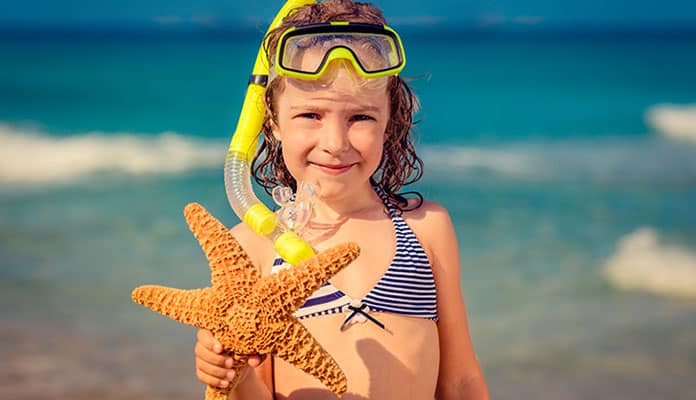 When buying your children a snorkel set, be sure to pay attention to the following features.
Snorkel
It is important to pay attention to the type of snorkel in the set you choose for your child. You want to make sure the snorkel is a dry snorkel. This means that there's a valve on the top of the snorkel. This allows air to freely flow through but does not allow water. This is a good option for anyone but especially important for children swimmers. This feature will make it safer for your child by reducing the likelihood of choking on water. As a bonus it will also make it so that your child will be able to dive below the water's surface, expanding their snorkel experience.
Mask
Be sure to look for a mask with de-fogging features. This will help keep the glass clear so your child won't have to fuss mid water. A good toddler snorkel set will include a high quality mask that will perfectly fit your growing child's face.
Fins
As children grow so fast, whenever possible it is good to look for fins that have open heel designs. This will allow the fin to grow with your child as you can simply adjust the back.
Globo Surf Overview
Be prepared for your next vacation by bringing along top rated kids snorkeling gear. This will save you a lot of money in the long run as you won't have to pay for individual uses. This snorkel gear for kid's reviews should give you all the tools you need to help you make a quality choice. All that is left to do is get your child a safety vest and you are ready to hit the water.
Like this article? Be sure to read our snorkel tips article.
You May Also Like
10 Best Snorkel Masks in 2018
10 Best Snorkel Fins in 2018
10 Best Snorkel Gear Packages in 2018
10 Best Full Face Snorkel Masks in 2018
Globo Surf Kids Snorkel Set Review
★★★★★
"
Was looking to take my 4 and 5 year old on a vacation and wanted to get them their own snorkeling sets. Great reviews.
"