OUR TOP PICK

---

EDITORS CHOICE

---

BEST VALUE

---
When we think about snorkeling, we often imagine adults swimming through the water, but snorkeling has become so accessible that the youngest children are now fostering a love of snorkeling much younger than we ever did. Snorkeling is an amazing activity, and if we can encourage our kids to snorkel, there can only be benefits. A snorkeling adventure is great for keeping active, and you get exercise by moving through the water. It is also educational. Imagine how excited your child will be to learn about the underwater world when you take them there.
The best snorkeling sets for children will make snorkeling enjoyable for your child and will also keep them safe. The best kids' snorkel sets will come with everything your child needs to get into the water and see what is not usually seen.
As with all water sports, there are several things which you should know about before you go out and buy your gear. It is especially important to fully research your options before you buy any gear for kids. Thankfully, you do not have to waste hours doing boring research, as we have done all the hard work for you.
Take a look through our buying guide and choose from one of our recommended sets for 2023.
How To Choose Kids Snorkel Set – Buying Guide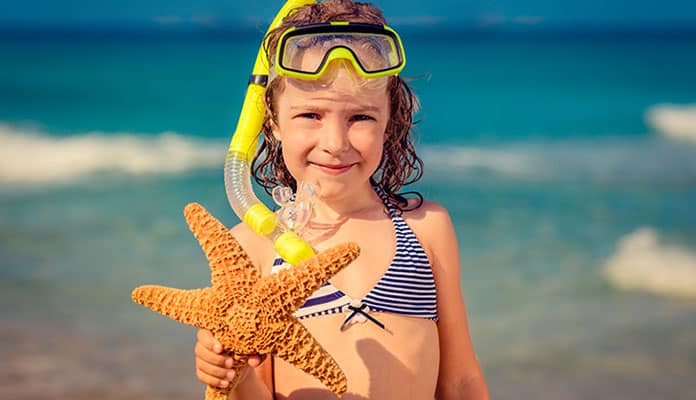 Mask Materials And Fit
It is essential that your child's mask is made from high-quality materials and it fits well. A good mask will have tempered-glass lenses. This will provide durability to the mask that your child will wear in the water. You should also look for a mask that has a wide range of vision. Children are visual creatures, and when they are under the water, they are going to want to see all that the ocean has to offer. Look for angled glass which allows good panoramic and peripheral vision.
A well-fitting mask will rely a lot on the strap. The strap for your child's mask should be wide and easy to use. The mask must be comfortable. Your child should be able to adjust the mask themselves, so the fastening system and adjustment system should be easy to use. Look for skirts that are made from high-quality materials, such as silicone, which will provide your child with a comfortable fit and a good seal.
Fin Materials And Fit
When kids get into the water, they love to kick their feet to propel themselves. A good set of fins will help your child to have confidence when they move through the water. As with the mask, the fins should be easy to put on and easy to adjust. A ratcheting system is ideal for children, and it will allow them to get precise adjustments with small hands. The foot pockets should be easy for them to get their feet in and out of without needing help. You are going to be dealing with your snorkeling gear, and you want your child to have some independence with theirs.
A good balance between firmness and flexibility is also a must, and a lot of that balance will depend on the age of your child and their swimming ability. Rigid fins allow you to generate more power in the water, but they are harder to move through the water. Fins with some rigidity are great for older kids and those who are experienced swimmers. For younger kids, we would recommend a more flexible fin.
Snorkel Materials And Fit
Snorkeling is all about the snorkel. Without a snorkel, you are swimming below the surface. A good snorkel will make you forget that you are even wearing one. A good snorkel should introduce your child to the world of snorkeling while allowing your child to remain calm in the water. With this in mind, there are a few things that you should look at when you are buying snorkeling gear.
A splash guard is a must to keep the water out of your child's snorkel. Their kicks are likely going to spray up some water, and you do not want that water to get into the snorkel. It would also be beneficial to have a dry valve. This allows the air in when your child breathes but locks when you are under the water. The valve floats up under the water to block the air tube so that they cannot breathe in the water by mistake. Both of these safety devices will stop water from getting into the snorkel; something which can put kids off snorkeling.
A purge valve will help to teach your child how to get rid of water from their snorkel, something which all adults have to do from time to time. The last part is the mouthpiece. If the mouthpiece is not comfortable, then your child is not going to enjoy the experience. Your child should be able to hold the snorkel in their mouth without feeling strained.
Gear Bag
One thing which children love is having their gear bag. It makes them feel as if they have a real snorkeling set (which it is, only child-sized). A gear bag helps them to take care of their equipment and take responsibility for it.
Look for a drain plug or some other method to let the water out of the bag. There is going to be wet equipment in the bag, and you will have to let the water out. This is a must for all kid's snorkel sets. The other thing to look for, especially if you travel, is the size of the bag. It is beneficial if the bag can double as a carry-on bag.
Wetsuit
You may find that you can purchase a snorkeling set with a wetsuit, but most will come without. If you cannot get one with a set, then we would recommend buying your child a wetsuit. If body temperature drops by even a few degrees, then you can open yourself up to hypothermia. As an adult, you usually wear a wetsuit for snorkeling and so should your child. A good wetsuit will help to lock in your child's body temperature. It will also provide a barrier against abrasions, scratches, and impacts.
Snorkel Vest
A snorkeling vest is great if your child is young or if they do not have a lot of experience in the water. A vest will help to keep them afloat and on the surface of the water. It also helps to keep them horizontal in the water. One bonus is that they are usually brightly colored. If your child does get lost, then they will be easier to spot.
Safety
The safety of your child should be paramount in the water. We recommend starting slowly when introducing your child to snorkeling and ensuring that they have some swimming ability before you get them into the ocean. Outside of that, there are some additional safety precautions that we would recommend you take.
The water can reflect the rays of the sun, so you, and your child should always wear sunscreen in the water.  A pair of water socks will protect your child's feet before you get into the water. They will also help to keep your child's feet warm when they are in the water. Fin tethers will keep the fins with your child should they come off their feet. If your child gets seasick, then some seasickness remedies will work wonders.
Duration
The length of time you plan to spend in the water will also dictate the type of snorkeling set you go for. If you are going on holiday and want something with which your child can play in the water, then you do not need to rely as much on high-quality materials and a larger price tag. If this is going to be something that you and your family do every week, then you are going to want to invest in a high-quality snorkeling set. The more time you plan to spend in the water, the better the set you should buy.
Warranty
If you are investing in a high-quality set, then you should look for a set that comes with a good warranty. When you are snorkeling, there is all manner of things that can happen to your snorkeling gear, but you should not be responsible for any faults of the manufacturer. Sometimes faults do not become apparent until the snorkeling gear has been used for an extended period. By that time, the manufacturer can pass it off as your fault. We recommend looking for at least a one-year warranty, but a two-year warranty will be better.
Size
Sometimes the size of snorkeling equipment can be hard to get right. It is worth taking your child to a snorkeling store to be measured for equipment. Once you know your child's sizes, you can take advantage of the online prices to get great quality sets at low prices. The thing to look out for is the reviews. If the sizing is different from what was expected, then most parents will comment about it in the review sections. If you know the exact sizes for your child, then you should not run into any problems, but we recommend buying equipment from the country you reside in to get the best fit.The other thing to look out for when you are buying your snorkeling set is the return policy. There is a chance that you will receive your equipment and some of it will not fit. If you can return the equipment, then you can request a different size.
You might also like:  Snorkel Vest 
Age Of Your Child
Most snorkel sets will be seized by small, medium, large, etc., but you will also find that there is an age range too. This will give you a good idea of whether or not the equipment will fit your child. You know your child best, so you can combine their size and age to choose the best equipment for your child.
Intended Use
Not all sets are made equal. Depending on where you are snorkeling, you may have to choose one set over another. If you are just beginning your snorkeling adventure, and are snorkeling on a calm beachfront, then you do not need to worry about your equipment. It is only when you start to adventure out into unknown waters that you will have to think about the quality of your child's equipment.
FAQs
Q: Are Full Face Snorkel Masks Safe For Children?
A:
One of the advantages of a full-face mask over a traditional snorkeling mask and snorkel is that there is no need to have the snorkel in your mouth, so any tension in the jaw is taken away. The fit is also more comfortable. Once you have adjusted the mask and have it fitted to your child's face, there should be no more need for any adjustments.
A full-face snorkel mask is split into two compartments. One goes over the mouth and nose so that the glass of the mask does not fog up. The other compartment allows you to see. That gives the advantage that a full-face mask will not fog up like a regular snorkeling mask would.
Once kids have tried a full-face mask, they do not want to go back. The only thing we would recommend is buying one from a trusted supplier. If you pay a premium price for high-quality materials and manufacture, you are going to get a mask that will protect your child in the water. If you opt for a cheaper version of the same mask, then you are not going to get the same quality.
Q: What's a Dry Top Snorkel – Does Water Get In?
A:
A dry top stops the water from getting into your snorkel. A lot of snorkels have these systems, and full-face snorkel masks have them integrated. Inside this system is a ball float. When you are breathing, the ball sits in its regular position. It is only when you go under the water that the ball rises to block the opening at the top of the snorkel. This stops any water from getting into the snorkel. As soon as you are above the water again, the ball falls back into place, and you can breathe through it again.
Q: How Does Sizing Work With Children's Snorkel Masks?
A:
The temptation with face masks for children is to buy a mask that is on the bigger end and have them grow into it, making the mask last longer. This can save you money, but it will cause you a lot more trouble than you need. A mask that is too big will leak a lot more than a mask that is too small. We always recommend buying a mask that is the exact size for your child. If you are going to start a snorkeling adventure with your child, then you should be prepared to spend the money needed to protect them in the water.
Q: Is Snorkel Gear Safe For Children?
A:
Snorkeling is completely safe for children, and kid's snorkeling gear has been specially designed to protect kids in the water. The only dangerous thing about kids snorkeling is if they are not prepared and supervised. We always recommend being with your child when they are snorkeling. We would also recommend that they can swim before going into the ocean.
One way in which snorkeling equipment can become unsafe is when a child is using it wrong. Before introducing your child to snorkeling, you should be proficient at snorkeling first. You should pass on your knowledge about how to use the gear and how to snorkel. If your child is using their snorkeling gear as it is intended, then it will never be dangerous.
Q: Can The Child Use The Gear On Their Own?
A:
That depends on the age of your child. As your child gets older, they should be able to equip their gear and perform safety checks. You should always double-check to ensure that they are doing it correctly, but an older child should have the confidence to wear the gear and use it as it should be used.
Even the youngest child should be able to do something when it comes to putting on the gear. You should always be there to help, and some children will need more help than others, but you should not be expected to do everything for them.
Q: How Should I Clean Kids Snorkel Gear?
A:
You should clean your child's snorkel gear after every visit to the water, especially if you have been in saltwater. Cleaning the equipment is easy, and your child should even be able to do it by themselves.
Take each part of your kit and run it under warm water. This will rinse off any debris such as sand. It will also dissolve any salt which may have accumulated in seams. If the sand and salt are allowed to sit on your gear, then they can begin to eat at them and cause them to break and fail.
If your gear is soiled, then you should use warm soapy water and wash them with a soft sponge or cloth. Once they have been washed, rinse them with warm water. After you have rinsed your gear, you should take the time to dry it. Use a soft towel to remove as much moisture as possible. You should then let your equipment air-dry before putting the gear into the gear bag.
When you, or your child, are washing the equipment, you should also be checking the equipment for any damage. Equipment will inevitably become damaged over time, but if you catch it early, then you can prevent it from turning into a large problem.
Globo Surf Overview
You must put safety first when it comes to buying snorkeling equipment for your children. We believe that it is essential, so we have scoured the world to find the safest and most functional snorkeling sets. The sets on our list will help to keep your child safe in the water and will also help them to have fun. Safety always comes first, but fun should come second.
After reading our buying guide, you will be ready to make an informed choice. There are so many sets out there that it can be hard to know what to look for. Hopefully, we have helped you to gain some insight into snorkeling equipment, and you are ready to get your child into the water.
There is only one thing left to do, and that is to buy a snorkeling set for your child. Oh, and do not forget to get a set for yourself too.
More Snorkel Gear Reviews:
Like this article? Be sure to read our snorkel tips article.