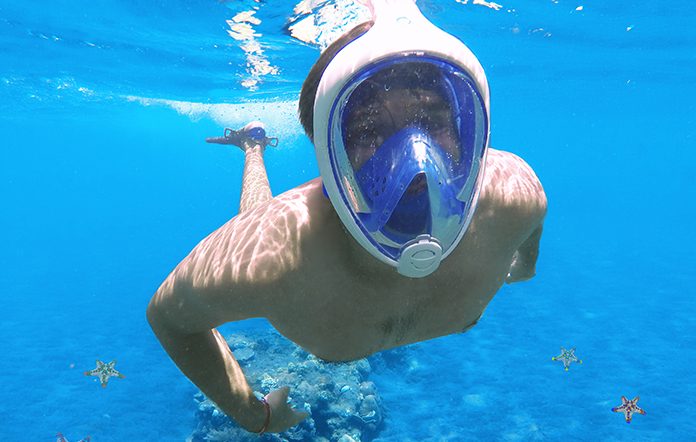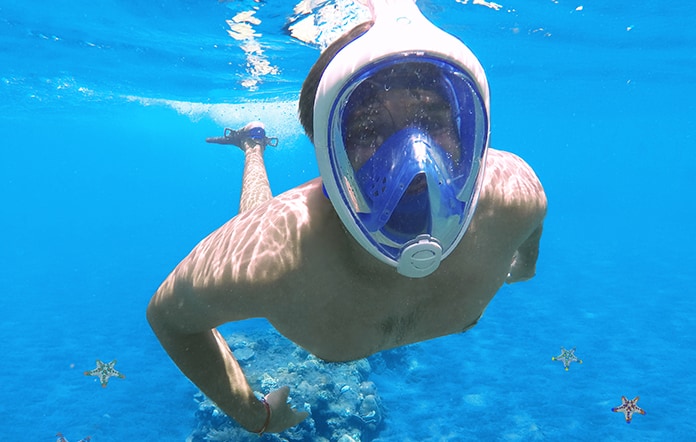 S
norkeling has grown in popularity a lot over the years and has quickly become one of the most popular vacation activities. Those who have been snorkeling in the past know that it was once a sport with a snorkel and a face mask as two separate units. A thing of the past, you will now find full face masks growing in popularity. The beauty of the full face mask is that it delivers a wider 180° field of view and makes for a more natural experience that requires no learning. As this design is relatively new, it is important to get the best full face snorkel mask. This will help you to get the best fit and the best performance which is guaranteed to make your underwater experience, unforgettable.
There are many options on the market that is why we have created a list of the best full face snorkeling masks out there. These full face snorkel mask reviews will help you weed through the competition and make sure you have a top of the line unit.

Best Full Face Snorkel Masks
Octobermoon Panoramic full face Snorkel Mask


Our rating

Easy to adjust straps

180 degrees underwater
Full Face Snorkel Masks Reviews
1. Seaview 180° GoPro Compatible Snorkel Panoramic Full Face Design

  Check Price Now
Anti fog: Yes
Field of view: 180 degrees
This snorkel mask full face design is one of the best on the market. Great for diving below the surface this mask gives you a full range of views. If you do happen to miss one of the sights, it has a GoPro mount so that you can easily attach and record videos of your experience. This desirable feature makes it easier than ever to share your experience with your friends back home. The full face design is easy to breathe through and doesn't require any training. This makes it a great option for kids to use as well.
With integrated dry snorkel technology you can dive below the surface without worrying about water entering your snorkel tube. Some snorkel masks are notorious for fogging up. The condensation from your breath causes the windows in your mask to fog making it impossible for you to see. This is a high quality snorkel mask that covers your full face.
What makes this mask stand out:
Great for any age
GoPro mount
Perfect fit
2. Tribord Easybreath Full Face Snorkeling Mask

Anti fog: Yes
Field of view: 180 degree
No matter what size of head you have this Tribord Easybreath mask will fit perfectly. Sizing ranges from extra small for children, small – medium for a woman and young adults, large is for men and large – extra large for those with longer faces. With a full 180 degrees of view, you will be able to see every grain of sand through the shatterproof polycarbonate lens. An extra tall snorkel allows you to see up to four times farther away and let in more air than competitor designs.
To get a perfect size it is recommended to measure your face before purchasing. To do this simply close your mouth and measure the top of your nose to the end of your chin. This will give you the number you need to compare to the sizing chart to find the perfect size for you.
What makes this mask stand out:
High quality lens
Sizing for every face
Fits children – adults
3. Octobermoon Original Second Generation 180°view Panoramic full face Snorkel Mask

Anti fog: Yes
Field of view: 180 degrees
If you have ever tried snorkeling, you are sure to love this mask. You will notice the superior build quality the second this mask rests in your hands. Being able to see a complete, unobstructed 180 degrees underwater is unlike anything you've experienced before.
The easy to adjust straps keep this comfortably attached to your head without pressure points of discomfort. This means that the mask will fit everyone from children to adults. Even the pickiest of kids will enjoy this fit and appreciate being able to see under the water.
Buy with satisfaction as Octobermoon offers a 100% satisfaction money back guarantee. Don't love the product? Send it back for a full refund. Contact this company with any question or concern you have and they will happily get back to you.
What makes this mask stand out:
Easy to adjust straps
Satisfaction guaranteed
4. SeeReef Full Face Snorkel

Anti fog: Yes
Field of view: 180 degrees
This mask will last you years. SeeReef has not only designed a mask of high quality but also included extra parts that will help maintain the masks integrity for years to come. The extra seals will ensure that even the harshest users will be able to change out wrecked parts. On top of that you get not one, but two, super comfortable earplugs and a protective travel bag. Two sizes will ensure that your new mask will fit your face perfectly.
A four valve system ensures that this mask truly is fog proof. When coupled with a longer snorkel and a flat glare and distortion proof lens you have a winning combination and SeeReef knows that. They include a 100% satisfaction guarantee or your money back – unheard of in the full face snorkel mask market.
What makes this mask stand out:
Replacement seals
Ear plugs included
Satisfaction guaranteed or your money back
5. Vaincre 180° Full Face Snorkel Mask with Panoramic View
Anti fog: Yes
Field of view: 180 degrees
Vaincre has made a high-quality full face snorkel mask. Complete with 180 degrees view and a GoPro mount you will be able to see everything the underwater world has to offer. The snorkel system features wave guards that ensure you are only breathing air and not water. Be sure to try this mask and you will no longer have to keep a snorkel clenched between your teeth.
One of the benefits of this mask is that it has an anti-fog lens. No longer do you need to spit on your glass to prevent it from fogging. This setup utilizes a constant airflow that eliminates the chance of fog. You will be able to see everything without squinting or trying to limit your breathing. This lens is designed for beginners and youth alike. First time snorkeling? Simply strap this mask on and jump in the water. You no longer have to waste time and energy dealing with your snorkel-mask system.
The great thing about this company is that your satisfaction is guaranteed with a warranty.
What makes this mask stand out:
Anti-fog lens
Suitable for beginners and youth
GoPro mount
6. MIDRY Pro Snorkeling STARTER PACK Full Face Snorkel Mask
Anti fog: Yes
Field of view: 180 degrees
Midry takes care of their customers. Their added features create not only a brand, but form a relationship with their clients. On top of a great mask, they include a mesh carrying bag and even an eBook with top snorkeling destinations. Their mask is guaranteed to not only work as it has been advertised, but also meet your expectations.
This is an excellent setup for people who are new to snorkeling and youth. The mask itself has been designed with comfort in mind. Even though the mask is anti-fog Midry includes a bottle of anti-fog spray just to be sure. This just shows their commitment to their customers.
What makes this mask stand out:
Mesh carry bag included
Satisfaction guaranteed
eBook with top snorkeling destinations
Anti-fog spray included
7. Ocean Reef Aria Full Face Snorkel Mask

Anti fog: Yes
Field of view: 180 degrees
Ocean Reef makes high-quality products. The Aria full face snorkel mask allows you to breathe underwater with a long list of features. From the anti-fog lens to the detachable snorkel, you will be blown away by the versatility of this mask. All you need to do is breath normally. The build quality is second to none and features thermoplastic. This is a durable yet lightweight material that lasts for years.
What makes this mask stand out:
High-quality material
Self-purging valve
8. TOPJUM Full Face Snorkel Mask Surface Diving Scuba Gear

Anti fog: Yes
Field of view: 180 degrees
Topjum has developed one of the top rated full face masks on the market. It features a longer snorkel that has a wider diameter meaning you will be getting more air than with any other mask. Also, the snorkel is foldable allowing you to make this setup small enough to fit into a carry-on bag.
Instead of a standard anti-fog system, this full face snorkel mask features a dual action system. Not only is the lens anti-fog, but it is also coated with a fog resistant material. Additionally, the mask has been designed to eliminate distortion. This means that everything you see through the lens is actually how it looks. Shapes will not look elongated or misshapen. The lens is also shatterproof and has been treated to not let sunlight through. You don't have to worry about a burnt face with this mask from Topjum.
The detachable GoPro camera mount ensures nothing you see will be forgotten. Simply screw your camera onto the mount and jump in the water. Do you have sensitive ears? This mask comes with earplugs that block water while still allowing you to hear. No more dirt or bacteria will enter your ears with this mask.
The features don't stop there. This mask features an anti-leak system that ensures absolutely no water gets into the mask. A silicone skirt has been shaped to fit tightly, yet comfortably while the strap is wide and made of the same comfy material.
What makes this mask stand out:
Breath through mouth or nose
Large view
No snorkel to hold in mouth
9. OutdoorMaster 180° Full Face Panoramic Snorkeling Mask
Anti fog: Yes
Field of view: 180 degrees
Comfort is Outdoor Masters priority. Instead of uncomfortable head straps they use a soft yet durable nylon. This makes them much more comfortable than a cheap rubber strap. Instead of getting your hair pulled every time you put your mask on or adjust it you will be greeted by a soft pad instead.
The snorkel uses a wave guard, called Keep Dry that blocks water from trickling down your snorkel. On top of that, the mask is guaranteed to not fog up. If you decide to dive and end up with some water in your mask the purge valve will drain the water without letting more in. Simply look up and the water will pour out the bottom of the mask.
The mask has been shaped to fit adults and children alike. No longer do you need to purchase a mask for every single person in your family. This one mask will be able to be worn by everyone. Also, it will get your children more comfortable in the water. Being able to simply put this mask on and be able to see underwater will reassure them that there are no monsters lurking under the water.
What makes this mask stand out:
Protective Carrying Bag
Go pro mount
Fits adults and youth
10. Head Sea Vu Dry Full Face Snorkeling Mask
Anti fog: Yes
Field of view: 180 degrees
No longer do you need to worry about your lens fogging. The beauty of full-face snorkel masks is that the circulation of air eliminates the need of toothpaste to combat condensation. You are able to simply put this Head Sea Vu mask on and breath as you would normally. The snorkel is attached to the mask instead of having to fumble around with a free-floating snorkel. Coming with wave guards you don't even have to dodge waves. Simply put your head in the water and you are good to swim around as you please.
This mask has been made with high-quality seals made from flexible silicone. The beauty of this is that it will form a perfect seal which allows zero water to enter your mask.
What makes this mask stand out:
High-quality materials
Comfortable fit
Perfect seal
What to look for in a Full Face Snorkel Mask
There are many features that you should be aware of before purchasing your mask. It is more complex than going into a store and holding a mask to your face.
Depth
Full face snorkels are great for coasting along the top of the water. You will be able to see all of the fish and coral, maybe even a shipwreck. But these masks aren't made for deep diving. When you dive deep, more than 10 feet, you need to regulate your ears. This involves plugging and gently breathing through your nose. Since you don't have access to your nose you will have to go to one of the other methods such as wiggling your jaw, swallowing and yawning.
Size
Every full sized mask should come with a size. There is no one size fits all when it comes to masks. If you are curious about what size you measure your face and compare it to the sizing chart for the mask. This is one of the most important things you can do when looking to purchase a mask. If it is too big it can let water in and if it's too small it can cut off your vision.
Vision
If you are a glasses wearer you will need to wear contacts when diving with a full face snorkel mask. There is not enough room to wear your glasses and can actually be dangerous if you try. Also, keep in mind that you will not be able to have a prescription lens in the mask. Since the mask is in front of your entire face it will not allow you to see properly.
Use
Full face snorkel masks are not designed for full out exertion. They are made specifically for floating and casual swimming. They have purge valves that let a certain amount of oxygen into the mask and if you are breathing heavy you could be using oxygen faster than it can replenish it. The mask will also heat up as your breathing will be warmer when you are exercising which can make it uncomfortable for long swims.
Fog
If you have ever been snorkeling or scuba diving you have encountered the dreaded fog issue. Without treatment almost every mask will have a layer of condensation build up on the inside, rendering you unable to see anything. Full face snorkel masks are better, but not perfect, in this department. They have a much higher chance of not fogging as there is a constant air flow. We recommend trying the mask for a short swim to see if you have a mask that fogs. There are easy ways to remedy a fogging mask which include spit, toothpaste, and dish soap.
Field of view
Many people are raving about how much more you can see with a full faced snorkel. Instead of a small field of view through the typical mask you are able to see a complete 180 degrees. Some people will love this while others won't. The sides of the mask are larger than typical masks which can restrict part of your peripheral vision. It is completely the user's opinion when it comes to this feature.
Wave guard
Nobody wants to drink ocean water when they're snorkeling. Wave guards prevent this from happening. These are essentially little flaps that close when a wave overtakes you preventing water from rushing into the snorkel. It is highly recommended to purchase masks with this feature as it will make your days on the water much more enjoyable.
Who are these masks for?
If you are learning how to snorkel or are trying to get comfortable with your face in the water full face snorkel masks are perfect for you. Beginners will love not having to get used to breathing through your mouth and trusting a piece of plastic for their breath. People who have been snorkeling before and get a sore jaw from constantly holding onto the snorkel can benefit from this style of mask. Something to keep in mind though is using with a beard. Beards can have an unwanted effect on your mask. The hair can break the bond the mask should have with your face. Instead of sealing directly to your skin your beard will get in the way and let water in, rendering the mask useless. Some stubble is fine but anything longer than a three-day growth can have negative effects on your snorkeling.
Globo Surf Overview
A perfectly fitted full face snorkel mask can make your day on the water that much better. All of these masks give you a perfect 180-degree field of view with a fog-free lens. Look for features like wave guards and added bonuses like earplugs and travel cases. No longer do you have to struggle to keep your snorkel in your mouth. Simply strap this mask on and you are ready for your adventure on the water. Get ready to experience beach life with a full face snorkel mask.
Have you ever tried a full face snorkel mask? Let us know what you thought of it in the comment section below.
You May Also Like
10 Best Snorkel Vest
10 Best Snorkel Gear Package
10 Best Snorkeling Fins
10 Best Dry Snorkels
Globo Surf Full Face Snorkel Mask Review
★★★★★
"
I just love these new full face snorkel masks. They are amazing with the 1800 degree view and they dont fog up. I purchased the 1st one based on your recommendation.
"