Best Large Rider Jet Ski Life Jacket

---

Best Women Jet Ski Life Jacket

---

Best Budget-Friendly Jet Ski Life Jacket

---
How To Choose A Life Jacket For Jet Ski – Buying Guide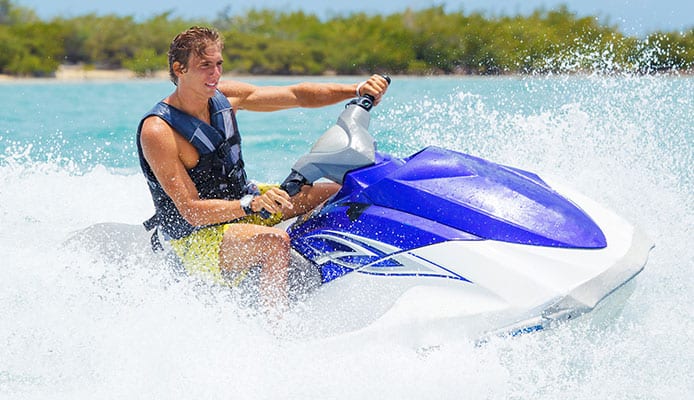 Shell Materials
The most common materials used to make the shell of a jet ski life jacket are nylon and neoprene. Nylon is more durable and usually costs less, while neoprene life jackets fit better and feel more comfortable to wear.
Related Post: Life Jacket Buying Guide
Sizing The Life Jacket
In addition to buoyancy, the size of your life jacket is the most important consideration when buying. A life jacket that is too tight will be very uncomfortable, while a model that is too big might come off when you fall off the jet ski.
Fit And Adjustability
Getting an ill-fitting life jacket might compromise its performance. In addition to size, the best jet ski life jacket should also be easily adjustable to make sure it fits well. It's a huge plus if the jet ski life jacket comes with adjustable straps that allow you to tighten or loosen it.
Related Review: Women's Life Vest
USCG Approval
When buying a new jacket, we advise that you make sure that it's tested and approved by the United States Coast Guard (USCG). Not only is this required by law, but it also assures you that the jacket is well-made and can get the job done.
You might also be interested in:
FAQs
Q: What Is The Difference Between A Regular Life Vest And Jet Ski Life Vest?
A:
The difference is in the design – not all life jackets can be used for jet ski. As you probably know, there are five types of life jackets and only type III and a small number of type V models can be used for this purpose.
Related Review: Sailing Life Jacket
Q: How To Clean A Jet Ski Life Vest?
A:
Most life jackets can be cleaned with mild soap and a damp cloth. The materials are very easy to clean so no hard scrubbing will be required. If you use a soap, make sure to rinse it afterward, and leave to dry completely before storing it.
Related Post: How To Clean Life Jackets
Q: Are Jet Ski Life Vests Safe?
A:
Yes, they are perfectly safe and will keep you afloat if you drop into the water. All of the jet ski vests we've featured were tested by the US Coast Guard and meet the requirements for using them on a personal watercraft.
Q: Do You Have To Wear A Lifejacket On A Jet Ski?
A:
Yes, this is mandatory by law. In addition, the best life jacket for jet skiing needs to be Coast Guard approved and often meet additional requirements depending on which state you're in.
Q: How Should I Dress For A Jet Ski?
A:
Wearing typical beach clothing is perfectly fine. If it isn't too sunny, you can wear only shorts (and a life vest). On the other hand, if you need extra protection, you can wear a long-sleeved rash guard, water shoes, sunglasses, and a hat with a tight fit.
Globo Surf Overview
Even if you're a strong swimmer, you should put on a life jacket every time you get on a jet ski. When choosing a life jacket, make sure that it fits you well, has enough buoyancy, and doesn't restrict your movement. Once you find the right model, you'll be able to ride your jet ski with peace of mind, knowing that you're protected.
More Life Jacket By Sport Reviews:
More Jacket Reviews: