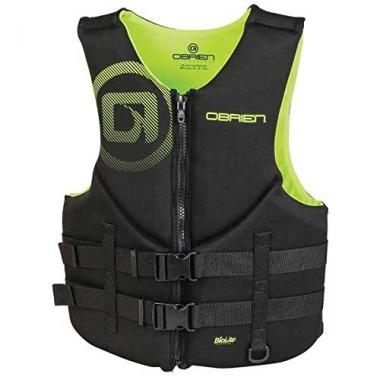 See Customer Owner Feedback >>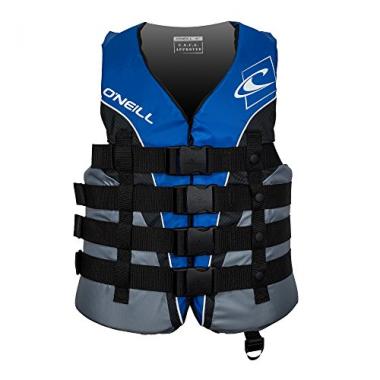 See Customer Owner Feedback >>
The Best Life Jacket For Jet Ski
Being on a jet ski can be one of the most enjoyable things to do on the water. Traveling that fast over the waves though means that you need a life jacket that is going to be able to cope with a heavy impact, which is why getting the best life jacket for jet skis is vital.
In order to ensure you're getting the best jet ski life jackets, we have developed a buying guide and have completed life jacket for jet skis reviews to give you all the information you need. Once you've finished reading this guide, you'll know exactly what you need.
How To Choose A Life Jacket For Jet Ski – Buying Guide

Material
The material is going to play an important part in your buying decision as there are a few different types out there. While all the products that we have looked at here are high in quality, there are differences between the materials that they use on the outer.
Nylon and polyester are common materials as they are both strong, lightweight and can be made waterproof too. The best material used is neoprene which has those qualities but at a higher level. Neoprene also has a natural amount of stretch to it and therefore it is going to be more comfortable.
Size
It goes without saying that getting the right size is going to be important. You want to make sure that you are getting the right product for you and different companies sell their sizes in a few different ways, with some having a universal fit and others having specific size options.
If you're looking for infant life jackets or life jackets for kids then it is best to click through those links as the products that we have looked at here are not going to be ideal. It's important to make sure that you get the measurements done correctly so that you aren't left with a life jacket that is dangerously too big or too small.
Fit
Getting the wrong fit on your life jacket is not only going to be uncomfortable but it will also be dangerous. That's especially the case on a jet ski as you will be traveling at high speed and therefore the impact that you have is going to be higher.
It's important to get the right fit and that's why there are men and womens life jackets to ensure that everyone gets a great fit. The amount of straps and the adjustability on them is important to ensure that you are going to get a comfortable fit.
You also want to make sure that you are getting a life jacket that is going to be able to give you the right amount of mobility that you need. All of these life jackets have open arms, but some are wider than others. This is important when you are jet skiing as you are able to have a full range of motion.
USCG Approved
Life jackets are there to help you in an emergency and will possibly save your life. With such a product, you never want to take any chances and getting the best possible life jacket is important. That means getting on that has been approved by the US Coast Guard.
If you need a life jacket for water sports then it is going to require a greater level of build quality than other jackets.  It has to cope with a higher range of impacts and can't come loose when you have a high-speed impact with the water. A USCG approved product will be able to give you peace of mind that you are getting a quality product.
FAQs

Q: What Is The Difference Between A Regular Life Vest And Jet Ski Life Vest?
A:
You would be able to use a jet ski life vest as a regular life jacket but you wouldn't always be able to do it the other way around. Part of the reason for that is due to the freedom of movement required and also the high impact that it has to cope with.
Whether it is needing a life jacket for kayaking, a sailing life jacket or even a dog life jacket, it's always important to get a product that is going to match the situation that you are in. These types of life jacket are Type III life jackets which means they are going to be a flotation aid.
There are other types of life jacket, such as Type I and Type II that have a lot more padding and don't give you the same range of mobility. These jackets are the types used in an emergency as they will keep your mouth above the water, even when you're unconscious.
Q: How To Clean A Jet Ski Life Vest?
A:
A jet ski life vest can get dirty over time, especially when saltwater dries on the material and leaves behind a residue. Thankfully cleaning them is a relatively simple process and one that doesn't require too much effort.
Most life jackets are going to be able to be cleaned with mild soap and a damp cloth. The material will be highly water resistant and therefore any stains won't stick too much and won't be difficult to wipe off, keeping your life jacket looking new and stylish.
Q: Are Jet Ski Live Vests Safe?
A:
The life vest is an important part of water safety but there are a few key things that you need to know about ski life vests. Firstly, they are going to be safe and well-tested if they have been approved by the US Coast Guard and you have to look out for that.
The likes of inflatable life jackets and fishing life jackets, for example, are going to have different needs and therefore you want to make sure that you are getting a jacket that is going to match your circumstances.
These types of jackets aren't going to be the type that you would find on a large ship. The reason for that is due to them being a lot bulkier and being able to cope with rougher water conditions. Jet ski life jackets don't have any support behind the head as they have to have a much higher level of mobility.
This doesn't make jet ski vests unsafe but they don't offer the same level of support as other life jackets. These life jackets though are going to be able to deal with high impacts and are ideal for the type of situation that you are going to be in.
Globo Surf Overview
As most people are aware, the water has to be respected at all times. This is going to be especially important when you are traveling over it at high speeds. That makes the need to have a high-quality life jacket essential to make sure you're safe.
The most important aspect is going to be about getting the right size and fit that is going to suit your needs. Having a life jacket that is too big or not able to be fastened properly would be dangerous. When you fit the water you have to be confident that it is going to stay firmly in place and you are going to get the protection that you need.
Once you know exactly what size you need, you will be able to choose the color and design that most suits yourself. Hopefully this guide has given you all the information that you need in order to choose the best life jacket for you. Once you have, you'll be able to head out there on your jet ski with peace of mind that you are going to be protected.
More Life Jacket Reviews:
More Jacket Reviews:
Globo Surf Life Jackets For Jet Ski Reviews
; ; ;
★★★★★
"
Very good recommendations. I decided to go with product n.6. Thanks.
"