OUR TOP PICK

---

EDITORS CHOICE

---

BEST VALUE

---
Enjoying water activities with kids is a fantastic way to instill fun memories and get their love for the water cemented at an early age. However, safety comes first. Whether you're going swimming, boating, or kayaking with a child, wrapping them up in a well-fitted life jacket is crucial, as it reduces the chances of drowning if the child ends up in the water.
The best life jacket for kids has to provide reliable floatation, have a crotch strap for a secure fit, and allow the child the freedom to have fun on the water. Our life jacket for kids reviews feature the 10 best life vest for kids that fulfill these criteria. Read on to find a life jacket you can rely on to keep your child safe while enjoying the water.
How To Choose A Life Jacket For Kids – Buying Guide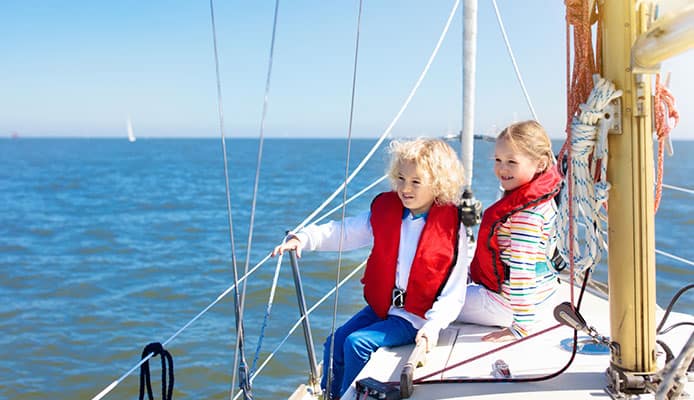 Match the Best Jacket to Your Kids Activity
Different jackets are ideal for different activities on the water. When boating, the US Coast Guard requires kids to wear Coast Guard Approved life jackets. The best life jacket for kids enjoying kayaking and canoeing should have wide arm openings. Water sports such as waterskiing require a snug life jacket for child secured with two or more buckles.  
Style
Styles of kids life vests include swim vests, puddle jumpers, and traditional life jackets. The style to go for will depend on what the child will be doing in the water and what type of water they will be having fun on. Some life vests for kids also come in fun colors and themes, which can make kids excited to put them on.   
Type
Related Post: Life Jacket Buying Guide
There are Type I, Type II, Type III, Type IV, and Type V life jackets. The safest type of life jackets for children is Type II. It provides reliable buoyancy and support and also encourages face-up floatation. Type III childrens lifejackets provide flotation without compromising comfort and mobility. However, a Type III life jacket isn't designed to flip a child face-up in the water.    
Related Reviews: Life Jacket For Non Swimmer & Life Jackets For Boating
Certification (US Coast Guard Logo)
Wherever the law requires kids to don life jackets, they require such jackets to be certified by the United States Coast Guard (USCG). Even when having fun at the pool or water park, it's a good idea to have a USCG approved PFD so you know you can rely on it to keep your child safe. To ensure the vest you choose is certified, look for the US Coast Guard Logo on the jacket and packaging. 
You might also be interested in:
Use
The ideal kid life jacket will depend on how you intend to use it. Will you be taking the child swimming, boating, kayaking, or fishing? Shopping with the intended use in mind will help you choose the right life jacket for the job. For example, a swim vest should allow the child to lean forward, kick around, and swim, while a kayaking life jacket should give them the freedom to paddle.
Fit
Proper fit is vitally important when it comes to kids life jackets. Life jackets for toddlers should fit snug without being too tight and restrictive. In addition to ordering the right size based on your child's weight, make sure the life vest kid has adjustable straps so you will be able to fine-tune the fit. To prevent ride up, life jackets for kids should also come with a crotch strap that goes between the legs.
Quick Dry
While a life jacket is bound to get wet, a good one will drain and dry quickly instead of getting soggy and even developing mold. Due to this, a life jacket for toddlers and infants should be made of water-resistant and quick-drying materials such as nylon, polyester, and neoprene. Additionally, some toddlers life jackets feature built-in drain holes. 
Color
Life jackets kids wear should have a bright and reflective coloring to make sure the child will be easy to spot. Also, kids love bright and fun colors. For these reasons, the excellent life jackets for kids come in fun and vibrant colors and designs. Even as you consider your child's favorite color, make sure the hue will also make them stand out while in the water.
Head Protection
With life jackets for young children, head protection is critical. Lifejackets for children should have additional support to cradle the head and facilitate face-up floatation. To get this kind of protection for your infant, toddler, or child, choose a Type II life jacket kid. 
Grab handle
A grab handle is a loop that sits behind the life jacket toddlers or infants are meant to wear. It's an additional safety feature that enables you to easily grab onto your child when taking them out of the water. It also comes handy for aiding a child as they practice floating and swimming. 
Float Test
When it comes to your child's safety, you can never be too diligent. Even after choosing one of the most excellent life jackets for kids, it's important to undertake a float test. This involves putting the vest on your child and taking him or her to a pool. A Type III life jacket should keep your child afloat with their head out of the water. Above this, a Type II should flip a child face-up if they happen to float with their face down. 
FAQs
Q: What Is The Crotch Strap Used For?
A:
The purpose of a crotch strap is to ensure the life jacket kids wear stays in place no matter the situation. Without the strap going between the legs, life jackets for kids tend to ride up while in the water and can even slip off. For this reason, a crotch strap is a vital safety feature in life vests children wear.
Q: Why Does My Child Need A Life Jacket?
A:
A life jacket is necessary for safety when your child is having fun on, in, or around water. Should the child fall in the water, a life jacket can be a lifesaver as it will keep your child afloat until they can get rescued. The Coast Guard and most states also require any child under the age of 13 years to wear a U.S. Coast Guard Approved life jacket while on a boat.   
Related Reviews: Jet Ski Life Jackets & Sailing Life Jacket
Q: How Does A Life Jacket Protect My Child?
A:
A life jacket provides a buoyancy lift to ensure your child floats on the surface should they fall in the water. It protects your child by keeping their head out of the water and their airways clear.
Related Post: Life Jacket Buoyancy
Q: What Types Of Life Jackets are Available?
A:
There are five types of life jackets: Type I, Type II, Type III, Type IV, and Type V. For children, there are two types of life jackets available: Type II kids life jackets are capable of turning a child face-up in the water while Type III jackets only provide flotation. 
Globo Surf Overview
Life jackets for kids are a vital part of water safety. Should a child fall in the water, they can be the difference between floating safely until rescue and drowning. Whether you're looking for infants life jackets, toddler life jacket, or youth life jackets, our reviews of the top rated life vest for kids plus the buying guide is designed to help you find a life jacket for kids to keep your child safe.       
More Life Jacket By Age Reviews:
More Jacket Reviews: