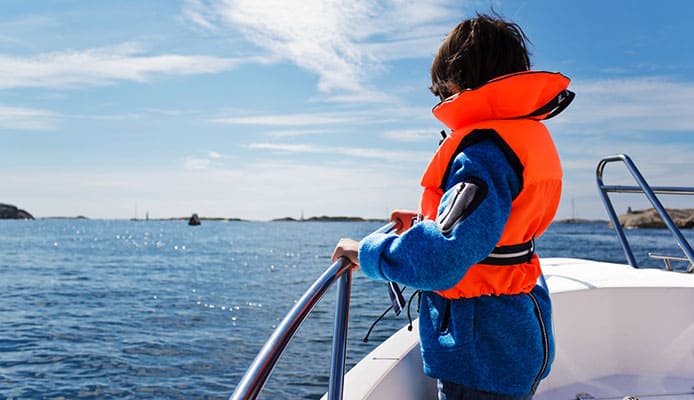 OUR TOP PICK

---

EDITORS CHOICE

---

BEST VALUE

---
Life jackets are an essential part of every boating adventure – they will keep you afloat if you accidentally end up in the water. Wearing one isn't just about complying with the law, it's more about keeping yourself (and other people on board) safe in an emergency.
When choosing a boating life vest, it's important to consider its type, size, comfort, and whether it's approved by the U.S Coast Guard. To help you pick the right one, we have reviewed the best boating life vests in terms of both comfort and reliability. If you're curious about what makes the best life jacket for boating, our buying guide will give you all the answers.
How To Choose A Life Jacket For Boating – Buying Guide
Using a life vest doesn't correlate to your competency as a swimmer – everyone needs a boating life vest. If there's an accident and you end up injured or unconscious in the water, the best life vest for boating can save you from drowning. To choose a reliable option, you should keep a few things in mind when evaluating the top-rated boat life vests.
Sizing the Life Jacket
Getting the right size of boating life vest is very important for its overall performance. As you've had the chance to see, most models come in adult universal size, fitting people that weigh over 90 pounds and have a chest diameter from 30 to 52 inches.
In addition to the standard size, many manufacturers also make models for infants (0 to 45 pounds), kids (45 to 90 pounds), and oversized vests for larger boaters. Make sure to get the size right – boating life vests that are too small can't be buckled, while a model too large will be bulky and can slip off when you fall into the water.
Fit Around the Chest and Waist
Even after ordering the right size, you will still need to adjust the fit to perfect it. A life jacket should be snug on your body without making you uncomfortable or limiting your range of motion. Most PFD boating vests have three adjustable straps with buckles so you can tighten or loosen the jacket as much as you want.
Since you'll wear one for long periods, comfort is an important consideration too. The best life jacket for boating often has large armholes or fully open sides for freedom of movement. 
Materials and Construction Quality
The choice of materials determines not only the durability of your boating life vest but also its overall comfort. Nylon and polyester are the most common materials used for this purpose – they are both lightweight, strong, and perform well in a wet environment.
In addition to this, it's important to consider the buoyancy. Inflatable life jackets with CO2 cylinders are highly buoyant but tend to cost more. So, if you're going for a cheaper option, make sure it's filled with high-quality foam. Lastly, pay attention to the quality of other elements like adjustable straps and buckles – they shouldn't break easily if someone is pulling you out.
You might also be interested in:
FAQs
Q: Are Life Jackets Required On Boats?
A:
Yes, it's required by law that every person on board wears a life jacket. These jackets need to be U.S. Coast Guard-approved, and types I, II, III, and V can be used for this purpose. All the top rated boat life vests on our list meet these requirements, giving you great protection and making sure you pass the safety inspection.
Related Reviews: Big And Tall Life Jacket & Womens Life Vest
Q: How Many Emergency Life Jackets Do I Need On Board?
A:
You need to have one boating life vest for every person on board. This stands regardless of age, meaning that every infant, child, teen, and adult should wear one. If you often have guests on board, getting a 4 or 6-pack might be a good idea.
Q: How Do I Clean And Maintain A Life Jacket?
A:
A life jacket is usually cleaned the old-fashioned way – with water, soap, and some scrubbing. Removing dirt and stains will keep the jacket looking great and maintain its performance. Here's what you should do:
Mix some soap or a mild detergent with warm water

Use the solution to scrub the life west with a soft cloth or brush

When done scrubbing, rinse it thoroughly with clean water

Leave in the air to dry before storing (to avoid mold and mildew)
Related Post: How To Clean Life Jackets
Q: What Type Of Life Jacket Do I Need For Boating?
A:
The boating life jacket needs to be one of the four types – I, II, III, or type V. Type IV is a throwable that doesn't count when you get a safety inspection. Besides, the life vest you have should be USCG approved.
Related Post:
Life Jacket Buying Guide
Globo Surf Overview
Boating is a great activity that people of all ages can enjoy. Still, it's very important to think about safety when you set out on the water. A boating life vest can save your life, so you should choose one carefully. With the help of our life jacket for boating reviews, you'll be able to find the best boat life vest that will keep you safe and allow you to fully enjoy your time on the boat.
More Life Jacket By Sport Reviews:
Do you own one of the life jackets that made it onto our list? Let us know how it has worked for your boating needs in the comments sections below.