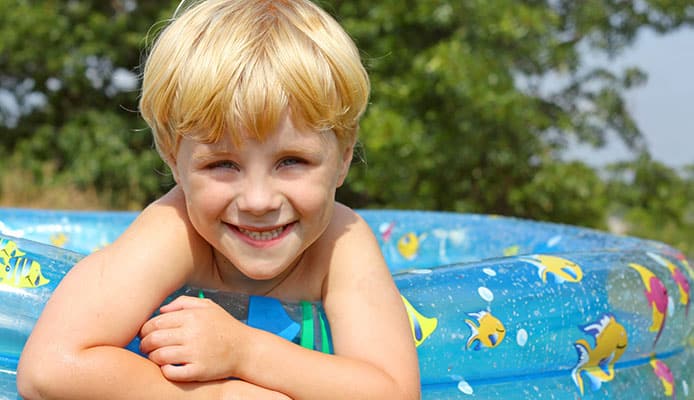 OUR TOP PICK

---

EDITORS CHOICE

---
There aren't many things that get kids jumping for joy like splashing around in a pool. If you don't have the space or budget for a large pool, getting one of the best blow up swimming pools is a great idea. They are affordable, easy to set up, and come with fun features that will keep your little one entertained throughout the summer.
With so many great inflatable pools on the market, picking the right one isn't always easy. The best kiddie pool should be made of non-toxic materials, appropriate for your child's age, and tough enough to withstand heavy use without puncturing. Of course, it's a huge bonus if it includes some fun pool games.
To help you make this decision, our guide will walk you through all the key features you need to consider. On top of this, we have also picked ten great models for kiddie pool reviews to suggest some ideas your child is guaranteed to enjoy.
How To Choose The Best Blow Up Swimming Pool For Kid – Buying Guide
Child Age and Safety
When choosing the best inflatable pool for kids, it's easy to get distracted by the cute prints and all the cool features. However, water can be dangerous, and you need to think about your child's safety too. Not every model is appropriate for every age group. As you had the chance to see, all kiddie pools are sorted in various age categories.
For example, toddler pools have a low water capacity and are shallow enough for wading. This makes them very safe for kids age 1 to 3, with a significantly reduced chance of any accidents or drowning. On the other hand, these can be very boring for older kids who need deeper pools to have fun.
Since it's not possible to keep an eye out on the kids every minute of every day, this can make them safe and prevent any accidents. In addition, a pool with a soft inflatable bottom can further improve safety by preventing any injuries if the child slips and falls inside the pool.
Another great way to protect your child is to teach them to swim as early as possible. There really is no age that is too early for children to start learning how to swim.
Kiddie Pool Size
Pool size is closely related to age groups we just discussed. A smaller wading pool is better (safer) for younger children, while older kids (6+ years) need a much larger pool. For this reason, our reviews feature kid pools in every category – from very small to very large.
When discussing size, two things need to be considered – area and depth. As we've mentioned earlier, inflatable pools for younger kids are usually very shallow. Still, you can find toddler pools with a large surface area, which is a great option for several children to play together.
On the other hand, inflatable pools for older kids are both deeper and have a larger area. This allows them to enjoy some pool games and have more room to move around. On top of this, some pools are large enough that even adults can get in and join the fun.
One more important consideration is how much space the pool requires when fully inflated. Some models are very large (the Crocodile Isle for example) and require a lot of space in your yard. Be sure to plan ahead where you're going to place the pool.
Materials and Durability
Children's skin is often more sensitive than ours, so choosing first-rate materials for the kiddie pool is very important. The pool should be made from high-quality vinyl that is non-toxic (free from BPA and other harmful substances). This guarantees that the pool won't cause any harm to your little one.
With that covered, you should think about the durability of these materials. The vinyl should be thick and strong so it doesn't puncture easily if it brushes against something sharp (a branch, rock, or anything else). Since damage does happen sometimes, it's a good design solution if the pool sections are divided and inflated separately.
We also think that it's important that the material doesn't deteriorate in the sun. We're not talking just about color fading, but changes in the plastic's structure too. While no kiddie pool is incredibly durable, a well-made product should be able to last a few years before it needs replacing.
Setup and Draining
The best inflatable pools for kids are fairly easy to set up, but you should still pay some attention when buying. Since it's a no frame pool, you won't have to deal with any assembly. Take a look at how the pool is inflated and how much time it takes. Some larger inflatable pools are difficult to inflate by mouth, so check whether or not a pump is safe to use for inflating.
On the other hand, draining the pool is equally important. Most modern inflatable pools come with a drain plug allowing you to easily drain even larger models. Unfortunately, this is not always the case, so you should consider how you're going to empty the pool if you don't have this option.
When you've emptied the pool and it's time to pack, you'll have to deflate it. It's best if you can do this by reversing the pump, but this depends on the type of valve a pool has. While none of this is a deal-breaker, it does make some models more convenient to use than others.
Color and Design
One of the best things about kiddie pools is that they come in many beautiful colors and with uniquely themed prints. Choosing the right one is really a personal choice. Whether your child likes a certain color, dinosaurs, flowers, or anything else, there's a big chance you'll be able to find it. We tried to include a large variety of designs in our reviews so you can have plenty of nice options to choose from.
You might also like: Best Above Ground Pools 
Extra Features
The best inflatable pools come with some additional features that make them even more fun and appealing to children. One of the features that kids really like are slides. They can be found even on small toddler pools, and significantly increase the enjoyment.
Another great addition are sprays and sprinklers. They usually connect to a garden hose and spray water on the kids, keeping them cool on hot summer days. It's even better if they are placed right on top of slides because this makes the slides faster.
On top of this, some models include various types of games, usually with balls and rings. Pools that have these games are Intex Dinoland and Intex Rainbow Ring. These games are not only fun to play, but also allow your children to practice their motor skills and compete with other children (or with you).
Benefits of Kiddie Pools
Inflatable pools for kids have many benefits. Of course, the obvious one is having fun. Little ones can spend hours in the water splashing, playing, and enjoying themselves. However, there are some hidden benefits that are perhaps even more important.
If your child is very small (a toddler), a kiddie pool will get them used to the water. Even if they're hesitant, they can follow us in and start to explore the water. This builds their confidence and makes it easier for them to learn how to swim later on.
Playing in a pool also helps develop a child's motor skills. It includes playing with toys, and if you buy a model with ball and ring games it's even better. Through play, your child will develop better coordination.
Splashing, kicking, and running around in water offers a new and exciting way for children to burn off some energy, both physically and emotionally. It allows your child to relax and unwind, so it can sleep a lot better afterward.
Like other types of play, spending time in the pool will also encourage creativity and imagination. To boost this, there is a large number of great pool toys that your child can use. Also, playing with other children in the pool will help your little one socialize and improve their social skills.
FAQs
Q: How Do I Keep A Kiddie Pool Clean?
A:
Kiddie pools don't have filtration systems and need to have water replaced frequently (even if you use chemicals). Before pouring fresh water, you should clean the pool properly. Here's how you do this in a few easy steps:
Drain the pool completely

Collect the remaining water with a towel

Make a cleaning solution (1:5 bleach to water ratio)

Damp a cloth in the cleaner and wipe all surfaces thoroughly

Rinse off with fresh water and leave to dry

Once dry, you can refill it (or deflate and pack it)
By keeping the kiddie pool clean and sanitized, you're protecting your children. If you inhibit the growth of bacteria and mold, it will last longer and be more enjoyable.
Q: How Do I Avoid Chemicals In A Kiddie Pool?
A:
The only surefire way to avoid using chemicals in your kiddie pool is to empty it after every use. This is easily done with a small wading pool, but you may need to compromise and use some type of cleaner for larger pools. Since chlorine can irritate a child's skin, there are some alternatives you can use.
A homemade remedy is to add distilled white vinegar to the water. One cup of vinegar a day will make the water stay clean for much longer. Of course, you will have to empty the water eventually. When the time comes, be careful not to drain it on the grass because the vinegar might turn it yellow.
Q: How Much Water Is There In A Kiddie Pool?
A:
That depends on the size of the pool. The differences are so large that it's hard to even give an approximation. When buying a pool, the volume will be listed in the description. Remember that you only need to fill the pool as deep as it needs to be for your child (no need to fill it completely).
Q: How Do I Inflate A Kiddie Pool?
A:
The most common way to inflate a kiddie pool is with a hand or foot pump. An electric pump is even better, but it costs a lot more to buy. Of course, you can also inflate the pool with your mouth, but this can be a long and exhausting process (especially for larger pools). Regardless of the pump type, here's how you do it:
Locate the inflation valve and open it

Place the right pump adapter in the valve

Start pumping while checking the pressure (look at pump gauge or check the firmness)

Inflate the pool up to about 90% capacity (you might damage it otherwise)

Remove the pump, close the valve, and fill the pool
Q: How Do I Patch An Inflatable Pool?
A:
Accidents happen and, unfortunately, your pool might get punctured. Instead of buying a new one, most smaller holes can be patched. Here's how you do it:
Find the hole (you'll see bubbles if it's in the water, but if it's not, you can spray a soap mixture on the exterior and see where the bubbles are coming from)

Drain the water from the pool completely

Mark the area with a marker or chalk so you don't miss it

Dry the area with a towel (you can also clean it with alcohol if it's dirty or greasy)

Cut the patch so it's a bit larger than the puncture hole

Optional: lightly scratch the area around the hole with sandpaper (so the glue adheres better)

Apply glue to the area around the hole as well as on the patch (the side that is going to face the hole)

Place the patch on the hole and make sure it's nice and smooth (without any air bubbles)

Leave to dry for 24 hours before you inflate again to check if it's fixed
Most modern inflatable pools will come with a patch kit for easily fixing smaller holes. If the hole is too big, you may need to replace the pool or take it to a professional to be fixed.
Q: How Do I Drain An Inflatable Pool?
A:
Draining a kiddie pool is much easier than draining larger pools. If you have a small toddler pool, you can simply tip it over and let the water flow into your yard. Many pools that are too large to tip come with a special drain plug on the bottom. When opened, it lets the pool water flow freely onto the ground.
If you don't want to dump the water in your yard (or the pool isn't in the yard), it gets a bit more complicated. If you don't own a drain pump, you can then only remove the water with a bucket and pour it down the drain.
Q: What Is A Kiddie Pool?
A:
Kiddie pools are small inflatable pools used by young children. They are usually very shallow (not more than 2ft deep), and allow the children to splash around and get their legs wet. They are great for kids to play in and have fun, and it's much safer for them than standard pools.
Q: How To Warm Up A Kiddie Pool?
A:
The main thing you should do is place inflatable kiddie pools in the sun because this will provide all-day heat. However, there are a couple of methods that you can use to raise the temperature quickly. One method is to add boiling water to the pool and mix it with cold water. As an alternative, you can connect the hose to an indoor faucet and fill it with warm water.
Globo Surf Overview
A kiddie pool can bring loads of joy to your little one. It's not expensive to buy or difficult to set up, and the amount of fun it provides makes it absolutely worth it. While buying one is not too complicated, you should still pay attention to some aspects so you can get the best inflatable pool. We hope that our guide has made this choice easier, so both you and your children can fully enjoy the summer days.
More Above Ground Pool Reviews: