If you're after a faster and more efficient way to clean your pool, you need a reliable pool cleaner. Whether it's a simple suction model or a more sophisticated robotic one, the best pool cleaners for your pool type will make maintenance a lot easier.
Since all of the available types have their pros and cons, this article will do its best to explain the differences so you can find the best pool vacuum easily. But first, our pool cleaner reviews will take a look at some of the highest-rated models on the market, tried and tested to keep your pool sparkling clean.
How To Choose A Pool Cleaner – Buying Guide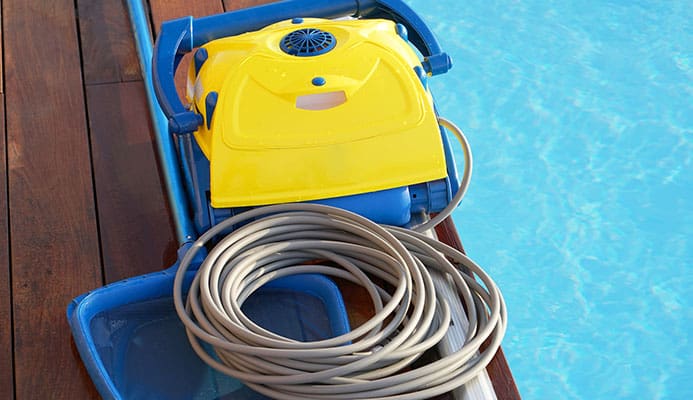 Type of Pump
When choosing automatic pool cleaners, you have three options – suction, pressure, and robotic.
Suction: The simplest of three, this cleaner connects to the suction inlet of the pool filtration system. It doesn't have a debris container of its own, but rather sucks the debris directly into the skimmer basket.
Pressure: This type requires a booster pump to power the jets and vacuum. Because of this, it can provide more powerful suction. Unlike the previous type, it comes with a separate debris bag so it's easier to clean.
Robotic: A robotic pool cleaner is electric-powered and doesn't need to be connected to the filter system. It's very convenient, but also the most expensive option you can get.
Pump System
If you choose suction side pool cleaners, you'll need to connect it to your pool's filtration system and it will depend on the flow that your pump provides. On the other hand, a pressure side cleaner ensures a steadier performance but costs a bit more. As for robotic pool cleaners, they are equipped with 24-volt motors and power the vacuum on their own, independent from your pool system.
Pool Size
The size of your pool greatly impacts the overall performance of your new cleaner. If your pool is larger than average (15 by 30 feet), make sure to get an automatic cleaner. As for extra-large pools, robotic pool cleaners are the best option because you can leave them completely unattended.
FAQs
Q: What Is An Automatic Pool Cleaner?
A:
Automatic pool cleaners present a wide category of cleaners that don't require you to control them. The category encompasses suction, pressure, and robotic pool cleaners.
Related Post: How To Manually Vacuum Pool
Q: What is a Robotic (Electric) Pool Cleaner?
A:
Robotic pool cleaners are fully automatic cleaners that require electricity to operate. It powers the small motor inside (usually 24V) that runs the wheels and the vacuum. It's probably the best cleaner type to get, but also the most expensive.
Q: What is a Pressure Pool Cleaner?
A:
A pressure cleaner is a type of cleaner that attaches to the return outlet of your pool filtration system. The water pressure allows the cleaner to move around and powers the vacuum inside.
Related Review: Pressure Pool Cleaner
Q: What is a Suction Pool Cleaner?
A:
This is a type of cleaner that connects to the main suction system of your pool and uses the power of your pump to pick up debris. Instead of collecting it in a bag, the dirt goes directly into the pool filtration system.
Q: Why Do I Need To Clean My Pool?
A:
The main reason for cleaning the pool is removing the dirt and debris that builds up on the floor and walls. Even though the chemicals will clean the water, you'll also need to scrub the walls manually or get an automatic cleaner.
Q: Which Type Of Pool Cleaner Do I Need?
A:
This isn't an easy question to answer, as each type offers something different. If you want a cleaner that does everything on its own, get a robotic model. However, if you want a low-maintenance product, go with a simple suction cleaner.
Q: How Often Should I Clean My Pool?
A:
As a general rule, you should clean the pool at least once a week. However, if a large number of people use the pool daily, you should clean it even more frequently.
Globo Surf Overview
A good and reliable cleaner is guaranteed to make pool maintenance a lot easier. We hope that our reviews and guide gave you the information you need to find the best pool vacuum, so you won't have to worry about a dirty pool ever again.
More Pool Reviews:
More Pool Cleaner Reviews: