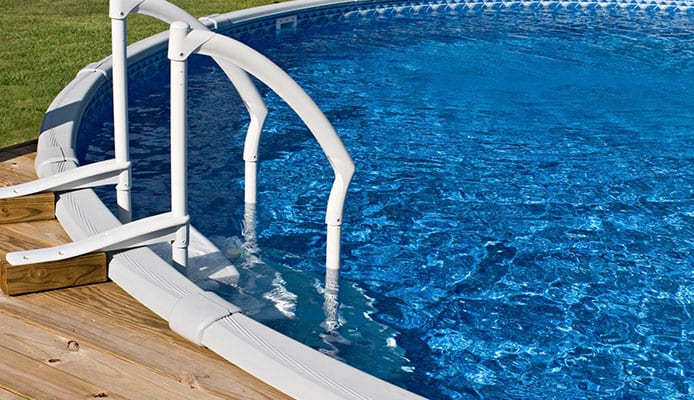 Best Heavy Duty Above Ground Pool Ladder

---

Best Above Ground Pool Ladder For Easy Entry

---

Best Budget-Friendly Above Ground Pool Ladder

---
If you own an above ground pool, a set of pool ladders is necessary to get in and out of it. While most pools come with ladders included, their durability and overall safety are often questionable. Getting reliable ladders will not only make your pool safer, but it will also make using the pool a lot more enjoyable.
When searching for the best above ground pool ladder, you should keep a few things in mind. First and foremost, the model you choose should be stable when climbing up and down. Also, it should be made of tough and durable materials to withstand user weight, sun exposure, as well as pool chemicals.
To help you choose, we have combed through countless above ground pool ladder reviews and created a list with only the highest-rated models. In addition, our buying guide will answer any questions that you have on how to pick out the best above ground pool steps, so don't miss out.
How To Choose The Best Above Ground Pool Ladder – Buying Guide

Construction Materials
Material quality is a key aspect when it comes to above ground pool ladders. They need to be strong and withstand pressure when you climb on them. If a ladder breaks it could cause a potentially nasty accident where you can get hurt.
Above ground pool ladders are generally made out of plastic, aluminum, or steel. All three options can be great for your pool, depending on the pool design and ease of use you're looking for. Take a quick look at what each material has to offer so you can make an easier decision.
Plastic
You'd be forgiven to think that plastic isn't strong enough for such a task, but many of these ladders can take weights of up to 400 pounds. Depending on the model, plastic ladders can be made of PVC, vinyl, or polyethylene. Plastic resin does a great job too, and this type of polymer shows excellent resistance to weight and chemicals.
The ladders that we reviewed are very bulky and often come with reinforced handrails as an additional safety feature. They are also a lot lighter than metal models so you'll have an easier time moving them around. In fact, lighter weight is the main reason why so many people choose plastic over other materials.
Aluminum
Aluminum is also a good option, as it's tougher and more stable than plastic (but still lighter than steel). It's also resistant to rust, and can last a long time if properly maintained. Aluminum can be prone to oxidation, but getting a powder-coated material can prevent this. Unfortunately, it can be slightly more expensive than plastic.
Steel
This is the strongest and most durable option. There are two types of steel used for pool ladders – premium steel and galvanized steel. Premium steel has some additional metals added to the mix to increase strength, while galvanized steel has a protective zinc coating on the surface to improve durability. Both do a really good job in the pool and you can count on them to last for many years.
They are also very strong, and you don't have to worry about damage or breaking. On the flip side, they are usually much heavier than both plastic and aluminum, and you might have problems moving them when you need to install or remove them. If you get a larger model, you maybe won't be able to move it on your own.
Ladder Design (Deck or No Deck)
As you've had the chance to see in our reviews, there are two types of ladders used for above ground pools – single pool ladders (or steps) and A-shaped ladders. The difference-maker between the two is whether or not you have a deck around your pool.
If you have a deck, you should get a single ladder with a top that can be bolted down into the deck surface. On the other hand (if your pool doesn't have a deck), an A-shaped ladder is necessary to get you over the pool wall and into the water.
Size and Adjustability
The main consideration here is the height of your pool – the ladder should fit nicely on the edge, neither too tall nor too short. The standard measurements are anywhere from 48 to 54 inches, although small pool ladders can be significantly shorter.
A big advantage of plastic pool ladders is that they are often adjustable. This means that you'll be able to tweak their length and adjust it to fit the pool properly. Keep this in mind when buying a ladder because a model that is too tall might be unsafe and wobbly, and a model that is too short will hang on the edge and potentially damage the pool.
On the other hand, above ground pool ladders for decks often have a fixed size, so you'll need to pay more attention when buying. As for Intex above ground pool ladders, they are also usually fixed in length. This is done to make them fit the Intex pool perfectly and prevent any damage to the walls.
Weight Capacity
This shows you how much weight a ladder can hold, and it varies significantly from one model to the next. Most ladders can support the weight of an average adult, but some have a much higher capacity which allows even heavier users to get in and out safely.
Capacity has more to do with ladder design rather than the material used to make it. We've listed the weight capacity for each product on our list, so you'll have an easier time figuring out what works for you. It's certainly best to invest a bit more in a stronger model than to risk the ladder breaking in use.
You might also like: Best Above Ground Pool Liners 
Quality and Durability
Since this isn't something we buy every day, we expect the ladders to last for a long time. Besides user weight, the ladder has to withstand constant exposure to chlorinated water and sunlight (UV rays). Both chemicals and UV rays can cause the material to deteriorate and become weaker over time.
Metal is generally most durable, although quality plastic ladders can last very long too. It's always a big plus if a product comes with a long warranty period, as this can be a good indicator of product quality. Many of the models we reviewed come with a 5-year warranty which fully covers any problems you might have over that period.
Safety and Ease of Use
Certain features on your ladder can make it both safer and easier to use. For example, weight pockets allow you to add sand or gravel and weigh it down so it doesn't float or move when you climb. In relation to this, textured non-slip treads will make your steps more secure, while handrails will help keep you stable.
Another feature we really like is a lockable gate. Whether it's a panel that goes over the ladder or you can roll up the steps themselves, this feature prevents any unsupervised entries to the pool (great for keeping kids away).
The last feature we want to mention is not directly related to ease of use, but rather to ease of cleaning. The best models have an open flow design that allows water to circulate. This circulation prevents algae growth inside and makes hygiene much easier.
FAQs

Q: Why Do I Need An Above Ground Pool Ladder?
A:
You need a ladder to enter and exit your above ground pool. Without it, going over the pool wall wouldn't be very convenient or safe for the pool structure (walls can't hold your weight on top). Even if you have a pool deck and can jump in, you'll need a ladder to exit the pool.
Q: What Are The Benefits Of An Above Ground Pool Ladder?
A:
The two main benefits are safety and comfort. Thanks to their stability and added features like handrails and non-slip treads, ladders ensure that you don't get hurt when getting in and out. In terms of comfort, we can all agree that using a pool ladder above ground is a much easier way to enter and exit compared to jumping the wall.
Q: What Type Of Pool Entry System Is the Best?
A:
It depends on the type of pool you have. If you don't have a deck, you'll have to get an A-frame model that goes over both sides. With a deck, a single ladder is the main option you have. And for some additional comfort, both of these types come as steps too (if you don't like traditional ladders).
Q: How To Install Above Ground Pool Ladder?
A:
While the process isn't complicated, you need to attach the ladder properly so it doesn't move and cause you to slip and fall. These are the simple steps you need to follow:
Assemble the ladder (most are very easy to assemble)

Place the ladder in the pool, making sure it stands flat on the base

If possible, adjust the ladder length according to the pool height

If you're installing on a deck, the brackets should come into a position where you need to drill

Mark the spots and then drill the holes for the bolts

Put the ladder back in its place and use the provided hardware to secure it

If you don't have a deck, you should weigh down the ladder by placing sand or gravel into the side slots (if the model has them)
Q: How To Remove Above Ground Pool Ladder?
A:
This is simple to do if your ladder is just bolted to the deck – you just need to remove the bolts. However, if a weight is keeping the ladder in, it gets trickier. If there's only water weighing them down, the steps will get lighter as you pick them up (the water will drain).
On the other hand, if you used sand or gravel to weigh them down, you'll have to get more people to help you lift them, as you probably won't be able to do it on your own. It's highly recommended that you remove the steps because this will enable you to winterize the pool properly.
Globo Surf Overview
Installing the right above ground swimming pool ladders will make your pool much safer and a lot more convenient to use. As you had the chance to see, many different types of ladders are available to cater to every specific pool design. 
With a little help from our guide, finding the top rated above ground pool steps for your particular pool shouldn't be that difficult. While they're not the most fun pool addition, ladders are a great investment that will change the way you use your pool.
More Above Ground Pool Reviews: