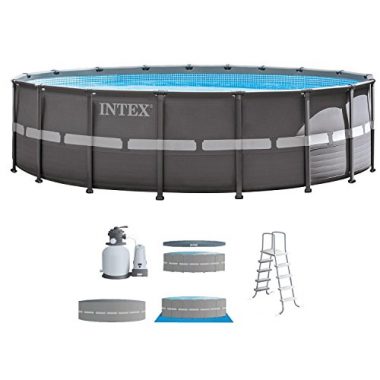 See Customer Owner Feedback >>
The Best Above Ground Pool
Summer isn't complete without a regular dip, and what better way to spend it than in your very own above ground pool! Skip the drive to the beach or community pool and make your life easier and more enjoyable by kicking back and floating the evening away in your own back garden after a long day's work! You'll find that the best portable pool will not only make your family much happier but also increase the amount of time you get to spend with them.
With that being said, finding the best above ground swimming pool can be challenging. Above ground pool reviews agree that there are many factors you'll need to consider before purchasing your first pool. We have done all the hard work and research and have come up with the top above ground pools on the market. All that's left for you to do is lie back and relax!
How To Choose The Best Above Ground Pool – Buying Guide
Deciding to put an above-ground pool in your backyard can be very exciting, but it is important to think past the excitement to ensure that you get everything you want in your pool. There are a few important things to consider before choosing the best above ground pool for you!
What is an Above Ground Pool?
An above-ground pool is a freestanding pool that rests on top of the ground or a few inches deep. This is different from a permanent, built-in pool as it requires much less maintenance and an easier installation. Above ground, pools are designed to have a semi-permanent standing that is left up all year round but can be removed if needed. This style of pool typically has a thin rigid wall that is held together by metal pipes on the top and bottom, typically either aluminum or resin which are saltwater compatible. This style of pool requires equal pressure to be placed on all sides and therefore they are usually in a round shape, although sometimes you may find above ground pools with an oval shape.
What Are The Benefits Of An Above Ground Pool?
While built-in pools tend to be bigger and bring up your houses market value, there are many advantages to above ground pools as well:
Cost
By far the largest benefit of an above swimming pool is the affordable cost associated with it. This is not simply due to a cheaper installation cost but also a large reduction in maintenance costs. You will not have to pay for the initial digging of the pool, or for the tiling. The chemical costs will also be much less on a smaller swimming pool as it will require much less maintenance equipment.
This style of pool doesn't simply have a more affordable initial cost but will also cost you far less on a year to year basis. Affordability is important, and if you can have a pool that meets your budget, you will be much happier with the purchase of your new above-ground pool. The technology in above ground pools has come a long way and you can now get a high-quality pool without paying a huge price. This makes an above-ground pool an even smarter investment than ever before.
Features
In recent years the popularity of above ground pools has skyrocketed and therefore the design has improved considerably. These high-quality structures now have many desirable features. Fitness lovers will love a pool with a water treadmill feature to help them to swim laps to perfectly combine recreation with fitness. Other swimmers may enjoy a pool featuring waterfalls or fountains. Some above ground pools are even deep enough to feature diving boards and other exciting features to make your backyard space even more fun and exciting!
Safety
Above ground pools are often much safer which increases their appeal. As you need to use a ladder to climb inside, there is much less risk of children and pets falling into the pool accidentally. This is an important safety feature for your family as it will make your home and backyard a much safer place. You can also cover the pool when it is not in use.
Maintenance
Nearly all above ground pools come with features that make maintenance as easy as possible. Many come with filtration systems that clean your pool as you swim in it. You will find that most of the pumps come with a clear outer shell which allows you to easily see the state of the filter. No longer will you have to guess if it's time to change the filter. You can simply look down and see if your filter is dirty.
Installation
This is one of the biggest advantages to above ground pools. The installation is much simpler than for an in-ground pool as you don't have to dig out a pit or employ expensive tilers. Above ground pools can be installed quickly and without the use of a construction team. This is not only easy but can be done in an afternoon. Smaller size pools allow people with smaller yards to have access to a pool that could not have before. Likewise, if you rent your home, or just want to keep your lawn free in the winter, a pool gives you all the fun without the commitment!
Materials
Above ground pools use a lot of different materials for their construction. Nearly every single pool will have a liner that is made from vinyl. This will make a smooth and soft barrier between the outer material and your skin.
The outer shell of the above-ground pool can be made from many different types of material including steel and aluminum. The key is to have a strong and durable yet lightweight skin that makes setting up the pool easy.
Most above ground pools will also come with a support system. This further reinforces the pool and makes the walls more rigid. Companies will use tubular steel with a coating that ensures they can stand up to rust and the elements.
What's Included with purchasing the pool
Many above ground pools come in packages that have everything you need to get set up. Packages will typically include a pump, ladder, ground cloth, debris cover and instructions on how to set it up.
All of these items will be one less thing you need to purchase in addition to your pool.
The

pump

will include a

filtration system

which will keep your the water clean and free of debris.
A

ground cloth

will add an extra barrier between the bottom of your pool and the ground. This will extend its life and keep it clean.
The

debris cover

should be used every night so that leaves and other items don't enter your pool as it can clog the filtration system and pump.
A

ladder

will also be necessary and will usually be able to be removed or folded up. This will ensure you have control over who enters the pool. You don't want a small child climbing into the pool unattended, for example.

Most companies will include a video or even DVD with

instructions

on how to set up your pool. It's important to watch the entire video, or read the instructions before you start this procedure. Missing a step can make your pool unstable.
Best Ways To Use Above Ground Pools
Having a pool is a great way to spend the summer. You won't have to travel long distances to cool off or have a good time. These bodies of water can be great to exercise in. Some above ground pools even offer resistance that can simulate swimming long distances. Different shapes will also let you use them in different ways. A rectangle pool, for example, will give you the ability to swim laps or even set up a volleyball net and have a match!
Above ground pools are also great for simply floating in a blow-up toy after a stressful day. You can even grab a book to read while you float and dangle your feet in the water. Your kids will love being able to have their friends over to swim after school or on the weekends.
How To Take Care Of Your Pool
Having a pool is not like your standard kid's pool. You cannot simply add your hose water and then jump on in. Instead, you have to work to create a healthy pool environment. This means that you will need to take care of your pool's water. Just as you would in a hot tub or built-in pool, above ground pools you will need to focus on water circulation as well as cleaning your water. Cleaning your pool is mostly done with the help of chemicals, such as chlorine, and a filter. Water circulation, on the other hand, can be a bit more in depth. Let's take a look:
What Is Meant By Pool Circulation?
There are two main functions of water circulation in a pool. Firstly, it serves to keep your water flowing, and secondly to evenly distribute the chemicals throughout your water. There are a couple of different parts to your pool's circulation. These include the pool filter, the pump, skimmers, drains, and returns. All of these parts work together to create your pools circulation system. The primary purpose of this system is to ensure that the water in your pool remains safe and healthy.
To do this, first, the water is pulled out of the pool by the pool skimmers. The water moves through the skimmer basket which is your first line of defense filtering out and large pieces of debris. This commonly works to stop items such as leaves and other large materials. Following this stage, the water then moves through the filter. This is where all smaller items that weren't caught by the skimmer basket gets removed.
In this stage, your water may become heated and treated at this stage depending on your pool type. Lastly, your clean water will then be returned to your pool and the cycle continues. This process provides you with cleaner water that your family can safely swim in.
While water circulation helps to clear out any debris floating in your pool, it will not efficiently kill any slime that accumulates on the sides and bottom of your pool. To help solve this, you are best suited to an automatic pool cleaner.
What Type Of Pool
In today's market, you will be able to enjoy and choose from a number of different types of above ground pools. Most commonly you will find easy set pools. This type features a metal frame that is incredibly sturdy and durable. They typically have either PVC or soft vinyl walls. Inflatable rings sit on the tops and work to lift up your pool walls and lift up the walls as you begin to fill it with water. Alternatively, you will find metal framed pools. These are much sturdier and can hold up much more water. They come in different pool shapes and are much more durable. This type features steel bars that work to support the pool liner.
Size
The size of your pool will be determined by two main factors: the size of your family and the size of your yard. If you have a larger family who all want to be in the pool at once you will have to get a one large enough to accommodate them all. But at the same time, you will want to consider the size of your yard. If the pool has to be up against a fence to fit in your backyard you will want to consider a different size or even shape pool.
Shape
Pools can come in a few different shapes. The most common ones will be a circle or rectangle. You will want to think about how you'll use the pool. For example, if you are wanting to swim laps you will want a rectangular pool shape. But if you are simply wanting to lounge in a floaty a round shape will serve you just fine. Round above ground pools will generally take up less space, but you will be able to fit more people into a rectangular pool option. Square above ground pools are another option that can make it easy to lounge without taking up too much space in your yard.
How to Set-Up
All pools will come with a detailed list of instructions about how to set it up. This process can take anywhere from 15 to 90 minutes to do. If you do it yourself you will save time and money while learning the ins and outs of your pool.
Get Some Volunteers
You may need up to 3 people to install your pool. Most can be set up with a single person but can take much longer than if you have a team willing to help.
Prepare the Foundation
You will not want to put your pool on unstable ground like sand or loose dirt. We also suggest avoiding slopes or rocky ground as it can cause the pool to shift or even puncture the bottom. If at all possible we suggest finding a place that doesn't have grass as it can grow into your pool or create a dead spot in your yard.
Level the Ground
If your yard is particularly sloped you will want to create a level place to put your pool. This can be done by creating a platform for your pool out of wood or paving stones. Or you can dig a flat part where the pool will sit.
Ensure there is Adequate Drainage
You will want to ensure that the ground around and under your new pool has proper drainage. This is important because otherwise, your pool could cause water to collect within your yard. This is a much easier thing to prevent rather than fix after the fact so be sure to be mindful of this before you install your new above-ground pool.
Lay the Foundation for the Base
Before beginning the process of laying your foundation for your new pool you will want to consider the material you will use. Clean sand works well for this type of pool as it adds a layer of protection between your pool and the ground. This will work to prevent against roots and rocks piercing your above ground pools bottom.
Lay the Foundation for the Frame
You will want to choose between patio blocks or stones for this part. Sink them into the ground and use this to support your posts. You can do this by placing them below the buttresses and posts of your pool. You will want to make sure that all of your blocks remain level.
Assemble the Pool
Once your foundation is secured you are ready to begin assembling your pool. How you do this will vary based on the pool that you have purchased so make sure to pay close attention to the manufacturers manual that comes with your unit.
Create the Cove
The Cove refers to a 6-8 inch wedge of sand that is built around the edges of your pool's walls. This offers a protective layer between the metal frame and your pools liner. This also works to prevent the liner from slipping.
Install The Liner
Before going any further, you will want to thoroughly inspect your above ground pools liner. Do this by spreading it out and inspecting for any holes or tears. In this time allow the vinyl to heat naturally with the sun. This will make it much easier to maneuver. Once warmed, you can install the liner. Be sure to use extra care in this step ensuring that there is no air remaining between the liner and the ground.
Smooth The Surface
For your final step before adding water, you will want to smooth over the surfaces of the pool by gently pushing it towards the wall. Once you have completed this step, you are ready to fill your above-ground pool up and begin to use it.
Safety
Be sure to choose a spot that is away from the action in your yard. This will make your pool less of a hazard. Families with pets or small children will appreciate that this pool style is much safer as it poses less risk of falling into. Additionally, being able to easily cover the pool when not in use works to make it safer for your family.
Pool Placement
Be sure to consider all options before deciding where to place your above-ground pool. As these are designed to be semi-permanent, you will not want easily be able to change the location of your pool once you have decided on a spot. For this reason, it is important to be sure of where you are to put your pool before you begin the installation stage.  
Warranty
The build quality of your pool will be showcased by the type and length of warranty the company includes. A one year warranty is standard across all manufacturers. But when companies include more than this they show their faith in their own products. A 15 or even 20-year warranty on an above ground pool system is not unheard of. Some even include limited lifetime warranties on their products. You should also find out if the company has a helpline that can assist you. Some offer lifetime help calls where you can call in and ask questions about things like setting up your pool.
Maintenance
Above ground pools may need to be looked after on a weekly basis. If you notice debris floating near the surface you will have to take it off with a pool skimmer. But for the most part, your pool's pump will have a built-in filtration system which will do this for you. The pool may also need to have its chemical system checked on a regular basis. If you are planning on turning your pool into a saltwater one this will also have to be monitored closely. Keep in mind that special pumps may have to be used if this is how you want your pool to be set up.
FAQs
Q: When Is The Best Time To Get An Above Ground Pool?
A:
While you may be tempted to get an above ground pool in the months leading up to summertime, this may not be the best time to do so. Most commonly, the months following summer, September-November, may be the best time to buy your above ground pool. Here is where you will find all the post-summer sales. You can often find above ground pools for much cheaper. The downside of this is that most pools come with only a 2-3 month warranty. If purchased in the winter months you will not be able to spot any potential problems.
Q: What's The Best Way To Fill An Above Ground Pool?
A:
Filling your above ground pool with water is not a hard task. All you need to do is grab your garden hose and use it to fill the pool. You will want to watch as the water starts to fill because it will build pressure as more water is put into it. If the walls seem to bulge or creak in any way we suggest turning off the water and double checking if it was set up correctly. Once the pool is filled with water it's hard to adjust or reposition its pieces and parts. It's much better to do it right the first time than to fix it halfway through.
Q: What Is Meant By Pool Circulation?
A:
Pools will have built-in circulation systems. This keeps the water moving as still water is a great breeding place for bacteria. If the water is constantly moving it will stop the bacteria from forming which keeps your pool cleaner and more sanitary.
Q: What's The Required Maintenance For A Pool?
A:
Most above ground pools don't require much maintenance. They should come with water pumps and filtration systems that keep the water clean. If they get clogged you will have to change the filter and possibly clean the inside of the pool but this won't happen often, if at all.
Q: How Do I Level Out The Ground To Place My Pool?
A:
There are many ways to level the ground where it will sit in your yard. This can be done by creating a platform or digging a flat surface. It is ideal to simply find a flat area for it to rest but if there isn't a suitable area you can take these measures. Just be sure that if you are making a platform that the base be strong enough to hold the pool. These can hold thousands of gallons of water which can be hard to support.
Q: How Deep Are Above Ground Pools?
A:
Above ground pools can be anywhere from 42 inches to well over 60. This can vary depending on the dimensions of the pool, the manufacturer and even the materials used to make it.
Q: How Could I Drain My Above Ground Pool?
A:
Draining your above ground pool is quite simple. Every pool will come with a valve that you release which will let the water out. Most will come with a place to screw in a garden hose which allows you to funnel the water into a specific area to not flood your yard.
Q: Do You Need A Fence Around An Above Ground Pool?
A:
You don't need a fence around an above ground pool. It can help to keep animals and people out but isn't necessary for your pool. Due to the height of these above ground pools, you will not have the same risk of children and pets falling into the pool which makes it a much safer option. This means that you do not have to have this extra safety precaution.
Globo Surf Overview
With the best above ground pool, you will no longer have to spend time driving to the beach or your local community pool. All you have to do is walk to your backyard to enjoy the hot summer day. Once you set up your pool it'll be able to cool you off all summer. Your family will love having a way to beat the heat this summer. Having the best above ground swimming pool is a great cost-effective way to make the most out of your summertime. Costing you far less money year after year, this is a family-friendly way to spend more time in the great outdoors.
More Pool Reviews:
Have you ever installed an above ground pool into your backyard? Tell us how you found the procedure in the comment section below.
Globo Surf Above Ground Pool Review
; ; ;
★★★★★
"
Ive been looking for an above ground pool for my family for a while now. I chose the Blue Intex Pool and Im so glad I did. Absolutely perfect for our backyard and my family loves it. Thanks!
"
Leave A Review