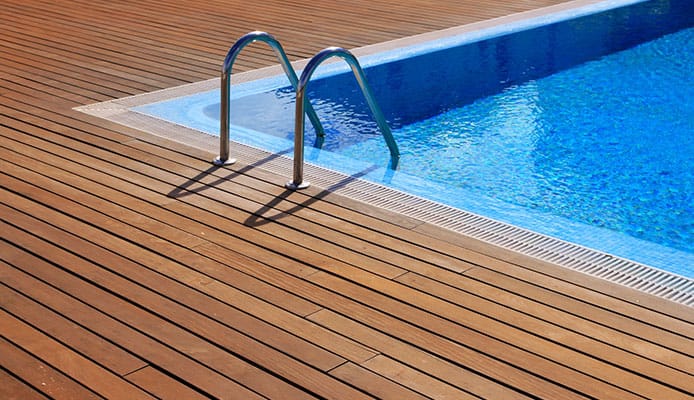 OUR TOP PICK

---

EDITORS CHOICE

---

BEST VALUE

---
Many pool owners strive to ensure their water always looks pristine. If you have a pool deck, it's appearance can also enhance your pool. Decks serve as a safe place to walk around your pool, but that doesn't mean that they shouldn't also be attractive.
If your deck is starting to look worn and faded, new paint can make your deck look fresh and clean in just a short amount of time. It can be hard choosing the best pool deck paint because there are a lot of options. You want your best paint for concrete pool deck to be waterproof, slip-proof, and anti-fade, crack, blister, and peel. When deciding which paint is best there are a few key features you should consider before making a purchase.
We have the top products picks of the best pool deck paints that can change the look of your space and everything you need to know about making an informed investment that will be long-lasting and good looking.
How To Choose A Pool Deck Paint – Buying Guide
Types of Surfaces
There are a few different types of surfaces used in pool decks. The three most common materials are concrete, PVC, and wood. Each surface will need different paint to ensure that the color adheres since not all paints work will all the different types of surfaces. For the best-looking deck, you want to ensure you have chosen the correct paint formula.
The Types of Paint
There are also three common types of paint that are used for pool decks. There is oil, Alkyd, and water-based deck paints.
Oil deck paint:

This paint will have oil and minerals added into the mixture. You will need to stir this paint well before application and it will take longer to dry.

Alkyd deck paint:

This contains resin, glycerin, oil, and fine refraction of granite and sand. It is affordable and resistant to harsh weather.

Water-based deck paint:

This is the most popular choice in deck paint. It offers durability and high-quality. It can come in acrylic and rubber latex. Acrylic is better in harsh weather conditions, whereas rubber latex is extremely durable and water vapor permeable.
The Price of the Product
Price doesn't always indicate quality. Expensive paints may not deliver the best quality, but cheap paints can lead to a disaster too. It is best to spend the time with a professional and discuss your specific deck specifications or refer to pool deck paint reviews to determine which paint is actually the best of the products.
You might also like:   Best Intex Pools
Choosing the Appearance
The appearance of your paint for pool deck designs will depend on your preference. There are a lot of options available and each option can deliver a different appearance. You should take the time to consider all your options and how the final result could look before you make a purchase.
Prepping for the Coating
Prepping is very important to make the outcome of your pool deck coating look its best. Every type of paint will require different primers, treatments, and prepping methods. The best way to prep is to follow the provided prepping instructions that are specific to your swimming pool deck paint.
The Durability of the Color
It is very important that your pool deck coating or concrete deck paint is durable. Pools decks are constantly exposed to water as people get in and out of the pool, as well as the harsh weather elements. The sun can easily cause fading, cracking, or peeling and the best products will be extremely durable and resistant to different weather conditions. Durability also means that your paint for pool deck designs is longer lasting and looks better for longer.
FAQs
Q: What is the process of preparing the pool deck before painting?
A:
Each painting has a specific process, of which, you should check the provided instructions. But in general, for concrete surfaces, when using the products, you should be able to follow three easy steps.
Clean your deck

Allow it to fully dry

Apply your products
Q: Can I paint a pitted or damaged pool deck?
A:
Its appearance isn't as important as it's stability. If your deck is pitted or damaged but is still stable enough to support the weight of people, outdoor patio furniture, or patio chairs, there shouldn't be a problem with painting it.
If you follow the instructions of the concrete pool deck painting, the pool deck coating can still make the pitted or damaged pool deck look like new.
Q: What are the benefits of painting a pool deck?
A:
The biggest benefit of the best products is to make the deck look like new. Instead of having to pay and replace an old and worn deck, you can invest in a more affordable can, or few, of paint. Secondly, it is actually better to keep your deck in its best shape for your safety. Pool decks can easily be damaged or worn by the elements, like the harsh sun. This damage can make it unsafe to actually use or walk on the deck.
Pool decks are great to pop up patio umbrellas and relax in the shade by your clear water, which is another reason to keep your deck looking clean. A clean pool deck will make your home more attractive, as well as ensure that your deck is still strong enough and stable enough for all the fun activities.
Q: What is the best color to paint a pool deck?
A:
Pool decks will look their best in colors that suggest natural outdoor scenery. Shades of tan bring sandy beaches to mind, while shades of gray hint at natural slate and stone. You can choose shades of dusky green and blue to allude the clear water and shades of maroon and brown that imply brick and masonry.
Q: Should I seal my concrete pool deck?
A:
A sealer will improve the deck's appearance, prevent fading caused by UV rays and protect it from stains and harmful pool chemicals. Whether your pool deck is plain gray concrete, stained concrete or has a stamped texture, sealing after the concrete has cured and every few years after is recommended.
Globo Surf Overview
Just like a swimming pool, a pool deck can be a staple for your summer relaxation and enjoyment. The best pool deck paint will have your deck looking like new with just a few fresh coats, which gives it new life. If you know exactly what you need, you can save time and money by investing in a top-rated paint for a pool deck.
More Above Ground Pool Reviews:
 More Paints Reviews: