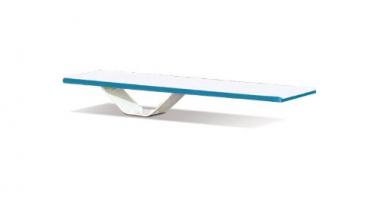 See Customer Owner Feedback >>
Diving boards can be a huge amount of fun and can transform a pool into a playground for both adults and children. Having a board with a high enough level of quality requires using the best materials and therefore getting the best diving board is going to be important.
In order to get the best residential diving board, there is plenty to consider and here we are going to go through all the key features required in our buying guide. We have also completed diving board reviews to show you the best products on the market.
How To Choose A Diving Board – Buying Guide

Pool Size
The size of your pool is probably going to be the most important part of your buying decision as the higher you go on your diving board, the more depth you are going to need in your pool. It's important to get this right as otherwise it can be dangerous and the likes of a blow up swimming pool for kids wouldn't be appropriate.
If you have a pool that doesn't have a great level of depth then it would be a good idea to get a more rigid board. This means that you wouldn't be able to go high but means that you are still able to get a diving board, even in a pool that is not very big.
Material
The material of a diving board is naturally going to be very important as it needs to be able to be highly durable but still able to cope with the constant flexing that is going to happen with it. In order to do this, there is often a blend of fiberglass and wood.
This is able to give it all the qualities that you need. In terms of the base, this will often be a strong metal such as stainless steel in order to give a good foundation for the board. This will also be resistant to rust and last for a long time.
Non-Slip Surface
A lot of these boards are coated with material like acrylic and if that had a smooth finish, then it could end up being very slippery. That's why diving boards would need a non-slip surface added in order to give you a greater amount of traction.
While an incredibly high level of traction would seem like a great idea, some people don't like the feeling of having a heavily textured board beneath their feet and would prefer something more subtle. This is a matter of personal preference but naturally the more textured a board, the safer it will be.
Spring
Not all diving boards are going to have a spring in them as most of them rely on the flexibility of the boards in order for them to have the required bounce for you to have a fun jump into your pool. On most occasions, you're not going to require a spring.
A spring is going to be able to give you an extra amount of bounce which can be a great amount of fun but would require you to have a large pool in order to accommodate the extra amount of height that you're going to be able to get from the board.
Weight Limit
With diving boards, it's important to check out the weight limit before you decide to go ahead and buy one. Most of them are going to be big enough to be able to accommodate tall adults but others have a lower weight.
You see a lot of boards with a weight limit of around 250 pounds which is going to be comfortable for the vast majority of people. If you think that anyone above that weight is going to be using the board, then it's a good idea to look for the strongest board possible.
Type
There are three types of board that you are able to buy and they are diving platforms, diving boards and jump boards. Platforms are generally solid platforms that are generally placed a lot higher up and not suitable for most domestic pools.
Jump boards can be a great amount of fun but you get very high in the air, so again they are not suitable for domestic pools unless you have a particularly larger pool. Diving boards are a little stiffer but still a huge amount of fun and suitable for most pools.
Size Of The Board
Most residential diving boards will come in a length of either 6 or 8 feet, with the difference being how much air you are going to get off the board. The longer board will have more potential energy and therefore is better for a deeper pool.
A 6-foot board is going to be the more sensible option as you wouldn't require a pool that is as deep. In terms of distance away from the pool edge, this isn't really a safety issue as a 6-foot board keeps you well away from the edge.
Flexibility
While it may seem like your first instinct to get a board that is as flexible as possible, it might not be the best idea. Not only do they send you further into the air, but they are also harder to use in terms of balance, which can be especially difficult for beginners.
If you have a deep pool and confident users, then you are going to be able to get a board that is on the more flexible end of the scale. It's important to get this right as you need to balance fun with safety to get the appropriate board for you.
Durability
When you are looking at any pool item, such as a pool fence or pool heaters, durability is always going to be a key issue and the same applies to diving boards as you want them to be able to last for as long as possible.
All of the products that we have looked at here are made to the highest degree of quality and will last for a very long time. With the constant flexing that comes with diving boards, you always want to make sure that you are buying a quality product.
Compatibility
Whether it is the likes of a pool filter, a diving board or a pool pump, if you buy a product that is not compatible then it's going to be a huge waste of money. With diving boards, this comes in the form of matching the board to your pool.
If you get a jump board for a pool that has a depth of 4 feet, then it will just sit there at the side of your pool, unable to be used, as its too dangerous. It's vital to pick the appropriate board to prevent you from wasting your money.
Maintenance
Maintenance is always going to be important, whether that is regular pool maintenance or maintaining the items around it such as pool lights, diving boards and pool slides. With diving boards though, your maintenance needs are going to be minimal.
You would still want it to have a regular inspection though just ensure that no cracks are appearing or rust beginning to settle in. If there are any issues then it's important to get them sorted as soon as you possibly can.
Warranty
A warranty is always going to give you a good idea about the quality of a product. It will also give you peace of mind that should anything go wrong, you know that you are going to be protected and won't lose your money.
A warranty can also give you confidence that the company has faith in the fact that their product is going to last for a long time. It's always important to check exactly what is covered though as sometimes warranties will be quite limited.
Safety
It's important to know your facts about pools, spas, swimming and safety, and this kids swimming pool safety guide is also very useful too. With a diving board, it's very clear where the potential dangers are going to be coming from.
You want to make sure that your pool is going to be deep enough to accommodate the board and also that the surface is going to have enough texture to be safe. As well as these basic features, it's also important to teach everyone who will use it how to be sensible while using it.
FAQs

Q: Why Install A Diving Board?
A:
A diving board can be a huge amount of fun. As long as you have space, it's going to be able to make your pool even better. They are relatively easy to install and you will be able to add an extra dimension to your diving board in no time.
Q: How Much Space Do I Need To Install My Diving Board?
A:
Not a great amount of space is required to install a diving board as, of course, most of it is going to be hanging over your pool. You just need enough space to be able to place down the base and allow people to climb up on it.
Q: What Is The Difference Between A Diving Board And A Jump Board?
A:
The difference is the amount of flexibility that they have and therefore how much air you are going to be able to get from the board. With jump boards you can get a lot higher, which means that you need a pool far deeper than most residential pools.
Globo Surf Overview
There are many ways that you can have fun while you are around your pool. A diving board is a great way to add to that but as we have seen here, there are plenty of things to consider before you are going to get one installed.
The size and depth of your pool are going to be key factors as the shallower your pool, the less flexible and shorter board you need. After that, other considerations such as the weight limit, durability and surface are going to be important.
This guide will have given you all the information that you need in order to choose the perfect board for you. Once you get it installed, everyone who comes to your pool is going to want to get involved and enjoy the incredible fun that you can have.
More Pool Reviews:
Globo Surf Diving Boards Reviews
; ; ;
★★★★★
"
You have helped me decide which diving board suits best for my pool and I am very thankful for that.
"