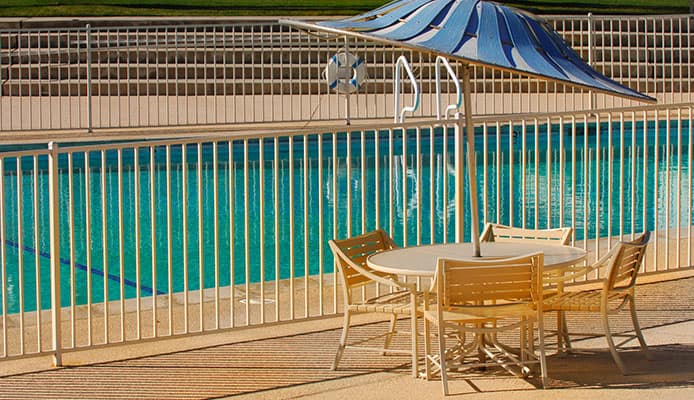 OUR TOP PICK

---

EDITORS CHOICE

---

BEST VALUE

---
With all the benefits that owning a pool brings, you also have a few responsibilities regarding pool safety. First and foremost, you have to make sure that nothing can accidentally fall into the pool. Small children and animals are the most vulnerable, and the best pool fence is the only sure way to keep them out.
Even if you don't have kids or small pets, you might be obligated by state or county regulations to put up a fence. To help you find the best swimming pool fencing, we've created a buying guide where we discuss all the important aspects. But first, take a look at our list of top pool fences that will significantly improve the overall safety.
How To Choose The Best Pool Fence – Buying Guide
Type of Pool Fence
While most of the products we've talked about are made of mesh, there are many different types of fences available each with its pros and cons.
Mesh:

Mesh fences are very common for several reasons – they are

affordable

,

easy to install

, and work well in most situations. On the other hand, mesh fences are not the strongest type and won't be enough for larger kids.

Aluminum:

While it's a bit more expensive, aluminum provides a higher degree of safety. In addition, powder-coated aluminum has

excellent weather resistance

too. On the other hand, they might require professional installation.

Chain link:

The main problem with chain link fences is that they often aren't safe enough (easy to climb). Also, sometimes they're prone to rust, so the durability is questionable too. Still, many people choose them because they are

very affordable

.

Wrought iron:

A wrought iron fence is the type of fence that you often see outside of luxurious homes and buildings. It

looks great

, it's

very durable

but, unfortunately, it can be very expensive to buy.

Wood:

Wood fences are great for gardens and

look fantastic

when done properly. They are also

budget-friendly

, significantly reducing fencing pool costs. However, there is a good chance that the water will damage the swimming pool gates and fence over time.

Glass:

Glass is the only option that gives a

clear view

of the pool while providing

excellent protection

. However, glass fences can be absurdly expensive and glass gets stains from water easily so you'll have to clean it often.
Color
Color is usually a matter of personal preference. Most often you'll just want to match the color of your fence with the color of your pool surroundings, so it blends nicely.
However, color can still impact some things. For example, a black fence gets hot faster, while a white pool security fence can be harder to clean and can become yellow over time.
Fence Safety
Pool safety is the main reason to install a pool fence, and it's important to know the limitations of a certain type of fence. For example, mesh fencing has plenty of strength for keeping small children and animals out, but won't be very effective against adults. If you're building a fence against intruders, you'll need something stronger like steel or aluminum.
Strength and Stability
Strength is obviously a key feature of any pool fence. The best pool fence needs to withstand not only kids and pets but various weather conditions too. Metal fences are the strongest, but they are also the most expensive.
UV Resistance
This isn't the first thing you look for when it comes to fencing, but UV rays can damage both mesh and coating on the metal. Having UV protection is an added plus to ensure that your fencing will last for a long time.
Removable vs Fixed
All the in-ground fences we talked about are removable (even though they might look permanent to anyone passing by). If you only need it during the offseason or when children are around, this type gives you a choice.
With fixed fencing, there is no choice – once installed, it stays there until you cut it. While these can be very tough and look fantastic, they don't offer the versatility of removable fencing.
You might also like: Things To Consider Before Installing A Pool Slide
Height
The standard height for pool fences (in most states with regulations) is 4 feet, which is more than enough to prevent a small child or animal from climbing over. Of course, if you're protecting your pool from older kids or adults, taller pool fences are available too.
Ground Clearance
A fence should completely block access to the pool, including crawling under it. For this reason, you want to ensure that any distance between the ground and the fence is kept to a minimum. A mesh fence does a great job of covering this space so that nothing can get past it.
Connections
The connections on a fence can often be the weakest points, so make sure that they are solid (preferably made of metal). Connections on the best pool fence also need to be tight, unable to be dismantled easily by anyone you're trying to keep out.
Style
Concern about ruining our beautiful pools with an ugly fence is very real, which is why style is important when choosing.  Mesh fencing doesn't rank very highly on the style scale, but some models can still look pretty nice. On the other hand, wrought iron fences are generally the most detailed ones, while glass fences give a very sleek look.
FAQs
Q: Can I Install A Pool Fence Around A Swimming Pool That Has Dirt, Sand, Or Grass?
A:
Yes, but this isn't ideal. It won't be as secure as concrete, which can compromise the fence's stability. The looser the material that you're trying to build on, the deeper you will have to spike the poles into the ground.
Q: How To Remove A Pool Fence?
A:
One of the biggest advantages of mesh fences is that they can be easily removed when you don't need them. Here's how to do it:
Unlock the connectors that hold the sections together (usually has a screw)

If needed, unlock the post pins from the sockets at the bottom (twist it)

Roll up the sections one by one, beginning with the poles

Store the pool fence in a dry space away from direct sunlight

If you have them, close the pole sockets with caps so nothing gets in
Q: How Big Can A Pool Be Without A Fence?
A:
It depends on state and local regulations. If you're wondering whether you're required to fence your small pool area, we advise checking the laws that apply to your area. This being said, in some areas with strict fencing laws, 18 inches is the maximum pool depth allowed with no fence.
Q: How Much Does A Pool Fence Cost?
A:
For an average-sized pool, a mesh or chain link will set you back several hundred dollars. If you want a wooden, aluminum, or wrought iron pool fence, you'll need several thousand dollars to cover the fence itself and installation costs. Finally, tempered glass is the most expensive option that can go over ten thousand dollars in some cases.
Globo Surf Overview
If you want to prevent toddlers or animals from falling in the pool, a lifesaver pool fence is your best bet. While it may seem like a nuisance to buy and install, top rated swimming pool fencing could potentially save a life. If you don't have the money for an expensive fixed fence, even a removable mesh pool fence will give you peace of mind and make your pool a safe environment.
More Pool Accessories Reviews: