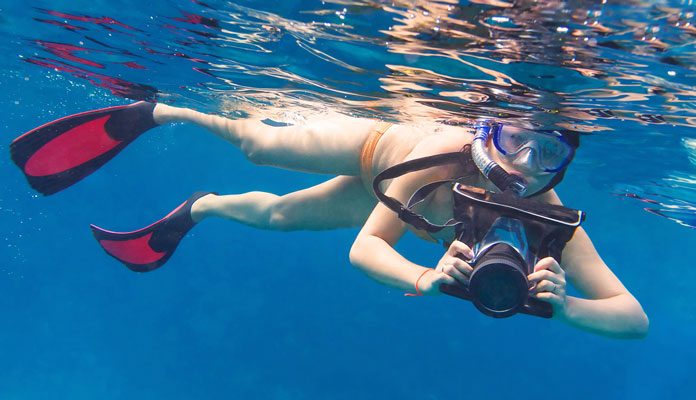 No matter where in the world you dive the best lens for underwater photography will make your experience last forever. It is hard to describe to someone who has never been diving before all the beauty and life below the ocean's surface. That is why so many divers enjoy this sport with an underwater camera. Since so many colors are lost the deeper you go it is important to get the best setup you can to fully capture the beauty. In an effort to still focus on your dive it is important to bring a lens with enough zoom so you don't have to disrupt your subject to get the perfect shot.
The perfect dive lens will combine the perfect focal length, aperture, and of course be waterproof. A focal length refers to the amount of millimeters the lens is capable of. For example a standard lens is 18 mm – 55 mm. This means that the lens can zoom between 18 and 55 millimeters away from the actual image sensor. A higher millimeter rating means the lens is capable of a more zoomed photograph. Aperture is the amount of light the lens lets in. The range of aperture is usually between f/1.8 to f/22. A smaller number means that there will be more light let in for the sensor to detect. This creates a faded or blurred area around the subject a feature that can give you amazing, professional looking photos. Finally, a dive lens needs to be waterproof. This is done by a nano coating which seals the lens from the water. All of these features combine to give you the best dive lens.
We have put together a guide to find the best photography underwater camera lens for your next dive.
QUICK ANSWER: THE BEST LENSES FOR UNDERWATER PHOTOGRAPHY IN 2017
Best Lenses For Underwater Photography
Lenses For Underwater Photography Reviews
1. Sony SEL90M28G FE 90mm f/2.8-22 Macro G OSS for Mirrorless Cameras
  Check Price Now
What Makes This Lens Stand Out
Silent focusing and shutter
9 blade aperture
Nano coated
Model & Accessory Specs:
Maximum Aperture: f/2.8
Focal Length: 90 mm
Weight: 1.33 lbs
Sony makes great DSLR cameras and this extends to their lenses as well. This lens features image stabilization which creates perfect photos even when your hand isn't perfectly steady. This is a common problem when scuba diving as the natural motion of the water can cause some blur to photos. A nano coated lens allows you to capture your shot without worry of a reflection or lens flare. The built in Direct Drive SSM features ensures you do not scare your subject away with loud focusing. Sony shows how much they trust their product by including a 12 month warranty. This is a lightweight setup that will have you shooting underwater as soon as you attach this lens to your camera. A specially designed 9 blade aperture gives you precisely the amount of light you require. This helps with color loss commonly found when diving below the surface. This 90 mm lens will have all your friends jealous and wondering how you captured that amazing shot.
2. Canon EF 100mm f/2.8L IS USM Macro Lens for Canon Digital SLR Cameras
What Makes This Lens Stand Out
Low light capabilities
Advanced image stabilization
Affordable
Model & Accessory Specs:
Maximum Aperture: f/2.8
Focal Length: 100 mm
Weight: 1.38 lbs
This lens is one of the best underwater macro photography lens available. With a 100 millimeter focal length you won't have to crowd your subject. This ensures you can get the perfect shot without disturbing nature or get in the face of your family. The maximum aperture of 2.8 allows you to capture photos the way you want. When coupled with Canon's highly developed image stabilization you will be able to capture excellent photographs even on an unstable boat. Most lenses create a shutter sound but Canon has worked tirelessly to be one of the leaders in silent Ultrasonic focusing while the nearly instant autofocus won't let you down. Canon is famous for their build quality. This lens features the highest quality materials inside and out which will stand the test of time and the elements no matter if you are above or below the water. All of this coupled with this lenses ability to perform even in low light make this one of the best dive lenses, even for night dives.
3. Inon – UWL-H100 28M67 for Mount 67mm Wet Wide Angle Lens
What Makes This Lens Stand Out
Ultra wide angle
Lightweight
Universal attachment
Model & Accessory Specs:
Maximum Aperture: n/a
Focal Length: 67 mm
Weight: 1.3 lbs
This is one of the top underwater wide angle lens. Inon has been making top notch lenses for years and this lens is no exception. Being able to attach this lens to any camera body gives it a leg up on it's competition – just attach this little lens to whatever camera you have and you are ready to shoot in wide angle high resolution. Coming in at just over one pound it won't even feel like you have a lens attached to your camera. The 67 millimeter focal length gives you the ability to get up close and personal with your subject without them knowing it. A 100 degree angle of view allows you to capture wide angled shots closer to what the eye actually sees. This increases to nearly 180 degrees if you are above the water which alters the perspective of ordinary photo shoots.
(Hey! You May Also Like: Best Snorkel Masks)
4. SHOOT Upgraded 3.0 Version 6" inch Diving Underwater Handheld Stabilizer Lens

What Makes This Lens Stand Out
Attaches to your gopro
High quality photos
Model & Accessory Specs:
Maximum Aperture: n/a
Focal Length: n/a
Weight: 3.4 lbs
Do you have a GoPro that you want to take it to depths you never thought possible? The SHOOT 3.0 is what you are looking for. A great addition to your dive kit this small camera will give you the ability to go up to 30 meters (almost 100 feet) deep. This is a great device especially for video recording. You will have instantly better photos as this lens doesn't allow water to sit tight against your lens which will ensure greater photo quality and also not allow your photos to turn out distorted. Instead of trying to keep the small camera stable and centered let the large two handed stabilizer give you ultimate control during your dive. This will help reduce the blur of both your photos and videos.
5. Tokina AF DX 10-17mm f/3.5-4.5 Fisheye Zoom – Canon Mount
What Makes This Lens Stand Out
Ultralightweight
3 year warranty
Redesigned internal structure
Model & Accessory Specs:
Maximum Aperture: f/3.5
Focal Length: 10 – 17 mm
Weight: 0.77 lbs
Tokina is a well known dive lens manufacturer and the lenses they produce are well known for being the top of their kind. This Fisheye Zoom lens will effortlessly fit and attach to any Canon camera in seconds. Their specially designed coating has created a completely waterproof design meaning you can take this lens as far underwater as you can swim. Not only do Tokina make great products, they back them up. This lens comes with a 3 year warranty giving you peace of mind no matter where you take it. The focal range of this camera is 10 – 17 millimeters which allows you to capture the best macro pictures. Tokina has taken the time to completely rethink this lens. They have designed a lens with fewer parts which lessens the weight while increasing the simplicity of the product, something that is bound to increase the lifespan of the lens.
Globo Surf Overview
It only takes one trip underwater to appreciate all the beauty and life below the sea. Once you begin your journey into underwater photography it is easy to become addicted. With vibrant full bodied photos this can quickly become a favorite hobby or even part of your career. Many professionals prefer the use of a fisheye lens for underwater photography as it provides a wide view allowing more sights to be captured with every photo. Regardless of your preference, when looking for your next lens be sure to read through the many underwater camera lens reviews before deciding on the best one for you. This will help to ensure that you get the best lens for your needs. Any of the five top sellers on our list are sure to leave you with excellent photos to be looked at for years to come.
Canon camera, Canon Camera
High Resolution, Nema.org
Did your lens make it on our top 5 list? Let us know how it works for all of your underwater photography needs in the comment section below.
Globo Surf Lens Photogaphy Review
★★★★★
"
Love underwater photography. Needed a new lens. Found you review very helpful.
"