OUR TOP PICK

---

EDITORS CHOICE

---

BEST VALUE

---
Divers operate in an environment where normal methods of communication are not available, such as speaking. Scuba Divers are trained in using hand signals underwater as a form of communication with their scuba diving buddy. Hand signals are effective, however, your buddy can not see them through the back of their heads. If they are not facing you, you will need to get their attention. The best underwater signaling device during a daylight dive would be something that makes a distinctive noise. Sound travels further underwater than in the air.
Noise is not the best way to get their attention at night. The fact that noise travels further underwater also means it is more difficult to determine where the sound originated from. At night lights are the best means to get attention. Night divers will also place an identifying light on the back of their tank so their location can be seen.
This guide, The Best Underwater Signaling Device, and Surface Signaling Devices for Scuba Divers present some of the items that a diver will want with them as they explore under the seas.
Pro Tip 1 - Intended use: 
A double-system signaling device such as the Aquatec Duo allows you to signal your dive buddy both underwater and on land. A bonus is that you can signal your dive boat from up to 1km away on the surface. 
Pro Tip 2 - The Size of  the Underwater Signaling Devices:
A dual air-powered signaling device offers a compact system that easily connects to your BCD, making it easier to find and use in an emergency scenario. 
Pro Tip 3 - The Weight of the Item:
Having a lightweight signaling system decreases the amount of tension put on your inflator hose compared to older, less ideal systems.

Scuba Diving Expert
How To Choose An Underwater Signaling Device – Buying Guide
Intended Use
One of the bedrock of scuba diving safety is the buddy system. However, the buddy system does not work if you do not have your buddy's attention. The devices in this guide represent different methods of getting attention, Most of these are meant for underwater communications, however, a few are for surface communications.
The Size of the Underwater Signaling Devices
There are a variety of sizes of scuba signaling devices and it will depend on the specific design you have chosen to use. Universally, all scuba signaling devices should be handheld, which ensures that they are easily portable.
Most models are very small and can be worn around the wrist and are used with the push of a button or to tap on the side of your tank. You can check underwater signaling device reviews to see what other divers have said about the size of the product. However, no matter which underwater signaling device you choose, you shouldn't have to worry about them being too large.
You might also like: perfect Gifts For Scuba Divers
The Weight of the Item
The weight will be related to the size of the safety signaling device and as we've stated, size can vary depending on the design. Like size, all devices should be handheld and lightweight.
However, all underwater sound devices should be light enough that they don't add any bulk to your load. Their lightweight designs ensure that they don't add any unnecessary weight to your gear.
These underwater devices are designed with safety in mind. Most designs are lightweight to ensure that there is not a reason for a diver to not carry one on a trip.
FAQs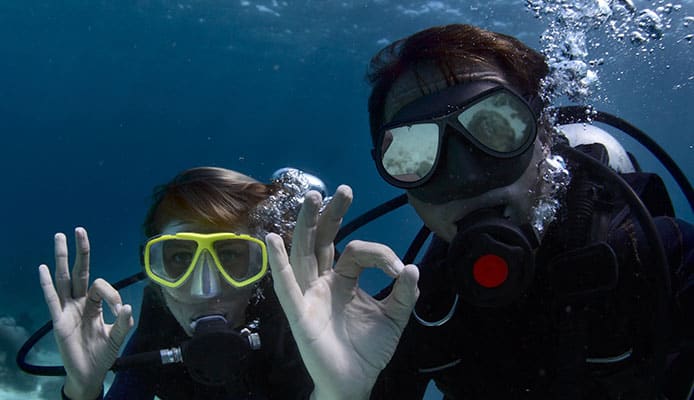 Q: Should I use a light or sound signaling device?
A:
It depends on the time of day you are diving and the limit of visibility. When diving in clear water and on a bright day, light devices will be of little use. A sound-based device is better. In low visibility and at night, you may have trouble locating the source of the sound. Lights are more noticeable. The best case is to have both.
Q: When should I carry a signaling device?
A:
Every dive trip. If you think about how hard it can be to communicate underwater, you should always have an underwater signaling device to get your dive buddy's attention. We all can lose track of our dive buddies at times. If you lose track of your dive buddy for more than a few minutes, you should abort your dive. Using a signaling device may help you find your buddy and safely continue the dive.
Globo Surf Overview
Whether you are on your first scuba dive or your hundredth trip, safety is always important. You should always be prepared and a top-rated underwater sounding device can ensure that you are always in communication with a dive buddy or other divers.
There are a lot of different designs for you to choose from, but if you know exactly what you want or need, you can find the best underwater signaling device to take with you on every trip.
More Scuba Reviews: