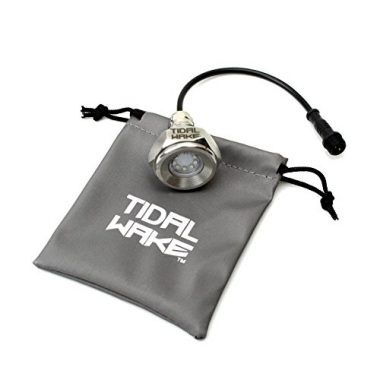 See Customer Owner Feedback >>
See Customer Owner Feedback >>
The Best Boat Underwater Light
Underwater lights are a great way to make your boat stand out from the crowd. A bright LED light will look beautiful as it shines under your boat and there are numerous colors to choose from as well.
When it comes to choosing the best boat underwater lights though there are plenty of things to consider such as the ease of installation, material and durability as well as the color, so you need to know the facts before finding the top rated marine boat lights.
Here we have created a buying guide and have checked the boat underwater light reviews so you can make an informed choice in buying the best marine boat lights so you can make your boat more brighter and beautiful than ever.
How To Choose  The Best Boat Underwater Light – Buying Guide

Type
All the lights that we have featured here are LED lights as they are by far the most superior light on the market, especially when it comes to having the ability to shine underwater. Not only can LED lights shine brightly but they do so by using a low amount of energy and with a lifespan that can range up to tens of thousands of hours.
Installation
Installation of these underwater lights generally comes in the form of three different types where they can either fit though you drain plug, be installed through the hull or the wire can be fed over the hull. If you only have temporary use of a light then having one that can go through a drain plug or over the hull can be a great choice but if you want a permanent solution then you want one that can installed through the hull.
Material
The materials used on these lights don't really matter when it comes to performance as they are all durable and resistant to corrosion whether they are made out of bronze, plastic or stainless steel. The only key consideration when it comes to the materials are aesthetics as generally people prefer metal options but this isn't too important considering the light will be underwater.
Use
Most boat users will want lights that will simply make their boat look beautiful as the effect of those LED lights shining underneath your boat can make for a pretty image. LED lights though have also been known for attracting fish so if you're a keen nighttime fisherman when this could be a great option to attract those fish to your boat.
Durability
Durability is a key aspect when it comes to your LED lights but thankfully all the lights we have looked at here are very well-made and can offer a high level of durability. When buying underwater lights you want to ensure that they are in a solid casing, that they are waterproof and also resistant to shocks as well. A durable LED light will keep shining for a number of years.
Color
One of the beautiful things about LED lights is their ability to shine brightly in a number of different colors. A lot of the products reviewed here are available in a number of different colors with green, blue, red and white being the main options.
FAQs

Q: What Are Underwater Boat Lights?
A:
Underwater lights are lights which are situated on the outside of your boat, under the waterline and generally situated on the transom. They will shine the water underneath your boat leaving your boat beautifully illuminated in whichever color you want. These lights can either be spotlights but they are also available in a strip as well.
Q: Why Do I Need Underwater Boat Lights?
A:
Underwater lights generally aren't an essential item as they are not needed to make your boat perform and losing them won't cause any issues but they are bought for two main reasons either by people wanting to make their boat stand out from the crowd of people who love fishing who want to attract their fish with a bright light.
Q: How To Install Underwater Boat Lights?
A:
Boat lights are installed in one of three ways. If you are connecting one through your existing drain plug then this can simply be threaded through the existing hole and connected to your battery. Others can simply be mounted on the outside of your boat with the wire ran over the hull but you can also install the wire by drilling a small hole, running the wire through the hill and then attaching the wire to the light and the battery.
Globo Surf Overview
The battery powered underwater LED lights are a great way to make your boat stand out as these beautiful battery boat lights will illuminate your boat and the water around it which can be a very impressive look.
LED boat underwater lights are by far the most favored type of lights on the market as when compared to halogen or underwater neon lights they offer much more performance whilst using a minimal amount of energy and having a long hour life.
In order to get the best performance from your lights you want to ensure that you have the best battery installed so you are able to run your lights without any issue and also be able to run all your other electronics easily as well such as your marine grade stereo or your GPS system.
In selecting your underwater lights you need to consider what type of installation you desire as using drain plugs can be a more temporary measure if you are using your lights for fishing or you might want a more permanent installation system. Once you know which type of installation you want then you can decide on whether you want a strip or a spotlight and also what color you want it to be in. Once you have done that then you'll know exactly what you're looking for.
Underwater LED lights can make your boat look fantastic and for that initial investment you will have a durable light that is going to last you for many years. Hopefully this buying guide has given you the information you need to pick the best underwater light for you so you can either attract those fish to your boat or simply make it look better than it ever has done as it shines under the water.
More Boat Reviews:
Globo Surf Boat Underwater Lights Review
; ; ;
★★★★★
"
Very helpful article! I choose the GFJMC Waterproof Underwater Boat Light and I am very satisfied.
"