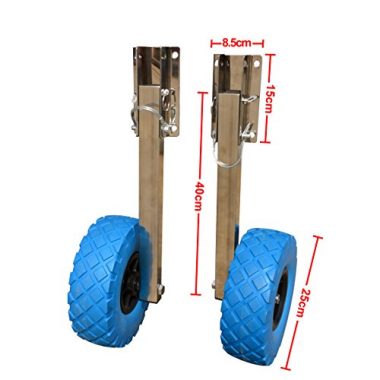 See Customer Owner Feedback >>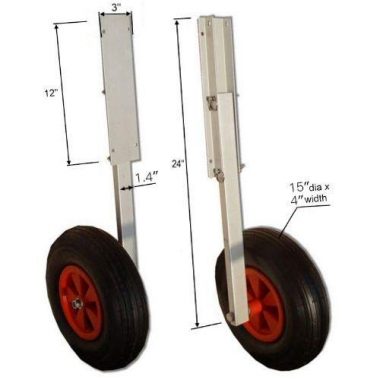 See Customer Owner Feedback >>
The Best Boat Launching Wheels
Buying a set of boat wheels can be a smart investment. Inflatable boats can be very heavy, especially when they are loaded with gear or have a motor attached. This makes dragging the boat difficult, and you need someone to help you carry it down to the water. If you choose to install wheels on your vessel, you can do everything by yourself, without too much effort.
They are designed to support the weight when pulling the boat, and then to be moved out of the way when you set off. Many different types are available, but selecting the best boat launching system depends on your boat, terrain and in the bottom line, how much money you are willing to spend. Take a look at the top rated boat launching systems we picked and don't miss the buying guide to learn more about certain features.
Let's get started.
How To Choose The Best Boat Launching Wheels – Buying Guide

Design and quality of boat wheels are among the most significant things to look for. The system should be easy to use, meaning you can install it safely and quickly, and they don't create problems when in use. Most of these wheels can be detached from the boat, but they generally stay attached when in water, just in a different position. That's why it's important for them to be foldable and not create drag in the water. Of course, there are other factors too.
Wheel Size
Most wheels have between 10 and 15 inches in diameter, while they are 2 to 4 inches wide. In general, larger wheels offer better movability on different surfaces, like sand or dirt. It's even better if they have patterns for better grip. If you know you'll be moving your boat across rough terrain, this is worth giving a thought.
Otherwise, smaller and cheaper wheels may suffice. The tires are usually made of rubber, and can be solid or inflatable. Both have some ups and downs. Most products in our boat launching wheel reviews have inflatable tires, which allow high psi and have good performance.
Boat Size
All boat wheels have maximum weight capacity. While on some product this parameter is outstanding, they are still made for inflatable boats or smaller boats made from aluminum or fiberglass. If you need to transfer a larger boat, it's perhaps better to look for a boat trailer.
This being said, some products are mounted on the transom using brackets, while others are designed more like trailers. Both have their limitations when it comes to transom height or overall boat length, so pay attention before shopping.
Material
The frame (usually bracket and wheel arms) needs to be made from durable materials, which can handle being exposed to water, especially saltwater which quickly causes corrosion. Best boat launching wheel will have these parts made from either stainless steel or anodized aluminum.
This way you know the product is going to be fairly durable, at least when it comes to water resistance. As we mentioned, the wheels are made of rubber. If they are inflatable, inform yourself thoroughly about the quality, so you won't be unpleasantly surprised when they get punctured quickly.
Installation
Installing boat wheels is usually not difficult. Some boats will have markings on the transom where you should drill holes for the bracket. If not, carefully measure everything, mark and drill them yourself. Be mindful of the height so that the wheels can properly lift the boat off the ground.
You should also pay attention to width, so the wheels won't come in the way of your outboard motor. Most manufacturers will give you instructions how to do this properly. It's not a bad idea to test out on dry land first to see if everything's in place, because you don't want to lose a wheel while you are in water.
FAQs

Q: What Is A Boat Launching System?
A:
It is a set of wheels which helps you launch your boat and move it from your car down to the water for example. These wheels are installed on the boat, and the design is different compared to kayak carts or boat trailers.
Q: Why Do I Need Boat Launching Wheels?
A:
Wheels will enable you to get the boat in the water all by yourself, without needing someone else to assist you or drag it across the ground. This way you get a bit more freedom, and you can get to the water quicker.
Globo Surf Overview
Considering this gear isn't overly expensive compared to many other things, there is no reason not to put your boat on wheels. They can make your day much better and you will save the energy for more fun activities instead of carrying your boat. Be safe and have fun!
More Boat Reviews:
Have you tried a pair of boat launching wheels that made it onto our list? Were they good for support and launching? How did they perform in the long run? Please share your experience with us in the comment section below.
Globo Surf Boat Launching Wheels Reviews
; ; ;
★★★★★
"
After a long search for a boat launching wheel I came across your article. It helped me make the right decision. Thank you!
"