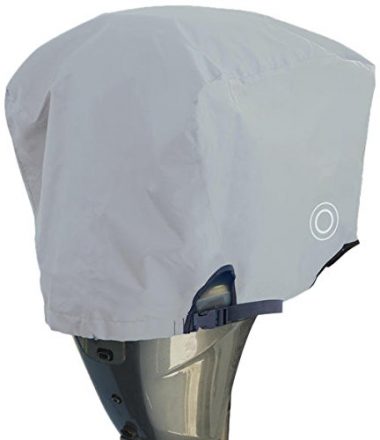 See Customer Owner Feedback >>
The Best Outboard Motor Cover
While your outboard motor will be resistant to the marine environment, over time even the most well-made products will start to receive wear and tear. If you live in a colder climate as well, then frost and ice over the winter can cause even bigger problems.
In order to protect your motor when it's not in use, you need to find the best outboard motor cover that you can in order to keep it dry and to prevent the ingress of any dirt. Finding the best marine engine cover though means considering the right materials, fit and quality for your engine.
Here we aim to answer all of your questions and have looked through the outboard motor cover reviews in order to create a top list, which you can use to selected the best option for your motor.
How To Choose The Best Outboard Motor Cover – Buying Guide

Material
When it comes to an outboard motor cover, the material is clearly very important due what it needs to protect your outboard motor from. It needs to be resistant to water but do so while being strong enough to protect the motor from general bumps and scrapes as well.
Polyester is one of the most common materials available as it will be able to resist any water and can protect against UV rays but it's also a breathable material that doesn't stretch or sink. There are other materials available and you need to ensure that they offer the same protective features. Being breathable is a key feature as this will prevent mildew from forming on the cover.
Fit
When it comes to fit, most outboard motor covers will only cover the engine part of the motor as the propeller can easily damage the material and doesn't require the same level of protection. Some companies offer sizes that are a lot more specific than others and you need to know the size of your engine before you pick a cover, as you want to ensure that it's going to fit correctly.
When it comes to ensuring a tight fit on your outboard cover then there are a number of different features which can help, such as having drawstrings of a buckle when can ensure that the cover will stay on, even when the boat is being trailered.
Quality
When buying anything for your boat you want to ensure that you are getting a quality product otherwise you could be left with one that will get damaged easily or won't be able to offer your motor the protection that it needs.
When buying a cover there are a few features that you want to make sure to have such as their ability to be waterproof with UV protection. You need them also to be breathable as well the ability for them to fit easily onto your boat.
FAQs

Q: Why Do I Need A Motor Cover?
A:
If a motor is exposed to the elements then it can gradually wear over time and that will be made worse if it's not in use. When used then a motor will be self-cleaning in many ways, as the mechanism will be in use, but if it left there then problems like rust can set in.
A cover will also prevent damaging UV rays getting to your motor, it prevents any dirt getting to it and it will also help to protect the motor from damage from bumps and scraps that it might receive over time. A motor cover then is vital in regards to protecting your motor and prolonging its life. An outboard motor is expensive to replace so taking care of it makes a lot of sense in order to avoid unwanted costs.
Q: Can I Use This Cover In The Summer and Winter?
A:
The winter presents extra challenges for anything when it's left outdoors as the cold temperatures, frost and ice can cause more wear than usual. Having a boat cover is essential when not in use and covering your outboard motor is vital as well.
Having a separate cover though isn't required as the existing one will prevent any water from getting to the motor and it will also prevent any condensation from occurring which can cause issues if it becomes frozen. In the winter you just have to ensure that everything is covered fully so no problems occur when you come to using your boat again.
Globo Surf Overview
The use of outboard engine covers is important if you want your motor to last for as long as possible. Having outboard propeller covers isn't as vital as they are more resistant to the elements but there are companies that offer a whole coverage solution.
When you have to fire up that motor once again you want to ensure that it is working without any issues so you're able to get out onto the water and do the things that you love instead of worrying or replacing one of the most critical elements of your boat.
Just as you want to ensure that you're getting the best battery so that it doesn't fail or getting the right bilge pump when you need to clear water out of your boat, getting an engine boat cover is important to make sure vital items don't fail when you desperately need them.
In order to have that protection you want to ensure that you are buying a quality product and one that will give you all the key features that you need. Your checklist in respect of a motor cover is making sure they are waterproof, breathable and can be securely fastened into place.
Once you know you have all those key features then you can move onto other important factors such as getting the right size for your engine and also deciding on whether you want a cover that is going to go over the propellers or one that will just fit over the engine unit.
After all the key consideration have been made you can then choose your top rated marine engine cover safe in the knowledge that it will keep your motor in perfect working order until it's time to use it again. Without one, you open yourself up to a list of problems that can occur and taking years off the life of the most vital item on your boat.
More Boat Reviews:
Globo Surf Outboard Motor Covers Review
; ; ;
★★★★★
"
Found this article while looking for new motor cover. Great options in product review.
"