When you're in a boat it's very easy to get yourself into the water, but getting out of it can be a whole lot tougher. Whatever reason you find yourself in the water, whether it be by choice or an accident, getting back in is a lot simpler if you have ladders.
Getting the best boat ladder then is vital in order to make your commute from the water back to your boat. In order to make sure you get the best marine ladder, we have created a buying guide and included a list of the top rated marine ladders, so you can be confident of getting the best solution for your boat.
How To Choose A Boat Ladder – Buying Guide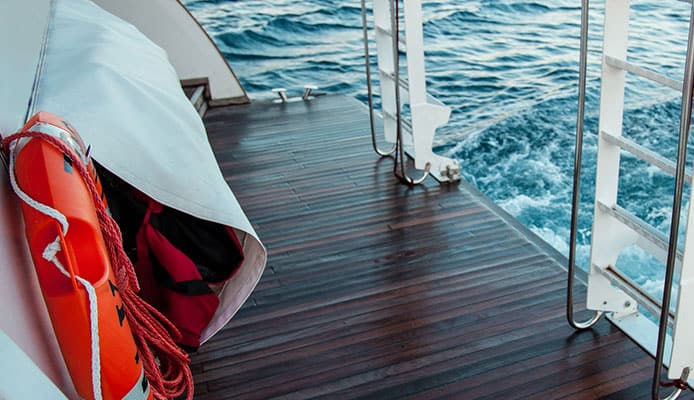 Length And Number Of Steps
When it comes to what's important then you need to focus on the length of the ladder rather than the number of steps. The reason for that is due to the variety of different solutions that can be offered by companies. Generally speaking the more steps, the longer the ladder, but this isn't always the case. If you have a larger boat then you will want to find ladders which have a longer length and can reach further down into the water.
You might also like: Perfect Boat Speedometers
Mounting The Ladder To The Boat
This depends on how permanent you want the solution to be as some of these ladders are fixed directly onto the boat while others are a more temporary solution. If you want a permanent solution then it's important to ensure that you have the space available. Most of these ladders fold up to a very small size, so even if they are mounted, they don't take up much space when not in use.
Desirable Features
When buying a ladder you want to look at the other features it has. It naturally has to be resistant to corrosion and the ability to fold up to a small space can be very useful for storage. There are also other features that you might want as well such as having handrails, non-slip tread on the rungs of the ladder and checking whether or not it comes with mounting accessories.
Weight Capacity
The lowest weight capacity we had on the products we reviewed is 250lbs, which is still a significant amount of weight. If you are going to have anyone on the boat who is heavier than that though then there are options all the way up to 400lbs so this is something to bear in mind before you buy a product.
FAQs
Q: Why Do I Need A Boat Ladder?
A:
If only getting out of the water was as easy as getting into it. Even if you have a lot of upper body strength, the sides of boats aren't exactly easy climb upon. If you don't have a high level of upper body strength then it's almost impossible.
A boat ladder turns the problem of getting back into your boat a very easy solution. If you get a ladder that's too short though then it could still make it very difficult to board the boat so getting the right length is key. Getting a ladder too long though could cause too much drag on your boat.
Q: How To Fit My Ladder On My Boat?
A:
While some of these ladders have ingenious designs when it comes to folding up into a compact size, the permanent ones still require a certain amount of width in order to fit onto your boat. If you have the space available then this isn't a problem as you can simply just pick the ladder which fits in with your boat. If size is going to be more of an issue then it might be worth looking into a more temporary solution such as a rope ladder.
Q: What Is The Best Boat Ladder For Me?
A:
The best boat ladder for you depends on how big your boat is, what your weight requirements are and what space you have available. Once you have taken all of those factors into account then you will be able to see which ladder solution is best for you. All the ladders we have reviewed here are quality products so it's simply a matter of determining which product is best for you.
Globo Surf Overview
A boat ladder is crucial if you ever plan on getting back into your boat as without one it can be nearly impossible to get back in for some people. A ladder gives you a simple solution and a lot of them are able to be folded so that you can get them down if you find yourself in the water or fold them up when they need to be stored.
As much as a life jacket or a fully functioning bilge pump, a ladder can be a crucial safety feature as if anyone accidentally finds themselves in the water then they will panic and want to get back in the boat as soon as possible.
It might be though used for much more peaceful endeavors such as going for a swim after you have anchored yourself up. If you're having a party on your boat then it gives people the chance to have a dip in the sea without having to worry about getting back in while you can focus on working the grill while listening to your favorite music.
Whatever the reason for you using your ladders, they can play a crucial role and make life a lot easier for you and everyone else on board. It's all about picking the best solution for you depending on your own circumstances with the size of your boat and the other factors we've discussed here. Whether you opt for a permanent solution or something more temporary, having one on your boat will give you the peace of mind.
Getting ladders might seem like a small factor but they can have a huge role to play. After you've read this buying guide you can go through the products armed with the right knowledge so you can select the best boat ladder for your boat.
More Boating Accessories Reviews: