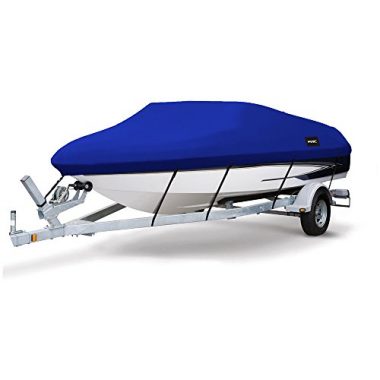 See Customer Owner Feedback >>
See Customer Owner Feedback >>
Exploring the open sea is always exciting, and when traveling by boat, you must always make sure to bring along the best equipment, including the best waterproof boat cover. 
Whenever you travel on your boat, you'll want to protect it. You can do this simply by getting a breathable boat cover that'll keep your boat safe while you're traveling or while you're docked. Boats are expensive and they create wholesome memories, so it's really important to protect them,
With the internet, there are so many options out there for boat covers that it can be hard to sift through all of them. That's why we have made a research, gathering all the boat cover reviews, to help you look at the reviews from the fellow boat owners, as well as provide you some key things to look at when choosing your own boat cover!
How To Choose The Best Boat Cover For The Money – Buying Guide
Material Combination
When you're looking to buy a boat tarp, one of the most important things to look at is the material combination. The material combination is what really keeps your boat protected from the surroundings, so you'll want something strong, very similar to getting a pool cover.
Most of the best rated boat covers say that they're made from marine-grade polyester or 300-600D. The higher the number, the better the fabric, so any of these things will work great. 600D is the better option since you want to be prepared for anything that might happen.
Waterproofing
While it sounds silly to have a waterproof boat cover when boats go on the water, having one is very important due to a couple of reasons. First, you don't want water coming through the boat cover and being trapped in your boat. That defeats the purpose of a boat cover, no matter if you are looking for a fishing boat covers or a cover for a larger boat.
You also don't want water trapped in your boat since it'll cause mildew and mold to start forming. This smells bad and is bad for both your boat and your health. If your pool cover isn't waterproof, then you'll end up hurting your boat instead of protecting it.
Size Varieties
Like stand up paddleboards, boat covers vary in sizes. Top-rated boat covers for winter always vary in size because they're made with the size of your boat in mind. Boat covers that are designed with the level of adjustability kept in mind are perfect for each boat, tailoring their protective aspects to each boat size, making them safer.
Boat covers that don't worry about the size of the boat aren't much protective. The idea is that you can tailor them to your boat size by using elastic cords and buckles, but that's not as protective as it should be. That stretches the boat cover fabric, making it less effective at protecting your boat.
Seams
The seams are important when you're buying a boat cover material since they can be the weakest point of the fabric. This is where your boat tarp could possibly start to break down or let the elements through, so you want to ensure that the seams are put together well.
Seams are also the place that boat covers can start unraveling some. This can cause the entire boat cover to come apart, and no one wants to spend that money on a new one because the one they bought didn't work well. Make sure you ask how the seams are kept together!
Tying Cords
Tying cords are another important part to buying a boat tarp. Tying cords are what allows you to keep the cover on top of your boat, even if you're pulling it. There are elastic cords and buckles. You'll want to think about what's the easiest option for you so that you can cut your preparation time down when you're headed out somewhere, like the beach.
Elastic cords keep the cover tight by pulling on it and keeping it securely on your boat. Buckles do the same thing by locking a strap into place so that your boat cover won't slip off. Both of these are great ways to keep a boat cover on, so pick whatever is easiest for you!
Durability
Boat covers need to be durable. Since you are buying a boat tarp to protect your boat, you definitely don't want the cover to be so bad that it doesn't even protect itself. If a boat tarp doesn't last for very long, it probably won't protect your boat for very long either.
In most of occasions, boat covers can be expensive. You're going to make sure that you don't need to buy a new one in a few months after you buy the first one, so you want one that's durable. Wasting money is never fun.
You should also think about the conditions that your boat is in when it comes to durability. If you're someone who lives where it snows a lot, that boat cover is going to be different than someone who lives in a tropical environment. By tailoring your boat cover to your conditions you can increase the life span of the boat cover.
FAQs
Q: How do I clean a boat cover?
A:
There are several different ways of cleaning a boat cover. Just like with the hot tub covers, it's extremely important to clean both sides of your boat cover. Leftover water or condensated water is bound to be there when you're using a boat cover, and even little amounts can cause bacteria to grow, so you need to clean them often.
Most boat covers can be cleaned with warm soapy water. The fabric is supposed to be durable and protective, so soap shouldn't harm it. However, you'll want to make sure that your boat cover can be washed like that whenever you buy it. Some extremely light boat covers can even go into a washer, so check for that as well!
Q: How do I put on a coat cover?
A:
Boat covers can be put on in a couple of different ways, depending on who you have with you to help if anyone. If you're by yourself, a boat cover can be a little more difficult to put on, but it's feasible.
With two people, you can throw the boat cover on the boat and each of you can secure it on the opposite sides of the boat, working your way around to where they started securing the cover. This will let you both be able to pull as tightly as you need to when you're putting it on.
With one person, you'll want to throw the boat cover on the boat and gently secure it to make sure the boat cover doesn't slip off. Then, when the whole thing is gently secured, you can go back around to get the tight fit that you'll need for protection.
Q: What are boat covers made of?
A:
You'll notice that most boat covers (including our Sharkskin line) are made of polyester. The only material generally considered to be superior is acrylic, which is what Sunbrella, another material we use, is made of. Acrylic material is known for its breathability and fade resistance.
Q: How to make a boat cover from a tarp?
A:
Making a boat cover does not entail much work, but the benefits it proposes are numerous. Hence, it is a good idea to learn how to make your own. You might opt to buy a ready-made boat cover, but it may not be of a very good fit for your specific boat, not to mention that the cost of purchasing it will inevitably surpass the money involved in making one yourself. Besides, you can be as creative as you wish and choose a material and color you prefer. 
For making a DIY boat cover, you should measure the boat and purchase the materials needed, according to the measurements. Afterwards, they should be cut, and you should stitch panels together. Once the holes are punched on the sides or sew, you should insert the ropes or the drawstring. With that, you can move to lay the cover on your boat, together with the ropes or drawstring beneath that should be knotted. 
Globo Surf Overview
Finding an excellent match for your boat can be hard, but with our review and the buying guide, you can choose the best option in a second. We've wisely collected the best boat covers for winter with some quality made reviews pointing over the good aspects of each option, helping you choose one cover that will serve you well over the years. Keep in mind to read all the details and the buying guide along with it, since you can easily choose the perfect match once you are familiar with all the important aspects.
More Boat Reviews:
Globo Surf Boat Covers Review
; ; ;
★★★★★
"
Boat cover has saved my life. If you own a boat this is one of things you must have. So less stress, so much fun. Your article helped me choose the one which fits my needs. Thank you!
"