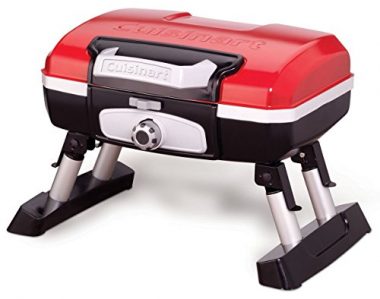 See Customer Owner Feedback >>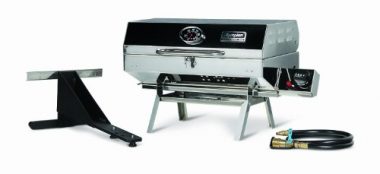 See Customer Owner Feedback >>
Being out on a boat can be a great experience whether you're out there fishing or just out there for the love of sailing, one drawback though can be the food selection available as you are generally faced with only having cold options.
There is a solution, however, and that is in the form of a boat grill which will be able to cook all manner of hot food and make your boating experience even better. Not many companies produce great boat grills, however, which makes it even more important to find the best boat grill on the market.
Here though we have found the best on the market to give you the best marine barbeque you deserve. So read through the buying guide, check the best boat grill reviews and make sure you make the best choice so you can sail happy and with a stomach full of great grilled food.
How To Choose The Best Boat Grill – Buying Guide

Size
With a grill you would think that the bigger the better as you'll be able to cook ore food but clearly you have to take into consideration how big your boat is and where it is going to be installed. Most boat grills are naturally on the smaller side as they are meant to be easy to use and portable.
It's probably for the best to work out where you're going to put the grill before you decide to purchase one. It would be a big mistake to get a grill which is too big for the space you have or in fact the other way and getting a grill and realizing you could have got one which is a lot bigger.
The size of a boat grill is generally measured in square inches and the measurements will be given in the product description as well so it's easy to work out whether it will fit in the space that you have or not. It's also important to consider how the grill needs to be powered with aspects like how big your propane tanks need to be.
Use
Being out there on the open water is a great feeling but a grill can make the experience even better. Being able to have warm food is an extra treat and one that can easily be done once you have a grill in place. The grills we have reviewed are meant to be easy-to-use and will have you set up in very little time.
It's always important to place your grill in a safe and secure place to avoid any safety issues which is why installing it on a mounting bracket can be a great idea. Installing it on a flat surface has to be done with care to ensure that it is able to handle any heat that there might be.
Either way, you need to ensure that your grill is secure before using it. Once it is then you can put on anything that you wish to create a brilliant boat barbecue and people will love getting onto your boat for the great experience and the great food. Once done, it's important to clean it often to prevent any buildup of dirt.
Portability
While some of these grills are specifically designed for a boat, others are designed to be used in multiple different scenarios such as camping or at the beach. This gives you a choice depending on what you aim to be using your grill for as you might want to option to be more portable o you could simply want it to be permanently installed on your boat.
If you're getting a more portable grill then you don't want to be balancing it anywhere on your boat so it's important to find the appropriate mounting which in many cases can be sold separately. Once you've finished on your boat then you can simply take it down and take it anywhere that you want.
Some are portable than others as some have the ability to be folded down with easy carry handles. Others are more difficult to carry but can be taken from one place to another easily enough. Whether you want portability or not is up to you, the most important things is to make sure that it's safe and secure when it's on your boat.
Warranty
As with any product, getting a good warranty can be important to ensure that you are getting a quality product. For more expensive items this becomes even more essential due to the cost of replacement, having a good warranty for a grill can give you peace of mind should anything go wrong.
There is also the matter of trust as well. If a company is offering out a good warranty then you feel as though they believe in the quality of the product. Rather ironically, the longer warranty you have on a product the less likely you feel that you are to use it.
If a company isn't offering a warranty then you question whether they believe in the quality of your product or not. Your boat grill should be able to last for a long time so you'd expect a good warranty on the product. Otherwise, you could be faced with expensive repair bills or the prospect of having to replace it with a more expensive item.
Material
Whatever your grill is made out you need to ensure that it is fit for purpose of being out there on the water. If you're going to be out there on the sea then it's likely that the grill will come into contact with seawater and be more in danger of the rust that it can bring.
Due to the residue which might be left after it's used and the seawater, it's vital that the brill is cleaned after every use to make sure that it stays in top condition. Having a stainless boat grill can help in this respect as it's more resistant to weather conditions and is easy to clean.
Other materials can also be used but it's important to check how resistant they are going to be from the salt. You want to ensure that your grill is durable and will last for a long time. Thankfully all the products that we've reviewed here have that durability in then to ensure that they can last for a long time, even in tough conditions.
Grill Housings And Frames
Grills need to be well-made due to the conditions that they will be placed in. Obviously they have to be resistant to heat but also if they are outdoor then they need to resist the weather as well. Grill housings and frames will be able to add extra protection that you might need.
With a high-quality grill you would find that they have fully-welded seams and durable hoods. Even the strongest of materials can be punished by bad weather and you might need to take extra care of your grill depending on where you are. If you're going to be on a lake then maintenance won't be as important as if you're out at sea.
FAQs

Q: What Is Boat Grill?
A:
Most grills that we have reviewed here aren't designed specifically for boats and instead are designed to be portable and used wherever you wish. That then begs the question of what makes a grill suitable for a boat? Well some of these grills come with legs and others need to be mounted before being used.
Obviously on a boat you need to ensure that the grill can remain stable and that no not areas come into contact with other areas what won't be able to cope with the heat. Bearing that in mind, it's then important to consider if you have space for a grill to be securely stood on its legs or if it should be mounted.
Once you are sure that you can keep it safe and secure then any type of grill would be perfect you're your boat. They are generally smaller in size and easy to use and don't require a lot of fuel in order to be used.
Q: What Kind Of Fuel Should I Use?
A:
Propane is the method of choice for many portable grills due to the benefits that it has. Propane is very efficient at delivering the heat that you need for your grill but without using up its gas too quickly. Most of these grills only require a one pound tank so storage isn't too difficult.
Propane is a readily available gas and it's not in short supply meaning that its cost can stay low. There is no danger of this changing anytime soon so you know that you won't be burnt by paying much more inflated prices in the future.
It's also a safe gas to use and is very convenient and easy to store. One pound tanks are cheap and easily available and if you have a much bigger boat then you can also opt for a much bigger tank so you can take more time between refills.
Q: What Is Better Charcoal or Propane Boat Grill?
A:
While propane has plenty of qualities charcoal is the fuel that has long been used for being able to fire up that barbeque. Some people love the ritual of being able to build up that fire over time with a boat charcoal grill before you have the perfect amount of heat available. For some people this can be part of the charm of having a grill in the first place and there few options for that in this list.
Propane though by all other measure is better except for the price. With a charcoal grill aspects like being able to control it in windy conditions or having temperature control can be a lot more difficult. Once you have finished charcoal grills are a lot more difficult to clean and you'd also have to throw away the charcoals if they had burnt out.
There is also a safety issue as well. Charcoal grills are harder to manage and are more likely to get out of control. This is rarely a problem if you're on solid ground but on a  boat it obviously becomes a lot more of a problem. Charcoal though will cost slightly less over time but gas boat grill beats it in all other aspects.
Globo Surf Overview
Having top quality food on a boat can be a rare experience, especially if you're the type who craves warm food. Having a grill on your boat will be able to make your fishing trip more comfortable or it might be able to make your party even more memorable.
Where is no reason that you couldn't enjoy the comforts of home while you're out there on a boat. Whether that is being able to listen to your favorite music, spotting wildlife through a pair of binoculars or simply enjoying the delights of hot food, being on the water can be as enjoyable as you want it to be.
There are plenty of aspects to consider when it comes to a boat grill and one of the most important is how portable you want it to be. You might be the type who also wants a portable grill while you're relaxing by the pool or one on the beach while having fun with your friends and family, there are many options here which can easily switch between land and sea.
Size is important as you want to make sure that you don't get something that it too bulky for your boat and one that you're unable to secure and it's also important to get one that is well-made so that it is able to deal with the conditions that they may find themselves in.
After those key considerations it can then come down to a personal choice on what type of grill that you want. There are some very good looking models out there as well as ones that are a bit more practical. You also want to be looking for features that are going to be useful while you're out there such as how the grill is going to be protected from the wind.
While it may seem as the more traditional option to choose a charcoal grill, it doesn't have the same advantages that a propane grill is as the gas is a lot cleaner and easier to store. It is also safer as well as it will burn more evenly and is a lot easier to control. Added to that, it's also a lot easier to clean and doesn't leave such a mess behind. If you like our list of boat grills, you may also want to check our boating related articles such as marine gps, boat shoes, marine speakers, bilge pumps and marine batteries.
Grills are a brilliant option for your boat and thankfully there aren't too many technical things to consider before buying one. Perhaps the biggest thought needs to be given to where it is going to be and how it's going to be secured, once you know that then you can happily pick whichever one you prefer and attach it to your boat.
Hopefully this buying guide has helped to answer your question so you can make the perfect choice on getting the best boat grill for you and enjoying whatever warm food you want to cook on it.
More Boat Reviews:
Globo Surf Boat Grills Review
; ; ;
★★★★★
"
Boat grilling is my new favorite thing. The Magma Marine Kettle Gas Grill is my choice. Thank you!
"