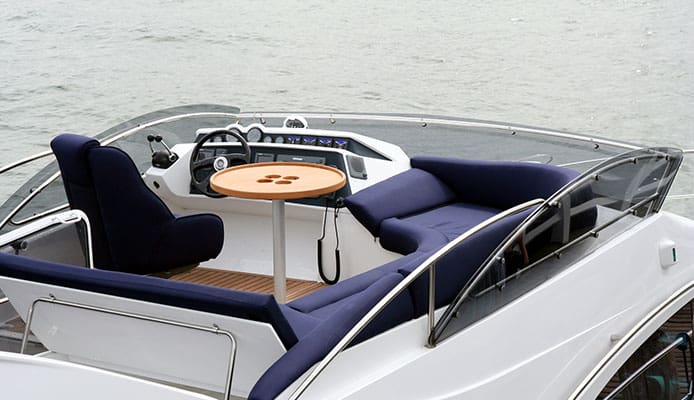 EDITORS CHOICE

---

BEST VALUE

---
When you're out on the water boating or fishing, you want to be as comfortable as possible. Having the best boat seats can make your time on the boat a lot more enjoyable. Whether you want to install new seats or replace old ones, we have completed boat seats reviews of the 10 best options on the market.
Finding the best folding boat seats requires paying attention to key features like comfort, material, durability, and support. We considered all these key features when making our selection, to bring you only the most comfortable options that can withstand boating conditions. If you would like to learn more about picking the right seat for your boat, be sure to read our buying guide further down.
How To Choose A Boat Seat – Buying Guide
Comfort
First and foremost, you want to ensure you choose a comfortable boat seat. A good seat will have a good level of high compression foam that won't be too soft that you sink into the seat and not too firm that you don't get the cushioning you need.
When choosing your seat, there are a few considerations to take into account, as they will affect comfort. If you're on a high-speed boat ride, you might want a sporty captain's bucket seat that might not be quite as comfortable because the bucket seat design will offer you a lot of sport.
Whether to get a low or a high back seat is another aspect to take into consideration and the ideal choice will depend on your needs. Overall, you want to not only get a comfortable seat but one that is going to match your boating situation.
Material
The materials the seat is made of are of very high importance as the seat will be exposed to the harsh marine environment. The frame should be made out of a high-quality material such as aluminum or high impact plastic. This makes the seat quite light but also strong and highly durable.
Metal hinges made of aluminum or steel are ideal and it's good to check that they're non-pinching as you don't want your skin trapped in them. The backing of most of these seats is made out of injection plastic. This offers a high degree of strength to support the whole structure and ensure the seat will last for a very long time.
Most boat seats covers are made out of vinyl. The reason for that is that vinyl seats are weather resistant and waterproof. These qualities ensure a boating or fishing seat remains comfortable for you to sit on no matter the weather. Vinyl is also easy to clean, making it a low-maintenance option.
Installation
While the installation of boat seats is usually fairly straight forward, it also depends on what type of seat you have. Before you buy your boat seat, it's important to confirm that the base will fit on your boat.  Most seats for boats come with a standard mounting base that's compatible with standard mounting pedestals. It's also always important to check the instructions before you install your seat. This will ensure that you install it correctly to avoid any issues.
Durability
Durability is a key issue when it comes to beat seats due to the harsh environment they are used in. Not only do they have to cope with the constant sitting down and standing up motions but they also can succumb to other factors.
Salt water is notorious for badly affecting everything in its path. When it comes to boat seats, it can rust the metal and ruin the fabric. This is why marine-grade vinyl is often used as it's highly resistant to what it will have to go through on a daily basis. The vinyl cover should also be treated to resist UV rays and mildew.
Stainless steel or aluminum hinges are ideal as they can resist rusting and remain strong for the life of the boat seat. You also want to make sure that high-quality plastic is used for the frame. Plastic is a material that can drastically differ in properties depending on its formula. The seats boat in our boat seats reviews are capable of withstanding the stress and pressures.
Type
When buying a seat for boat, there are different types to choose from. There are flip up boat seats that flip up for use and fold down when not in use. There are also swing back seats shaped like a bench. You can also opt to get a captain's bucket seat. There're also helm seats and fishing seats. You will also opt for either a low back or a high back seat. The right type seat boat to choose will depend on the type of boat you have and personal preference.  
You might also like: Top Marine Radars
Support
Boats seats should offer you a high level of support whatever you are doing. This is a crucial step if you are going to be sitting down all day cruising or fishing and also if you are more prone to having back pain.
You will want to make sure that you are getting an ergonomic high back seat that will offer you the high level of lumbar support you need. Some seats are designed to contour to your body, which will increase the level of support you get. If you're on a fast boat ride, you will want a strong supportive structure that will remain stable during the journey.
Connectors
Connectors are vital with these seats in order to ensure that they're going to be securely attached at all times. Before deciding on what boat seat to get, it's important to check what type of connectors it has and whether it's going to fit onto your boat. Most seats boats come with everything you need in order to get them properly connected to the pedestal.
Seat and Mounting Dimensions
To ensure you get a comfortable seat, you need to take into account the width of the seat and also the height and depth. Some seats are narrow while others are extra wide. Some sit low while other sit high. To ensure the seat will fit on the space you have on your boat, it's also important to check the mounting base dimensions. This is especially important if you plan on installing your seat in a tight space.
FAQs
Q: What Is The Difference Between Boat Seats And Boat Chairs?
A:
What differentiates the two is that boat seats require installation on the boat while boat chairs are portable and don't need to be mounted. Since boat seats are fixed to the mount, you can be safe and secure when moving around on the water or when you have your hands on the steering wheel. The best boat chairs are foldable for space-efficient stowing on the boat and ease of carrying to a fishing, camp or picnic site.
Q: How To Mount A Boat Seat?
A:
To mount a boat seat, place the mounting plate on the mounting spot and drill the screw holes if necessary. Add the bolts and position the new seat in place. Use bolts and screws to tighten it snug. The installation process will also depend on the specific seat you have. Be sure to check and follow the installation instructions you seat comes with.
Q: How To Clean And Maintain Boat Seats?
A:
Spray vinyl cleaner all over the boat seats and allow the cleaner to set for one minute. Using a soft brush or towel, gently agitate the cleaner to loosen the dirt. Use an old toothbrush to remove dirt from the edges and crevices. Wipe the loosened dirt using a soft cloth.
You can also use warm water, a couple of drops of dish soap and a clean sponge to clean the seats then rinse with clean fresh water and dry with a clean towel. To maintain your boat seats, apply marine vinyl conditioner a couple of times in a year and always cover the seats with a boat seat cover when you're not using the boat.
Q: How Do You Add Seats To A Boat?
A:
To add seats to your boat, you will need to mount them on the seat pedestal. Your new boat seat will come with a mounting base. Simply set this mounting base where you want to add seats. Inserts the bolts to existing holes or drill new ones. Place the seat in place and secure it using the mounting screws and bolts. It's also important to read and follow the installation instructions your seat comes with.
Q: What Are Boat Seats Made Of?
A:
The best material for the covering on boat seats is a marine-grade vinyl because it is weather resistant and holds up well to water exposure. The frame is often a strong injection molded plastic but can also be aluminum. Hinges should be made of a rust resistant material such as aluminum.  
Q: How Do I Cover Boat Seats?
A:
Remove the existing covers on your boat seats and use them as templates to cut the new vinyl covers you're going to be installing. Place the foam padding and seat base onto the new cover you just cut. Lean down and pull the vinyl tight and then staple it into place on using a carpet stapler. Do this on all the ends to ensure the new covers are nice and neat.
Q: Are Boat Seats Leather or Vinyl?
A:
Most boat seats are made of marine vinyl. This is because it has superior water resistance and can resist UV rays, mildew and mold. It's also a cost-effective material for boating seats. Vinyl seats are easy to clean and dry and comfortable in all weather conditions. 
Globo Surf Overview
Boat seats not only play an important role in the comfort levels of your boat but also the aesthetics. Having the best boat seat can make your boating experience more enjoyable and make your boat look like new once again. Before you get yourself some new boat seats, it's important to analyze your needs and where you plan on installing the seat so you can choose the best boat seat for you. 
More Boating Parts Reviews: