See Customer Owner Feedback >>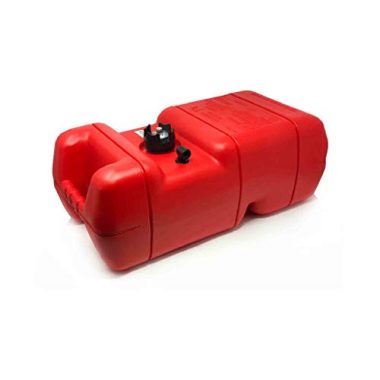 See Customer Owner Feedback >>
Having a fuel tank on your boat is a necessity for running the outboard motor. If you own a larger vessel you probably have a built-in fuel tank under the deck. However, because outboard motors can be installed on a smaller vessel too, you need a tank which can supply the juice. This is why there is a large choice of portable gas tanks.
Various capacities and designs are available, because you may not need the largest one but you need it to fit in a certain space. We featured some excellent but different products in our boat gas tank reviews, but be sure to also check out the buying guide to get more useful information on how to get the right one for your boat.
How To Choose The Best Boat Fuel Tank – Buying Guide

Since you decided you need a fuel tank, there are a few things you should look out for. In 2011 new regulations came to power, which specify that the fuel tank must have low emissions. For this reason it's important that the tank is EPA compliant.
Portability
This is very important, because you need to be able to take the tank on and off the boat, preferably by yourself. You must take it off the boat to fill it, and when bringing it back weight can be a factor. It's a plus if the boat gas can has a handle, because it makes your job somewhat easier.
Capacity
The capacity is closely related to portability. Most small tanks vary in capacity between 3 and 15 gallons. Let's be honest – 15 gallons of gas can be very heavy to carry. On the other hand, it can give your motor a substantial running time. The best boat gas tank will be somewhere in the middle – you can handle it alone and also enjoy some time on the water.
Size
Larger capacity correlates to larger size and with tight space on your boat, this can be a problem. Knowing that you often need other equipment with you (a battery, cooler or fishing gear), you need to place the tank somewhere out of the way. Some manufacturers offer different shapes with the same capacity. This way you can get one to fit into the space you have.
FAQs

Q: What Is A Boat Fuel Tank?
A:
It's a special tank you place on your boat which holds and supplies fuel to your outboard motor. As we've mentioned there are permanent and portable tanks. A fuel tank system requires a portable tank (made out of steel or plastic), a hose with quick-disconnect fuel fittings (on the tank and on the engine), a primer bulb (manually operated, to prime the engine) and straps to keep the fuel tank in place while on water.
Q: Is It Safe To Keep Full Fuel Tank On A Boat?
A:
Yes, fuel tanks are designed to be safe so there is no harm in keeping a full tank. However, it's advised that you fill it up to 90%, because if you fill it up all the way and the gas expands it can damage the tank. Fortunately, many outboard fuel tanks have vents which are designed to release the pressure. For example, Moeller will release when the inside pressure reaches 5psi. In any case, it's better to have more fuel in your tank when you're heading out, because you never know if you might need it.
Also, type of fuel you put in the tank can also play a role here, especially if it contains ethanol. If you're going to use it frequently it's not a big issue. If left for a longer period, ethanol absorbs moisture and sinks to the bottom of the tank. When the engine takes that water/ethanol mixture it can get damaged. Finally, be sure to take the tank off the boat when you're not using it, to prevent potential accidents.
Q: How And Where Do I Store The Fuel Tank?
A:
Be sure to follow the safety instructions given by the manufacturer, most need to be bottom-down. When you place it, it's not a bad idea to strap it down and stop it from moving. This prevents leaking and accidents while the fuel hose is connected.
Large aluminum tanks are placed under the deck, while the small marine fuel tanks are usually on the deck. You can place them wherever you find suitable – under the seat, in the rear of the boat or in some other space. This is why you should measure first to see if the product fits. Also, don't forget that the fuel line needs to be able to reach it.
Globo Surf Overview
A quality boat tank can last for years. It's important to get a reliable product, since it holds fuel which can be dangerous if not handled properly. Also, it's directly connected to your motor and it can cause damage if it's not working well. The best boat fuel tank should provide clean fuel, not present a potential hazard and be easy to handle and operate.
More Boat Reviews:
Have you tried a boat fuel tank that made it onto our list? Is it reliable and durable? How big is it? Please share with us in the comment section below.
Globo Surf Boat Fuel Tanks Reviews
; ; ;
★★★★★
"
The most detailed buying guide as always. You always help me choose the best products. Thank you!
"