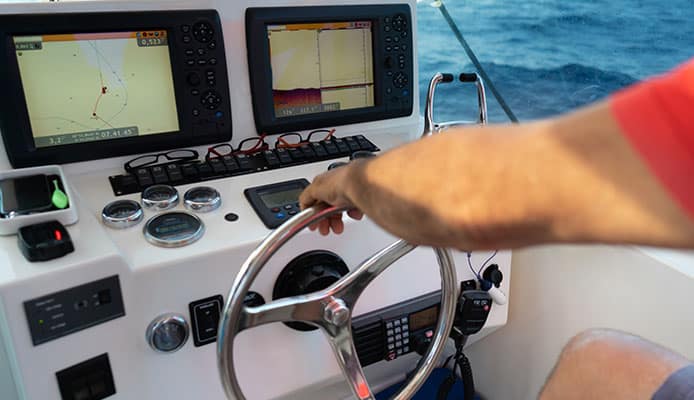 Spending time on the open water can be a great way to relax and have some time in the sun. A day on your boat lets you see new views as you glide through the water. While everyone hopes for great weather, perfect visibility can't always be expected. Investing in a marine radar will help prevent the risk of you colliding with other boats or objects in the water by alerting you to objects before you can spot them with marine binoculars.
A marine radar can be used to help you navigate when visibility is low, as well as scan for object in the water like fish. Modern marine radars often have electronic chart plotters and an Automatic Identification System (AIS). The stronger the marine radar, the better. The best marine radar will detect small objects, like dinghies and buoys, to ensure that you steer clear.
If you are lost at sea with deciding which marine radar to choose, our guide is here to help. We have selected 4 of the best marine radars and created a buying guide to help you determine which boat radar system suits your needs.
How To Choose A Marine Radar – Buying Guide

It is important that you choose a top rated boat radar to add to your navigation system. When it comes to your safety, you want the best performance from a marine radar system. To choose the best marine radar, you should consider a few key features before making a purchase, which can save you time, frustration, and money.
Power
The rule of thumb for marine radars is that the more power, the better. A marine radar that has more power will allow you to see farther and smaller objects. Power really is what determines how well your marine radar functions, more than the height of your antenna or the height of your target.
Poor weather conditions like rain, fog, and drizzle absorb energy and drain it from your marine radar, which means a reduction in the radar range. The stronger the marine radar, the better it will perform in poor weather. Commonly a radar for boats will have a power range of 4kW to 25kW. There may be smaller power ranges available, like 2kW, but you get what you pay for. A 2kW power range will give you a radar radius of about 24 nautical miles, which is extremely small. It's best to power up and get a bigger radar radius.
Technology
There are two technologies used in marine radar systems. One is older and one is newer. The older system is the traditional pulse radar and the newer is a solid-state or broadband radar. Pulse radars use high powered magnetrons to generate microwave signals with short pulses of voltage. Solid-state radars use FMCW (Frequency Modulated Continuous Wave) technology, which is more similar to a CHIRP sonar system.
Solid-state radars tend to be the more popular choice because they emit less radiation, have flexible installation, a better target resolution, no warm-up time, and have high maximum ranges.
Mounting
You will want to mount your boat radar in a place that gives it maximum range with minimum blind spots. However, you should always mount the marine radar system above head height, so that you and your passengers have minimal contact with the electromagnetic energy emitted. Normally, people mount their boat radar system at the highest point of the boat, where it has an unobstructed 360 degree view. You should avoid mounting your boat radar system near large masts, horizontal spreaders, or other solid objects because it can cause a blind spot for your radar.
You should also be sure that your model comes with a mounting kit. Most manufacturers will include a mounting kit in the purchase, however not all marine radars are sold with the same accessories. You can check before you purchase what is included in the box and if there is a mounting kit included. If there is not a mounting kit included, the same manufacturer or brand as the marine radar should have a mounting kit available for separate purchase.
Quality
Marine radars are expensive investments, that could end up saving your life. You want to ensure that you are buying the best boat radar that is high quality. You should look for the brand of the marine radar, which can help you determine if the device has high quality. You can also read marine radar reviews to get a feel for how well the system works and if it was durable or reliable.
Frequency of Use
The frequency of use will depend on what conditions you use your boat in. If you leave the top rated floating dock early in the morning or stay the night, you will want a marine radar with a higher power and more features to keep you safe. If you want to use your marine radar to go fishing, you should ensure that your model has a radar that can act as a sonar system to locate fish.
If you aren't out on your boat in the early mornings or late nights, you should be able to invest in a marine radar that has just the essential features. Most entry-level marine radar systems will have you safely navigating in poor weather and around object without forcing you to pay for features you will not use.
Weight and Size
The weight and size of a marine radar may affect your decision in which model to buy. You should always ensure that your marine radar fits your boat, before you actually install the technology. Some marine radars will not fit properly in the space you want to mount it, so you should find a model that has the features and size you need.
Marine radars can also be heavy. You want to ensure that where you mount it can safely support its weight, without risk of it falling off. Smaller marine radars will have less weight and may be able to be mounted on a mast.
Height
Most marine radars are reasonable in height, but you should always be aware of how tall your marine radar is to ensure you don't accidentally run it into anything while you are cruising around. Another aspect of height that is important is the height of the antenna. The height of the antenna will be a factor in how far your marine radar can see.
Marine radars are normally limited in sight by the curvature of the Earth's surface and the height of the target, but the antenna can help your radar see further. However, if you need a radar for small boats you shouldn't invest in a long-distance model because your boat won't have the height needed for the radar to see its maximum distance.
Beam Width
Most marine radars will pulse with a broadcast range of 1-6 degrees. The narrower the beam width is the more fixated the vibrations of the radar become. A narrower beam width will give better results in terms of the differentiation of targets and more precise bearings.
However, keep in mind that a narrower beam width will restrict visibility in close quarters because the minimum beam with correlates to the minimum target width.
Multi-function System or Stand-alone Radar?
A multi-function system may have a few more features that you prefer but are more expensive. Multi-function systems have color displays. They also can save you space while still providing a broad spectrum of abilities. They are also better at covering your electronic charts. Keep in mind, that if one part of your multi-function system doesn't work, the entire device will not work, even the radar.
Stand-alone radars are great if you have a preference for dedicated displays and don't mind seeing without color. They also have less features that can fail, which means you will more consistently have a functioning radar.
FAQs

Q: What is a marine radar? How do they work?
A:
A marine radar is a system made specifically for ships and boats to detect other ships, boats, land obstacles, or objects in the water. They specifically can be used for collision avoidance, which keep your boat safe. Most marine radars are built for use in the ocean and some have multiple features, and acts like fish finders, in the same device. They are an important safety feature for your boat alongside your other safety devices like marine speakers, VHF marine radios, and marine GPS systems.
Marine radars use electric signals and a rotating antenna to send out narrow beams of microwaves across the surface of the water. If there are object in the water, they disturb the narrow beams and show up scanned into the radar as an obstacle to avoid. However, some radars can help you find objects, like fish, too. Marine radars will also need a power source, which comes from your marine batteries that run your boat.
Q: Does a marine radar come with HD transducer, cables, and mounting kit?
A:
Yes, the majority of marine radars will come with an HD transducer and cables. It will be depending on the manufacturer and model of your marine radar on whether a mounting kit is included. Not all radars come with the same accessories upon purchase as it varies by brand and model. You can check before you purchase what is included in the box. It should be indicated on the packaging whether a mounting kit is included and if it isn't, it should say how you can purchase that separately. You can also check the website of the products to see what is included or where to purchase all the parts you need for your marine radar.
Q: How to maintain a marine radar?
A:
In general, marine radars are built tough. They should be made of materials that are anti-corrosive and resistant to the changing weather conditions and salt of the ocean. However, you can maintain a radar for boats, sailboat radar, and yacht radars as you would your vessel. The radar shouldn't need to be cleaned often, but a quick wipe down can keep it looking like new.
It is important that you ensure you have properly mounted your marine radar to eliminate any problems. If you ever have problems with the wiring or hardware of your marine radar, it is best to consult the user's manual or guide. If you aren't confident in fixing the problem, contact the company or someone certified to do repairs.
Globo Surf Overview
On the water, the unexpected can happen. With all you need to know about boating safety, a top rated boat radar can help you avoid any collisions and help you maintain a safe voyage. By investing in a marine radar, you can scan the water ahead and be certain of your location. The best marine radar will even have extra features that can help you have the best time on the water.
More Boat Reviews:
Do you own one of the marine radars that made it onto our list? Let us know how it has worked for your outdoor needs in the comments section below.
Globo Surf Marine Radars Reviews
★★★★★
"
Great guide. I equipped my entire sailboat following only your guides. Thank you!
"