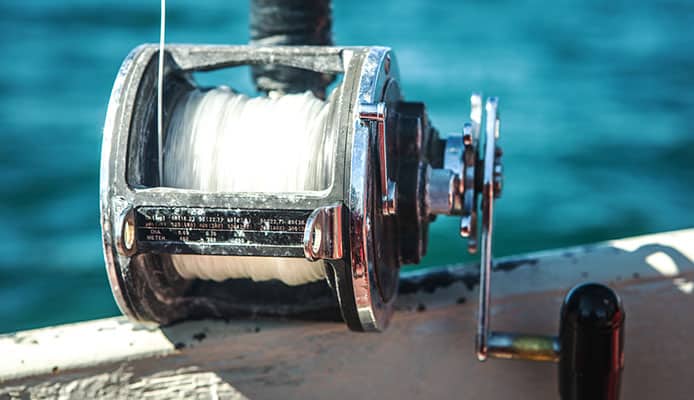 OUR TOP PICK

---

EDITORS CHOICE

---
When you hook up a tuna, its first instinct will be to go down into the water and escape you. It is going to be a hard and long fight to bring it in. Arming yourself with the best reel for tuna fishing will tip the odds in your favor. Below are 10 fantastic big game reels that have what it takes to bring in tuna and can withstand saltwater abuse.
Whether you're going to fish for skipjack, bigeye, albacore, yellowfin or bluefin tuna, you will find the perfect tuna reel for you among these top rated tuna fishing reels. If you're not sure what reel to pick, be sure to check our buying guide right below the reviews for choosing tips.
How To Choose A Reel For Tuna Fishing – Buying Guide
Tuna species range from 30-pounders like blackfin to giant bluefins that can grow as heavy as 1,400 pounds. There are also different techniques for catching tuna from trolling fishing to casting. This means that there's no one reel that suits all tuna. Careful consideration is essential to choose the right reel for the species you target or are likely to land. As you choose what tuna reel to get, pay attention to the following factors:
Design
Tuna fishing calls for a sturdy reel that can handle heavy fish without flexing. The handle and the gear shifting mechanism (for two-speed tuna reels) should be easy. It also doesn't hurt to have a gorgeous reel that is envied by other fishermen. Furthermore, an impeccably machined reel looks good even on the outside.
Weight
To be able to handle the tough battles, a tuna fishing reel should have a beefy build. This means that it will have some weight to it. However, it shouldn't be too heavy that it exhausts you in the midst of fights, which can even go on for one or two hours. Here are the best materials that strike the right balance between strength and weight.
Material
For the frame, side plates and spool, high-quality aluminum and graphite are the ideal materials. These are lightweight yet high-strength and can resist corrosion. Tuna fishing is saltwater fishing and the gears and bearings should also be made of strong and corrosion-resistant materials such as stainless steel.
Frame
As the body of the reel, the frame determines how strong, how effective and how durable a reel is. It should be strong enough to hold all the components of a reel, rigid enough to work well when handling heavy fish and also lightweight for ease of use. Frame materials that meet the strong yet lightweight criterion include graphite, aluminum, and composite materials. One-piece construction is ideal.
Gears
For a silky smooth operation even when battling heavy fish, choose a saltwater reel equipped with gears made of a high quality and corrosion-resistant material such as stainless steel. The gears should also be precisely aligned. A 2-speed reel is great as it gives you a higher gear ratio for when you want speedy retrieval of line and a low gear for when you need plenty of torque to haul heavy fish to the boat.
You might also be interested in:
Handle
Be sure to assess the handle as well. Tunas fight hard and don't give up easily, battles with this species of fish can drag on for hours and your hands will appreciate an ergonomically designed handle with a comfortable non-slip grip. Pay attention to the handle design and orientation and what kind of grip it offers. If you expect to catch heavy tunas, a handle with an offset power grip will give you comfort, control and leverage.
Spool
To be able to withstand the heavy drag pressures when battling tuna, the spool should be solidly constructed using a high-strength material such as cold-forged and machined aluminum. Deep sea fishing reels for tuna should also have spools with a large line capacity in order to accommodate tuna fishing line sizes.
Bearing
High-quality, high quantity, and corrosion resistance are the three requirements the bearings in tuna fishing reels should meet for a silky smooth operation and durability. An anti-reverse bearing that eliminates back play is also a great feature in a tuna reel. Stainless steel is a great material for bearings as it is resilient and can withstand corrosion by saltwater. Sealed or shielded bearings resist rust and corrosion even better.
FAQs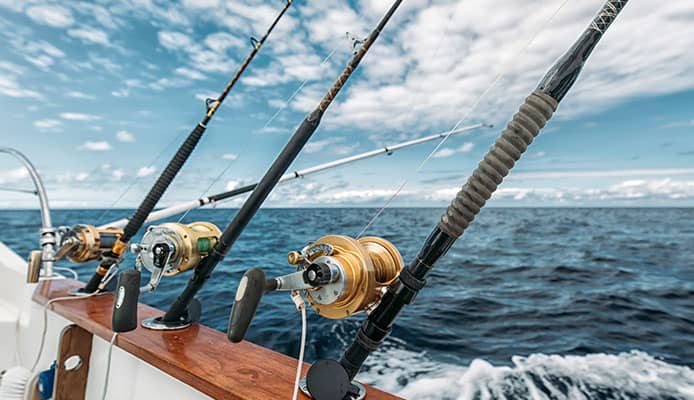 Q: How Much Does A Tuna Fishing Reel Cost?
A:
Prices for tuna fishing reels range from under $200 to over $1000. Large, powerful and high-strength yellowfin and bluefin tuna fishing reels can be really expensive. The best tuna fishing reels under $200 also offer great quality and performance making them incredible value for money.
Q: What Gear Do I Need For Tuna Fishing?
A:
To catch tuna, you need a tuna fishing reel and rod, high-strength fishing line, live bait or lures, hooks, sinkers, and balloons. You also need a fishing gaff to stab and lift the tuna aboard the boat. Tuna fishing gear should be strong enough to handle the hard fighting and fast swimming fish.
Q: What Kind Of Fishing Reels Do They Use On Wicked Tuna?
A:
The anglers on Wicked Tuna fish for Northern or Atlantic bluefin tuna, a tuna species that can weigh more than a thousand pounds. They use heavy-duty bluefin tuna fishing reels that can withstand the strong fight bluefins put up and are powerful enough to haul a `cow'.
Globo Surf Overview
Tuna are among the strongest, fastest and hard fighting fish thanks to their muscular and streamlined bodies. They put up a strong fight and will really test the strength of your reel. The best reel for tuna fishing is equipped with a spool with a large line capacity, high-quality bearings and gears, powerful gear ratio, and powerful and smooth drag. The reel should also feature corrosion-resistant materials and components for strength and durability yet still be lightweight to not tire you. The reels in our reel for tuna fishing reviews are impeccably engineered and meet these criteria.
More Fishing Reviews:
More Reel Reviews: