Beach cruisers are back in fashion since the late 90s, and their popularity doesn't seem to be fading any time soon. From our point of view, their secure spot as crowd favorite is well-deserved: the best beach cruisers are known for being more comfortable to sit on and easy to ride than classic bikes, they look better and can also be more affordable, on average.
If you're considering getting one for yourself this year, then you'll definitely appreciate this top we've put together to help you find the best beach cruiser bike for your needs. We will look at the famous comfort of beach cruisers, at their retro or modern looks, the unique perks for functionality and speed options, and the customized features of each model.
Hopefully, at the end of our best beach cruiser bikes of the year top, you will be able to choose the option that fits you best, or at least to have a better idea about the things you should look for in a beach cruiser. There are many amazing models out there, so choosing just 10 was difficult. Despite of the close calls and the intense competition between the latest models, we believe we've really chosen the best of the best.
Sixthreezero EVRYjourney Women's Hybrid Beach Cruiser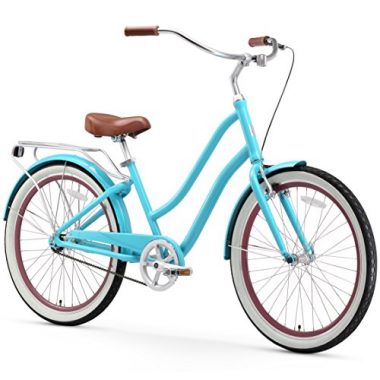 See Customer Owner Feedback >>
What Makes This Beach Cruiser Stand Out

Gorgeous and varied color options and matching fenders

Every element is designed for extra comfort

Rear rack for baskets and panniers (optional)

Will perfectly fit most adults

Very affordable for its level of quality
View More By sixthreezero »
Sixthreezero Around the Block Women's Beach Cruiser
See Customer Owner Feedback >>
What Makes This Beach Cruiser Stand Out

Rear rack for baskets and panniers (optional)

Will perfectly fit women and adults of most heights

Classy looks with blacked-out details for extra style

Front handbrake and rear coaster brake

Extra comfort design plus adjustable height and angles
View More By sixthreezero »
Firmstrong Urban Lady 26-inch women's Beach Cruiser
See Customer Owner Feedback >>
What Makes This Beach Cruiser Stand Out

An optional rear rack for baskets and panniers (to be bought separately)

Easy to use coaster brake system

Easy to assemble (comes 80 percent already assembled)

Pretty colors and matching fenders
View More By Firmstrong »
Margaritaville Coast Is Clear Women's Beach Cruiser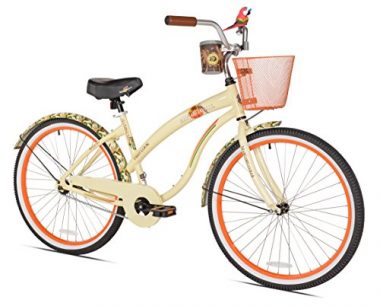 See Customer Owner Feedback >>
What Makes This Beach Cruiser Stand Out

Front positioned wire mesh basket perfect for groceries or bag

Cup holder for taking your favorite drink along

Classy looks with whitewall tires and coastal-themed stickers

Easy to use breaks

Extra comfortable saddle and grips
View More By Margaritaville »
Firmstrong Urban Man Beach Cruiser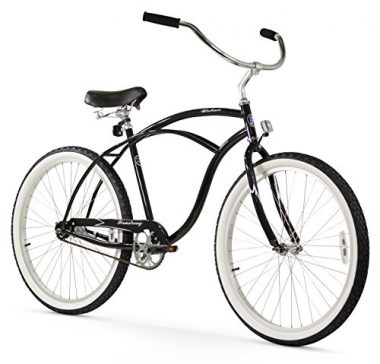 See Customer Owner Feedback >>
What Makes This Beach Cruiser Stand Out

Comfortable seating and tires

Easy to use breaks

Will fit most men (all with a height between 5 feet, 4 inches and 6 feet, 2 inches)

Multiple color options and speeds options
View More By Firmstrong »
26″ Huffy Nel Lusso Women's Beach Cruiser
See Customer Owner Feedback >>
What Makes This Beach Cruiser Stand Out

Comfortable seating, paddles, handles and tires

Exquisite colors, from the fenders down to the tires themselves

Embroidered comfy saddle

One speed option, perfect for town use and commuting

Easy to equip rear rack for secure storage
Schwinn Destiny 24-Inch Beach Cruiser
See Customer Owner Feedback >>
What Makes This Beach Cruiser Stand Out

Comfortable seating and ride

Extras available in the same pink hue (basket and bike bell)

Perfect for casual rides through town

Fenders protect you from rain
Critical Cycles Chatham Men's Beach Cruiser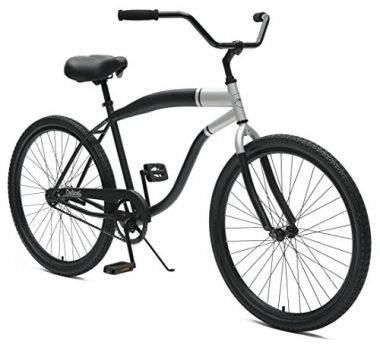 See Customer Owner Feedback >>
What Makes This Beach Cruiser Stand Out

Comfortable to use seat, brakes and kickstand

Retro looks and classy vibes

Multiple color combinations available

Strong bike foundation that will last for years

3 speed options to choose from
View More By Critical Cycles »
Schwinn Ladies Perla 7 Speed Beach Cruiser
See Customer Owner Feedback >>
What Makes This Beach Cruiser Stand Out

Comfortable wide seat and handles

4 pastel color options to choose from

Quick and easy to use brake system

Easy to shift between the 7 speed modes

Pretty sturdy for a women's beach cruiser
Kulana Men's 26-Inch Beach Cruiser
See Customer Owner Feedback >>
What Makes This Beach Cruiser Stand Out

Easy to assemble, though you have to do it yourself

Flawless paint service and metal work

Sturdy foundation and frame

Easy to ride, adaptable to various ride styles
How To Choose A Beach Cruiser – Buying Guide

Things to consider before buying a beach cruiser bike
Feeling lost among too many options to choose from? Don't worry, we will now explain the main factors to consider before choosing a beach cruiser bike, and what exactly you should watch out for in each of these respects.
Design
If you choose your beach cruiser bike well, you're going to ride it so much around town that it will become an almost permanent part of your apparel. This is why paying attention to the design of your beach cruiser isn't just a whim or something reserved for the lady bike riders alone. Since you're going to see you bike for so much time (and be seen on it), you'd better make sure that its colors and design really match your preferences and make it fun for you to use.
Luckily, the design of the best beach cruisers has come so far that most of the models we've seen this year are quite stunning. It's not just the fascinating, perfectly balanced colors, but it's also the curvature of the lines in the bike's frames, the shape of the handles and the overall look. All these factors can create a lasting impression on you, even if you can't put your finger on what detail in particular is tipping the scales.
One of the most remarkable features of today's best beach cruisers is the colored tires. Call us biased, but if we were to get yet another beach cruiser bike right now, this would probably be the detail to get us hooked onto a model first and foremost. There's just something special about tires that come in some other color option than the ubiquitous black, though it's true that they may also be more high-maintenance.
Quality
Shoddy craftsmanship can take a toll on bikes, and since you're going to support your entire body onto your beach cruiser, it would better be a reliable contraption. But how can you tell if a bike is well-crafter or not? Well, there are some indicators of a bike's quality, and they are more or less universal across all bike types.
The first clue you have is the price of the beach cruiser you are considering. Even though there are some reliable and comfortable budget options out there, it's predictable that the best beach cruisers aren't usually the cheapest. Up to a certain point, the higher the price tag on your beach cruiser, the better its quality is going to be.
Another clue is the cruiser bike reviews from previous customers. Scan them before taking the final decision and keep an eye out for red flags, so you know the worst-case scenario to expect from your future bike. If you're weighing your options among the top-rated beach cruisers on the market, you can be pretty sure than you're safe as far as quality is concerned.
This quality factor isn't an abstract notion, it will be experienced by you directly across the entire lifespan of your bike. For instance, this life span is going to be a short one if the quality is poor. Also, a better-quality bike is more comfortable and easy to use than those of lesser quality.
So, if you can afford it, you should always go for the best beach cruisers in order to save yourself the trouble of discomfort or of having to replace you bike too soon (which would of course lead to more spending). When you think about it like that, it's really a wiser investment to go for a higher-quality beach cruiser.
Comfort
Comfort is perhaps one of the most important decision factors when shopping for a beach cruiser bike. The more comfortable it is, the better, especially since this is the whole point of cruiser bikes (to be more comfortable than classic bikes or adventure bikes). But comfort comes in many shapes and sizes, so there are other things to consider about it.
Durability of the comfort features is one of the things you should consider, especially if you're investing in a higher-end bike. Foam might be more comfortable than rubber when it comes to padded bike handles, but it might also break away easier than a layer of rubber. You should also verify that the saddle of the bike can be replaced after a while should its comfort wear off with use.
Price
Our opinion is that a bike, whether it's a classic model or a beach cruiser alternative, is a long-term investment. You're not going to change your bike every couple of months, so why not go for the best your budget can afford? Of course, this doesn't mean splurging when you have other money priorities or paying extra for options that don't really do much for you.
Ideally, you should see if the best beach cruisers for your needs are within budget range and go for the one that suits you best. You should be looking at the number of speeds well-suited for intended use, at the level of comfort and resistance, and, of course, at how the beach cruiser bike looks like and how well it suits you style.
FAQs

Q: What Size Beach Cruiser Do I Need?
A:
The answer to this question depends mostly on two factors: your height and your preferences. For most of the top-rated beach cruisers, the product description clearly states the supported heights of the rider. If you really like a model but your height is a little outside the interval announced in the product specifications, don't worry: a bit of tweaking at a bike service workshop should be able to fix the problem. Still, if this is the case, it would be recommendable to inquire for this possibility at a local service before you actually buy the beach cruiser bike you fancy.
The second factor to consider is your preference for the height you are riding at. Since you're looking into beach cruiser options you obviously prefer riding in an upwards position, which is easier for your back and neck. But what about the height of the ride itself? Some people enjoy the tall feeling given by a bike which lifts them higher above ground, while other prefer a lower one, which may be easier for maintaining balance.
If you're not sure what you prefer, you can always head out to a mortar and brick bike store and try out a few different models until you get that gut feeling that says 'this one's for me'.
Q: How to Put a Beach Cruiser on a Bike Rack?
A:
We understand why this might be a confusing task for all of you who haven't put a beach cruiser on a bike rack before. This is because bike racks have been designed for traditional bikes, and an angled bike such as a beach cruiser doesn't seem to fit in properly. The front tire will be closer to the ground compared to classic bikes, and if you're going over rough terrain there might even be some chance for your beach cruiser to fall off the rack.
This problem is easy to solve by using adaptors, available from various bike gear suppliers, both online and offline. Alternatively, you can also solve the problem without any adaptors, provided that you have multiple bikes to mount on the rack and that they are all alternatively angled (which means they are for kids or they are beach cruisers). This second solution requires you to turn a 3-bike rack for classic bikes into a 4-bike rack for alternative bikes. It might sound complicated but it's more doable than you think, if you follow the step by step guide.
Globo Surf Overview
All in all, getting yourself a beach cruiser bike might be among the best decisions you ever make as a city dweller. If you use your new acquisition for commuting, especially, you will do a world of goo to yourself, to the environment and to the city's traffic choke points. Not to mention how easy to ride these bikes are and how classy they look!
Since having a reliable and comfortable bike should be a long-term investment, we would recommend going for a more upscale beach cruiser choice. Still, everyone has different priorities, so we strived to paint a fact-based picture for you in objective terms. This way, we hope that you will be able to choose the best beach cruiser bike for you needs, budget and preferences.
More Beach Reviews:
Have you ever ridden a beach cruiser yourself or are you just considering trying one for the first time? What kind of beach cruiser do you have, if you already own one? Where do you plan to ride your beach cruiser to? Share your experience with the Globo Surf community in the comment section below.