OUR TOP PICK

---

EDITORS CHOICE

---

BEST VALUE

---
If you wish to shake that pale winter look and feel confident showing your skin in the summer, tanning is a fantastic option. However, it can often take too long, not to mention the nasty sunburns you often have to endure along the way. To make tanning quicker and more enjoyable, all you need is a good tanning oil.
By attracting more UV rays to the skin, tanning oils significantly speed up the process of getting the tan you always wanted. The UVA rays stimulate melanocytes in the skin to produce melanin – a pigment that gives your skin the beautiful 'sun-kissed' color.
But how do you choose the right tanning oil? Well, you should pick it based on your skin type and the ingredients it contains. If this seems complicated, our buying guide will walk you through the selection process. But first, check out our list of high-quality tanning oils that will have your skin looking better than ever.
How To Choose A Tanning Oil – Buying Guide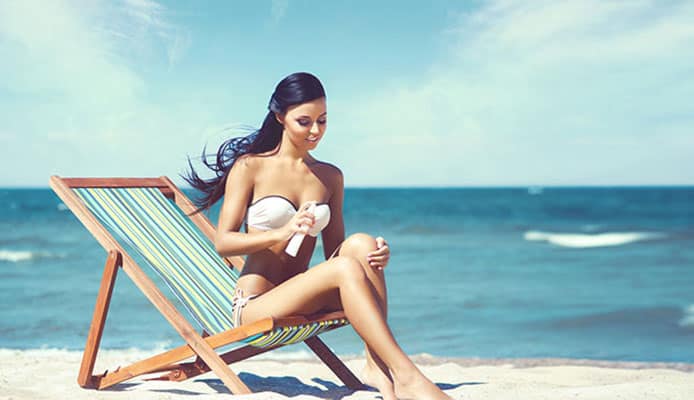 We can all agree that tanned skin looks great. However, the amount of time you need to spend in the sun to get it can have some very harmful effects. This is why the best tanning oils are designed to help you get that bronze tan you desire much faster. Take a look at what you should consider while shopping.
Time of day
Considering the time of day when you plan to go out in the sun is very important. Sun is stronger in the afternoon, meaning that you'll need some form of sunscreen to go with the oil. On the other hand, early morning hours (when UV rays are not very strong) are usually safe for using just the oil with lower or no SPF.
Type of tanning oil
Tanning products come in different forms: lotions, oils, and serums. Generally speaking, oils sit on the skin really well and absorb fairly quickly. Compared to the rest, they are usually much faster at providing you with a nice tan. Be careful, however, because they can stain your clothing if not given enough time to be absorbed.
For easier use, we would advise that you buy the oil in a spray bottle. Whether you need a self tanning oil or a product you can use on the beach, the tanning oil is one that you can apply quickly and evenly.
Time in the sun
The amount of time you spend out in the sun will influence the process of choosing the oil for tanning. If you spend long hours in the heat every day, the tanning oil for you is a product that stays on the skin for a long time after application. Also, this requires that the oil has a higher SPF (or that you combine it with another form of protection).
You might also like: How Does Tanning Lotion Work?
Ingredients
The best tanning oils are made from completely natural ingredients. These often include Aloe vera, coconut oil, shea butter, vitamins A, C, and E, and many others. Going with more natural products will prevent any skin irritation or damage (which some chemicals like parabens could induce).
While on this topic, you also need to check the SPF (Sun Protection Factor) of the oil you like. This can range anywhere between 0 and 15. Keep in mind that tanning oils are designed to give you a tan and not protect your skin, so even the best sun tanning oils often have 0 SPF.
Because of this, it's important to find the right SPF for your skin (usually done with a sunscreen). While you want a great tan, you don't want sunburns or skin damage in the process.
Skin Type
Tanning oils are often manufactured with a particular skin type in mind. For example, dry skin requires a more unctuous oil to keep it hydrated, while oily skin works great with the best suntan lotion for tanning.
On top of this, light or fair skin burns quickly and takes longer to tan. So, a longlasting oil with a high SPF will work better to create enough time for a tan. On the opposite end, people with darker skin can rely on lower-SPF oils for faster results, as the risk of sunburn is much smaller.
Skin Conditions
Many skin conditions will affect the choice of your oil. As you probably know, some people are more sensitive to certain ingredients than others.
For example, a person suffering from eczema should find an oil that helps hydrate the skin and moisturize it. Similarly, people who suffer from allergic reactions should go for a more natural product with fewer chemicals and additives.
FAQs
Q: What is Tanning Oil?
A:
A tanning oil is just that – an oil that facilitates a faster tan. By allowing the skin to absorb sunlight more efficiently, it increases melanin production (responsible for darkening the skin). Besides improving absorption, many products also block harmful UV rays.
Take caution, however, and don't replace sunscreen with tanning oils, as they have different roles to play. While sunscreen protects you from harmful UV rays, oils make your skin more responsive to sunlight (though some can block UV too).
Q: What is Tanning Oil Made of?
A:
Going from one tanning oil to the next, ingredients can be very different. However, all of these are blends of various types of oils that boost your skin's tanning potential. Some of the more common ingredients include:
Avocado oil

: Rich in vitamins and fatty acids, it's superb for healing damaged skin. It's tremendously hydrating and fantastic for dry skin.

Olive oil

: Rich in vitamin E, making it a perfect antioxidant. It is very effective against UV rays and delivers a gorgeous dark tan.

Almond oil

: Full of antioxidants, it helps eliminate harmful free radicals. It's deeply hydrating and improves the tone and look of your skin.

Coconut oil

: A superb moisturizer, it's fantastic for dry skin. It's great for outdoor use because it prevents your skin from losing excess moisture in the unforgiving sun.

Aloe Vera

: With its soothing effect, it nourishes the skin and prevents sunburn. It's a natural moisturizer that heals damaged skin (necessary for long sun exposure).

Argan oil

: Made from Moroccan Argan tree seeds, argan oil fantastic for keeping your skin soft and hydrated at all times.

Cocoa butter

: A veggie fat produced from cocoa beans. It's a great antioxidant and significantly boosts UV protection.
Corn oil: It's mostly known for its natural capability to intensify your skin's tan (same as carrot oil tanning components). Being rich in linoleic acid, it boosts blood circulation and promotes melanin secretion.
Q: Are Tanning Oils Dangerous For You?
A:
o, tanning oils are not dangerous, as long as you follow a proper skincare routine. For instance, we already know that sun tanning comes with a high risk of absorbing harmful UV rays. Therefore, we should use sunscreen to protect ourselves.
Do not use oils to replace your sunscreen – think of the oil as an addition, rather than a replacement. You should always use the oil in conjunction with sunscreen when you are out in the sun. Otherwise, you're in danger of harming your skin if it's exposed for longer periods.
Q: Which Is The Ideal Tanning Oil To Apply?
A:
There is no single oil that can be said to be the best sun oil for every person – different skins will love different products. Also, many other factors come into play when selecting the best tanning oils for holiday (sun protection, texture, scent, etc). Therefore, you need to do a proper assessment based on all the information before you settle for a product.
Q: How Can I Get a Tan Safely?
A:
While you can't avoid the risks completely, there are a few steps you can follow to gain great results while minimizing the risks. Here's what you need to do:
Exfoliate your skin before going out in the sun

Generously apply sunscreen on the whole body

Avoid overexposing yourself to the sun (spend more time out in the mornings and evenings)

Wear protective clothing like a hat and sunglasses whenever you are out
Q: Can a Sunscreen and Tanning Oil be used together?
A:
Yes, they can and they should – that is the right skincare regime. You should avoid using even the best outdoor tanning oil without sunscreen. While many people think that sunscreen inhibits tanning, the opposite is true – the sunscreen only blocks the UV rays but does not prevent the body from producing melanin.
Q: What is The Purpose of a Tanning Oil?
A:
Tanning oil is used to improve the responsiveness of your skin to sunlight. This helps it produce more melanin, giving it a tanned appearance. To further improve this, many products contain extra melanin as a supplement to the melanin produced by your body.
Globo Surf Overview
When going out to catch a tan this summer, be sure to bring a bottle of tanning oil with you. Not only does it help obtain a smooth dark tan, but the best tanning oils also help moisturize and nourish your skin.
Choosing a product from our list is sure to keep your skin well-hydrated and refreshed. Make sure to use the oil responsibly (with sunscreen), and you'll enjoy a great new tan in no time!
 Beach Tanning Guides: