The summer brings the sun, and with it a whole hoard of outdoor activities, so many people choose to wear shorts or swimwear for most of the season. In order to shake that pale winter look and feel confident showing skin in the summer, tanning is a popular option. To speed up the tanning process and get that perfect summer glow in time to hit the waves, tanning oil can be used to attract and focus UV rays onto the skin, accelerating the melanocytes' ability to produce melanin – the pigment that gives your skin color – and ultimately makes your skin darker.
While the sun can provide a beautiful, natural tan, there are some health risks associated with acquiring a tan this way. For this reason, we need to be careful as we venture outside, and make sure to stay hydrated and keep our skin protected. Too much exposure to the sun can cause us both short-term and long-term harm. The harsh UV rays can cause premature aging, sunburn, or can even lead to cancer. For this reason, tanning oil should be used with caution!
How To Choose A Tanning Oil – Buying Guide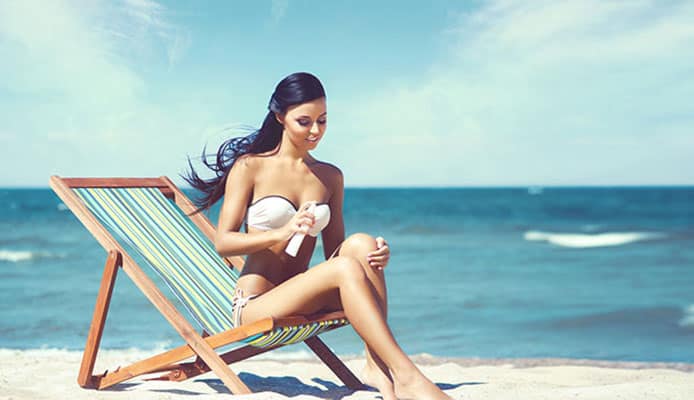 Many people use tanning beds to get their summer tan, both to create a base tan for natural tanning, and to create their summer tan. The downside to this is that you have to be cooped up inside and you do not get the natural vitamin D which the sun provides. Instead, some tanning oils can provide protection from UV rays while still allowing the sun to gently tan your skin. You should still be careful when out in the sun, but there is not as much risk when you have a protective layer on your skin.
Inadequate skin care could have detrimental effects on your health, and excessive exposure to the sun could have unpleasant long-term effects.
As badly as want that tan, it is imperative that you take good care of your skin. This calls for proper care and attention to help you settle for the best tanning oils which will offer you optimum protection.
The following factors will guide you as you shop.
Time of day
It is important that you consider the time of day that you are going to be out in the sun. This will help you to know the amount of sun protection factor you need. The early morning hours when the sun is not very hot may require oil with lower SPF, compared to the unforgiving noon sun, and beyond.
Type of tanning oil
Tanning oils come in different forms: sprays, lotions, oils, and serum. Generally, oils sit on the skin better and attract the sun rays more than sprays, lotions, and serums. But they get messy and stain your clothes if not given enough time to be absorbed.
Sprays are more convenient; they are not messy and hardly spill. In addition, they do not stain your clothes. If you want the best tanning oil that you can apply and go, your choice should be a spray.
Time in the sun
The amount of time you spend out in the sun will determine the tanning oil that will work best for you. If you are spending long hours in the heat, you definitely need the best tanning oil that lasts for a long time after application, and also with a higher SPF.
Ingredients
The best tanning oils are made from natural ingredients such as Shea, Aloe, and coconut. This allows for maximum blending without leaving an awkward greasy look. Natural products are less likely to affect the skin and cause breakouts
Also, make sure to check the SPF level oil contains. They can range anywhere between 0 SPF and 30+. It is important to get the SPF level that is right for you. While you want a great tan, you don't want to damage your skin in the process.
Skin Type
Tanning oils are manufactured with skin type in mind. Dry skin will require a more unctuous oil to keep the skin hydrated. Oily skin will work best with a cream.
Light or fair skins burn quickly and take longer to tan. An oil with a high SPF will work better to create time for a tan. At the opposite end, people with darker skin can rely on lower SPF as the risk of a burn is less.
Skin Conditions
There are many skin conditions which will affect the choice of your oil. Different ingredients react differently with different people. A person suffering from eczema will want an oil which helps to hydrate the skin and moisturize it. People who suffer from allergic reactions would want to go for a more natural product with fewer ingredients and additives.
FAQs
Q: What is Tanning Oil?
A:
Tanning oil is just that – oil which facilitates a faster tan. The production of melanin is increased, which is responsible for darkening the skin. The oils also intensify the absorption of the sun's rays while also blocking harmful UV rays.
Caution should be taken not to replace sunscreens with oils as they have different roles to play. While sunscreen protects your skin from harmful UV rays from the sun, oils make your skin more responsive to the same rays (though some can block UV too).
Q: What is Tanning Oil Made of?
A:
Different oils are made with different ingredients. But one primary ingredient is, well, oil. There are various carrier oils that are common in almost all oils.
In selecting the oil you want, you will have to consider the oils that are present, the SPF, the scent, and your skin type, among other things.
Some of the oils that are used in oils include:
Avocado oil is rich in vitamins and fatty acids, which are superb for healing damaged skin. It is tremendously hydrating and great for dry skins.
Olive Oil is rich in vitamin E. This makes it a perfect antioxidant. It is effective in offering protection against UV rays as well as fighting any other rays which may reach the skin, reducing the damage caused. It delivers a gorgeous tan while at the same time provides sufficient moisture to the skin. If you want a darker tan, olive oil will give you exactly that.
Almond Oil is full of antioxidants. It also helps get rid of harmful free radicals. It is deeply hydrating and improves the look of your skin. Almond oil is also a great skin toner.
Coconut Oil is a superb moisturizer, therefore, good for dry skin. It is also great for the outdoors as it will prevent your skin from losing excess moisture in the unforgiving sun.
Aloe Vera is full of antioxidants, which prevent you from sunburns and long-term problems. The best part is that the protective layer provided by Aloe Vera does not clog your pores, and will, therefore, not cause skin breakouts. It has a soothing effect on damaged skin and facilitates repair of your skin. It is a natural moisturizer with vitamins A, B, C, and E.  This ensures your skin is deeply hydrated even after exposure to the sun for prolonged hours.
Argan Oil is made from seeds of the Moroccan Argan tree. It keeps your skin soft and hydrated
Cocoa Butter is a vegetable fat which is produced from cocoa beans. It is a great antioxidant and offers excellent protection from the sun.
Corn Oil is known for its capability to intensify your skin's tan. It is rich in linoleic acid which strengthens your skin's natural defense mechanism. The acid also works to boost blood circulation, which betters your overall health and wellness and promotes more melanin secretion by the skin, which is the natural skin tanner.
Q: Are Tanning Oils Dangerous For You?
A:
Tanning oils are not bad for you as long as you follow a proper skincare routine. For instance, we already know that sun tanning comes with some risk of absorbing harmful UV rays. We, therefore, use sunscreen to protect ourselves from those rays. If at any one time you have replaced your sunscreen with oil, then you are in danger of harming your skin if you are out in the sun for a long period of time.
Do not use oils to replace your sunscreen. You should always use oil in conjunction with sunscreen if you are out in the sun. Do not think of oil as a replacement, think of it as an addition.
Q: Which Is The Ideal Tanning Oil To Apply?
A:
There is no single particular oil that can be said to be best for every person; different skins will love different oils. Many other factors will come into play in selecting the best oil for you. You, therefore, need to do a proper assessment, based on the information we have given you before you settle on an oil.
Q: How Can I Get a Tan Safely?
A:
The general rule is that you should aim to get a tan while minimizing the risks that come with it. The following steps will give you great results while at the same time ensuring that you are safe.
Exfoliate your skin before going out into the sun.
Generously apply a sunscreen.
Avoid overexposing yourself to the sun, be moderate and be watchful over the time of day. Spend more time in the sun in the mornings and evenings. Limit your time in the sun between noon and 4 pm.
Wear protective clothing like a hat and sunglasses whenever you are out in the sun.
Q: Can a Sunscreen and Tanning Oil be used together?
A:
Yes, that is the right skin care regime. You should avoid using oil without sunscreen, especially while doing outdoor tanning. Each of the products plays a role in your sun-care routine. While many people think that sunscreen inhibits tanning, the opposite is true. The sunscreen only blocks the UV rays but does not prevent the body from producing Melanin. This means the body will still tan even when using sunscreen.
Q: What is The Purpose of a Tanning Oil?
A:
Tanning oil is used to improve the responsiveness of the skin to the UV rays. They help the skin to produce more melanin which gives the skin a tanned appearance. Most of them have extra melanin to supplement the melanin produced by the body.
Globo Surf Overview
The best tanning oils can help take care of your skin while promoting a tan. If used correctly, oil can only do good things for your skin. If you choose any one of the oils from our list, your skin will be hydrated, moisturized, and refreshed! However, any time you are venturing out into the sun, you should take precautions to ensure that you do not suffer any short-term or long-term damage. Whenever you are using tanning oil, you should remember to protect yourself in with sunscreen. Be safe out there, and have fun!
More Beach Reviews:
Do you have one of our tanning oils on our list? How many have you tried out? Let us know how you like it in the comment section below.
Globo Surf Tanning Oil Review
; ; ;
★★★★★
"
I tried the Australian Gold Accelerator this summer. It's an amazing tanning oil and its affordable! It smells great and is very light on your skin. Im glad I found this article. Thank you!
"