Saunas are used for their great heat and steam treatments to stimulate perspiration, which offers great benefits for your body. Some people think that infrared saunas are the best option, but other argue they don't offer the same benefits and atmosphere as a traditional sauna.
Barrel saunas use the traditional heating method but offer a new perspective on the overall appearance of the sauna. The rounded design is a unique look that can really add personality to your home and enhance your spa experience. But a top rated barrel sauna kit can be hard to find.
Our guide is designed to help you find the best barrel sauna that you will enjoy using or showing off to your friends and family, so everyone can experience a little stress relief. Below we have some important features to consider, as well as a list of the three best barrel saunas.
Wood Fired Barrel Sauna by Allwood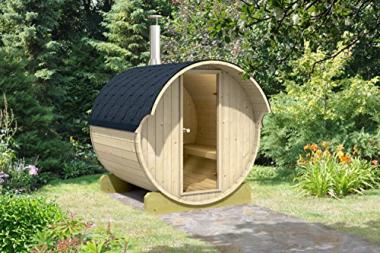 See Customer Owner Feedback >>
What Makes This Wooden Barrel Outdoor Sauna Stand Out

Wood fired

Nordic Spruce

Free shipping
Product Dimensions: 87 x 47 x 47 inches
Weight: 1,500 pounds
Red Cedar Barrel Sauna by ALEKO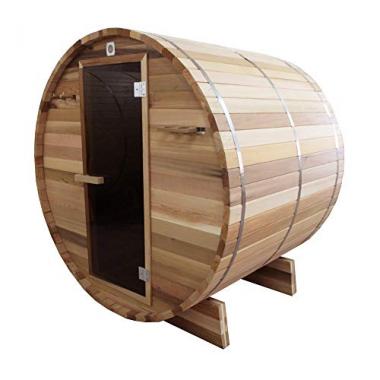 See Customer Owner Feedback >>
What Makes This Wooden Barrel Outdoor Sauna Stand Out

Red cedar

Indoor/outdoor

Electric heater
Product Dimensions: 79 x 44 x 30 inches
Weight: 660 pounds
Traditional Hemlock Barrel Sauna by RGX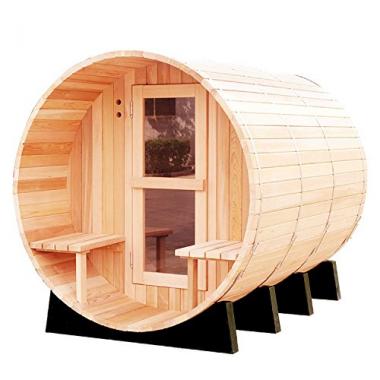 See Customer Owner Feedback >>
What Makes This Wooden Barrel Outdoor Sauna Stand Out

Electric heater

Elevated off the ground

Full kit
Product Dimensions: 70.9 x 70.9 x 70.9 inches
Weight: 694 pounds
How To Choose The Best Barrel Sauna – Buying Guide

Barrel saunas are becoming a popular design because of their unique shape, which allows you to choose a dry or wet setting and they have an easy assembly with no expert installation required. They also offer powerful health benefits, like the promotion of weight loss, which makes them a great addition to any home.
However, not all barrel sauna models are made the same, so you are faced with an overwhelming choice. Here are some features that will help you determine what makes a top rated barrel sauna kit. These tips will make the buying process easy, so you can get to enjoying your sauna barrel faster.
Ease of Use and Installation
One great aspect of barrel saunas is that they are easy to use and should be straightforward to install. The ease of use will mostly depend on the type of heating that is used, but no matter the method, you should be able to easily control and use your wood barrel sauna.
When it comes to the installation, you can do it DIY style or hire a professional. A lot of people won't say the process is easy, but the best barrel sauna kit should have a user-friendly installation and guide. This means that you can follow step-by-step instructions to build or install the wood and electrical parts of the sauna barrel yourself, which can save on costs.
Maintenance
Outdoor barrel sauna kits should be easy to maintain and clean. The best outdoor sauna will also require minimum maintenance. This means that you can easily wipe down the inside on rinse off the outside, should it ever get dirty. A sauna repair and maintenance guide can also help make caring for your sauna easy.
Size
Barrel saunas are 23% smaller than a traditionally square sauna design. With the shrink in size, they still have a lot of space to offer. Most models are 7-8 feet and fit anywhere from 3-5 people. However, there are even larger sizes that are taller and can fit more people.
The size of your sauna barrel is an important consider based on how many people you want to fit inside and the space that you have available inside or outside your home. In general, larger is better. Even if you want to use your barrel sauna as a 2 person sauna, you'll both get more space to stretch out with a sauna designed for 3-5 people.
In terms of space, you want to ensure that there is enough space for your sauna to fit. There are both indoor and outdoor sauna barrel designs, so you aren't restricted on the area where you can place it.
Safety
A wood barrel sauna is safe to use if it has been installed properly and instructions are followed. There aren't any dangers in using a sauna if you are healthy and have no medical conditions with experience intense heat.
For your safety, you should always consider how you feel when using the sauna. If you ever feel claustrophobic or short of breath, leave the sauna or use it for less time. A top rated barrel sauna kit brand will also include any safety instructions, so you know exactly how to stay safe.
Wood Type
Wood is a great material because it is durable and easy to maintain. It is also a quality material that can be expensive or affordable. Cedar is an expensive wood that is extremely attractive, if you want your barrel sauna to really stand out. However, if you are wanting to keep a budget, pine is a great option that is still durable.
Heating
Most outdoor barrel sauna kits today have an electrical heater unit to make them easier to use. Electrical heating can be used with both wet and dry sauna sessions, which allows you to choose what you would like to experience on a day to day basis.
However, some wood barrel saunas use the traditional wood burning method to heat the inside. A wood burning outdoor sauna offers a very authentic feeling that can enhance your sauna's atmosphere. It will be your choice to decide what heating method you want your sauna barrel to use.
Accessories
There are a lot of sauna accessories available on the market, but the best barrel sauna kit should come with a least a few to complete your experience like sauna thermometers. Depending on the brand you choose, there should also be a lot of accessories offered for purchase or for free. One great place to find information about accessories is by reading barrel sauna reviews. Other buyers can tell you what accessories are included and how well they work.
Budget
Outdoor barrel sauna kits are more expensive than other saunas, but they offer a lot of different benefits for the price difference. You should still be able to fix a budget for yourself though and save in different ways, like building and installing the sauna barrel yourself. The type of wood will also dictate how expensive your barrel sauna is. Some woods are more expensive than others.
Warranty and Delivery Policy
Every brand has a different warranty and delivery policy, but the best barrel sauna kit will ensure that the customer is always happy and satisfied. Wood barrel saunas are expensive, so you should look for a brand that backs their product with a fair warranty policy and time period.
Your outdoor barrel sauna kit should also have an easy delivery options and a decent policy to ensure that you are not troubled with receiving your sauna barrel. Whether you live in the city or the country, you should be able to get your outdoor sauna easily delivered to your door.
FAQs

Q: What are the advantages of a barrel sauna?
A:
Barrel saunas come with a list of great advantages that make them a top choice for home spa treatments. Some advantages include the size, which offers less area to heat. The barrel design also has rolling heat and heats evenly, which means that every part of your sauna will be the perfect temperature. Barrel saunas can also be made of inexpensive materials to make them more affordable.
Outdoor barrel sauna kits are also easy to transport and require no base. Their sturdy design can make them great for the outdoors and snowy conditions. With a top rated barrel sauna kit, you'll have a unique design and experience the best heat therapy has to offer.
Q: What are the misconceptions about barrel saunas?
A:
Most people think that barrel saunas are too small or cramped. However, barrel saunas today are made to accommodate anybody regardless of their size or height. They can be very comfortable and spacious, depending on the size of the model. Even if you are tall, you shouldn't worry about fitting inside a barrel sauna.
Q: What's a wet sauna and what's a dry one?
A:
A wet sauna will use the power of steam to relieve stress in your body. Usually, rocks will be heated, and water will be poured over to create the vapor. A dry sauna uses no water, just the heat. The best outdoor sauna can be used as a wet or dry one so that you can decide what type of therapy you want after a long day.
Globo Surf Overview
A top rated barrel sauna kit is a unique way to experience a luxurious spa experience in the comfort of your own home. A barrel sauna is easy to use, affordable, and fast to heat. With the best outdoor sauna, you can relax and ease your stress. If you want company, even bring along your family and friends.
More Hot Tub Reviews:
More Sauna Reviews
Do you own one of the barrel saunas that made it onto our list? Let us know how it has worked for your home spa treatments in the comments section below.
Globo Surf Barrel Sauna Reviews
; ; ;
★★★★★
"
Thank you for the great reviews and amazing products. My family wanted a sauna for as long as I can remember but unfortunately there is not enough space in my house. So we decided to go with your recommendation n.1 and everyone is happy.
"