EDITORS CHOICE

---
When talking about saunas, one of the things that have a big influence on your experience is sauna rocks. These are an integral part of any Finnish sauna setting, and can really improve or ruin the whole thing. They keep the Finnish sauna hot and the temperature at a stable level, so you can enjoy all the advantages of a sauna. Whether you're constructing a new sauna and need rocks for your heater, or you need to replace old stones, you need to get a quality product. This is why we selected some of the best rocks available, to try and make your choice a bit easier. In addition, be sure to check out the buying guide and learn more about sauna rocks in general, so you know what to look for.
OUR TOP PICK
Fino Sauna 42 Pound Box Of Dolerite Rock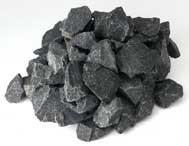 See Customer Owner Feedback >>
Stand Out Features - Why We Love It

Dolerite rock

Quick heating

Excellent quality
View More By Fino Sauna »
EDITORS CHOICE
The Sauna Place Replacement Heater
See Customer Owner Feedback >>
Stand Out Features - Why We Love It

Peridotite stones

Holds heat well

Mix of sizes
View More By The Sauna Place »
BEST VALUE
Coasts SSBAG Replacement Heater
See Customer Owner Feedback >>
Stand Out Features - Why We Love It

Good airflow

Solid steam production

No cracks
How To Choose Sauna Rocks – Buying Guide

As we mentioned at the beginning, stones play a very important role in your Finnish sauna. They hold the heat, preserve temperature and they are also responsible for the steam we enjoy so much. However, not all rocks are the same. There are certain characteristics that make some types of rock perfect for saunas, while at the same time eliminating others that lack them. Take a look.
Type Of Rocks
Several types of rock are popular among sauna enthusiasts, but igneous (volcanic) rocks hold the number one spot. There are many reasons people choose lava rock as sauna heaters – it absorbs heat well, it's stable, it doesn't explode, and shows great durability. In this category, the type of rock that was most commonly chosen was granite. It has all of the upsides we mentioned earlier, making it a great fit anywhere.
If you decide you want to go with another type of stone or you want to go out and collect the stones yourself, you should keep a few things in mind. The stone you get shouldn't be porous, because it can absorb water and deteriorate faster. Rocks should also be without cracks – they are a way for water to get in which can lead to stones exploding (and you don't want that). Of course, your new rocks should tolerate heat and chemicals well, so you don't have to replace them constantly.
You might also like: Perfect Sauna Vs. Hot Tub: What Is The Right Choice And When
Type Of Heater
You will be glad to hear that rocks are pretty much universal, and they pair well with any type of heater. They are tested to endure high temperatures, so you really have nothing to worry about – no matter if you have a gas, wood-fired or electric heater. Of course, some saunas don't use rocks at all, for example, sauna weight loss.
Size
The size of the rocks you pick is also important. Always try to get stones in different sizes to get the best possible effect. An average stone should be sized like a potato, with larger and smaller stones in the package too. Large stones retain heat better, so they are great for maintaining temperature. On the other hand, smaller stones create better steam when you splash them with water. Combining these properly when piling up the stones on your heater will allow the air to circulate easily. Products featured in our reviews offer a variety of sizes so you can set them up easily.
FAQs

Q: What Are Sauna Rocks? Why Do I Need Them?
A:
These are rocks that are suitable to use as sauna heaters, in other words, rocks that hold heat well and aren't damaged by it. You need them to keep your sauna hot and at your desired temperature, even when the heater is off. They are also used to increase air humidity inside the sauna, by pouring water over hot stones. In addition, stones make using the sauna safer, since using just the heater without stones presents a fire hazard.
Q: How Often Should I Replace My Sauna Rocks?
A:
It's time to replace them when you start noticing signs of deterioration. These stones won't hold heat as they used to after a certain number of uses, and then you should think about getting new ones. Some people say that you should replace them once a year if you use your sauna heater rocks on a weekly basis. While this is true, it also depends on the type of stone, heater temperature and whether you rearrange the stones from time to time.
Repositioning the stones will prolong their lifespan, and postpone replacement time. The reason for this is that bottom stones are exposed to greater heat, and if you just keep them there they will deteriorate much quicker than those on top which are also cooled with water from time to time. If you switch their places, you even out the wear so you can use them longer.
Q: How Much Water Can I Splash On My Sauna Stones?
A:
It's recommended to use smaller amounts of water when splashing the stones, and there are several justified reasons for this. It's better for the rocks – you'll get nice steam without interfering with the sauna rock temperature. Pouring too much can cool the stones, and you also risk flooding the heater which should definitely be avoided. This being said, cold water creates nicer steam but it will also cool the stones quicker, which makes sense. All this depends on your personal preferences and the length of the sauna session, but our general advice is not to overdo it.
Keep in mind that you need to allow the heater and the stones to get hot before you start splashing water over them. Also, it's smart to use a ladle instead of doing it with your hand. The reason for this is that steam is very hot and you want to avoid potential burns on your hands. In addition, if you decide you want to add some essential oils to the mix, always add them to the water first instead of pouring them directly on the stones.
Globo Surf Overview
It's clear that high-quality rocks are a big part of any sauna experience. For this reason, you should take your time and find the right type of rock. As we discussed, sauna rocks are those that hold heat, create nice steam, and last long. If you follow our instructions and make a smart purchase, you won't have to worry about stones for a long time and you'll be able to fully relax.
More Watergear Hot Tube Reviews: