OUR TOP PICK

---

EDITORS CHOICE

---

BEST VALUE

---
Most people are familiar with saunas as a way to unwind after a hard day. What people may not be aware of is all the accessories that are available too. From sauna rocks to sauna thermometers, there are a lot of options to enhance your sauna experience. One of the best ways to enhance your comfort is to use sauna backrests.
Sauna backrests come in a variety of styles that are all designed to enhance your comfort when using your sauna. They are durable and can easily withstand the strong heat from your sauna throughout the years but finding a quality sauna backrest can be hard. There are a lot of cheap designs that won't last.
Our guide is designed to help you find the best sauna backrest that you'll be happy to use day after day. Below we have some important features, as well as a list of the five best sauna backrests.
OUR TOP PICK
Radiant Saunas SA5059 Universal
See Customer Owner Feedback >>
Stand Out Features - Why We Love It

Solid Hemlock wood

No assembly required

Easily repositioned
Product Dimensions: 15 x 4 x 27.5 inches
Weight: 2.3 pounds
View More By Radiant Saunas »
EDITORS CHOICE
JNH Lifestyles Ergonomic S-Shape
See Customer Owner Feedback >>
Stand Out Features - Why We Love It

Oak wood

Ergonomic design

Durable
Product Dimensions: 25 x 15 x 4 inches
Weight: 4.7 pounds
View More By JNH Lifestyles »
BEST VALUE
DYNAMIC SAUNAS 2-Pack Hemlock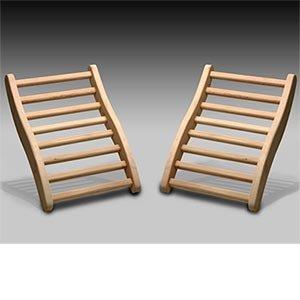 See Customer Owner Feedback >>
Stand Out Features - Why We Love It

No stains

Hemlock wood

S-shaped
Product Dimensions: 24 x 17 x 3.5 inches
Weight: 6.4 pounds
View More By DYNAMIC SAUNAS »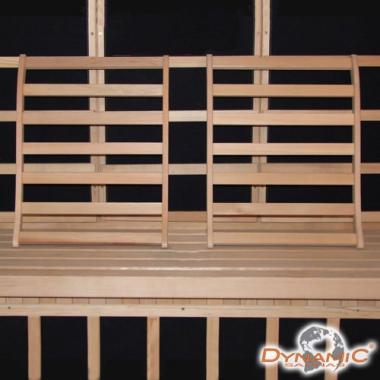 See Customer Owner Feedback >>
Stand Out Features - Why We Love It

Hemlock

S-shaped

Lightweight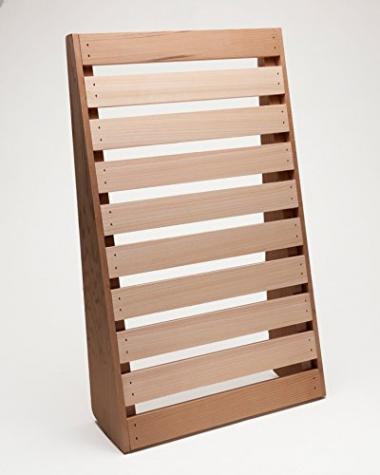 See Customer Owner Feedback >>
Stand Out Features - Why We Love It

Wedge shaped

Cedar wood

Horizontal or vertical use
Product Dimensions: 12 x 20 inches
Weight: 3 pounds
View More By Heaters4Saunas »
How To Choose The Best Sauna Backrest – Buying Guide

Out of all the sauna accessories, sauna backrests are a popular choice because they are comfortable and functional. Yet with all the options available, you are faced with a difficult decision on which sauna headrest would be best for you.
Here are some features that will help you determine what makes a quality backrest. These tips will help make the buying process easy, so you can spend more time relaxing and enjoying your sauna experience.
Design, Shape, and Size
Not all sauna backrests have the same design, shape, and size. In fact, you should be able to find a variety of sauna backrests that are all different in each one of these aspects. A portable backrest that has the best design, shape, and size will stand out from the crowd and likely be the favorite pick.
Look for sauna backrests that have an ergonomic design and shape, which can make you the most comfortable. The S-shape is very popular because it is comfortable and offers support for your back. However, a wedge shape is also popular because it is more versatile. You will also want the size to be correct, so if you can, test out a few pillows to ensure they fit.
You can also check backrest reviews to see what others have to say about the back rest. The reviews can help you narrow down options to find the best one.
Wood Material and Quality
The majority of sauna backrests are made of wood. Wood is a durable material that is also attractive. However, be cautious because not all sauna backrests are suitable for both traditional saunas and infrared saunas. The best sauna backrest would be suitable for use in a traditional sauna and an infrared one. Both hard and soft woods work, but you want to be certain that the type of wood you choose doesn't absorb too much heat and become a fire risk.
Durability
The heat from a sauna is intense, especially with long exposure times. This makes it very important that your backrest is durable, which is why wood is a preferred material. Wood can withstand the heat without breaking down but is still comfortable for the user to relax and enjoy their sauna. The best woods will not absorb heat and will actually resist it, to ensure they are durable for sauna use.
You might also like: Perfect Barrel Saunas
Comfort
Comfort is key for a portable backrest, because it is its main function. You want your sauna headrest to be comfortable, so that you can enjoy your time in the sauna. It would be worthless to invest in a backrest you didn't enjoy, so spend the time to find one that is comfortable for you. An S-shaped portable backrest may work for you or you might find a wedge suits you better.
Ease of Installation and Use
A sauna backrest should be easy to install and have step-by-step installation guides available. You shouldn't have to struggle to install the back rest yourself. It should also be easy to use and have no assembly required. To install, you simply place the backrest where you would like inside the sauna, then sit back and relax.
Budget
Sauna backrests may greatly vary in price, so if you find large differences in expense, it's best to research each company and design. You can set yourself a budget while looking at back rests too because different brands will likely offer different designs for different prices, so you should always be able to find an affordable sauna headrest. You may also find good deals where a pair of backrests is more affordable than a single back rest.
FAQs

Q: Why do I need a sauna backrest?
A:
While you don't need a sauna backrest, it is a great addition to any sauna that makes your spa experience more enjoyable. There are a lot of 
health benefits
 to using a sauna, but that doesn't mean you have to be uncomfortable. You should be 100% comfortable while using your sauna and a back rest is an affordable way to make any sauna the best place to relax.
Q: What is the best wood for a sauna backrest?
A:
You will want a wood that is hard and durable for your sauna headrest. Some common woods that are great for a portable backrest are Mahogany, Oak, and Teak. However, those types of wood can be expensive. A more affordable option that is still suitable for sauna is Cedar or Hemlock.
No matter, which wood you choose, your sauna will be greatly enhanced by a sauna headrest and you comfort will be elevated to a 5-star spa experience.
Q: How to clean the sauna backrest?
A:
Sauna backrests are durable and therefore, should be easily cleaned with water and mild soap. It is an important part of sauna maintenance, that you habitually clean your sauna backrest, especially if you aren't the only person using it.
If you are concerned about damaging your back rest, check the brand specific information for maintenance and care. The cleaning instructions should give you the exact information you need to clean your sauna backrest without causing any damage.
Globo Surf Overview
A top rated backrest for saunas will always be a great way to make your sauna the most comfortable for everyone. Sauna backrests offer a fast and easy way to enhance your comfort during your spa experience. With the best backrests for sauna designs, you will be able to ease your stress and soak in all the heat to relax after a long day.
More Watergear Hot Tube Reviews: